This article will show you how to convert VCF to CSV on Mac and Windows PC easily.
vCard (with the extension .vcf) is also known as VCF (Virtual Contact File). It's a standard file format for storing contact information. Mac's Contacts app can import and export VCF files. Sometimes there are situations where you need to convert VCF to a more commonly supported format like CSV (Comma-Separated Values). But a Mac computer doesn't offer a built-in tool for this task.
Don't worry. It's actually not difficult to convert VCF to CSV on Mac or Windows PC. In this article, you will find easy way to convert VCF to CSV on Mac and PC. Thanks to the conversion, the contact data in a VCF file can be opened in a spreadsheet app or text editor and be used in many apps.
The Best VCF to CSV Converter for Mac
Support various contacts sources: Mac's Contacts, iCloud, Exchange, Google Contacts, etc.
Export/convert contacts to 8 formats: CSV, Excel, VCF, TXT, Numbers, etc.
Import contacts from CSV and vCard files
Let you view, search, add, edit, tag, group, share, print and sync contacts
Find and delete/merge duplicate contacts in supported sources
Let you backup/restore contacts with a click
Help you effortlessly convert contacts between formats
Help you effortlessly transfer contacts between sources
Easy to use and powerful
Compatible with macOS 10.11 or later

Free Download
You can easily convert VCF to CSV and other common formats using Cisdem ContactsMate, the best contact manager app for Mac. This app allows you to convert VCF to a CSV file with ease.
A single vCard can contain one or multiple contacts. With this app, you can effortlessly convert one or multiple vCards to CSV at once.
Easy steps on how to convert VCF to CSV on Mac with ContactsMate
1. Download and install ContactsMate.
​

Free Download
2. The first time you open it, click OK in the message that appears.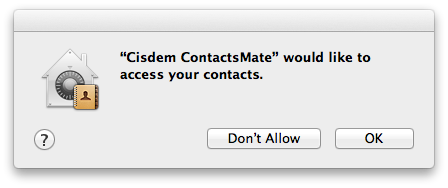 3. In the left sidebar, control-click On My Mac and choose New Group.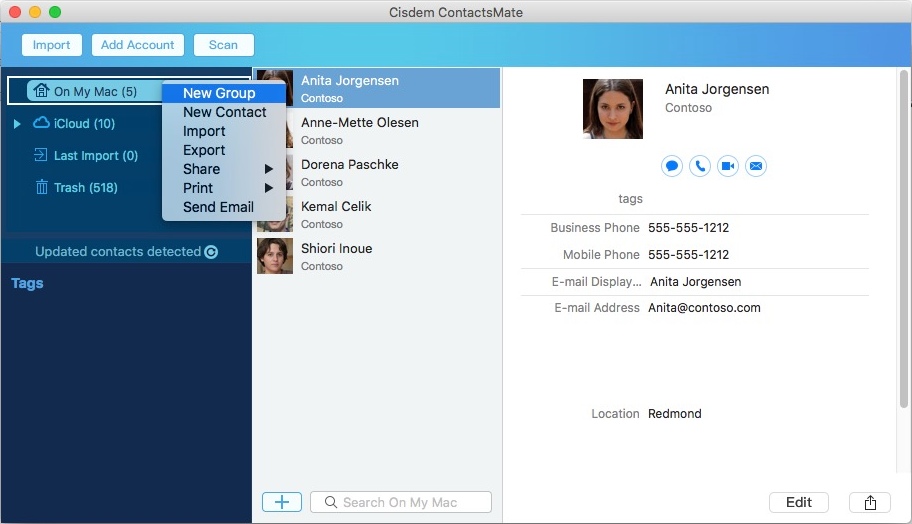 4. Click Import in the toolbar to import one or multiple VCF files.
5. Click Last Import in the sidebar, select all contacts there and drag them into the new group created.
6. Control-click the new group and choose Export.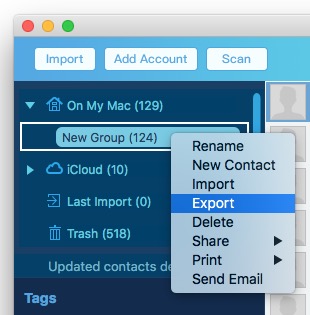 7. To convert VCF to CSV on Mac, select CSV or CSV (Outlook) as the output format. Click Save.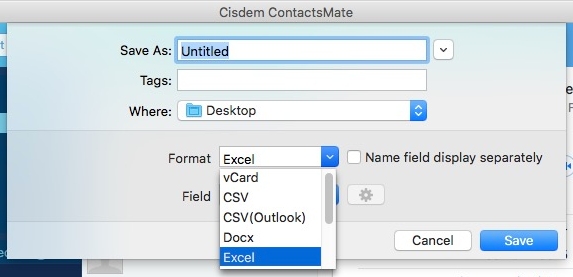 Now your VCF file is converted to CSV successfully. You can open the exported CSV file to check the conversion result. The CSV file can be opened by almost all spreadsheet and database management apps such as Microsoft Excel, Apple Numbers and LibreOffice Calc. In the CSV file, you will find that each piece of contact information (such as name or address) is in the column that it should be in.
Tips
In step 7, you can customize the conversion if needed. By default, the exported CSV file will display the contact name in one column. You can set it to display the name in two columns (First Name and Last Name).
To convert VCF to Excel, just select Excel as the out format in step 7.
Sometimes, you convert a VCF file to a CSV file so that you can import the contact data to certain apps or services such as an email app. Some apps and services may require you to prepare the CSV file to ensure a successful import. In such a case, try making sure that the columns in the CSV file have appropriate headings.
Once the conversion is done, you may want to delete the new group created in step 3 and the contacts within it. To do so, click the new group in the sidebar, select all contacts there, press the Delete key and click the Delete button.
Also read: How to Export Mac Contacts to CSV and Excel with 1 Click
Included in Windows 11, 10, 8, 7 and Vista, Windows Contacts can help you with the conversion. Its Export feature supports the CSV format. This method is easy. However, without knowing a trick, you will find that this method cannot work. I'll tell you what the trick is.
Steps on how to change VCF to CSV in Windows with Windows Contacts
1. On your PC, right-click the VCF file. Choose Open with > Windows Contacts.
2. Click Add to my contacts, in the window that appears. Click OK, and then click OK again.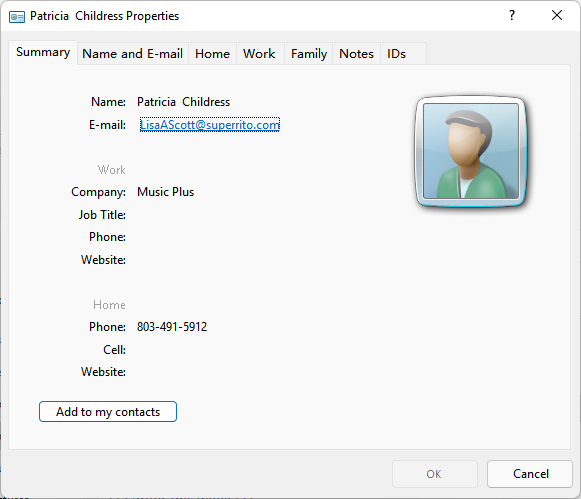 3. On the taskbar, click the search icon

. Search for wab.exe. Click wab.exe, which will open Windows Contacts.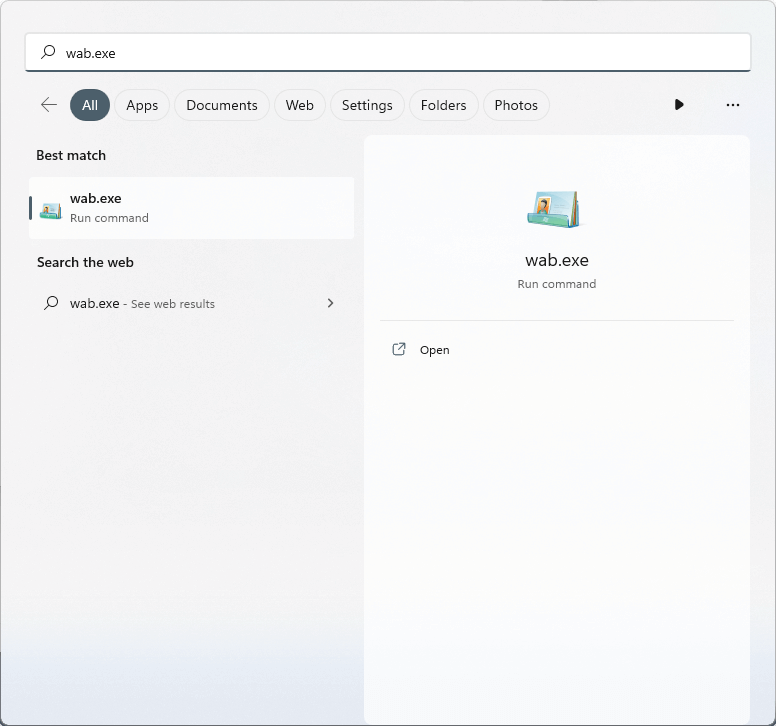 4. You will find the contact you just added. It has the .contact file extension. Select this contact.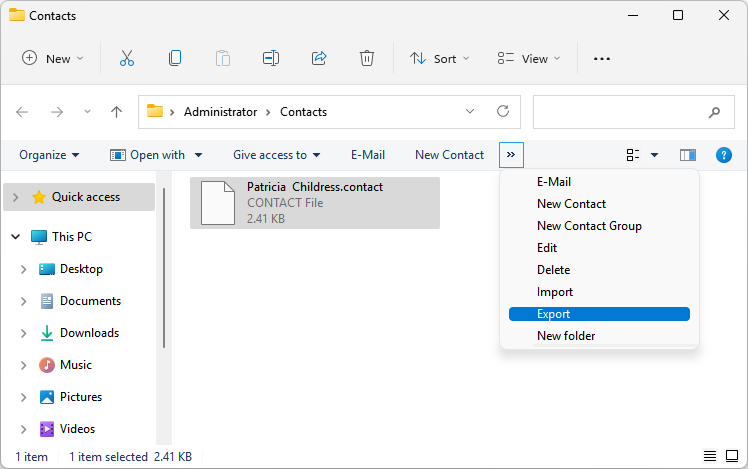 5. Click the Export option. Choose CSV in the dialog that appears. Click Export.
6. Choose a location to save the CSV. Click Next. Give it a name. Click Save.
7. Select the fields you wish to export. Click Finish.
When the conversion is complete, a message will appear to inform you.
If you directly move the VCF file to Windows Contacts and then do the conversion, you won't succeed. The trick is to add the VCF file to Windows Contacts first. The Export feature only works with files with the .contact extension.
If your VCF file has multiple contacts, you need to add them one by one in step 2. And they will appear as individual contacts in Windows Contacts. If you select them all in step 4, you can convert them into a single CSV file.
Google Contacts is a web-based contact management tool from Google. Using it requires a Gmail account. It offers a number of useful features and can help you convert VCF to CSV on Mac and Windows computer.
The downside is that you can only convert one vCard at a time. If there are many vCards, this method is not efficient. Another downside is that you can't convert more than 3,000 contacts at a time. Otherwise the conversion will fail.
Steps on how to convert VCF to CSV on Mac/Windows with Google Contacts
1. In your browser, go to https://contacts.google.com/.
2. Sign in with your Gmail account.
3. In the Fix and manage section, click Import.
4. Click Select file, select a VCF file, and click Open. Click Import.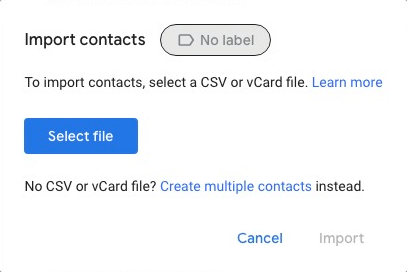 5. Click the Export icon

in the upper-right part of the page.
6. Click the down arrow icon and choose the contacts you just imported.
7. Select Google CSV or Outlook CSV as the export format. Click Export.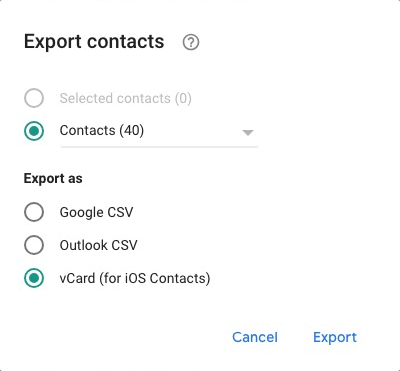 After exporting your vCard to CSV, you can delete the contacts imported to Google Contacts if you don't need them there.
Method 4. How to use an online converter to convert vCard to CSV on Mac and PC
There are also free online tools dedicated to converting VCF file to CSV or Excel on Mac. The web page https://tribulant.com/vcard-csv/ is one of them. This VCF to CSV converter is free to use and easily accessible. It offers three output formats: CSV, Gmail (CSV) and LDIF. When converting VCF to CSV, it lets you choose to separate values with tab, semicolon or comma.
This vCard to CSV converter is easy to use, providing you with the options that you may need. Note that it doesn't support files that are larger than 8 MB. Below are steps on how to convert vCard to CSV on Mac using an online converter. Windows users can follow the steps too.
Steps on How to convert VCF to CSV on Mac with an online converter
Go to https://tribulant.com/vcard-csv/.
Click Choose File.
Select the vCard file that you're going to convert.
Choose CSV as the output format.
Choose to use Comma to separate values.
(Optional but recommended) Enable Add header line.
Click convert to convert VCF to CSV on Mac.
In step 5, if you choose the option Tab or Semicolon, all data (such first name, last name, email address, mobile phone, etc.) will appear in one single column, which may cause inconvenience.
Another good choice is https://www.aconvert.com/document/vcf-to-csv/. In addition to vCard, it enables you to convert VCF to Excel. It also offers an informative comparison between the VCF format and the CSV format.
VCF vs. CSV
After reading the instructions above, you must have a clear mind of how to convert VCF to CSV on Mac. For your convenience, we provide you a comparison chart between VCF and CSV. You can learn more about the two commonly used formats.
Conclusion
Some apps or services only support importing CSV files. To be able to be imported to such an app or service, contacts need to be in the CSV format. If not, a conversion is needed. This article talks about how to convert VCF to CSV on Mac and Windows in different ways. I hope it's helpful. Converting VCF to CSV using Google Contacts or an online converter only allows you to handle one vCard at a time. If there are a lot of vCards, other methods are more efficient.