Sometimes we do not want our children to play games or visit inappropriate websites on computer. Or we can't control ourselves from accessing entertainment websites such as Twitter, YouTube during working hours, which affects work efficiency. For many reasons, many people are looking for ways to block websites on computer. Below I'll show you several ways on how to block websites on Windows 10. Also, you can find how to block a websites at certain times in this article.
The Best Tool to Block Websites on Windows PC
Block websites and webpages on computer with password
Block specific sites, categories of sites, and URLs with certain keywords
Also lock apps with password
Let you block sites and lock apps permanently or at certain times
Require password to enter/quit/uninstall AppCrypt
Can be used for privacy protection, productivity, parental controls, etc.
Easy to use and hard to bypass
Compatible with Windows and Mac

Free Download
Windows 11/10/8/7

Free Download
macOS 10.12 or later
The Easiest Way to Block Websites in Windows 10
The most efficient and easiest way to block access to websites on computer is to install a professional web filter app. For Windows users, what I recommended is Cisdem AppCrypt. It supports blocking websites, games and applications with password to boost your productivity and reclaim your free time. And it is easy to use. You can custom the block lists and add an unlimited number of websites to block. Not only can this tool block websites by specific URLs, but also by categories. Below I'll show you how to block websites on Windows 10 via Cisdem AppCrypt:
1. Download and install Cisdem AppCrypt on your Windows PC.

Free Download Windows 11/10/8/7
2. Launch it. Set a password. Click Submit.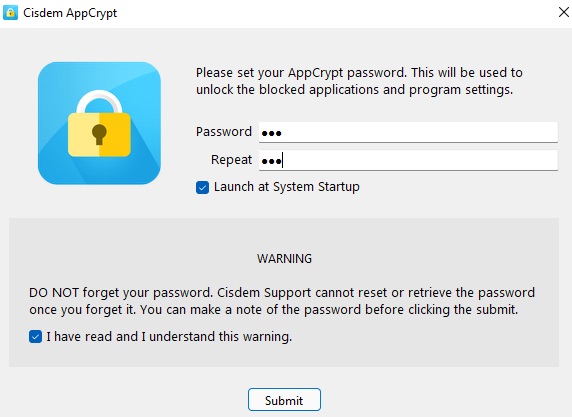 3. Right-click its icon on the task bar. Select Open Main Window.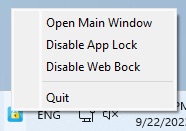 4. Enter the password to access this tool.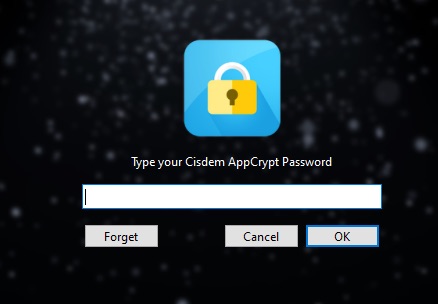 5. Now you are in the main window. To block websites on Windows 10, click the Web Block tab on the top tool bar. A window will pop up reminding you to download and install extensions for different browsers. Click the Install button and add the extension to your browser.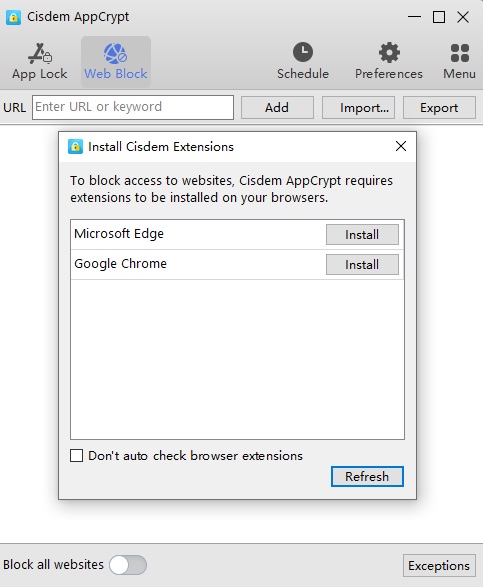 6. Type in the URLs you want to restrict on your browser. Click Add.
Or select a category of websites to block, like Games Sites, Social Sites, and more.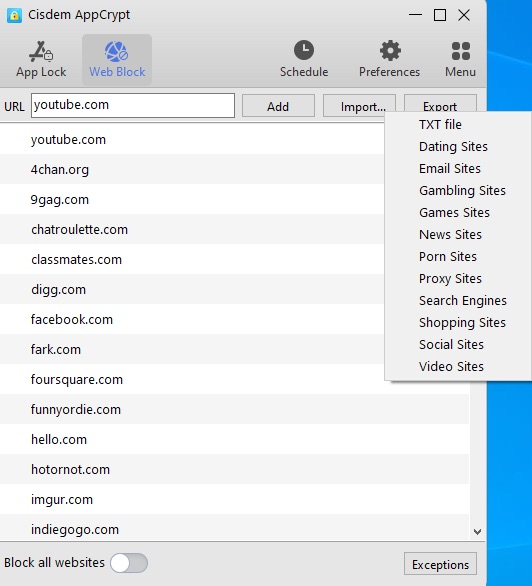 Now the websites are all blocked on your Windows 10 PC.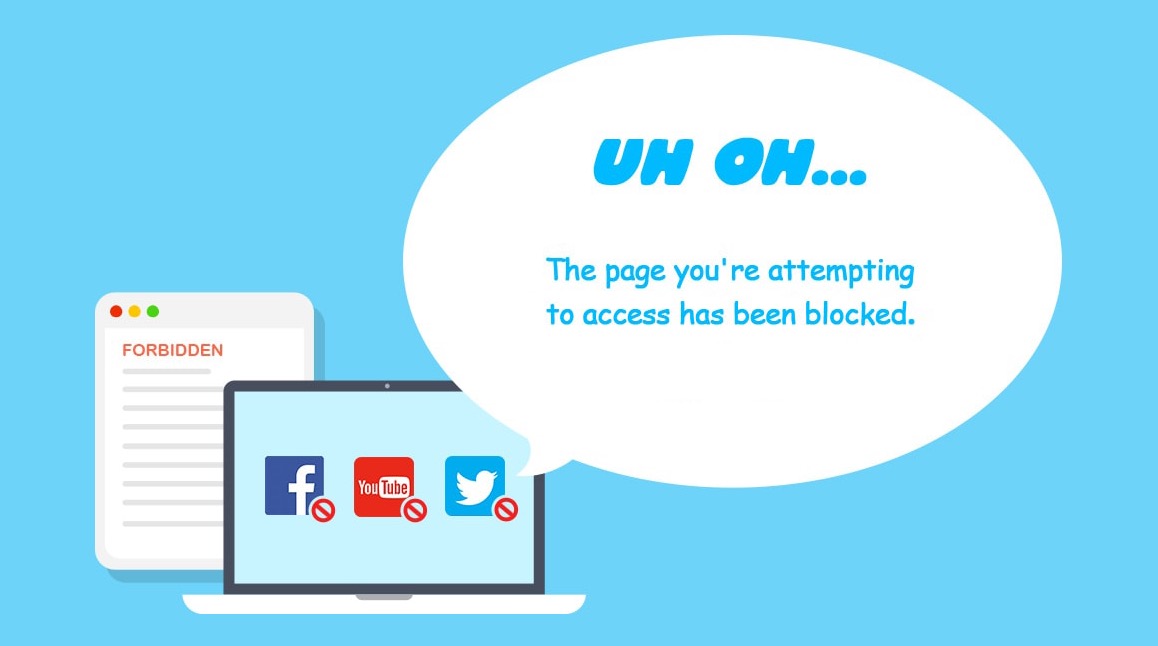 Note: To unblock a website on the block list, enter AppCrypt with password. Then select the site you don't want to block any more. Click the Delete key.
Also, you can click the Lock icon on the taskbar. Choose Disable Web Block to disable all the website blocking with 1-click. This step also requires the password.
Tip: How to block websites on Windows 10 during working hours?
This Windows web filter app has a Schedule feature, which allows you to block a certain website at certain times. This feature is useful for you if you are always distracted by some attractive websites on the Internet while working. Simply block access to these websites during working hours. Select the website from the block list. Click the clock icon that appears. Enable Custom Schedule then click on Add Schedule. Set the time according to your needs.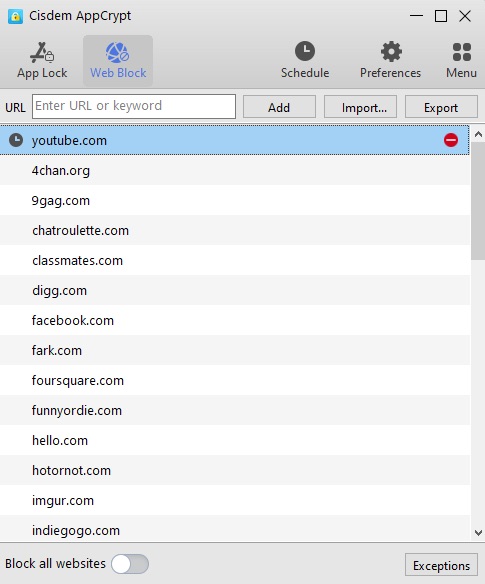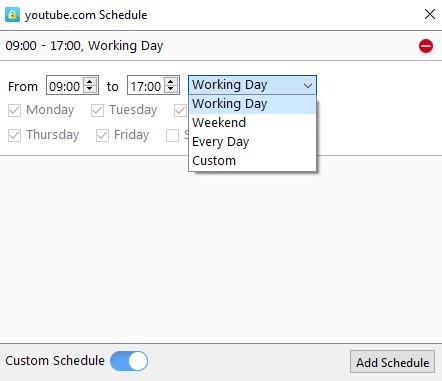 How to Block a Website on Windows 10 through Extensions
Most web browsers are able to add extensions. We can install a blocker extension to filter unwanted websites on browser. Some extensions even have functions such as schedule, white lists, etc. The trouble is that you need to install extension to each browser one by one in order to block a website on computer completely. In addition, it's easy to be removed. Below I will tell you how to block websites on Windows 10 through adding extensions to our commonly used browsers Chrome, Firefox and Edge.
How to Block a Website on Windows 10 Chrome Browser
Chrome is world's most popular web browser with reportedly around 2.65 billion users 2022. Many users are looking for ways on how to block a specific website on Google Chrome. There are many extensions can help you. For example, if you want to block the Facebook website that always distract you on Chrome, you can try the method below.
1. Go to Chrome Web Store.
2. Search for BlockSite extension. Choose the first one from the result-BlockSite: Block Websites & Stay Focused.

3. Click Add to Chrome.
4. Click Add extension on the prompt window.

5. Go to the Facebook website you want to block on Chrome. Right-click anywhere on the page. Tap on BlockSite then Block this site. (Adding more than 6 websites to block list requires purchasing the paid version)
6. You can also set a password for blocked sites. Click the BLockSite icon on the upper-right corner of your browser window. Click on Edit Block list. On the left menu bar of BlockSite main window, choose Password Protection. Enable Require password to access blocked sites option. Then set a password. You need to upgrade to its Pro version to get the password protection feature.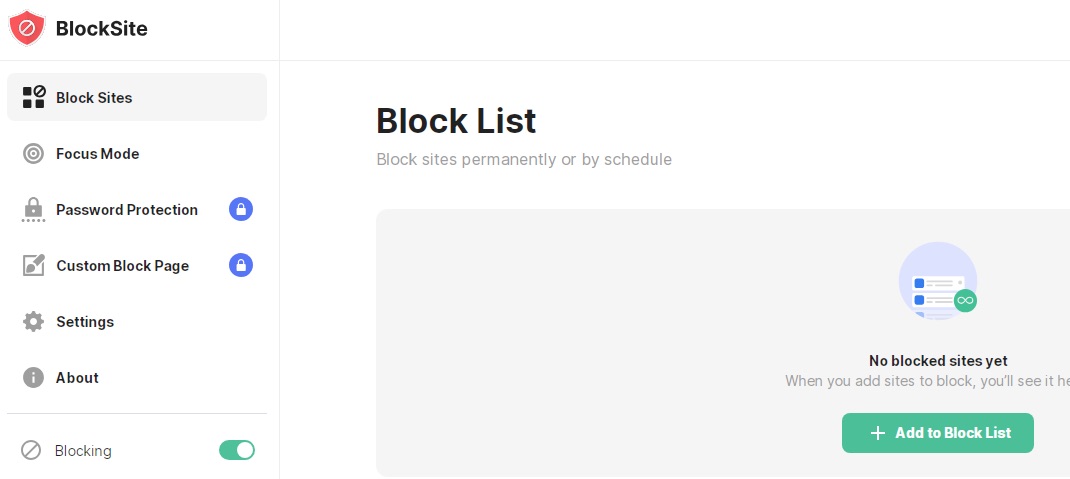 How to Block a Website on Windows 10 Mozilla Firefox
There are also many users use Firefox as their web browser since its safe feature. You can also install and set up extension to Firefox easily. Here's how:
1. Go to Firefox browser ADD-ONS website.
2. Search for BlockSite extension.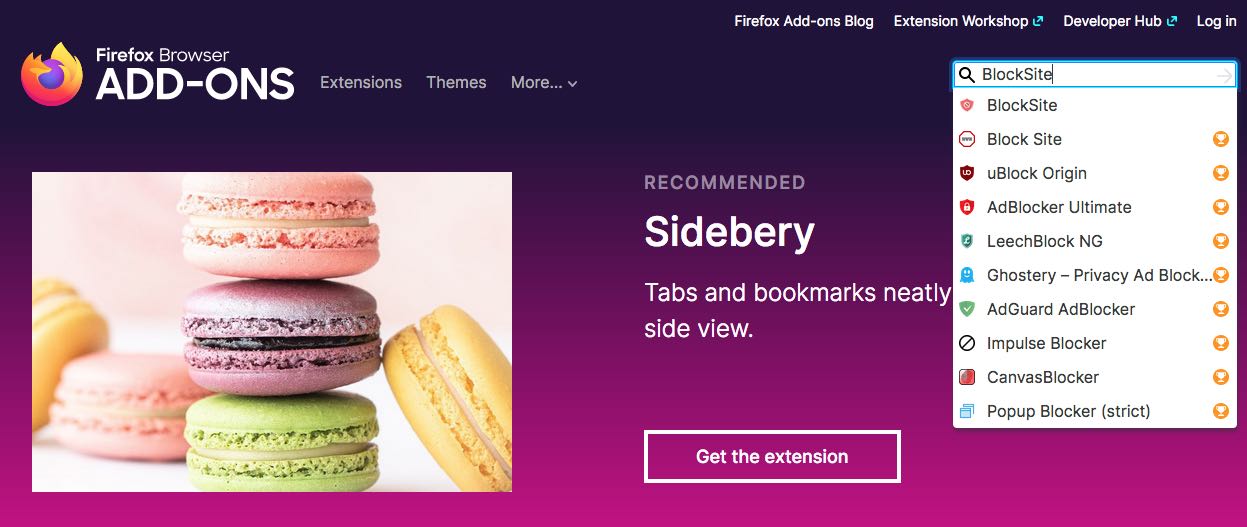 3. Choose the first one and click on Add to Firefox.
4.Click Add on the pop-up permissions window.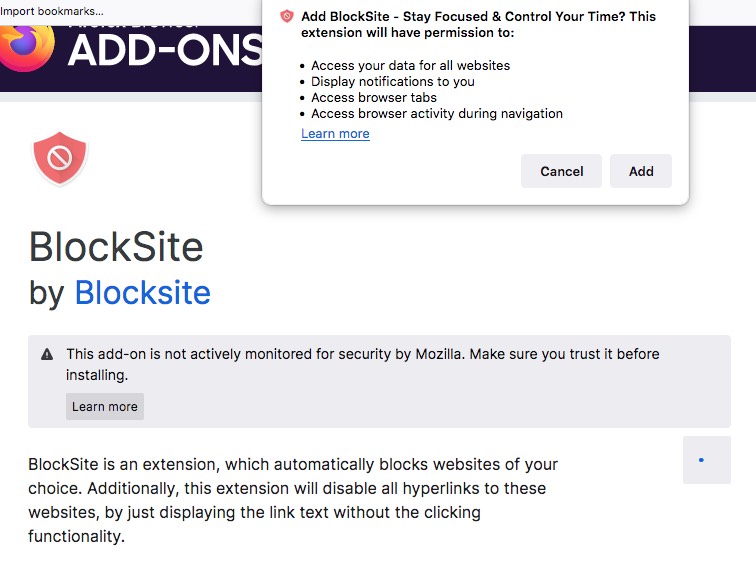 5. Access the unwanted website you want to block. Right-click anywhere on the page. Tap on BlockSite > Block this site.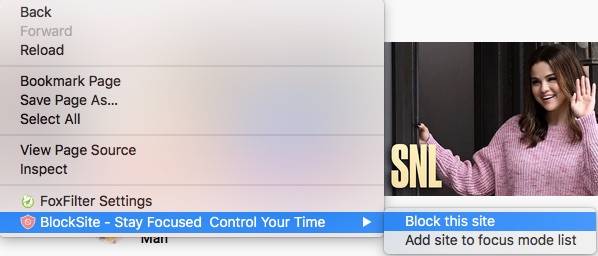 How to Block a Website on Windows 10 Microsoft Edge
Edge browser is a recommended by Microsoft and easy to use. It also supports to restrict sites through extension. Here's how:
1. Click on the three-dot icon on the top-right corner of the Edge browser main window.
2. Select Extensions from the drop down menu.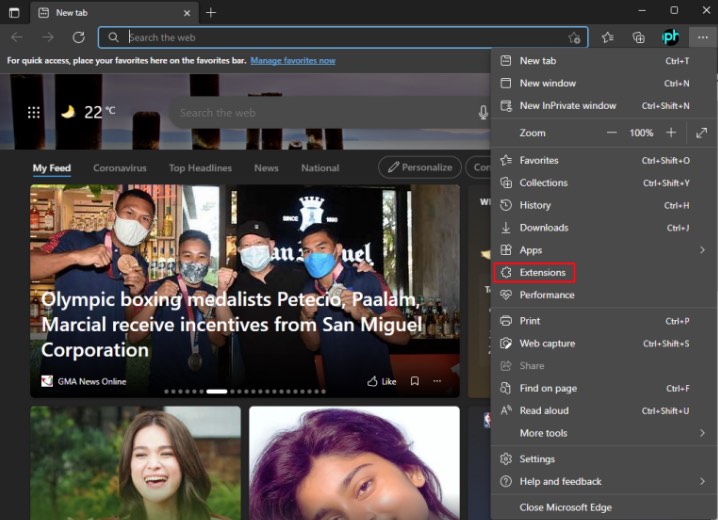 3. Click on Get extensions for Microsoft Edge on the new Extensions window.
4. Search for BlockSite and click on Get at the right side.
5. A prompt window will pop up. Tap on Add extension.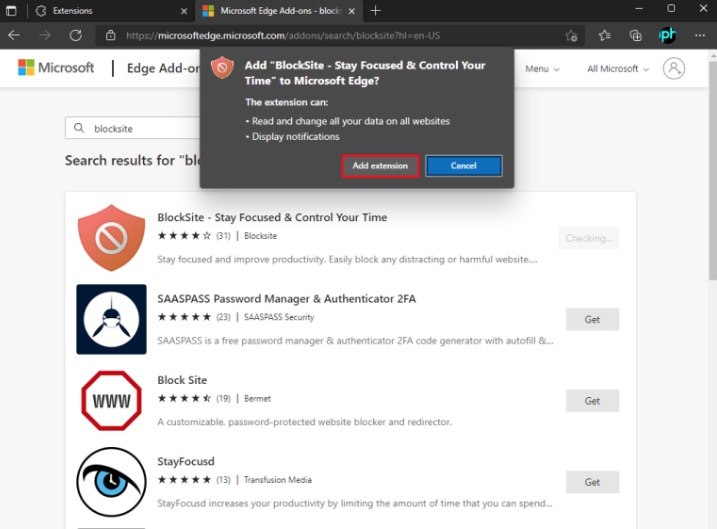 6. Go to the unwanted website on Microsoft Edge. Right-click anywhere on the page. Then click on Block this site.
Blocking Websites in all Browsers on Windows 10 through Hosts File
Hosts File is a system file with no extension and can be opened with Notepad. In hosts file, many common domain names and their corresponding IP mappings can be established. When the user enters a URL that they want to access in browser, the system will first look in the hosts file to see if there is a corresponding IP. If there is, it will open the corresponding web page immediately. We can block some inappropriate websites by editing the hosts file. This method is especially suitable for managing children's online behavior since it's hard to set up and also difficult to bypass. Now let's look at how to block websites on Windows 10 through hosts file:
1. Find Notepad on your PC and run it as administrator.
2. Click Open from File menu.
3. Find hosts file and open it. On windows, the hosts file is usually located in Local Disk(C) > Windows > System32 > drivers >etc.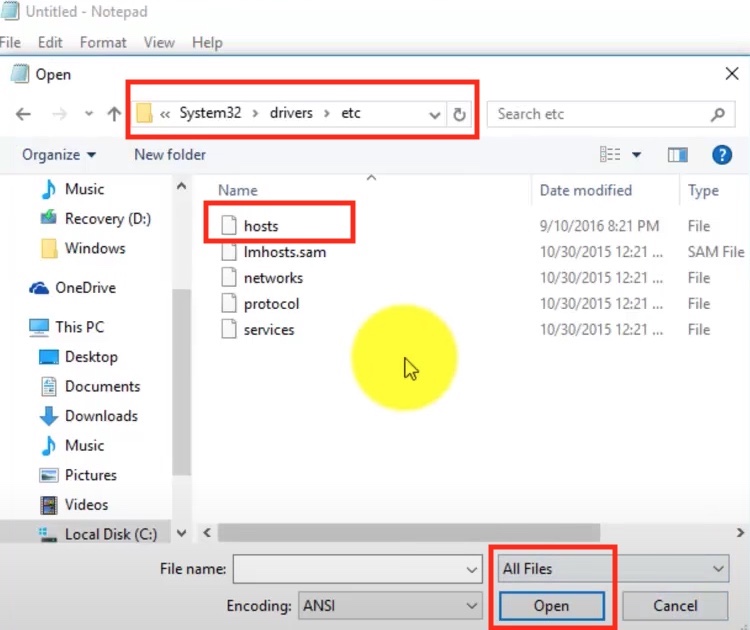 4. Place the cursor at the bottom line. For example, we want to block YouTube completely on PC to prevent our child effecting by inappropriate videos on it. Type "127.0.0.1 youtube.com" Then press Enter to create a new line. Type in "127.0.0.1 www.youtube.com" on this line.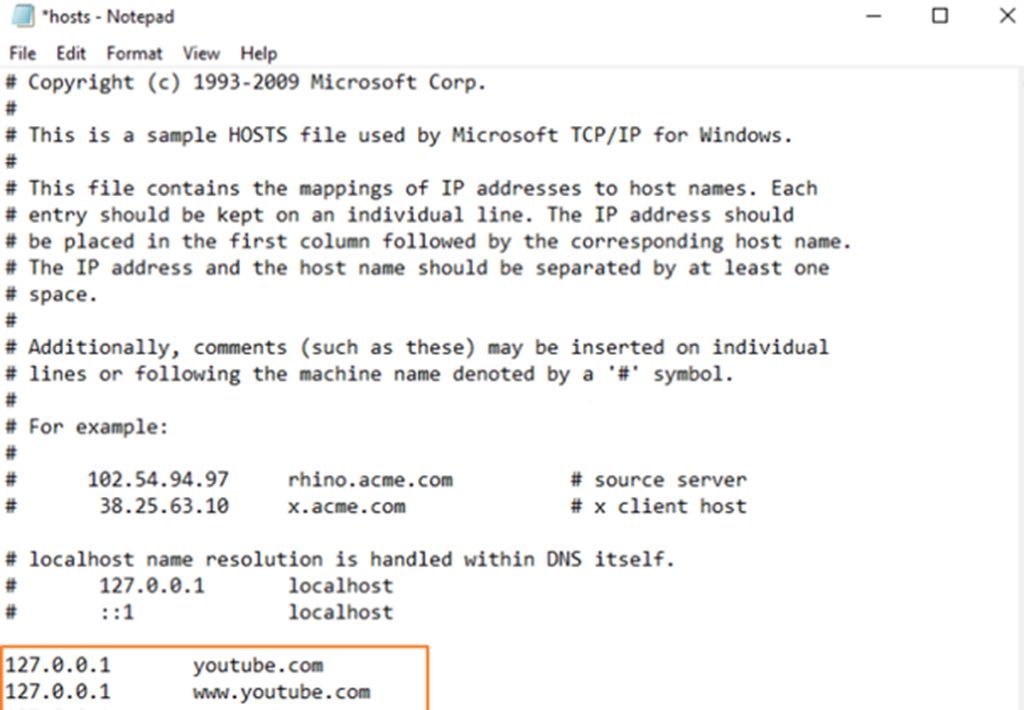 5. Click File > Save.
Blocking Websites in all Browsers on Windows 10 with Family Safety
Microsoft Family Safety is a built-in application in Windows 10. The administrator can change the settings to control family member's online behavior. As parent, you are able to view the time your child uses the device and the time spent in each application. You can also filter inappropriate content, and set time limits on certain apps. But one thing you need to pay attention is that you need to create a Microsoft account for your child, and ensure that he can only log in to this account. Here is the steps on how to block websites on Windows 10 with Microsoft Family Safety:
Create a Microsoft account for child:
(If you child already has his account, you can skip this part)
1. Click on the Start menu of your PC. Select Settings > Account > Family & other users.
2. At the pop-up Microsoft account window, click on Create one for child. Then click Next.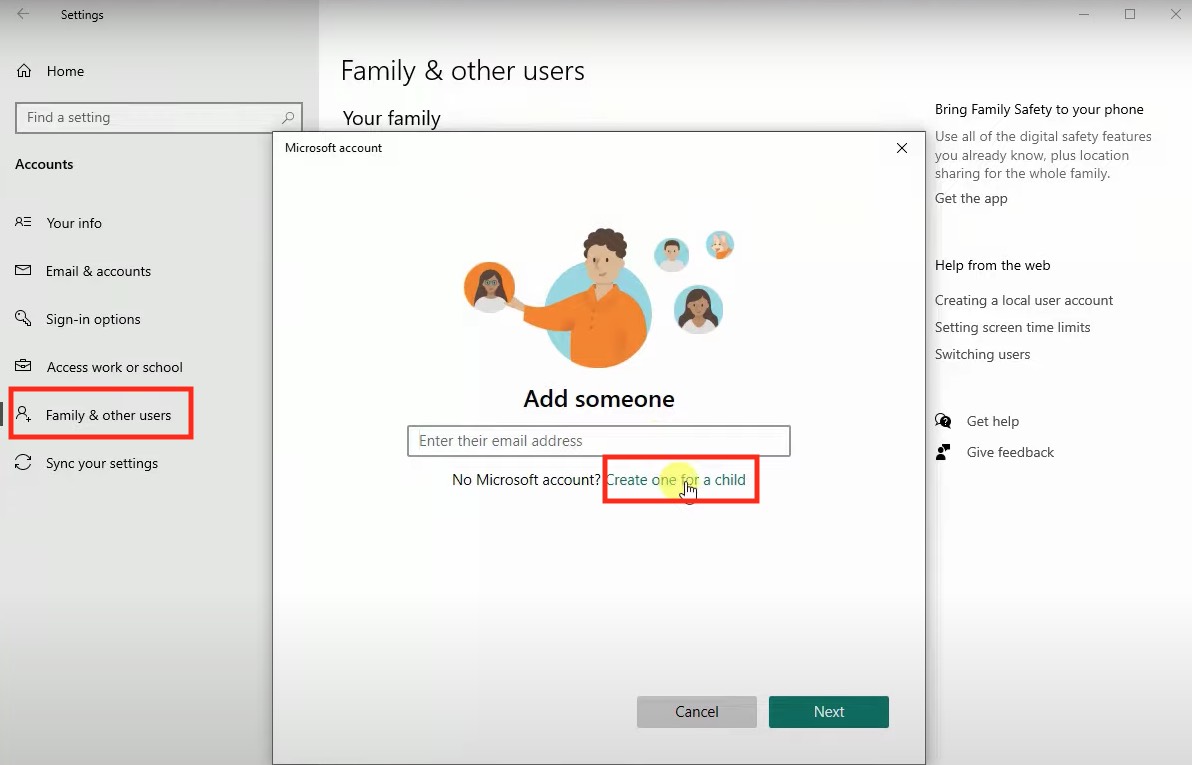 3. Enter your child's personal information to create an account for him.
4. Go back to Microsoft account window and add your child's account.
Block inappropriate websites on child's account:
1. Sign in your own Microsoft account.
2. Find your child's account on the Your family page.
3. Click on More options > Content restrictions.
4. Go to the Web Browsing section. Enable the Block inappropriate websites option.
5. Enter the unwanted websites to Always blocked section.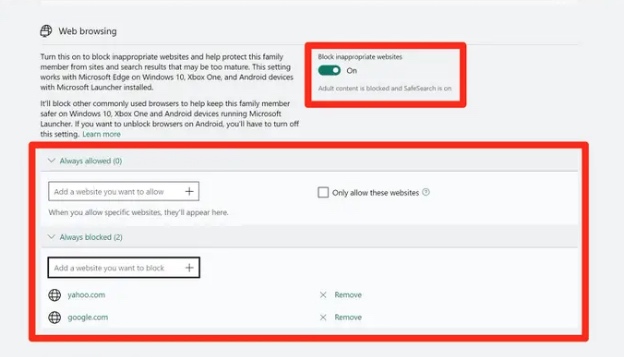 Blocking Websites on Windows 10 on Router's Web Page
When we use computer to surf on the Internet, we often encounter harmful websites. Some parents worry about their children being addicted to some gaming websites. Fortunately, general routers have the URL filtering function. We are able to use it to get a safer network environment and removing distractions. Adding a website to block list in the router to prohibit all devices in the local area network from accessing that website. Below are steps on how to block websites on Windows 10 on router:
1. First, open a browser to enter the router's IP address. The IP address of different routers is different. You can see it on the back of the router. Such as http://192.168.1.1, http://192.168.0.1, or http://router.asus.com. Then enter the username and password to log in.
2. Go to the filter section. Sometimes it's named as URL Filter, Parental Controls, Web Filter or something similar.
3. Enter the URL you want to restrict to block list. Then save the setting.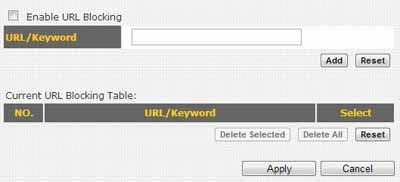 Conclusion
There're many reasons to block websites. If you always distracted by interesting websites while working, you might need a block with schedule feature to boost your productivity. If you are a parent, it's necessary to pay attention to your child's online behavior and block some harmful websites on his devices. After reading this article, I believe you have known how to block websites on Windows 10. Which method is your preferred one?