The Safari web browser is included with Mac computers. Many people want to know how to block Safari on Mac. Blocking access to Safari can help keep your Safari bookmarks, history and other information private. Also, you can set time limits on Safari by blocking Safari during certain times. This article will show you how to do the blocking easily.
Method 1. How to block Safari on Mac in an easy way
I would like to disable opening Safari on my Mac. I don't want to delete or modify it in any way. I only want to prevent myself from opening the application itself. Is there any way to stop Safari from opening? ― Asked by a MacBook Pro user
The easiest way to block Safari on MacBook Pro, MacBook Air or iMac etc. is to use Cisdem AppCrypt, the best app and website blocker for macOS. With this tool, you can easily control access to Safari for Mac.
AppCrypt main features:
Block Safari and other apps with password
Record failed attempts to open blocked apps with date, time and photo
Block websites with password on Safari, Google Chrome and other browsers
Let you block websites by category
Offer a schedule feature to block apps and websites at certain times
Easy to use
Hard to bypass
Help with privacy protection, parental controls and productivity etc.
Support macOS 10.12 or later
Steps: How to block Safari on Mac
1. Download AppCrypt and install it.

Free Download
2. When you first open the tool, set a password.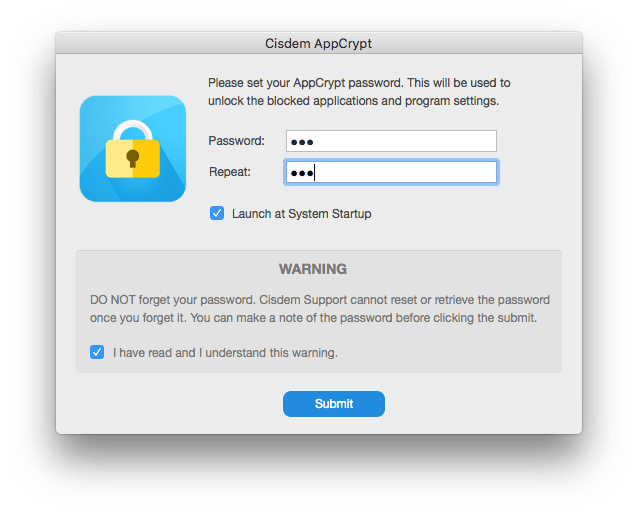 3. In the menu bar, click its icon and choose Open Main Window.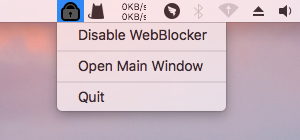 4. Enter the password, and you are in the main window. Click Add App.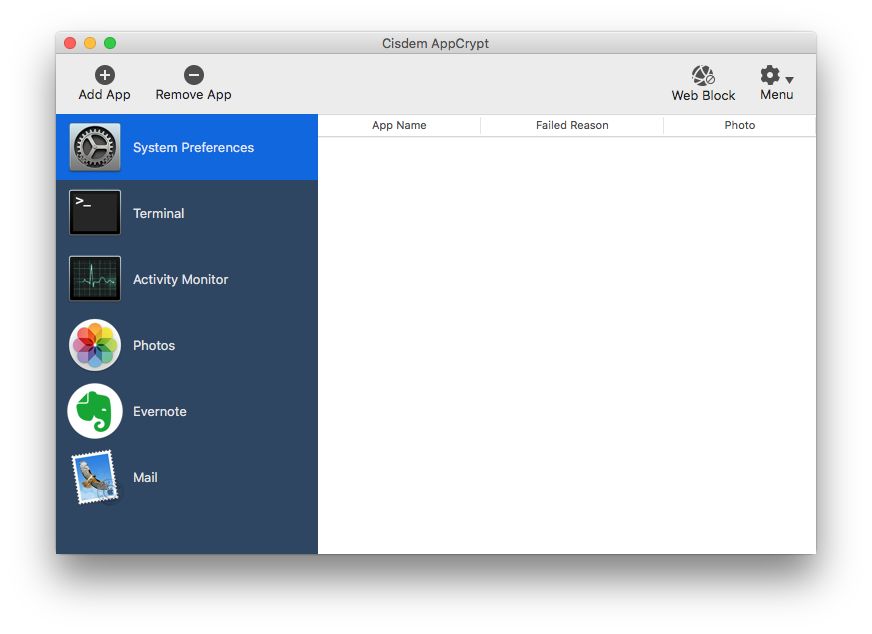 5. Select the Safari app and click Open.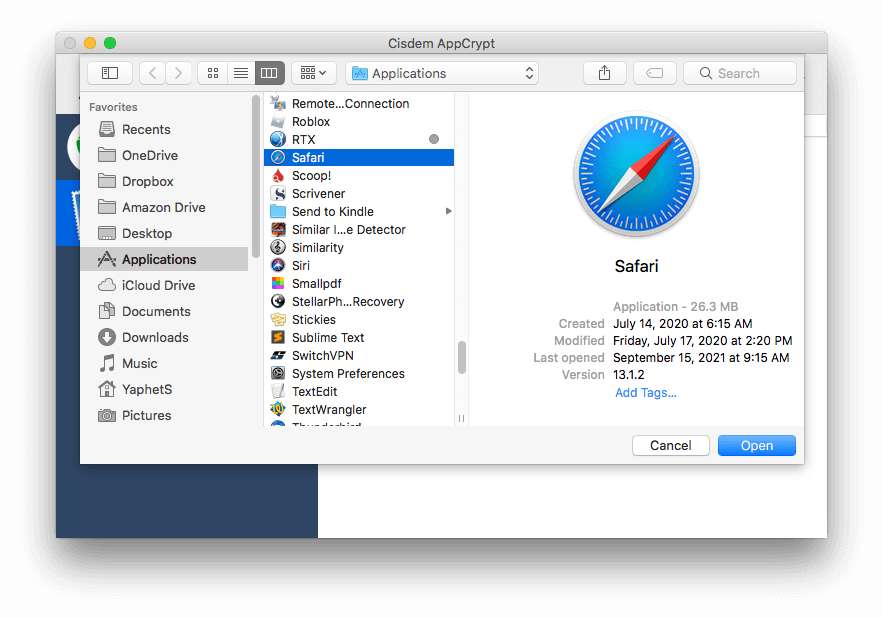 Now Safari is blocked on Mac with password. When you or others such as your child try to open Safari, it won't open, and the "Safari is locked" message will appear.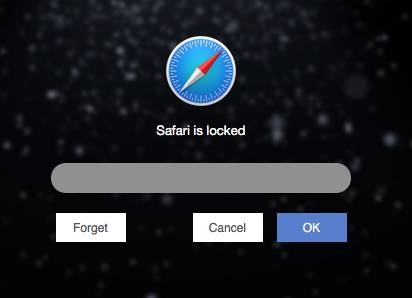 If one enters the correct password and then click OK, Safari will open successfully.
To unblock Safari on Mac, enter the password to open AppCrypt's main window, select Safari and then click Remove App.
Tips
Tip 1. Put time limit on Safari by blocking access to Safari during certain hours
With AppCrypt, you can easily block (or password protect) Safari. The same tool also allows you to set time limit on Safari. In the main window, choose Menu > Preferences. Under the Schedule tab, select Safari, click Add Schedule and start setting up.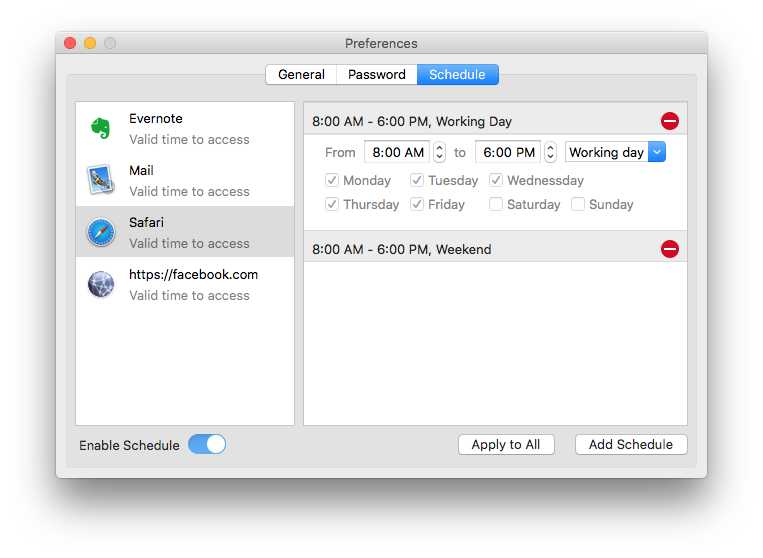 Tip 2. Block Safari websites on Mac
Click Web Block in the main window. Add specific websites to block. Or, click the Import dropdown menu and select a category of websites to block.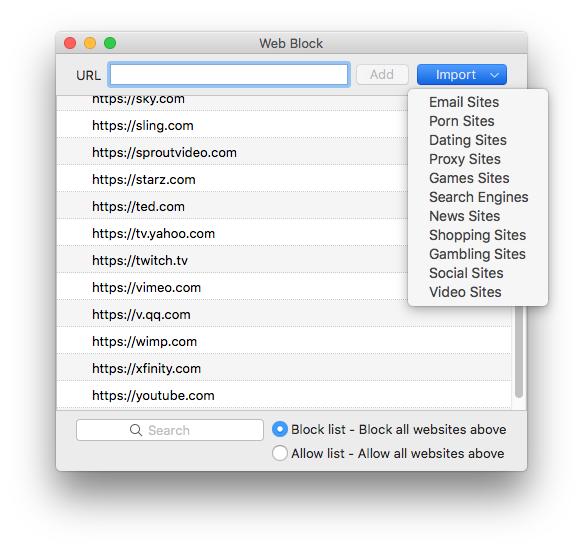 Cisdem AppCrypt
Block apps with password
Block specific sites or categories of sites with password
Let you block all sites except a few
Let you schedule blocking of apps and sites
Hard to bypass
Help you block Safari or put time limit on it
Can be used to protect privacy, put a parental lock or increase productivity etc.

Free Download
---
Method 2. How to block Safari on Mac during downtime on Screen Time
If your Mac is running macOS 10.15 Catalina or later, Screen Time is available to help you restrict Safari access. Screen Time is a set of tools included with Mac.
1. On your Mac, go to System Preferences and choose Screen Time.
2. Click Downtime on the left.
3. Click Turn On to turn it on.
4. Set up the downtime schedule(s) based on your needs.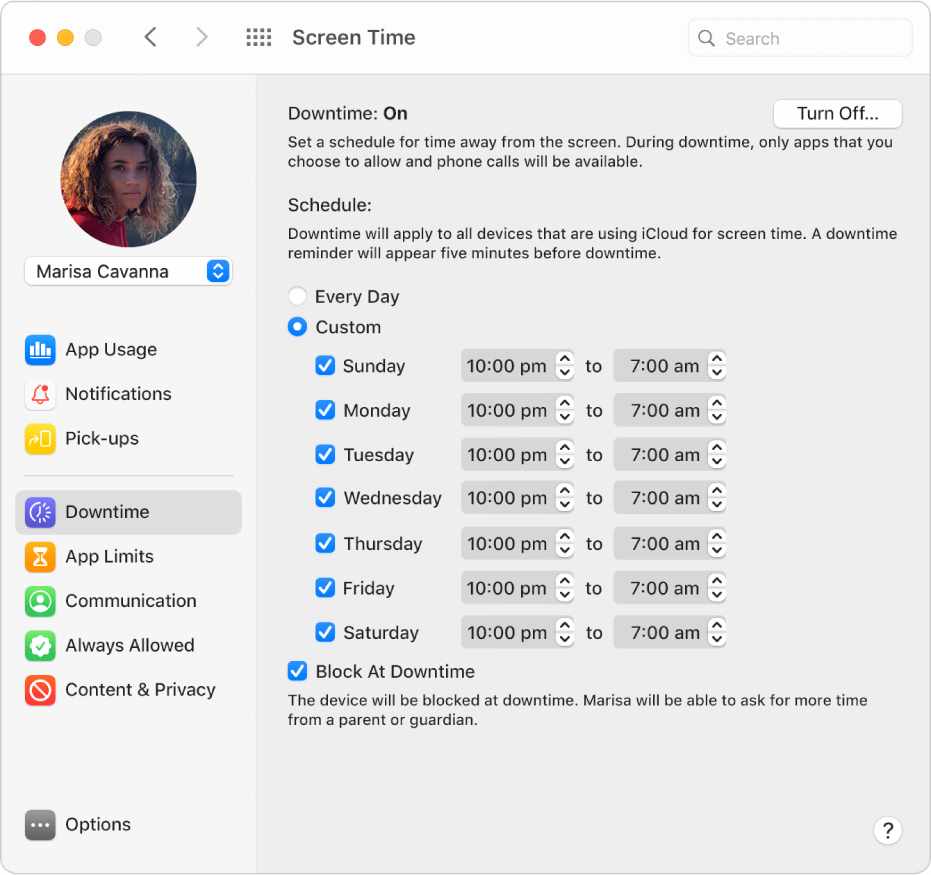 5. Click Always Allowed on the left.
6. From the Always Allowed list, deselect the box next to the Safari app.
During downtime, the Safari app, which is blocked, will dim. If you or some else tries to use Safari, the Time Limit warning will show up. But the Ignore Limit option makes it easy to bypass the blocking.
Want to block Safari more effectively? You can select the box next to Block At Downtime in Step 4. This option is available only if you have set a Screen Time passcode. Note that enabling Block At Downtime will block your Mac during downtime.
---
Bonus tips
Now you know how to block or lock Safari on Mac. This part shares some tips that may be helpful.
Tip 1. How to block websites on Safari on Mac
1. Download and install AppCrypt.

Free Download
2. Set a password.
3. Click Open Main Window and enter the password.
4. In the main window, click Web Block.
5. Add the URL of a website (such as youtube.com) to block. Or, you can block a category of websites.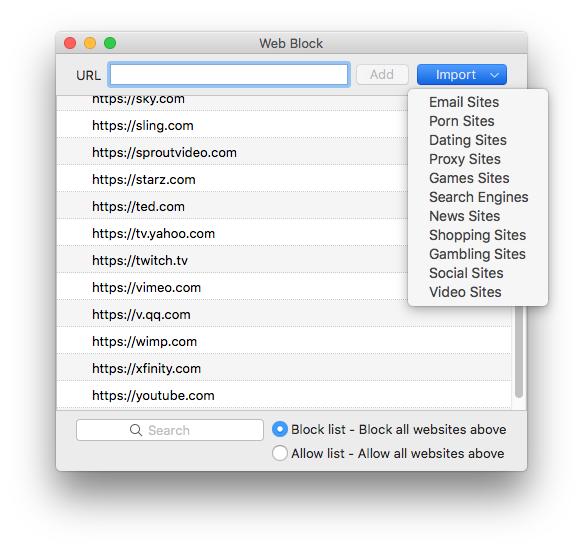 As you can see, AppCrypt can not only block Safari on a Mac but also restrict websites on Safari.
Tip 2. How to block ads on Safari Mac
1. On your Mac, open App Store.
2. Search for AdGuard for Safari. Install it.
3. Relaunch the Safari app.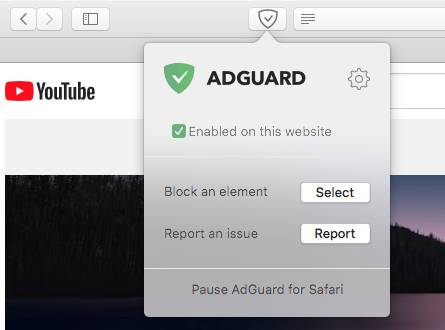 Now the AdGuard icon should appear next to the Smart Search field. And it should start blocking Safari ads. The blocking applies to both the normal and private browsing modes.
Tip 3. How to block pop ups on safari on Mac
1. Open Safari on Mac. Go to Preferences.
2. Go to the Websites tab.
3. Select Pop-up Windows on the left.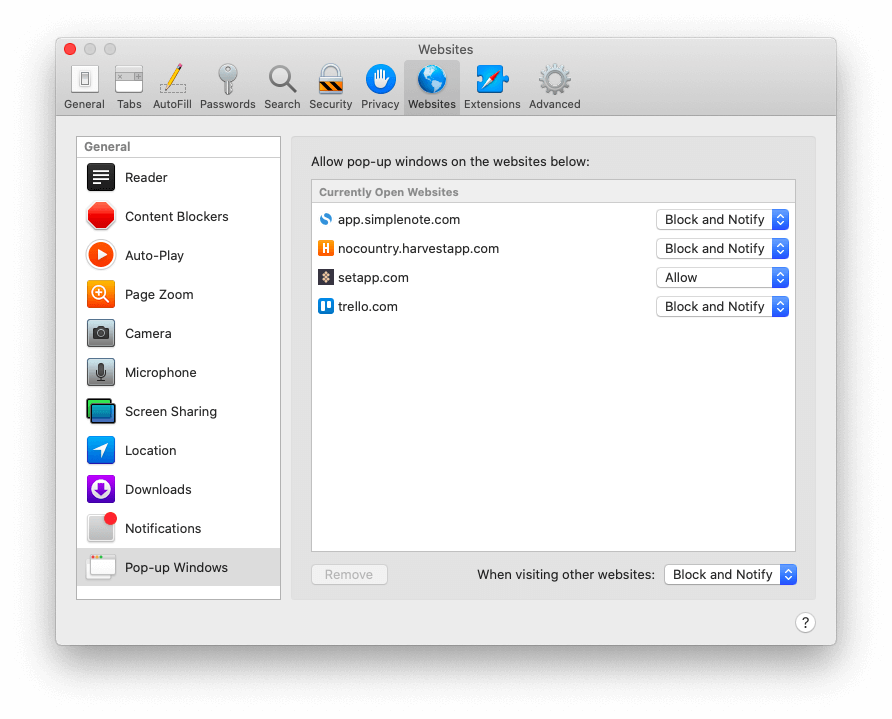 4. From the When visiting other websites dropdown menu, choose Block and Notify or Block.
You can allow pop-up windows on certain websites if needed.
Tip 4. How to get rid of Safari on Mac
With Method 1, you can password protect Safari on Mac to block Safari use. Some people may also want to know how to delete Safari on Mac.
The fact is that there is no legitimate way to uninstall Safari for Mac. And it's recommended not to delete any pre-installed apps. If you want to not use Safari on Mac, just stop using it or block access to it.
---
Conclusion
By blocking the Safari app, you can prevent other people from seeing your browsing history or changing your settings. Or, you can schedule blocking during certain hours to prevent yourself or your children from spending too much time browsing the web with Safari. This article mainly talks about how to block Safari on Mac. I hope it can help you stop access to Safari or set a time limit on it.