The average lifetime of each hard drive is limited. Over time, errors will appear increasingly without preparation. Hard drive errors can be caused by many reasons like power outages, hardware failures, poor system maintenance, viruses, or human error. To fix disk errors and repair hard drive data, you need an efficient HDD repair software. Here I have put together a list of hard drive repair software for troubleshooting, diagnosing and repairing a hard drive on your macOS or Windows devices.

Best Data Recovery for Mac and Windows
Restore Data from Hard Drive on Mac or Windows
Recover files lost due to different cases: deletion, format, trash emptied, system crash, human error, etc.
Restore data from internal hard drive, external storage device
Recover videos, audios, documents, archives, virtually all file types
Repair damaged videos, images and documents
Preview recoverable items
Filter files with keyword, file size, date
Quick access to specific folders: Desktop, Trash, Downloads, Photos, etc.
Recover files to local drive or cloud (Dropbox, OneDrive, GoogleDrive, pCloud, Box)

Free Download

Free Download
Part 1. What to Look For In A Good Hard Drive Repair Software?
There are many HDD repair tools available to get your drives back to the right track, you may pick one of them basing on feedback, authority reviews or just the price, following are the benchmarks we use to pick a good hard disk repair software:
Easy to use
Reasons leading to damaged hard drive can be very complicated and most of us know little about hard drive, we will need a easy-to-use tool to do the job for us.
Highly compatible with latest file systems and hard drives
Our device applies different types of file systems and we use various modes of hard drives, a hard drive repair tool should work on mostly file systems and hard drives.
View basic information of the drive
Basic information, even a SMART attribute report helps us know our drive's condition better and take actions as soon as fast to avoid any data loss.
Repair fast
A hard drive is large in capacity and stores countless files, we will need a tool scans fast and repair fast to improve efficiency.
Advanced options to control the drive repair as you want
We may want to repair the bad sectors only and keep others untouched, or take a schedule to repair drives, this can greatly enhance user experience and give us freedom to manage disks.
Part 2. 12 Best Hard Drive Repair Software for Mac and Windows to Check Out
Quick Review
Best Hard Drive Repair Software for Mac
1. Cisdem Data Recovery
Platform: macOS 10.9 or later
Cisdem Data Recovery is a powerful data recovery tool that allows you to repair hard drive data. It can recover photos, videos, documents, archives, emails, etc., from your hard drive and other storage devices like SD cards, flash drives, iPods. Moreover, it supports recovering data of a wide range of formats such as PDF, Keynote, JPEG, PNG, DOC, HTML, MP3, GIF, M4A, Keynote and so on. Thanks to this critically acclaimed and efficient hard drive repair software, which makes HDD repairing much easier. Not only available on Mac, it offers Windows version too, and works equivalently good on Windows recovery.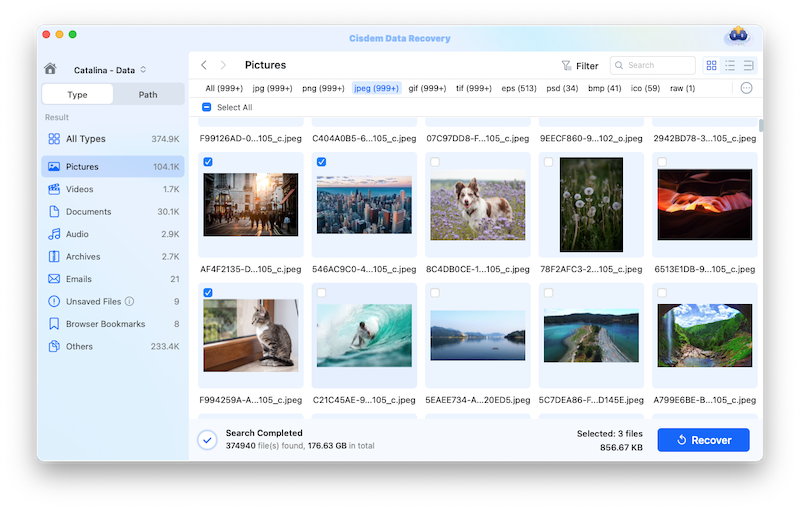 Key Features:
Recover data from internal and external hard drive(HDD, SSD, fusion drive), USB, SD Card, media player, camcorder, camera, etc.
Recover 200+ file types: video, audio, photo, documents, archive, etc.
Restore files lost due to different reasons: delete, format, empty trash, system crash, virus attack, etc.
Repair damaged videos
Quickly search files with filter tool, basing on keyword, file size, date created, date modified
Recover files to local drive or to cloud services
Show all, lost, hidden or system files as you like
Recover data fast
Pricing:
Free Trial
Subscription fee: $69.95/month, $99.95/year, $149.95/lifetime
2. TechTool Protogo
Platform: macOS 10.11 or greater, Apple Silicon Mac support
TechTool Protogo allows you to easily turn a USB, FireWire device, iPod, flash drive, hard drive, or SD Card, into a bootable and diagnostics toolkit to troubleshoot all of the Macs. You can use this hard drive repair software to boot, run diagnostics and perform hard drive repair on a computer to determine problems bypassing the OS. Before you click "Build TechTool Protogo Device", make sure that any important data on the device you chosen are backed up since the entire device will be completely erased.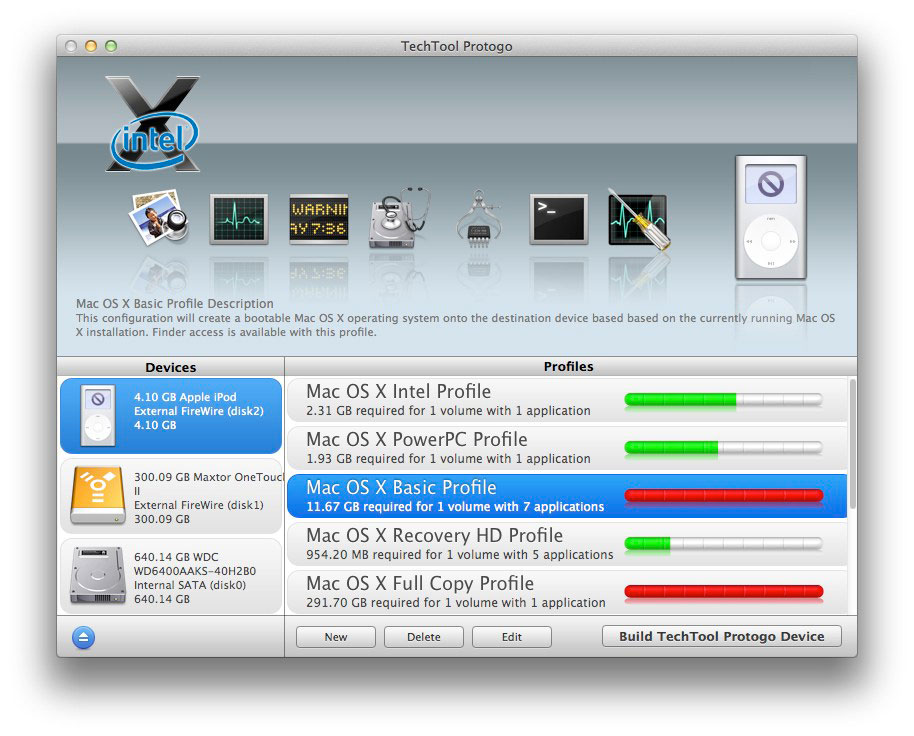 Key Features:
Test and repair startup disk, internal and external hard drive
Reformat drives
Inspect apps
Quickly access to TechTool with Apple utilities when startup disk stop working
Protect important data
Test battery
Text and maximize memory
Pricing:
Techtool Pro 14 Full Version $129.99
Techtool Pro 14 Business Pack $249.99
3. DiskWarrior
Platform: macOS 10.5 or later
DiskWarrior is one of the highest rated hard drive repair software for macOS. With a simple click, it reads the damaged directory and finds all recoverable files and folders and rebuilds a new error-free, optimized directory for you to use. You can also use DiskWarrior as a preventative maintenance utility for hard disks as it can monitor your drive's health. It also repairs cryptic errors reported by Disk Utility like "Invalid node structure" and "Keys out of order".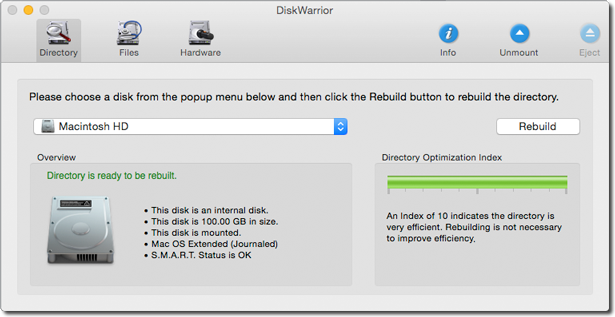 Key Features:
Repair disks
Recover lost and missing data
Recover data from a failing drive
Monitor drive's health
Diagnose common file problems
Pricing:
DiskWarrior $119.95
DiskWarrior Upgrade $59.95
4. Drive Genius
Platform: macOS 10.8 or later
Drive Genius is a disk utility application for Macsc with 18 essential features including automated hard drive health check. It alerts you to hard drive issues before they become major problems. The built-in BootWell® tool lets you create a special bootable secondary drive to defrag and repair hard drive. This hard drive repair software also allows you to repartition and clone hard drive, repair directory, check integrity, speed up Mac, protect Mac from virus attack, etc.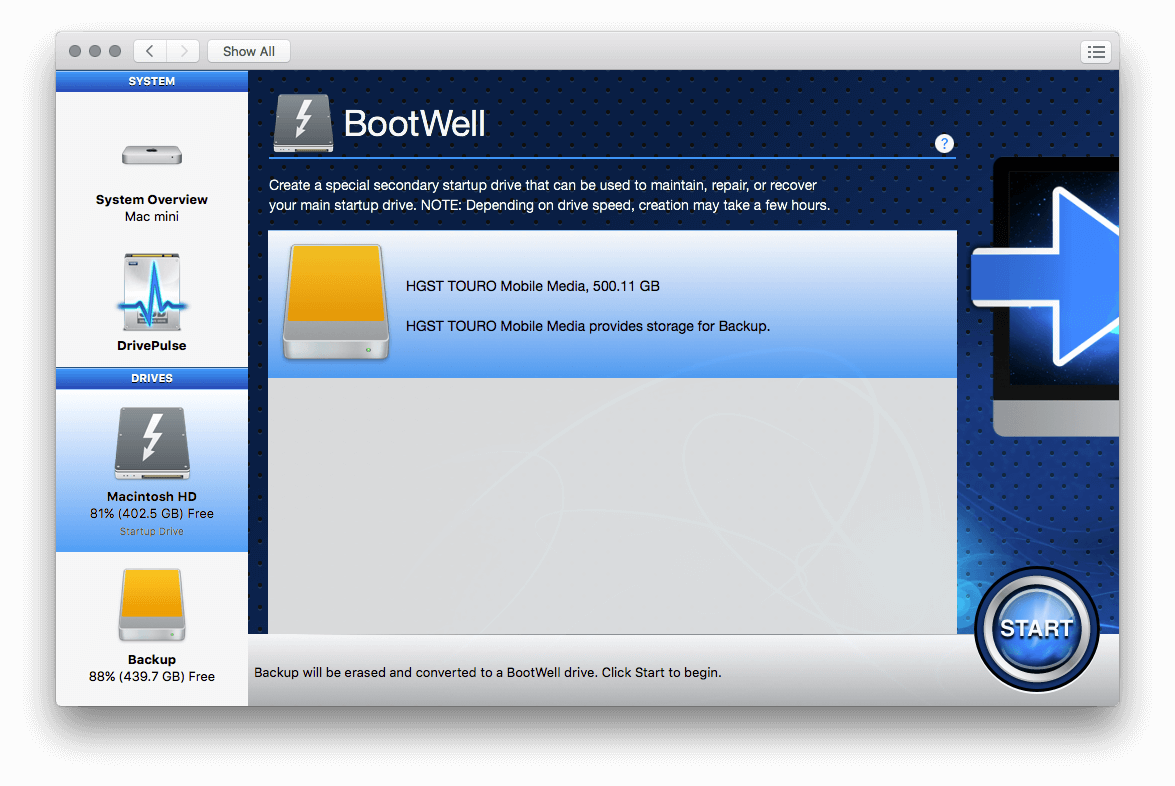 Key Features:
Repair and rebuild hard drives
Scan malware
Monitor drive's health
Find large files, duplicates
Securely erase data
Initialize drive
Offer speed-up solutions
Pricing:
Standard license: $79
Professional license: $299
Perpetual license: $99
5. OnyX
Platform: macOS 10.11 or later
A specific version of OnyX for each major version of the operating system.
OnyX is a multifunction Mac hard drive optimization utility that can be used to verify the startup hard disk and the structure of its system files. You can use OnyX to clean up Mac, clear Mac caches and run miscellaneous maintenance. It can help you configure parameters in the Finder, Dock, Safari, and some other Apple applications. Moreover, it can remove problematic folders and files and rebuild various databases or indexes. It is free and much better than some paid Mac cleanup software like CleanMyMac and Dr.Cleaner.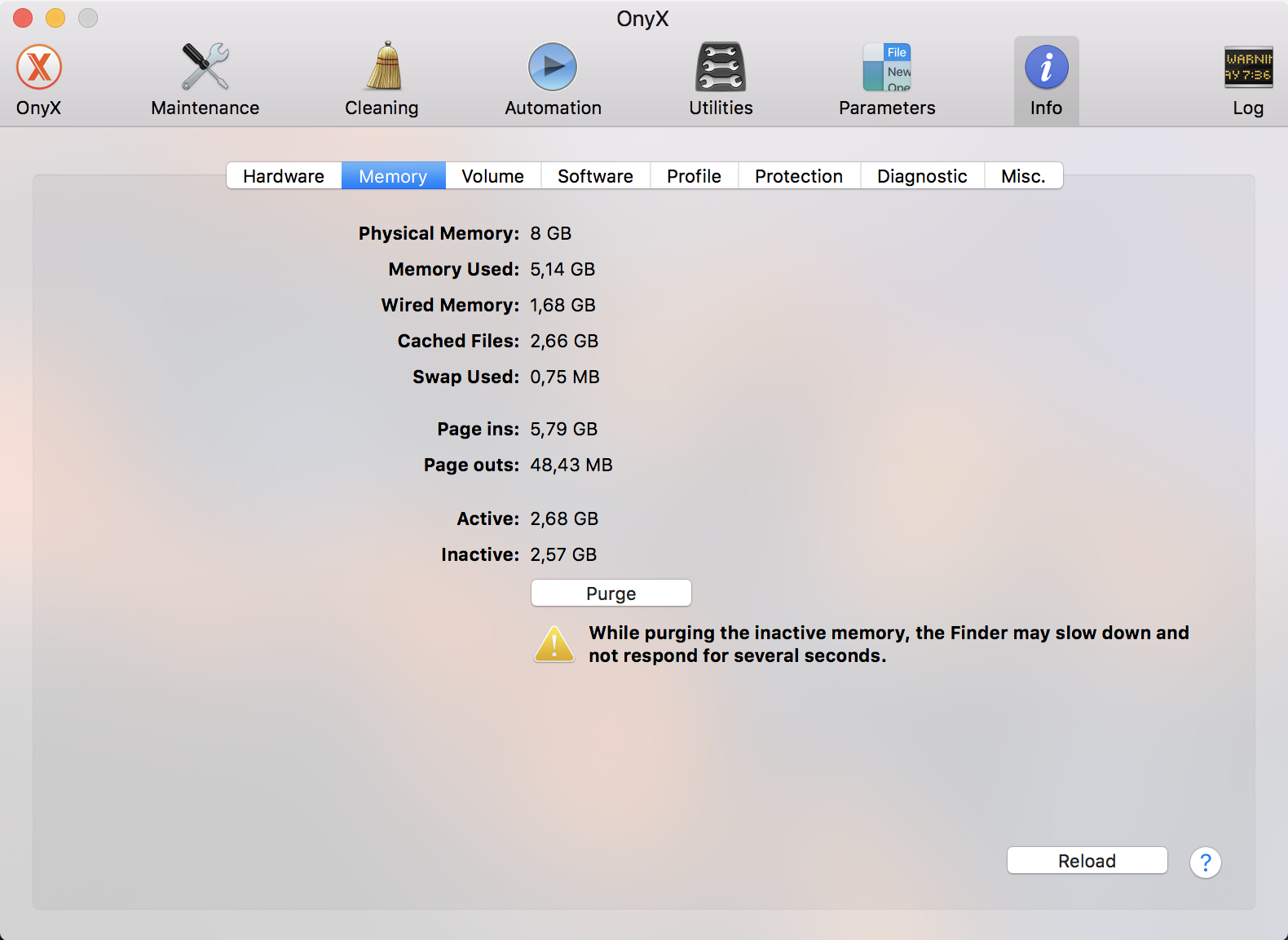 Key Features:
Verify the structure of the system files
Maintain and repair drives
Configure parameters in Apple apps
Delete and clean up Mac
Remove folders and files
Rebuild database and index
Pricing:
Free (You can donate to the contributor)
6. Disk Utility
Platform: macOS 12 and earlier versions
Disk Utility is the built-in partition and disk management tool on macOS. It shows all internal and external hard drives on your Mac, offering 5 great tools to access to and manage your disks on one place. It cannot only find and repair disk errors, but also restore data from a failing disk. As the best free Mac hard drive repair tool, Disk Utility should be your first option when your disk run into errors.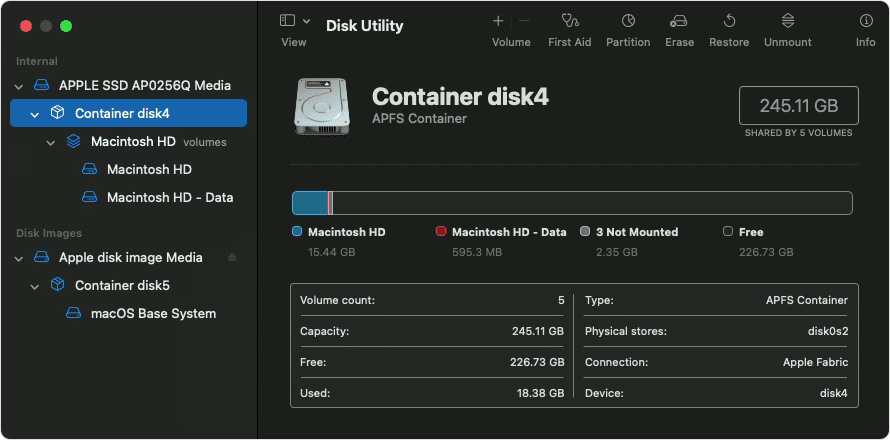 Key Features
Run first aid to check disk errors and repair
Partition device and change the name or format
Erase hard drive
Restore data
Mount or unmount specfic disks
Pricing:
Best Hard Drive Repair Software for Windows
7. TestDisk
Platform: Windows 10/8/7/Vista/XP, macOS 10.5 or later and Linux
TestDisk is a piece of free hard drive repair software that is primarily designed to repair FAT12/FAT16/FAT32 boot sectors, recover deleted partitions, fix damaged partition tables and make non-booting disks bootable again. This app recovers deleted data, as well as copies files from deleted/inaccessible partitions. It supports a number of different file systems including FAT/NTFS/exFAT/ext2. This free hard drive repair tool is not a good choice for computer novices.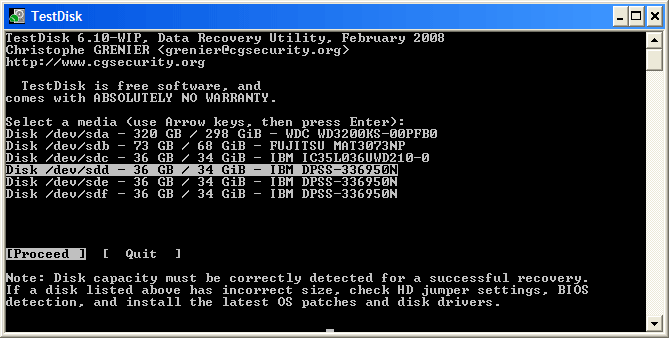 Key Features:
Repair and rebuild boot sectors
Recover data from deleted partition
Copy files from deleted partition
Pricing:
8. CheckDisk
Platforms: Windows 10/8/7/Vista/XP
CheckDisk is another simple and free hard drive repair tool to fix hard drive bad sectors on Windows. It comes with Windows OS to scan drives without any software, there are 2 ways to evoke CheckDisk, through Windows Explorer or Windows PowerShell. Select one of the connected hard drives to scan. During scans, the details of scan are displayed on the left column of UI. Then select the Correct Errors option and hit Check Drive button to begin the hard disk repair. It is very easy to use, and no tech knowledge needed.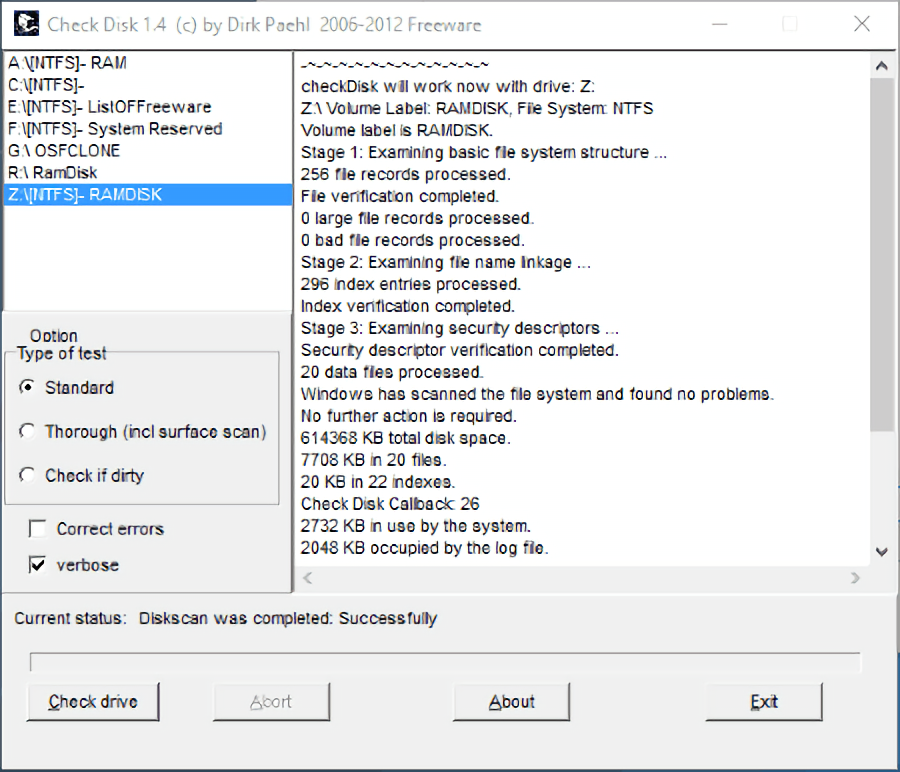 Key Features:
Scan file system of a disk
Check the integrity of filesystem
Fix file system errors
Pricing:
9. Glary Utilities
Platform: Windows 10/8/7/Vista/XP
Glary Utilities is free, powerful and all-in-one hard drive repair software for cleaning your PC and boosting PC speed. It offers over advanced 30 tools to maximize your PC's performance. It can scan your hard drive for issues and repair it if any errors found. And it also repairs registry and system files, fixes shortcuts, removes malwares, cleans up duplicates, etc.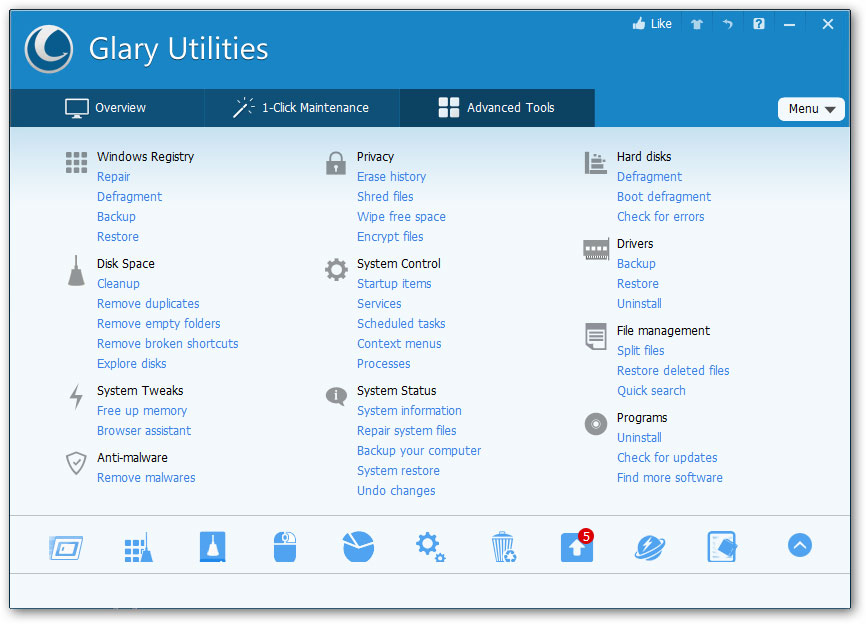 Key Features:
Clean up Windows: junk files, cache, duplicates, temporary files, etc.
Repair disk
Optimize and improve Windows performance
Protect privacy and enhance security
Manage files and folders
System Tools: Startup manager, shortcuts fixer, etc.
Pricing:
Glary Utilities Free: Free
Glary Utilities Pro: $39.95
10. EaseUS Partition Master
Platform: Windows 11 and earlier
As a matter of fact, EaseUS Partition Master isn't even a hard drive repair tool, it doesn't do the scanning nor directly repair your disks. But if offers multiple ways to maintain and enhance the disk performance, by doing changes to your partition or disk, your hard drive will be easily repaired and run properly again, you can move, merge, copy, clone, create partitions, migrate and convert file systems.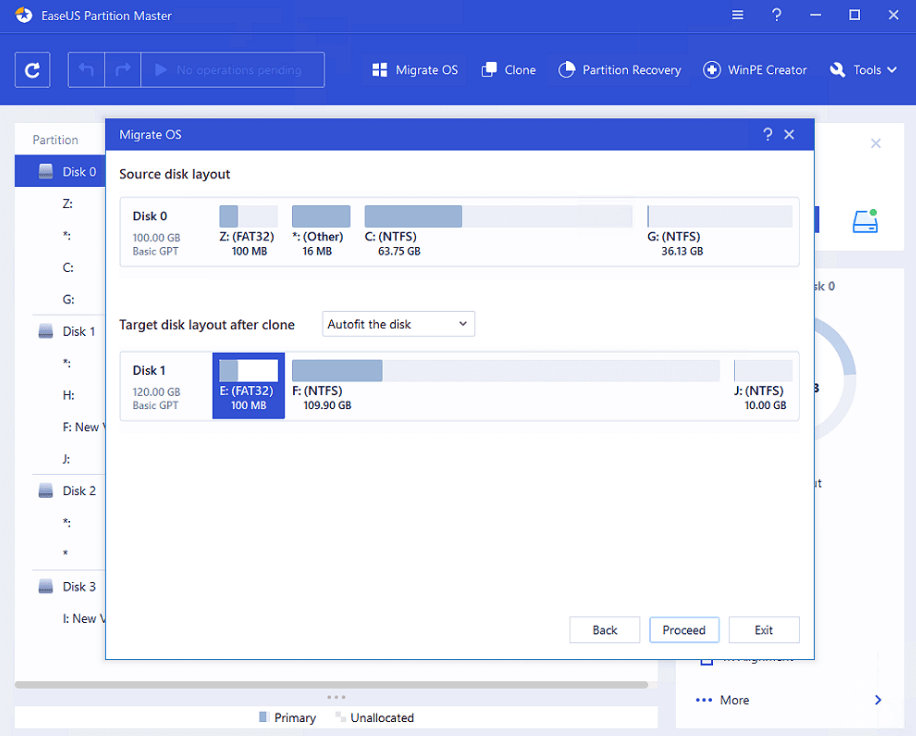 Key Features:
Redistribute spade on disk: resize, move, merge, clone, create, format, copy
Convert disk style without data loss
Convert file system from FAT 32 to NTFS
Create WinPE Bootable Disk
Recovery deleted or lost partitions
Aligh SSD partitions
Pricing:
Monthly: $19.95
Yearly: $49.95
Lifetime: $69.95
11. Hard Disk Sentinel
Platform: Windows 11 and earlier
Hard Disk Sentinel is designed to find, text, diagnose and repair hard drive on Windows. It monitors the health of your drive and use SMART to keep your hard drive running with least errors as possible. Also, it adds a lot of tools to speed up your Windows, protect privacy, back up files. The remote and schedule mode helps users manage their disks with great convenience.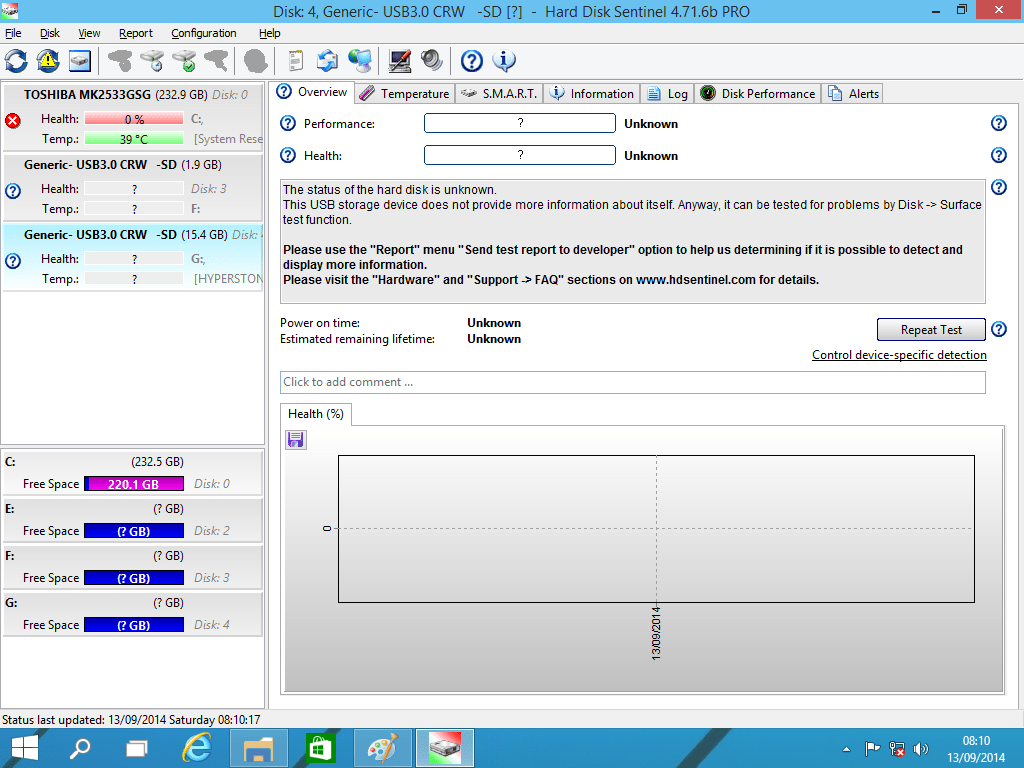 Key Features
View disk information
Diagnose and repair hard drive
Monitor drive health and give daily report
Back up file
Transfer files by FTP or email
Protect password
Pricing:
Free Trial: Free
Hard Disk Sentinel Standard: $19.95
Hard Disk Sentinel Professional: $29.95
Hard Disk Sentinel Standard Enterprise: $199.5
12. HDDScan
Platform: Windows 10 and earlier
HDDScan is a free Windows hard drive tool to test and find our drive errors, helping you repair your disks before things get worse. It can diagnose RAID servers, USB and SSD drives, check bad blocks and bad sectors, show SMART attributes. It can monitor temperature too. The AAM, APM and PM parameters of your HDD can be changed with this program.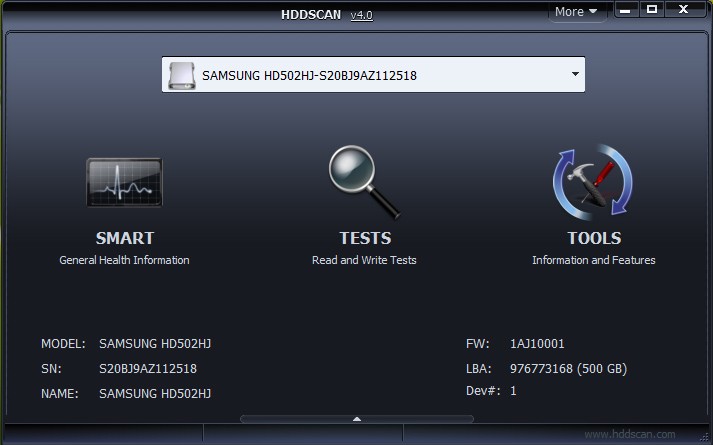 Key Features:
Check drive errors
Monitor drive's health
Change AAM, APM, PM parameters on HDD
Pricing:
Bonus: How to Recover Lost Data from A Hard Drive?
In the case that you want to recover lost or deleted data from a hard drive, you can use data recovery software to retrieve the files. Here we recommend Cisdem Data Recovery for Mac or Windows, for the reason that Cisdem Data Recovery offers professional data recovery solutions for both Mac and Windows PC users.
Step 1. Download and install Cisdem Data Recovery on your Mac or Windows personal computer.
Free Download Free Download
Step 2. Select the drive.
Go to Disk Data Recovery, select the drive where you want to recover lost data from.
Step 3. Click "Search for lost file" button. During scanning process, you can use the filter tool to search specific files quickly.
Step 4. Finally, double click on the files to preview and click "Recover" button to restore your hard drive data.
Conclusion
The main target of hard drive repair software is to recover missing, formatted & corrupted data and make the drive practicable again. There are three points I need to emphasize in the end:
Free hard drive repair software can't detect your data on the inaccessible drive, and comes with lower security when compared to dedicated one.
Although the best hard disk repair software offers the file recovery function, it is also important to backup hard drive data before you use them to repair hard drive.