When you open JPEG photos for your blissful moments, you may not be able to view them or they are not shown as original quality. That means your JPEG photos are corrupted or damaged. But don't worry, as they can be repaired. This guide will introduce 5 pieces of JPEG Repair software to fix corrupted JPEG files or other images. Here are the main contents of this guide and you can navigate to the part you are interested in quickly.

Best Data Recovery for Mac and Windows
Get Back Your Blissful JPEG Photos in Minutes
Recover photos, audios, documents, videos and other files on Mac
Support recovering JPEG, PNG, RAW, GIF, BMP, TIFF and other photos
Support recovering deleted or lost photos from SD card, HDD, SSD, USB drive, etc
Repair damaged videos
Support the automatic repair of currupted photos and documents
Clear interface and three steps to get back your precious JPEG photos
Retrieve data to Local drive or Cloud

Free Download

Free Download
What is JPEG?
JPEG, developed by Joint Photographic Experts Group in 1992, is one of the most common used image formats.
You can see JPEG photos almost everywhere in digital cameras, SD cards, computers, etc.Its filename extensions include .jpg, .jpeg, .jpe, .jif, .jfif, and .jfi.
Because of its lossy compression, the JPEG images would be distorted after zooming in.
What Corrupted JPEG Files Look Like?
It is common that JEPG files can get corrupted. If you get errors when opening JPEG files and can't view them, they are corrupted. The common errors that you might receive when opening corrupted JPEG files include "This is not a valid JPEG file", "No preview available", "Invalid JPEG Image File Header", "Invalid value for registry", "Unknown or invalid JPEG marker type is found", etc.
Sometimes, corrupted or damaged JPEG files can be viewed, but they look like these mentioned as following:
The JPEG file has been split into two parts.
The JPEG file contains the contents of another image.
The JPEG image is blurred or distorted without enlarging.
Some contents of the JPEG file are missing or part of it is displayed as black.
In part of the JPEG file, the color has changed.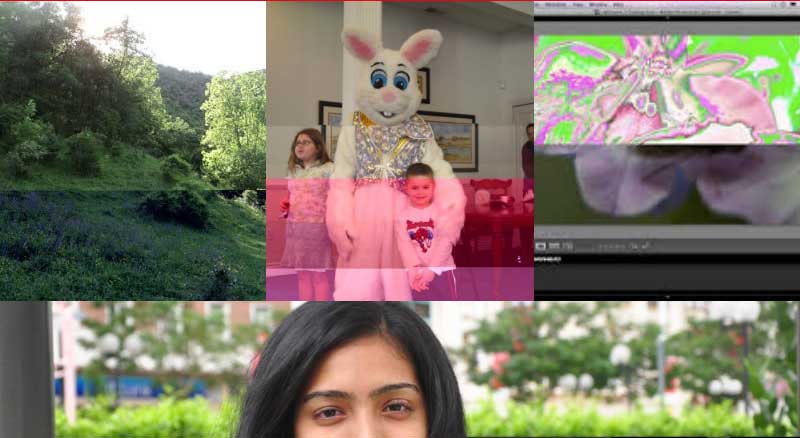 If you get such errors or have such JPEG photos, and nothing works after you converting JPEG to another format or renaming the file, you'd better try JPEG repair software recommended in this guide to repair them. And remember these tools only allow you to recover corrupted JPEG files or other image formats and don't provide deleted JPEG files recovery. If you want to recover deleted or lost JPEG files, some deleted file recovery tools like Cisdem Data Recovery for Mac or Recuva for Windows may help you to get them back.
Also be aware that there is less free JPEG repair software in the market. So almost the JPEG repairs mentioned below are paid, but they offer free trial for you to preview the repaired JPEG files. If your JPEG files are important enough, dropping some dollars to repair them would be worthy.
Five JPEG Repair Tools to Repair corrupted JPEG Files
Stellar Phoenix JPEG Repair (Windows, Mac)
Platforms: Windows version is available on Windows 10, 8, 8.1, 7, Vista & XP. While Mac version is available on macOS 10.6 – 10.13.
Stellar Phoenix JPEG Repair is a powerful and reliable JPEG repair tool that allows you to repair corrupted or damaged JPEG images, no matter where they are stored. The built-in engine is very successful in extracting the embedded thumbnail image of corrupted or damaged JPEG files without any quality loss.
With the JPEG repair software, you can batch repair corrupt JPEG images. And it is easy to use. To recover corrupted JPEG, just add the files to it and tap "Repair", wait for a while and your JPEG files will be repaired, after that, click "Save" to save the repaired JPEG files.
This JPEG repair tool is not free and the trial version only allows you to preview the repaired JPEG files. The Standard version is $39.99. If you want to repair corrupted videos, you have to upgrade it to the Premium version that costs you $99.99.
Download Stellar Phoenix JPEG Repair for Mac
Download Stellar Phoenix JPEG Repair for Windows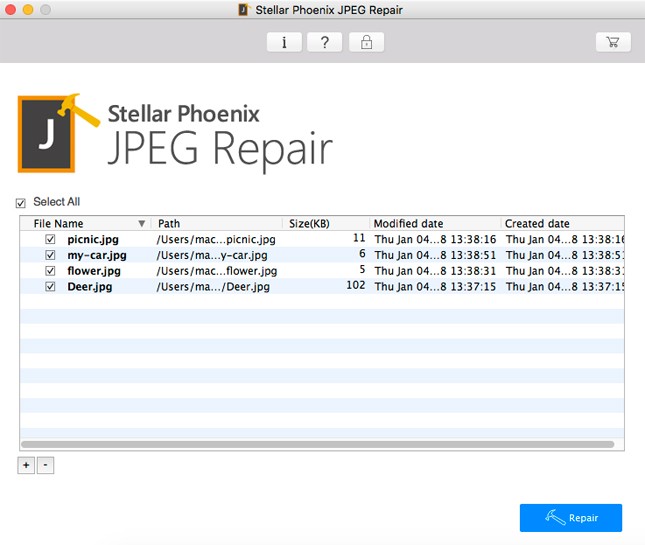 JPEG Repair Shop (Windows)
Every JPEG image is stored as a series of small rectangular areas called MCU or Minimum Coded Unite that are usually only 8x8 pixels in size. When the areas are compressed into a JPEG image, one error in an MUC area may result in a corrupted image. By adding the selected MCU or deleting bad MCU areas, you can repair the corrupted images. That's how JPEG Repair Shop works.
JPEG Repair Shop is a free JPEG repair tool wrote by Anders Pedersen. It allows Windows users to insert MCU, remove MCU and fix colors. You can preview the MCU area to decide which one to keep or remove. This tool is much complicated to operate and you can follow the instruction image below to fix corrupted JPEG photos.
Download JPEG Repair Shop for Windows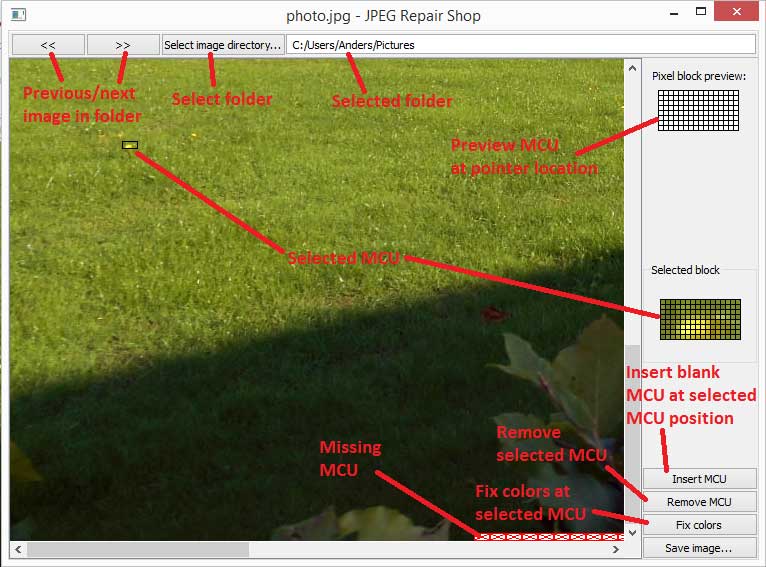 VG JPEG Repair (Windows, Android)
VG JPEG Repair is a tool developed by a German company, which can help us to repair JPEG files that are corrupted or damaged. But it is not a JPEG repair app, but a client for an online JPEG repair service. It used to be only available on Windows, but the developer has also launched an edition for android.
Like other recommended tools, it's not free of charge. The price depends on the numbers of images that need to be repaired. The more JPEG files you have to repair, the higher the price is. And the Windows version of the software is only available in German.
Download VG JPEG Repair for Windows
Download VG JPEG Repair for Android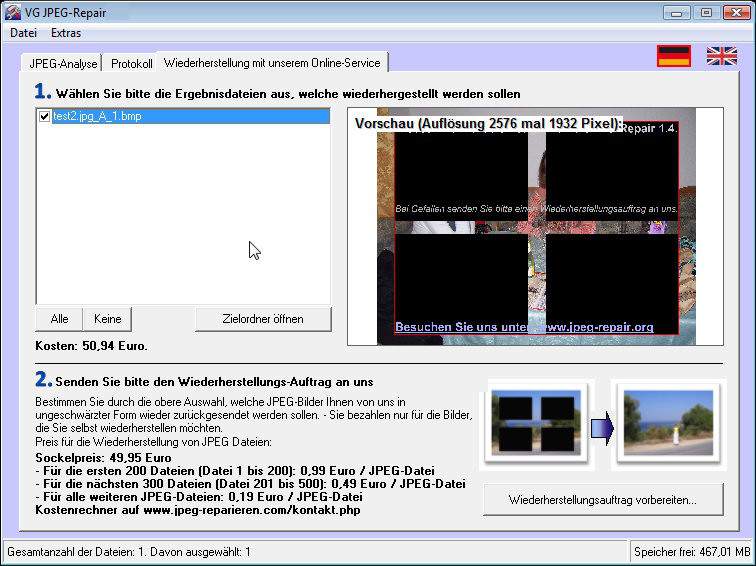 Online JPEG Repair (All Platforms)
It is not unrealistic to repair JPEG online. The website from Recoveronix, https://online.officerecovery.com/, can allow you to repair corrupted files online including images, documents, email and more. It supports repairing images in formats like JPEG, JPG, BMP, PNG, GIF, etc.
To repair corrupted JPEG, just go to the website and elect a corrupted image file to proceed, and then tap "Secure Upload and Repair". At last, click "Get the repaired file" to navigate to the page which you can download the demo result. The demo result can be used to assess the quality of full result. And to get full result, you have to purchase for at least $9.99. By the way, this online JPEG repair tool doesn't support batch repair.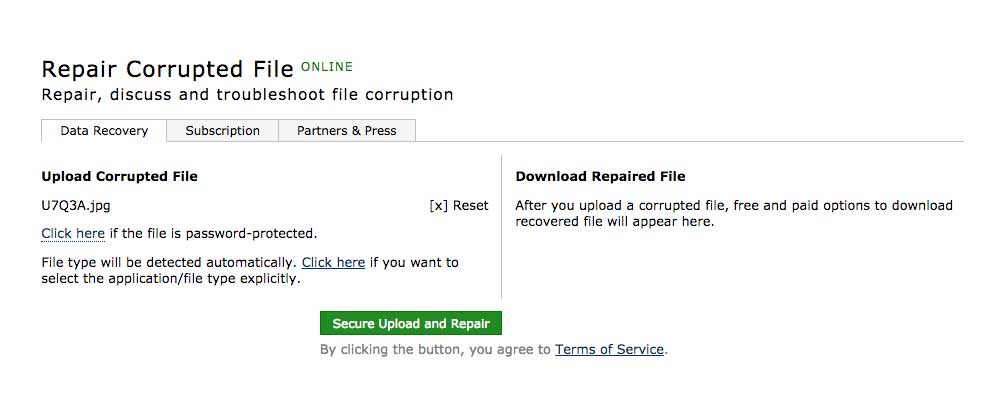 PixRecovery (Windows)
As the online JPEG Repair tool above, PixRecovery is also developed by Recoveronix. If the online tool can't help you repair JPEG files, PixRecovery would be a good option to try. It can repair corrupted images in almost common formats including JPEG, TIFF, PNG, BMP, etc. PixRecovery is only available for Windows and the standard license is $49.
To recover corrupted JPEG files, click "Recover" and add them to the list. Then click "Next" and this tool will remind you to make backups of the files. At last, choose your specific location to save and click the Recover button to repair them.
Download PixRecovery for Windows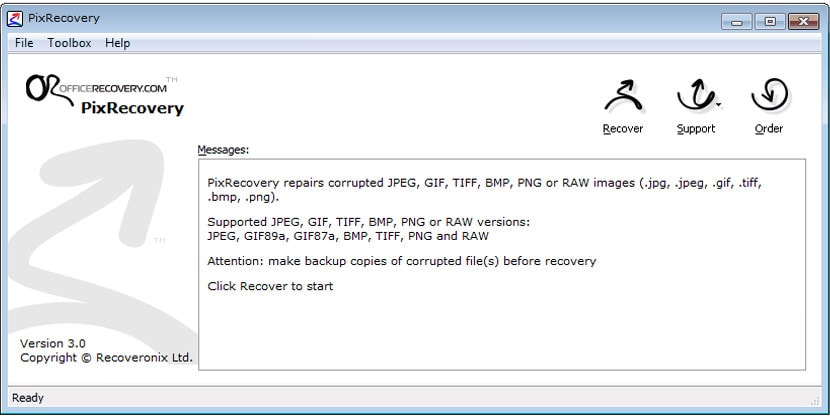 Brief Comparison of 5 JPEG Repair Tools
JPEG files can get corrupted due to many reasons, below are the common ones:
The JPEG files are virus affected.
The storage device that storing these JPEG files has bad sectors or is physical damaged.
Improper ejection or insertion of the memory card in digital camera or card reader.
The JPEG photos are taken on low battery.
An interruption in transmitting the JPEG files.
Improper scan or edit the JPEG files.
Although corrupted JPEG and other images can be repaired by above JPEG repair software, but it's always better to prevent this from happening again. Here are several methods you can take to prevent images from getting corrupted.
Always make a copy of photos or images before you work on them.
Use anti-virus software to scan SD card or memory card regularly.
Use built-in disk check tool to monitor disks and check bad sectors.
Always follow the proper procedure to insert or eject your storage device.
Make sure your system has a consistent power supply when working on photos.
Keep your computer and other storage device in safe places.
Do not take photos when your camera is on low battery.