Halloween is drawing near! To make your holiday funny and add an extra dose of creepiness, the digital decoration is a decent Halloween idea. You can project ghost Hologram videos onto walls, screens, windows, doorways, etc. to create scary visual effects. If you want to terrify your children or neighbors, go to download Halloween hologram videos right now. There are two ways for Halloween hologram video download on Windows and Mac. Let's see!
Best Free Halloween Hologram Video Downloader
Download Halloween projector videos from 1000+ sites like YouTube
Also download Halloween music, theme ringtones, and movies in bulk
Download 8K, 4K, 1080p, and 720p videos in original quality
Rip Halloween hologram DVD videos to digital formats
Convert videos to MP4, MKV, MOV, WMV, iPad, TV, Tablet, etc.
Support more than 300 formats for video conversions
Customize Halloween video clips with its built-in video editor
In-built video player to play your downloaded scary ghost videos
Easy to use and safe

Free Download
Windows 11/10/8/7

Free Download
macOS 10.12 or later
How to Free Download Halloween Hologram Videos from YouTube
YouTube delivers a plethora of free Halloween projector videos. You can find your favorite ones by entering the keyword like "Halloween projection", "grim grinning ghosts ", "floating ghost", "hologram 3D Halloween", "Macabre Manor", "visual art", "holographic Halloween decorations", "singing skeleton", "singing pumpkins", etc. All the ghost hologram videos with black backgrounds can be used for projection.
As long as you use a video downloader tool, you are able to download Halloween hologram videos free easily from YouTube or other video sharing websites (except for paid videos). Below shows you 4 best Halloween hologram video downloaders.
#1 Cisdem Video Converter (Windows, Mac)
Cisdem Video Converter is a powerful and dependable program that helps you free download Halloween hologram videos as well as Halloween theme ringtones. It is available on over 1000 websites, including YouTube, Vimeo, TikTok, Facebook, Dailymotion, Instagram, Bandcamp, etc.
It's also capable of making conversions between an array of video and audio files. Device-specific formats are offered to avoid compatibility issues.
The software makes it fast to batch process tons of videos and has got some other terrific features such as the ability to edit/merge videos, rip movie DVDs, etc.
Steps:
1.

Install Cisdem Video Converter
First of all, download and install the application to your computer.

Free Download Windows 11/10/8/7

Free Download macOS 10.12 or later
Open it, and you will see the "Convert" interface. Click

icon to switch to the "Download" interface.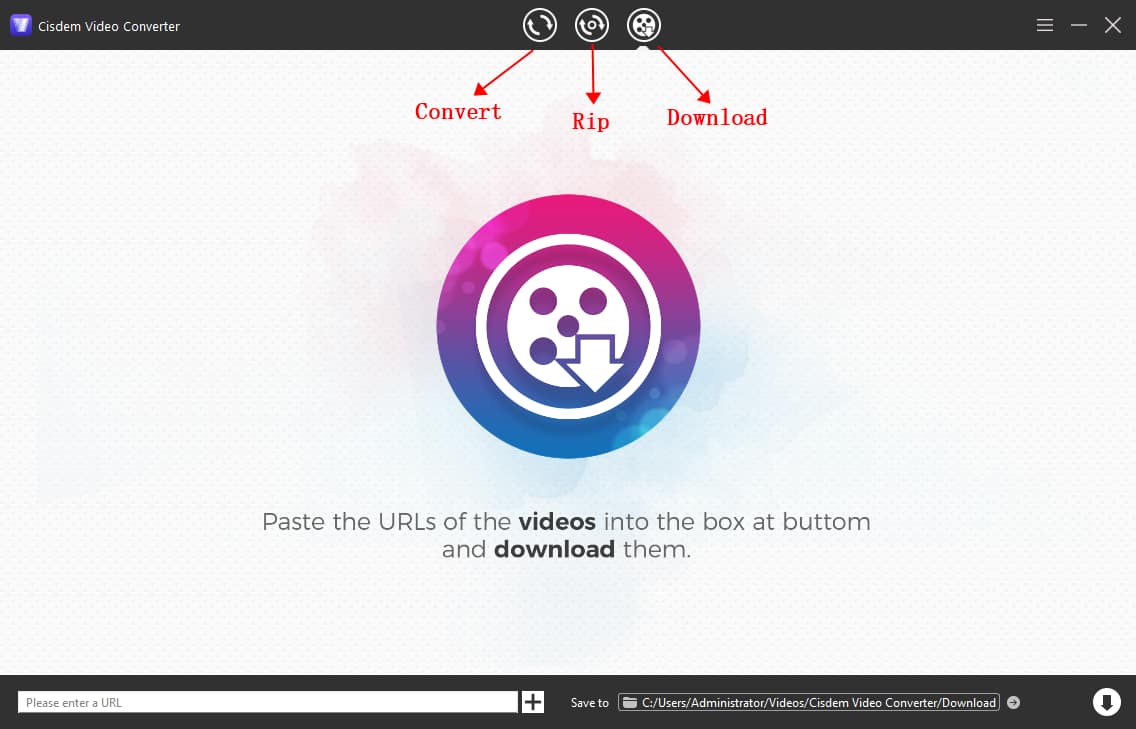 2.

Locate and Copy the Video URL
Navigate the Cisdem-supported site (e.g. YouTube.). Search for the Halloween hologram video and copy its URL.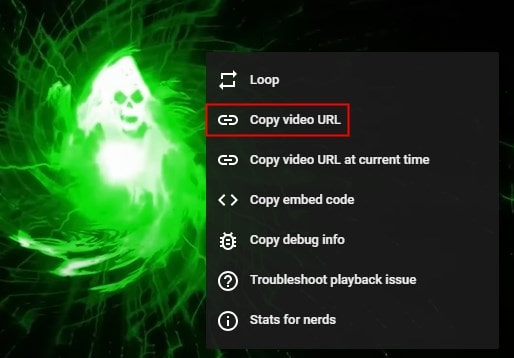 3.

Download Halloween Hologram Video
Return to Cisdem Video Converter and paste URL to the blank bar at the bottom. Click "+" to parse the video link, choose a format from the list, then click

button and wait for the download to end.
Note: The software allows you to download multiple Halloween hologram videos at the same time. You can continue to copy & paste the video URLs and then download them in batches.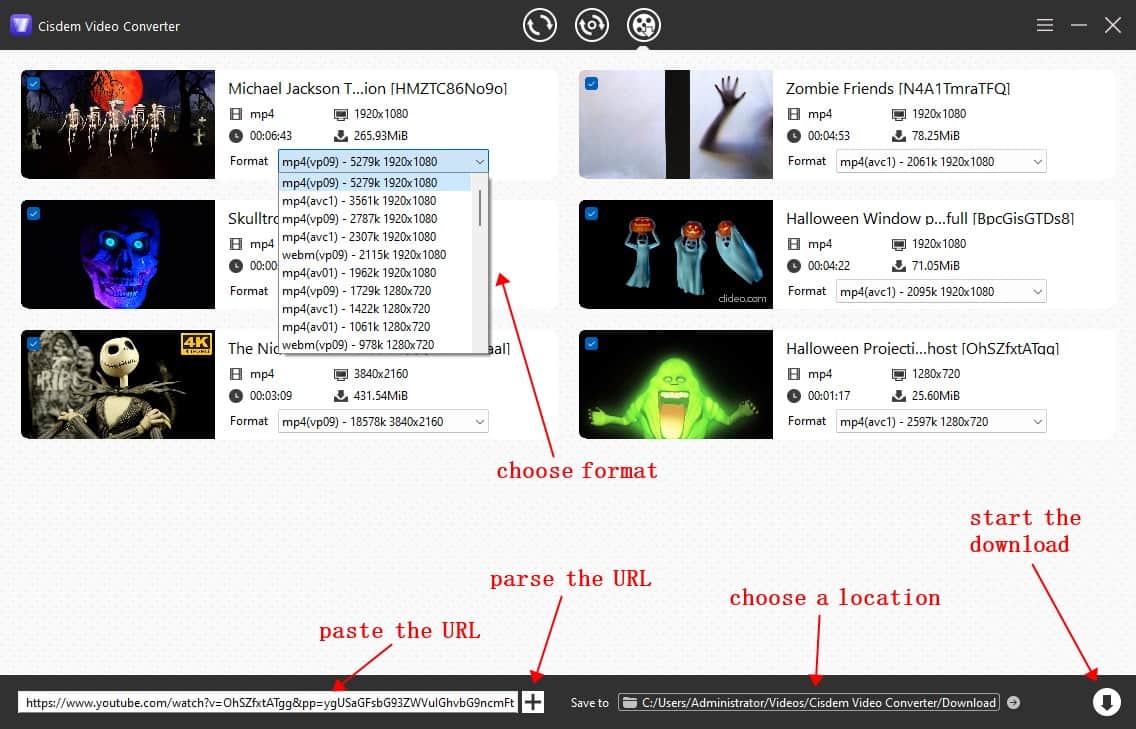 Tip:

Convert Hologram Videos to Different Formats
For you to make the downloaded Halloween projector videos 100% compatible with your devices, you can convert them to optimum formats. To achieve this, click

button to find the downloaded ghosts hologram videos and drag them to the "Convert" interface.
Click the format button to bring up the dropdown menu, and choose any format you want from the categories.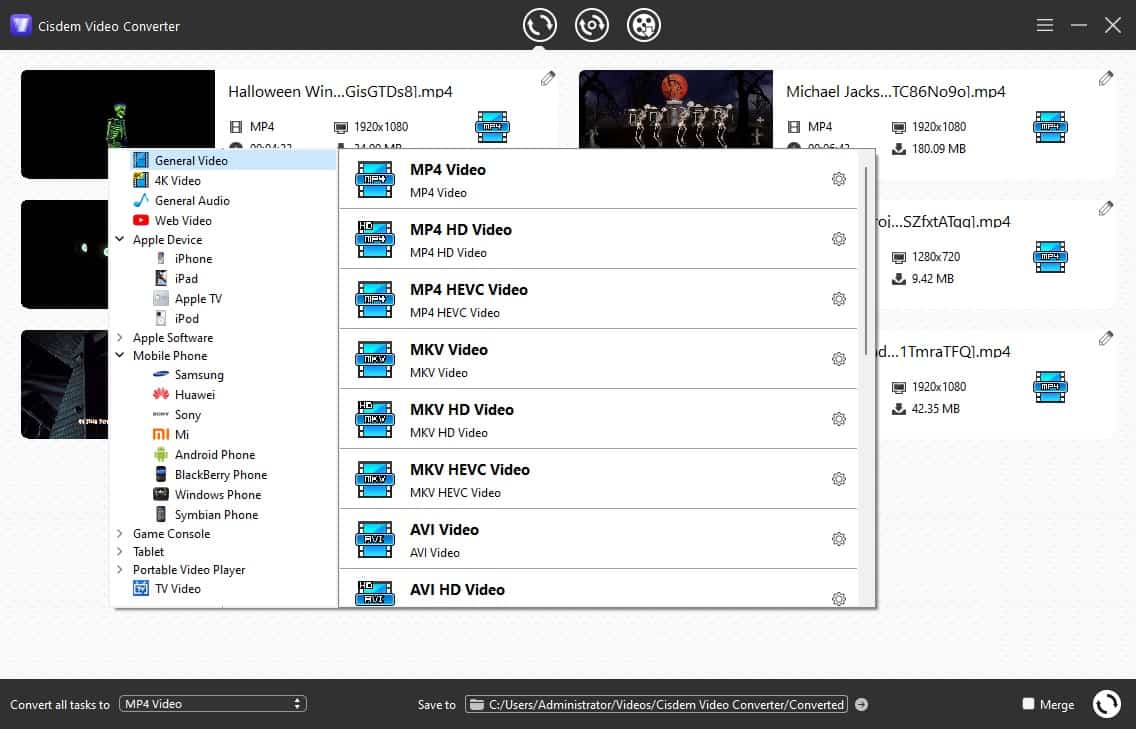 #2 aTube Catcher (Windows)
aTube Catcher is a free Halloween hologram video downloader for PC with a dozen options for the interface language. It lets you download scary halloween video clips and music from numerous websites including YouTube, Vimeo, Metacafe, Facebook, Dailymotion, and more. You can also convert the Halloween ghosts videos to XVID, MP4, AVI, MP3, FLAC, WAV, PSP, MPG, VOB, etc. It also boasts some additional features such as screen recording, DVD creating and presentation creating.
But aTube Catcher will try to install AVG Free Antivirus. Even though you refuse the requirement, it may still download another software- Music Search MP3.
Steps:
Install the free Halloween hologram video downloader to PC.
Launch it, and a colorful tiled screen shows up. Click the "Download Videos" option.
Copy a link of Halloween hologram videos you want to download from YouTube.
Back to aTube Catcher, and click the "Paste" button or manually paste the copied URL to the specified field.
Click on the "Download" button to save Halloween projector video.
#3 SaveFrom.net (Online)
Savefrom.net is a popular web-based service that can download Halloween hologram videos free on Mac, PC, Android, and iOS device. You don't have to install a 3rd-party program. It supports video downloads from 20+ websites, like YouTube, Break, Facebook, Dailymotion, Hotstar, Twitter, and so.
Steps:
Copy a URL of ghost hologram video from the site supported by savefrom.net.
Visit https://en.savefrom.net/ in your browser.
Paste the video link to the blank green-frame box.
Click "Download" to analyze the video.
Select a target format and resolution.
Click the "Download" button next to the format.
Cons:
Although it support 4K, 1440p, and 1080p video downloads, they will come without sounds. Audio is only available for 360p and 720p video downloads.
The output formats are limited. You can merely free download Halloween hologram videos to MP4, WEBM, OPUS, and M4A. There are no additional widespread output options like MP3, FLAC, MKV.
When clicking the "HD/MP3" button, it won't convert Halloween hologram videos to MP3 but prompts the irritating ad page.
#4 Converto.io (Online)
Converto.io is a great online platform for free Halloween hologram video download. When converting video to MP4, you have the right to choose video quality from 144p to 1080p (6 levels). If you convert video to MP3, you set the start & end time and edit ID3 tags including artist, title, album, and cover.
Steps:
Copy the link of scary Halloween video clip you intend to download from YouTube.
Visit https://www.converto.io/.
Past the link to the specific space and online tool will begin to analyze the link automatically.
Select MP4 as output format.
Click the gearwheel button in the upper right corner.
From the "Setting" windows, choose the video quality, and click "Save".
Click "Convert".
When the conversion progress is finished, download the video file.
Cons:
There are no more other output formats except MP4/MP3.
Even if the original video is 4k, you can merely save it as 1080p at most.
It only lets you download Halloween hologram videos from YouTube, other websites are not included.
Download Halloween Hologram Videos from Paid Websites
We researched a series of websites for Halloween hologram video downloads. The steps to download Halloween window hologram video loop from them are very simple, you should:
Step 1. Open one of the websites and select your favorite hologram video.
Step 2. Pay for the item.
Step 3. Check your new email sent by the merchant and find a download link.
Step 4. Click the link to download Halloween projection loop.
Here is a list of websites:
#1 Atmosfx.com
It is a famous website that specializes in selling digital decorations for holidays like Halloween, Thanksgiving, Christmas, Easter, New Year, etc. It boasts a vast assortment of Halloween hologram videos, such as Atmosfx Halloween monster bash, Atmosfx boo crew, phantasms, prank, and so forth. All downloaded Halloween projector videos are for personal use only, not for profit or commercial use, unless permission is granted.
Besides high-quality digital decorations, you can also purchase projectors, media players, Bluetooth speakers, virtual backgrounds, etc. from the website.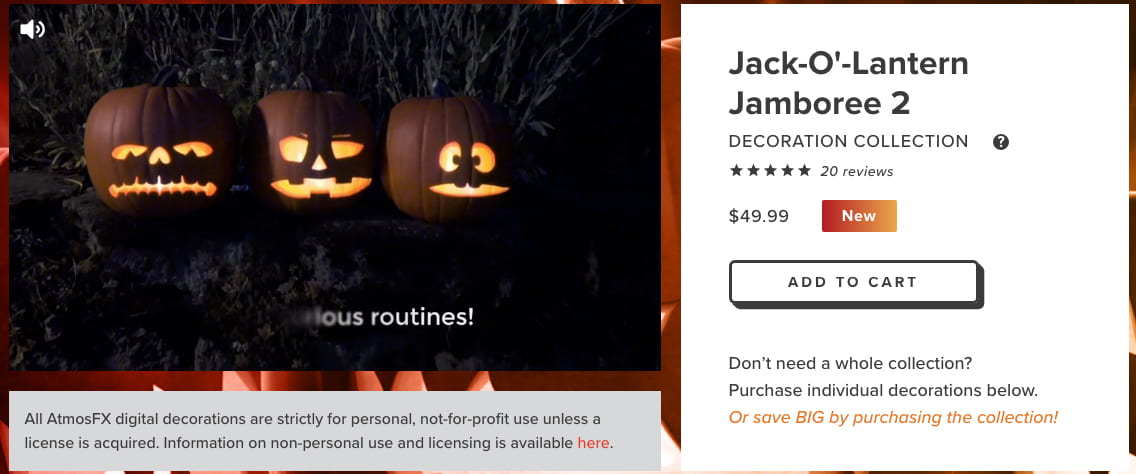 #2 Hi-Rezdesigns.com
It's a reputable website that contains cutting-edge Halloween visual FX DVD, VFX digital, prop controllers, HD media players, etc. You are able to pick and download Halloween hologram videos from the category of VFX digital downloads. It doesn't come with a physical disc and there are no refunds for digital products. You must download your paid Halloween hologram videos within 24 hours of purchase.

#3 TheMightyMicroscope.com
Similar to Hallowindow.com (not available now), The Mighty Microscope mainly offers MP4 pumpkin face projections to whole songs. The content of the entire website is not much, and you can browse through all of them with ease. After you purchase the item, don't download it on the iPad or phone.

#4 FreeLoops.tv
It's a dedicated site to deliver video loops. But it only covers few Halloween background video loops. The differences from other three Halloween hologram video download sites mentioned above:
Downloadthod- The first three websites will send download links to the mailbox after paying. FreeLoops.tv requires an upgrade to Pro, Pro Plus or Pro Gold version. After that, you can download any video loops from the website. Free account is able to download 10 daily free loops.
Terms of use - FreeLoops.tv allows you to use its video loops in commercial projects, while the other three sites doesn't.

Note: You can also download Halloween hologram videos from some free video stock websites like https://www.videvo.net/stock-video-footage/halloween/. But these sites provide very limited resources.
Final Words
These are the two approaches for Halloween hologram video download on Windows and Mac. But I would recommend you use a video downloader. The paid website such as Atmosfx.com indeed has a large collection of Halloween projector videos, but you have to pay for each video you like, which is too expensive. If you install a professional third-party video downloader like Cisdem Video Converter, you can download Halloween hologram videos from any free video hosting websites, rip Halloween DVDs, and edit the videos.