Below is a question from a Mac user who wants to delete duplicate photos and merge multiple libraries.
Can I use iPhoto library manager for deleting duplicate photos and merging multiple libraries? I would like to find a way to delete hundreds of duplicate photos that exist in my iPhoto library. A friend recommended me iPhoto Library Manager, but I don't know how to use it, and I wonder if iPhoto Library Manager is safe to use? MacBook Pro (Retina, Mid 2012), OS X Mavericks (10.9.2).
Do you really know what is iPhoto Library Manager? What you can do with the help of iPhoto Library Manager? Is it safe for you to use? If you don't know, don't be panic. Here is the complete guide on using iPhoto Library Manager for Mac users. This article falls into five parts listed as follows.
Part 1. iPhoto Library Manager Review
iPhoto Library Manager is an invaluable tool which allows you to organize your photos among multiple iPhoto libraries, rather than having to store all of your photos in one giant library. You can browse the photos in all your libraries directly from iPhoto Library Manager, without having to open each library in iPhoto just to see its photos, and search across all your libraries to help track down a particular photo.
Key features of iPhoto Library Manager
Create and manage multiple libraries
Copy photos and metadata
Find duplicate photos in one or more iPhoto libraries
Merge iPhoto libraries and fix iPhoto corruption
Its built-in photos browser for quickly viewing your photos
Pros and Cons: It is very easy to navigate and its drag-and-drop intuitiveness makes it more simple to use. Creating new libraries is a snap, as is renaming libraries. It can also help you manage and rebuild iPhoto libraries. But this app sometimes doesn't work with large iPhoto library and isn't professional in finding duplicate photos.
Download trial version of iPhoto Library Manager!
Part 2. iPhoto Library Manager and the new Photos app
Apple has released Photos to the general public, but the current version of iPhoto Library Manager does not have any interaction with the new app, or with a Photos library. So the Fat Cat Software providing a new application to help you manage your libraries with Photos, and that new app is called PowerPhotos. You can also use iPhoto and iPhoto Library Manager alongside Photos if you wish, but there will be some issues when you use iPhoto Library Manager to manage libraries from Photos.
When you migrate an iPhoto library to Photos, the iPhoto library will be renamed with a different file extension, and iPhoto Library Manager may lose track of its location. This will cause an error message to be displayed when trying to view the library, saying that the library cannot be found.
Migrated iPhoto libraries will not appear in the search results when using the "Add Library" button.
Photos libraries will appear in the search results when using the "Add Library" button and can be added to iPhoto Library Manager's library list, but trying to view one will result in an error message being displayed.
Part 3. Managing Multiple iPhoto Libraries on Mac
After the brief introduction of iPhoto Library Manager and the new Photos app, you may have a better understanding of it. Here we will show you how to use iPhoto Library Manager on Mac. You can download iPhoto Library Manager above and follow below guidance to find manage iPhoto libraries such as finding duplicate photos or rebuilding corrupted libraries.
1. Create a new library
To create a new library, you can click the "Create Library" button in the iPhoto Library Manager window. Then a window will pop to let you choose the name and location for the new library. By default, the newly created library will be empty and you can choose the images to be added to it.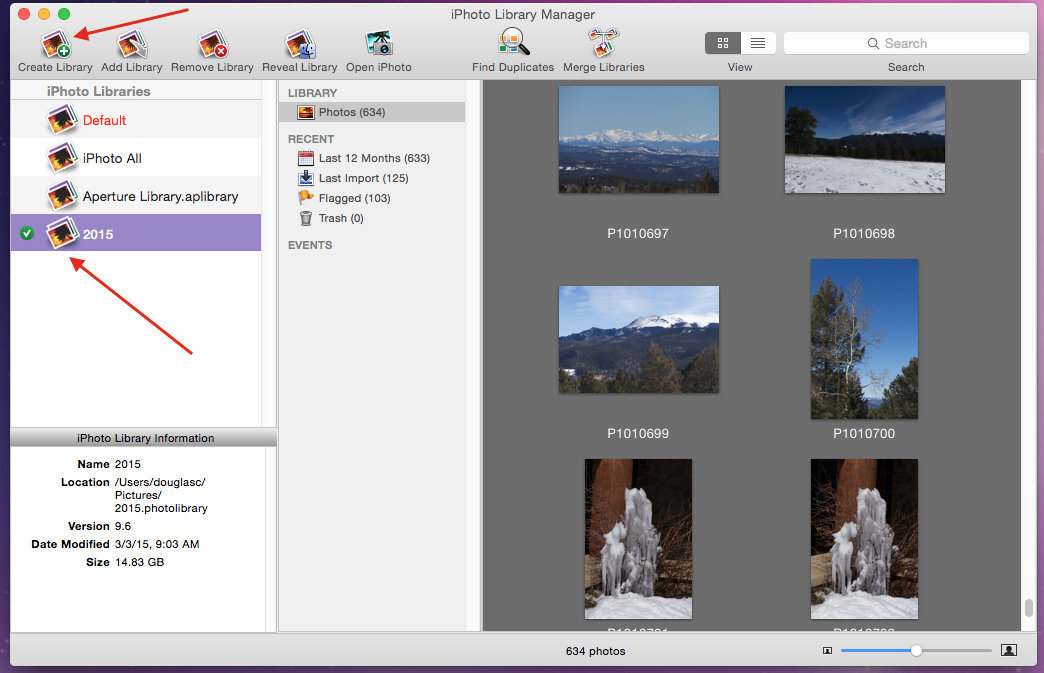 2. Browse and search your photo from iPhoto libraries
Use iPhoto Library Manager's photos browser to quickly view your photos without having to open iPhoto itself. You can also search for photos in a single library, or across all your libraries at once. The search field in the upper right hand corner of the window allows you to search your iPhotos libraries for photos. Simply type the text you'd like to search for in the search field, and your photos will be filtered down to only show those matching what you typed.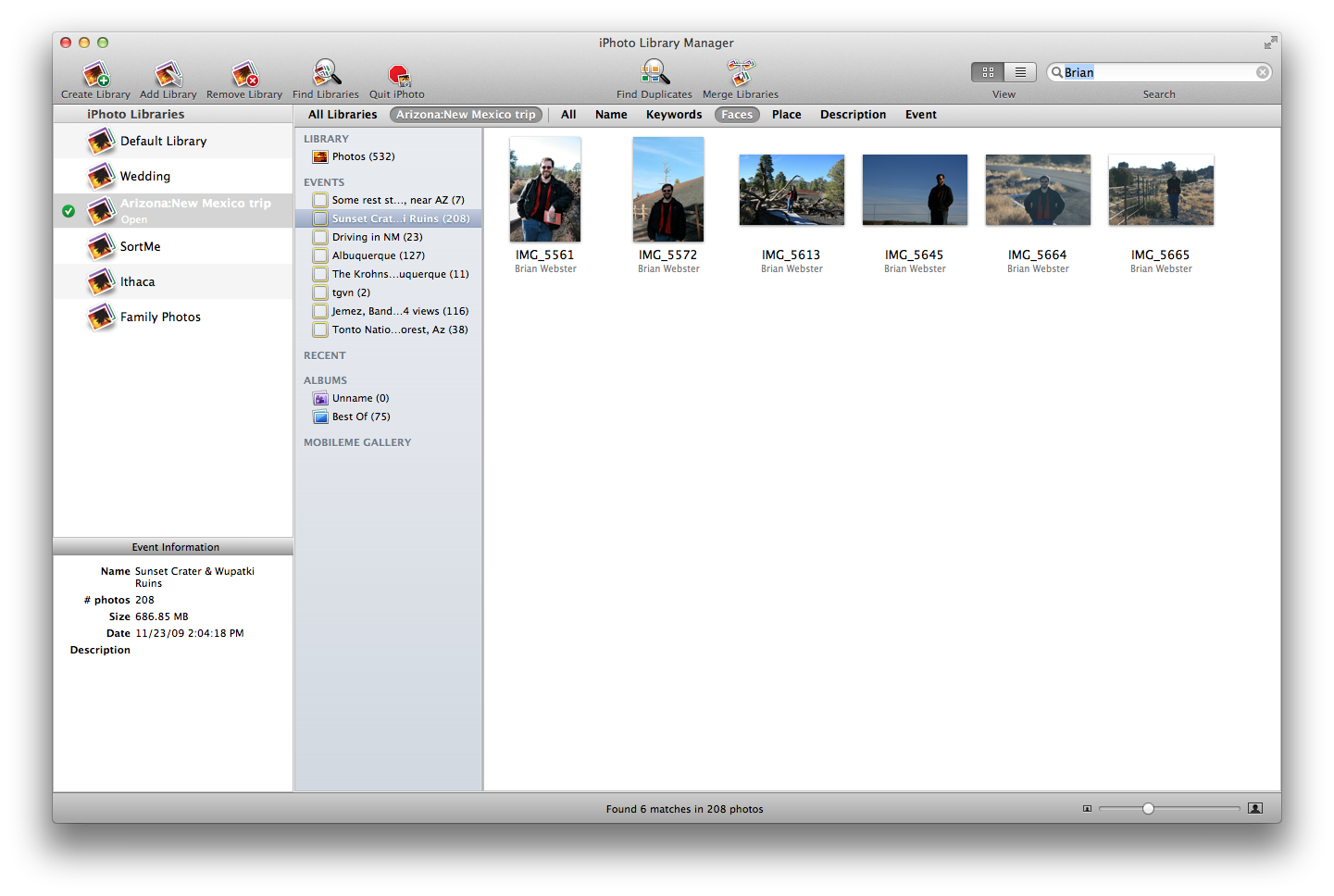 3. Find duplicate photos
Step 1. Searching for duplicates in Libraries.
Click the "Find Duplicates" button in the toolbar or choose "Find Duplicates" from the library menu. After that, choose the library you want to search in the area "Choose Libraries to search". Hit the "X" to remove a library or the "Exclusions…" button to skip looking at photos that you don't want to search. Select "Comparing Options" to identify duplicate photos.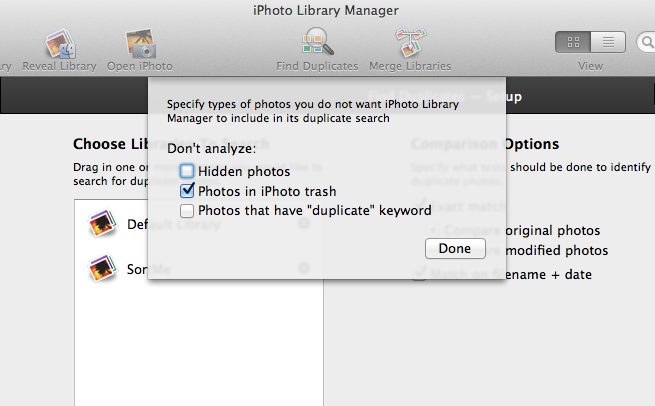 Step 2. Choosing keepers with duplicate rules.
When all the duplicate photos are found, iPhoto Library Manager uses a rule-based system to choose a keeper. Then the rest of the duplicates will be moved to the trash, or have some other action performed on them. You can choose from several built-in duplicate rules using the pop-up menu down at the bottom of the window. You can also select "Edit Rules" to set up your own rule to choose keepers.
4. Rebuild corrupted libraries
To rebuild the iPhoto library, go to "Library" > "Rebuild Library" and choose a location for the rebuilt library. Then the app will examine the library and rebuild it at the best it can and give you a preview of what it was able to find. Then click the "Rebuild" button to create a new library and re-import contents of the original library to the new one. You can even scavenge photos from the library that iPhoto may have lost track of.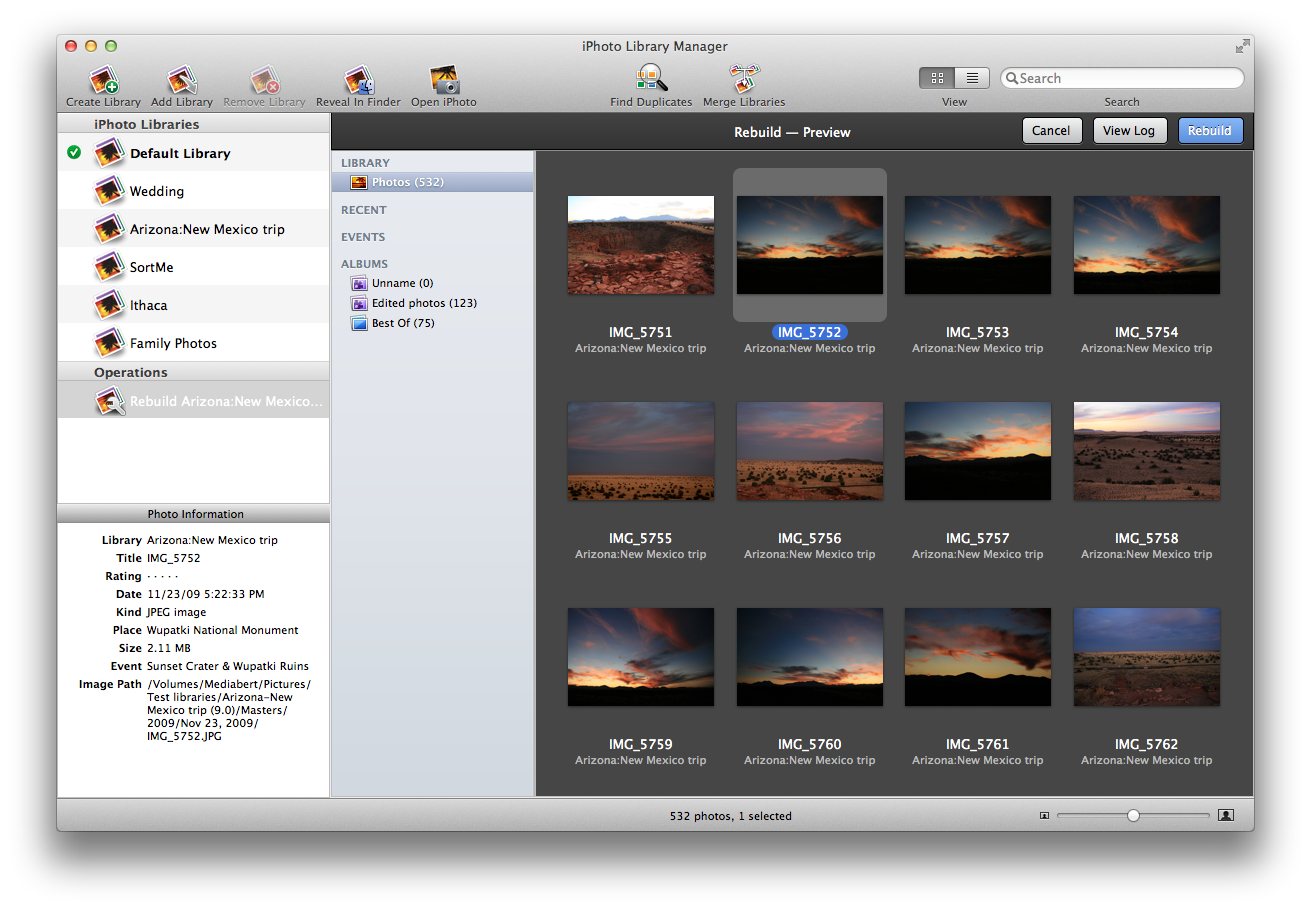 Part 4. Merging Multiple Libraries and Removing Duplicates Pictures
Merge Multiple Libraries
There's no tool in iPhoto or Photos for merging libraries, but you can use iPhoto Library Manager to merge multiple libraries. To begin a merge, just go to File > Merge Libraries. There are four main parts to setting up your merge. Choose all the libraries you want to merge from the left column. And choose destination library to store the merged library. You can also allow this app to eliminate duplicates while merging. You can also choose some other options when setting up your merge according to your needs.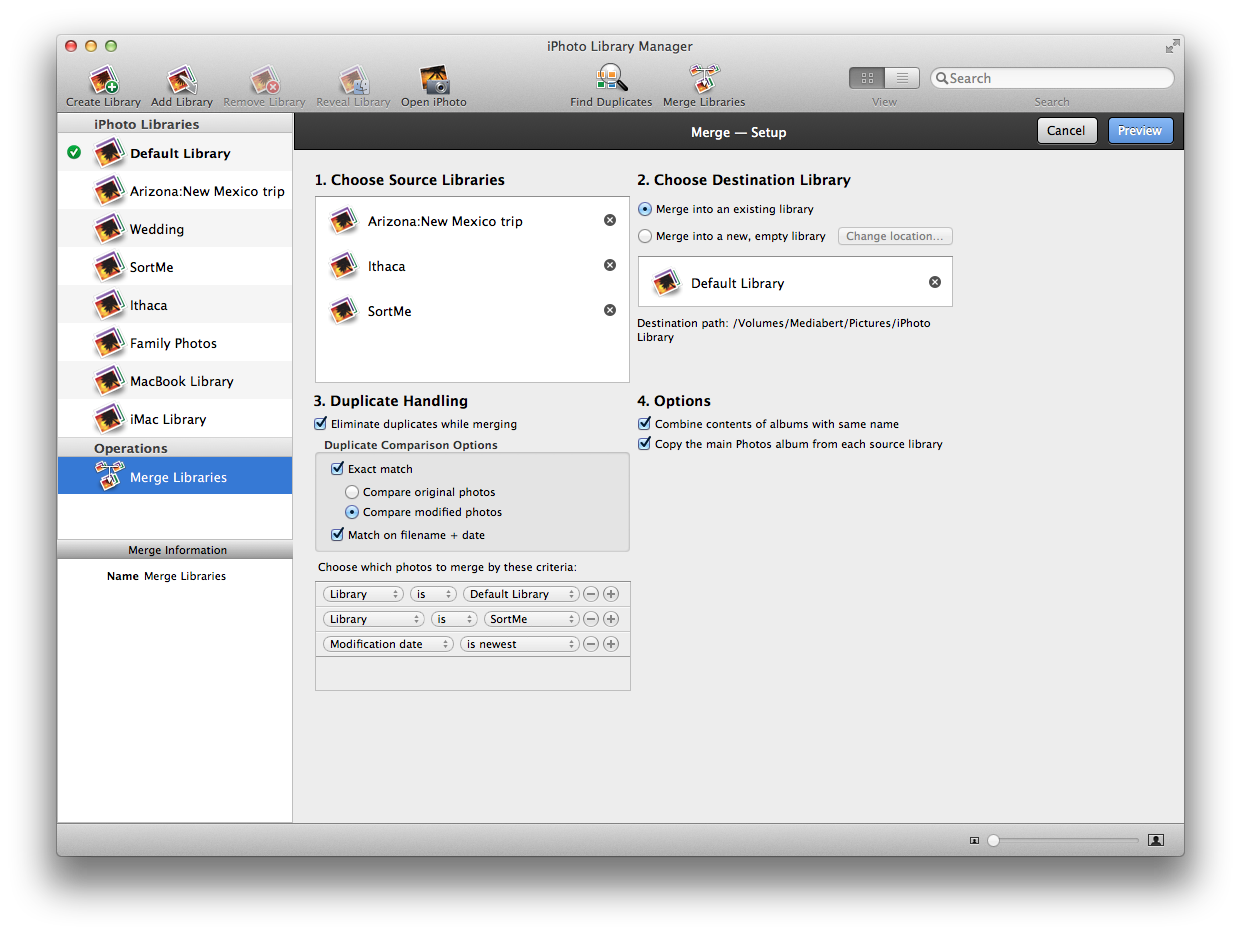 Remove Duplicates Pictures and Images
You may have duplicate photos or pictures in different libraries. When you merge these libraries into one, the newly merged library contains many duplicates, but iPhoto Library Manager isn't good at finding duplicate photos. There are some duplicate photo finder like Cisdem Duplicate Finder which can accurately remove duplicates. Cisdem Duplicate Finder is a powerful duplicate finder which lets you find and remove the duplicates including photos, songs, videos, archives, packages to regain valuable disk space. It uses accurate duplicate scanning algorithms to give you the best and quickly solution on finding and deleting duplicate photos from iPhoto in one go.
Download Cisdem Duplicate Finder for Mac!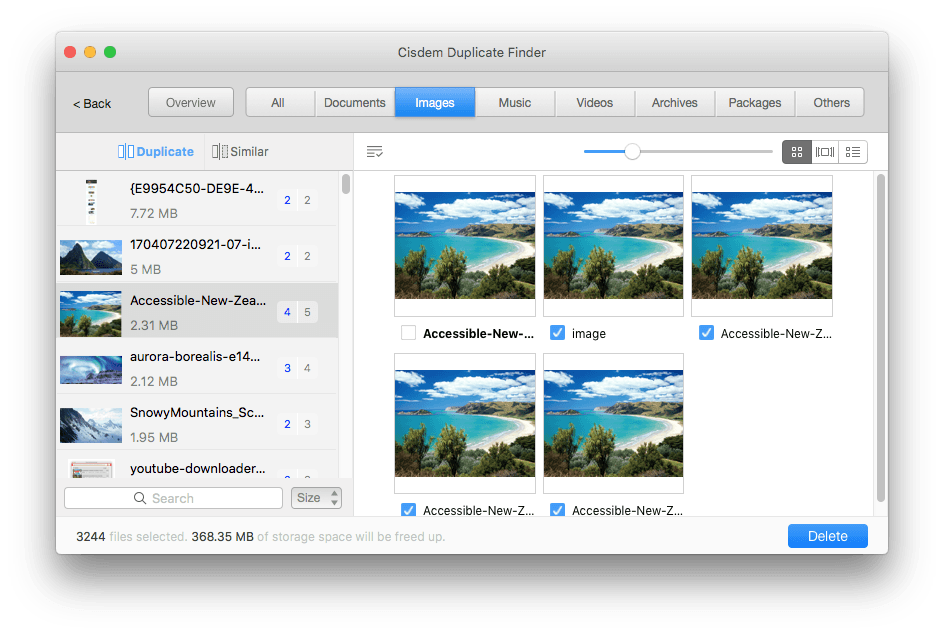 Part 5. iPhoto Library Manager alternative for Mac
Though iPhoto Library Manager is powerful in managing iPhoto library, but it is not free. Here we recommend you a good iPhoto Library Manager alternative which is similar to iPhoto Library Manager and will cost you nothing.
iPhoto Buddy
iPhoto Buddy is a free Mac application that allows you to easily create, manage, and switch between multiple iPhoto Libraries. iPhoto Buddy uses a simple, streamlined interface that was inspired by iPhoto itself and is similar to iPhoto Library Manager. Anyone that has used iPhoto will immediately feel right at home using iPhoto Buddy. It truly is a companion application--a real buddy!
Download iPhoto Buddy for free!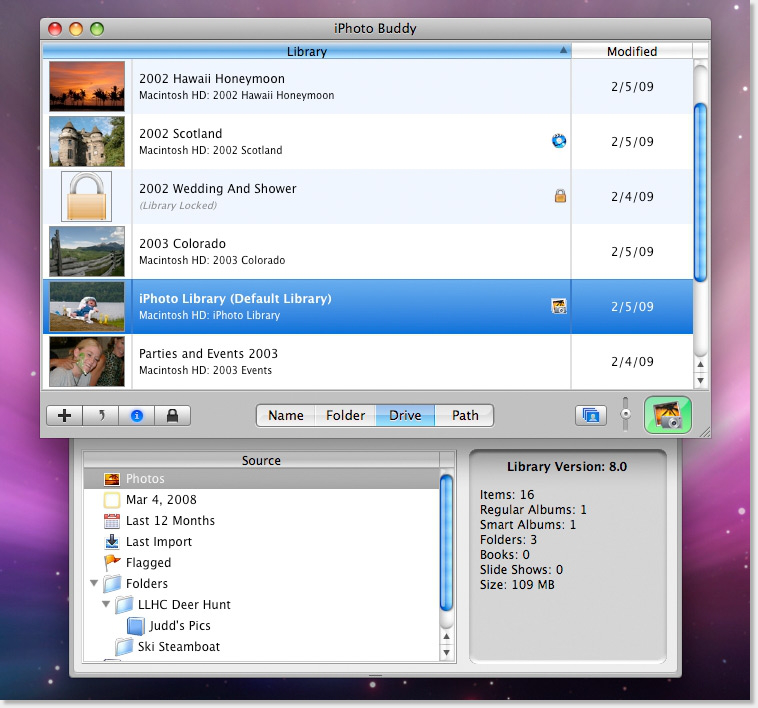 Peter has always had great enthusiasm for writing, programming and web development. He likes writing about software and technology, his works are featured on some tech blogs or forums like Tom's Hardware, CNET, etc.