Despite the AIFF format being a lossless audio file format, it occupies a large space. For users that are concerned about storage space, AIFF to MP3 is a common conversion on Mac, as MP3 is the most popular audio format that's compatible with lots of devices/apps. Here will briefly explore how to convert AIFF to MP3 on Mac, both paid and free workarounds included.
How to Convert AIFF to MP3 on Mac Using Software?
#1 Cisdem Video Converter
If you have a large set of AIFF files on your Mac and wish to convert them to MP3 in a bulk, we recommend you use Cisdem Video Converter. With super-fast converting speed, it works wonderfully to convert AIFF to MP3 on Mac and prevents quality loss in output files. Apart from conversion properties, the software can edit videos and download videos from YouTube, Myspace, Twitch, Vimeo, Reddit, and more.
Standout features of the software:
Make conversion between more than 300 input and output formats
Convert AIFF to MP3, AAC, M4A, WMA, FLAC, MKA, iPhone, iPad, etc.
Customize AIFF files by changing bitrate, channel, sample rate, codec, etc.
Convert video files like MP4, MKV, VOB, etc. to audio files
Merge a plethora of AIFF audio files into a single one
Rip or convert DVDs to AIFF, MP3, or other digital audio/video formats
Download online videos from 1000+ websites
Process media files in batches, whether to convert or download
Compatible with the latest operating system, including macOS Ventura

Free Download
Steps to Convert AIFF to MP3 on Mac with Cisdem:
Step 1

Launch Cisdem Video Converter
Free download the trial and install it.
Run Cisdem AIFF to MP3 converter for Mac after installation, you will notice a simplistic wizard of the "Convert" interface.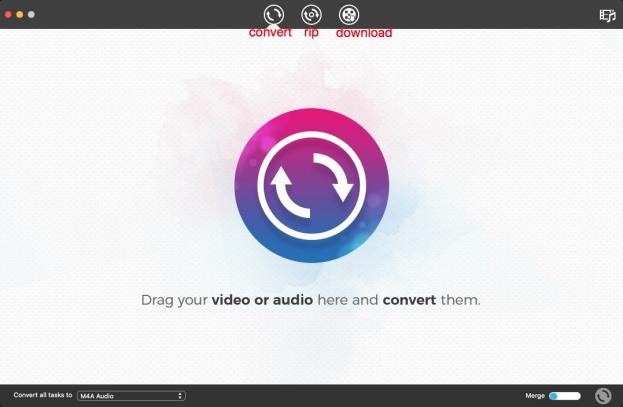 Add AIFF audio by drag and drop. With the support of batch conversion, you can add several AIFF audios into the program for processing at a go.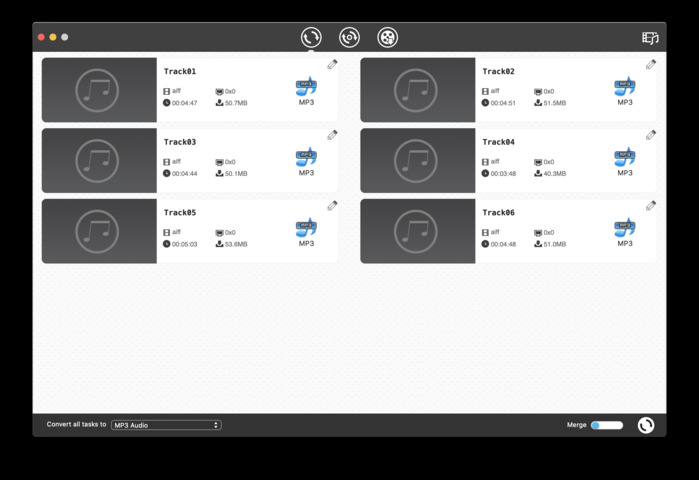 Step 3

Set MP3 as the Output Format
Select the format of a single video: click the format button near each video.
Choose a unified format for all videos: click the box next to "Convert all tasks to".
Both will get into a format selection panel. Choose "MP3 Audio" as the output file type under the "General Audio" category.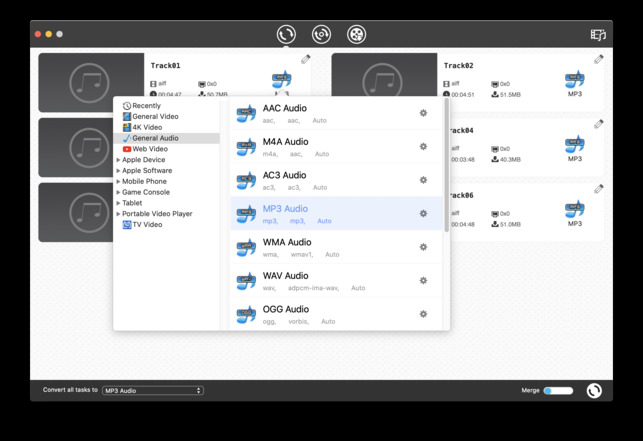 Step 4

Configure Audio Parameters (Optional)
To make full control of the quality and compression options of audio files, click

icon next to the "MP3 Audio" option call up the "Advanced Settings" panel. Manually adjust the parameters like sample rate, channel, etc. and click "OK".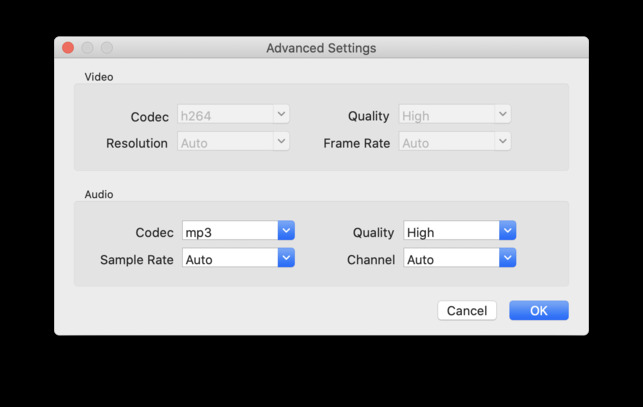 Step 5

Convert AIFF to MP3 Mac
Select an output folder to store the newly converted MP3 audio files. Hit

button located on the bottom right corner to start the conversion.
Pros:
Simple to operate
Super fast conversion speed
Batch convert video and audio files
Adjust audio quality
Edit and download media files
#2 iTunes
iTunes works as a decent Mac AIFF to MP3 converter that not only converts AIFF but AAC, WAV, and MP3 files. The steps are quite simple, after which the newly made MP3s will be saved in the iTunes library. Note that different versions of iTunes have a little difference in operation.
Steps to Convert AIFF to MP3 Mac with iTunes:
Open iTunes on your Mac. Go to iTunes "Preferences" and click on the "General" tab.
Click the "Import Settings" button under the "General" tab. This is where you specify the types of files iTunes produces when it imports songs.
Set "Import Using" to MP3 Encoder.
Click "Music" under "Library" that is located on the left part of iTunes.
Choose all of the AIFF audio files you want to convert to MP3.
Go to top of menu bar, click "File" > "Convert" > "Create MP3 Version."
Pros:
Free of charge and no need to install
Save old data before converting
Cons:
Limited output format and no video outputs
Can't use iTunes during conversion
Not convenience to convert multiple files, as the original files and the converted files will be mixed together
#3 VLC
VLC is a free and open source media player that opens almost any file format, and it has a hide option that can convert video and audio files.
Steps to Convert AIFF to MP3 Mac via VLC:
Open VLC and click "File" in the menu bar then select "Convert/Stream."
Drag and drop your AIFF audio to VLC.
From the "Profile" drop-down list, select "Audio - MP3".
Click "Save as File" > "Browse" to set the location.
After you've selected a folder, you will have to change the file extension to ".mp3".
Click the "Save" button.
Pros:
Free to use
Support multi-platforms
Can convert and play media files
Cons:
No batch convert
Not user-friendly for novice users
#4 Audacity
Audacity also allows you to convert AIFF files to MP3 format easily. The following is what you will need to do.
Steps to Convert AIFF to MP3 Mac via Audacity:
First, make sure you've downloaded Audacity.
Head to "File" > "Import" > "Audio" to locate the AIFF file you want to convert and then click "Open". Alternatively, drag AIFF to the software directly.
In the menu, click "File" > "Export" > "Export as MP3".
Set the location to save your file and click "Save".
Pros:
Free
Convert AIFF, WAV, OGG, FLAC, MP3, and MP2
Able to tweak audio parameters
Cons:
Limited input (WMA, M4A, etc. are not supported) and output
Can't convert multiple AIFFs, or the track will be mixed down and export as one stereo file
How to Convert AIFF to MP3 on Mac without Software?
CloudConvert.com is an online AIFF to MP3 converter for Mac that helps you to turn more than 15 audio formats into MP3 with great ease. Besides a local Mac computer, you can also upload the AIFF file from Dropbox, Google Drive, OneDrive, or URL.
Steps to Convert AIFF to MP3 Online:
Visit https://cloudconvert.com/aiff-to-mp3.
Hit the "Select File" button to upload AIFF files.
Click "Convert".
Download your converted MP3 files.
Pros:
No installation required
Batch conversion is possible
Change audio codec, volume, start & end time to trim, etc.
Cons:
Can't exceed 1GB in size and 25 minutes in conversion time
Having a risk of information leakage
The output quality is sacrificed
FAQs
What is AIFF
The AIFF is short for Audio Interchange File Format created by Apple in 1988. it ends in the .AIF or .AIFF file extension. AIFF itself is an uncompressed file and takes up large storage space because it is not compressed and it's 4 times bigger than MP3.
How to Open AIFF & AIF Files
You can play AIFF & AIF files with iTunes, QuickTime, VLC, iPad, iPhone, and probably most other multi-format media players.
Will Convert AIFF to MP3 Cause Quality Loss
You might notice reduced sound quality when you go from an uncompressed format to a compressed format. that is when converting uncompressed AIFF to a compressed format like MP3, you'll notice the sound quality might not be as good as the original, uncompressed format.
Are Converting AIFF to MP3 Reverse-able?
If you compress AIFF file to MP3 it will lose some data and you can't uncompress it to retrieve the data. If you convert AIFF to MP3 and then convert the output MP3 to AIFF you will notice the quality doesn't improve. The file only takes up more disk space.
Conclusion
This post has gone over how to convert AIFF to MP3 on Mac. Except for Cisdem Video Converter, the other 4 AIFF to MP3 converters for Mac like iTunes, VLC, etc. are completely free. If you would like to get the task done safely, efficiently, and without errors, a paid and professional program- Cisdem Video Converter is perfect solution for Mac users.

Rosa Reyes


Rosa has worked in Mac software industry for more than eight years. She believes that the purpose of software is to make life better and work more productively. In addition to writing, Rosa is also an avid runner.