This post summarizes how to export Outlook contacts to Excel on Windows and Mac. It also recommends a contact management tool for Mac to export Outlook Contacts to Excel, CSV, vCard, Gmail, iCloud, Google, etc. within one software.
Microsoft Outlook (formerly Hotmail) is a de facto email client at many offices. It contains many features that make our work and life conveniently, and one of the most valuable features is to export contacts from Outlook. We can easily export Outlook contacts to CSV and vCard, but to Excel, we still need spend some time learning about it. Here we will focus on 4 ways of exporting Outlook contacts to Excel, 2010, 2013 & 2016, etc. Outlook versions include.
How to Export Outlook Contacts to Excel on Windows?
As we said at the beginning, whether making backups of Outlook contacts or using different Outlook email platforms, it is effortless to save contacts as CSV. But it's a bit difficult to export Outlook contacts to Excel.
In this part, we will mainly introduce how to export Outlook 2010, 2013 & 2016 to Excel on Windows. Why is there no Office 365, Outlook.com? Since these two versions only provide the CSV as output format. Although you can open the exported CSV in Excel, it will show you a bunch of garbled characters.
Export Contacts Outlook 2010 to Excel
Launch Microsoft Outlook 2010 on Windows.
Navigate to the File menu > Open > Import. Alternatively, you can Choose File Options > Advanced > Export. Both of them will take you to the "Import and Export Wizard" window.
Select "Export to a file" option in the following window, and press Next.
Choose "Microsoft Excel 91- 2003", and click on Next.
In the next window, choose Contacts and go on.
In the next moment, select Browser.
Choose the destination to export, and then type the file name for your contacts file, and then press Next.
Now you can click on Finish button to complete the export. All your Outlook contacts will be saved as Excel.
What I want to emphasize is that all the fields of your Outlook contacts will export to Excel through this way, such as Car Phone, Government ID number. Even if your Outlook contacts didn't add such contents, the Excel spreadsheet will also display lots of empty columns as instead.
It is not a great way to delete superfluous contacts fields in the Excel spreadsheet after export, as sometimes we may delete the important information by mistake.
Thus, you can click the "Map Custom Fields" button and go to clear all unnecessary fields before step 8 is executed.
Export Contacts Outlook 2013 & 2016 to Excel
Open the Microsoft Outlook 2013 or 2016 on your Windows PC
Click on People in the bottom column, and then you will be able to access your Outlook contacts.
To change your view to a table view, go to the View menu. In Current View menu group, click on Change View > Phone option.
Click on View Settings, choose Columns under "Advanced View Settings: Phone" window. And select available fields from the drop down list. In this step, you can remove or add fields you would like to export. Once finished, click OK and then click OK button again.
Press Ctrl + A key to select all of your Outlook contacts. Copy the same contacts you just selected.
Launch Excel on your Windows, and the paste all your copied Outlook contacts, and save them as Excel .xlsx format.
Note: You can export Outlook contacts to Excel on all Outlook versions with the second method, including on Outlook 2003 and 2007. But the first way only works with Outlook 2010 or earlier. Because starting with Outlook 2013 version, "Microsoft Excel 91- 2003" was changed into "Comma Separated Values (Windows)", which only lets you export Outlook contacts to CSV.
Best Tool to Export Outlook Contacts to Excel on Mac
Import contacts from CSV and vCard
Sync contacts from Outlook, iCloud, social network, Address Book, etc.
Correct formatting errors, dedupe & merge contacts
Easily filter the contacts & assign multiple tags to each contact
Edit & add details for each contact, including birthday, job title, etc.
Feel free to add new groups to manage contacts

Free Download
Can We Export Outlook Contacts to Excel Directly on Mac?
Unlike Windows, Outlook for Mac only supports exporting Outlook contacts to .txt and import them into excel for handling. If you need complete the whole process once for all, a third-party contacts management tool would address your issue thoroughly.
Export Contacts Outlook 2011 to Excel
One. Export from Outlook for Mac
Open Outlook 2011 for Mac.
Click on Contacts at the lower left corner.
Go to File menu > Export.
A small window pops up. You should choose the first option- "Contacts to a list (tab-delimited text)". Then press the right arrow to continue.
A Save box appears. Create a name for your file and select a path to save.
Export your Outlook contacts to .txt on Mac.
Click the Done button.
Two. Import to Excel
Launch Microsoft Excel app on Mac.
Go to File menu > Open.
An open box shows up. You should pick "All Readable Documents" option from Enable drop down list.
Find and click the .txt contacts file you exported from Outlook, and try to open it in Excel.
You will get the "Text Import Wizard" window. Choose Delimited as the file type > click Finish > your contacts open up automatically in Excel.
To export Outlook contacts to excel format, go to File menu > Save As > choose Excel Workbook under Format.
Ultimate Solution to Export Contacts to Excel on Mac(for any version and format)
Cisdem ContactsMate for Mac is an awesome app to export Outlook (any version) contacts to Excel, TXT, CSV, VCF, Word, HTML, Numbers and Pages.
The software empowers you to keep contacts updated from various personal accounts, like Outlook, LinkedIn, Gmail, Facebook, etc. Also, it will update the contact details of the accounts along with addresses, phone numbers, profile photos and more.

Free Download
Step 1.

Add Outlook Account

Run Cisdem ContactsMate on Mac. On the main dashboard, click Add Account button.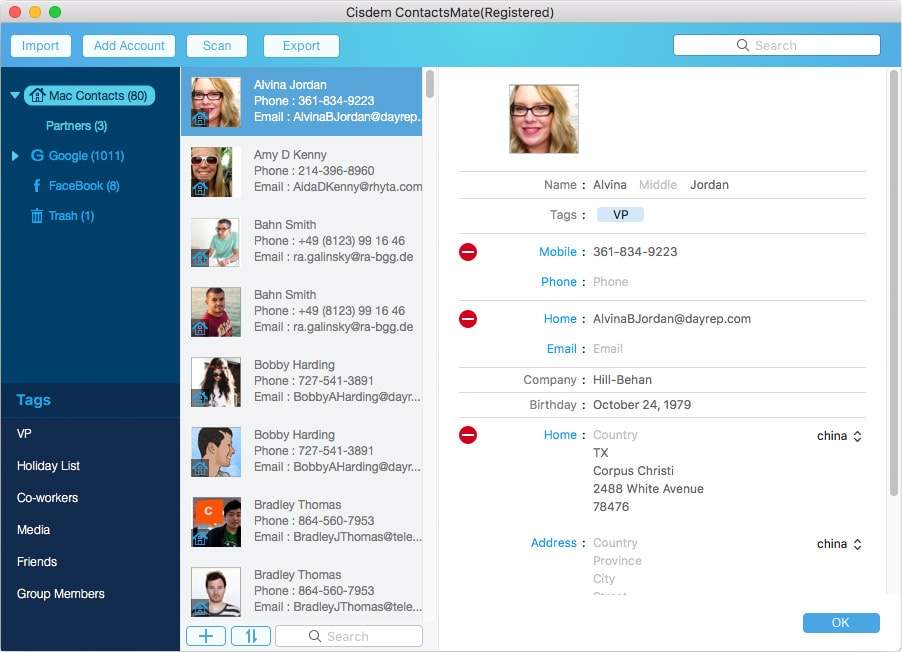 Step 2.

Sync Outlook Contacts

An Internet Accounts window appears, choose Exchange from the list. To get started, put your name, Outlook email address and password to the blank box. And then sign in your account.

After that, all your Outlook contacts will be synced and added to the contact management software.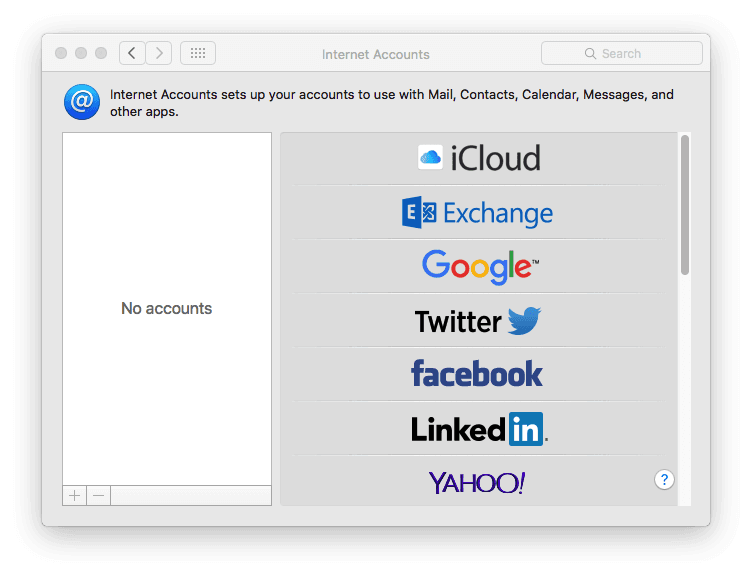 Tips: Normally, you can log in your Outlook email in the Exchange option straightway. If failed, read this tutorial to connect Outlook for Mac to the Exchange server: https://kb.intermedia.net/Article/35616.
Step 3.

Fix the Conflict (Optional)

Back to the main interface and click on Scan button, all the conflicts from Outlook contacts will be detected. You can click Fix All button to delete & merge duplicate contacts and repair formatting errors.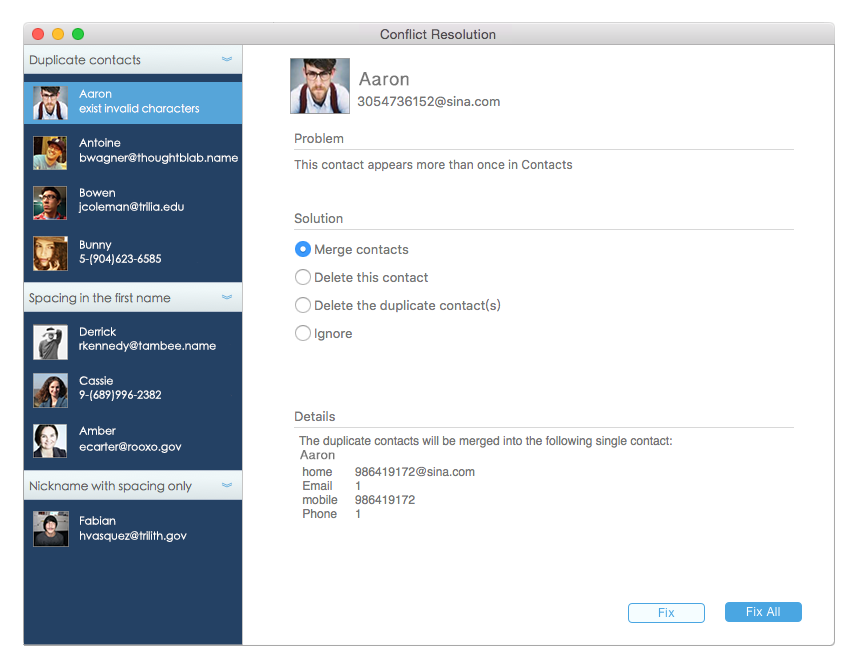 Step 4.

Export Outlook Contacts to Excel

Click on Export button in the upper left corner. In the new pop-up box, select Excel from Format. Give a name to your contacts file and save it on Mac.
Conclusion
4 workable solutions of exporting Outlook contacts to Excel have been introduced step by step above. You see, it is simple to export Outlook contacts to Excel on Windows. As for Mac, if you're searching for a long-term way to export, import, sync, edit, tag, share and update your contacts across all your email or social media accounts, take a look at the Cisdem ContactsMate. At least, it's equipped with the feature of restore and backup.

Peter has always had great enthusiasm for writing, programming and web development. He likes writing about software and technology, his works are featured on some tech blogs or forums like Tom's Hardware, CNET, etc.