At 2016's Worldwide Developers Conference, Apple has announced an update to its Mac operating system; that's macOS Sierra. And it will be released this fall. What new features will be added to the new Mac operating system? Will it run on my Mac? When will the beta be released? Here's everything you want to know about the macOS Sierra.
The Best Duplicate File Finder
Find duplicate photos, videos, music files, documents and other duplicate files
Find similar photos too
Help Mac users remove duplicates from Photos, iPhoto, Music and iTunes
Let you scan one or multiple folders/drives for duplicates
Let you exclude files and folders from scan
Display the found duplicate files with preview and file info
Automatically select duplicates for you to mass delete with a click
Also offer selection rules to help you select
Offer 3 ways to delete: Move to Trash/Recycle Bin, Move to Folder and Remove Permanently
Easy to use and customize
Available for both Mac and Windows

Free Download

Free Download
What's new in macOS Sierra?
1. New Name
As mentioned above, the new name is macOS Sierra, but why not Mac OS X Sierra? In order to fit with the names of iOS, watchOS, and tvOS, Apple has changed OS X to macOS. And Sierra refers to a mountain range in central and eastern California. As far as versions go, it seems like the 10.x formula will remain in place as macOS Sierra's official version number is 10.12, following on from OS X 10.11 El Capitan.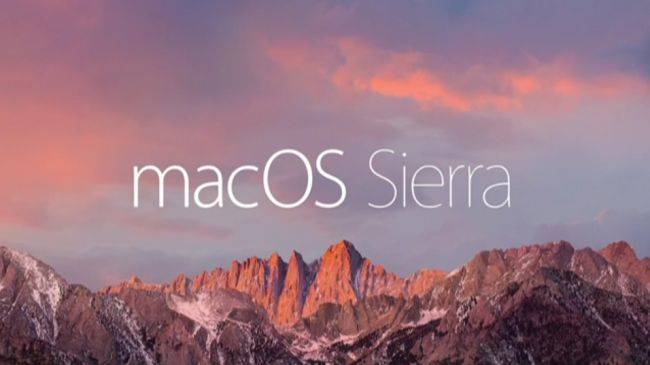 2. Siri Hits macOS
As expected, this new version of macOS will finally bring support for Siri to the desktop and Siri integration will be one of the key features coming in OS X 10.12. Siri can do just about everything its iOS counterpart can do just as Apple explained:
On macOS, Siri will work almost identically to how it works on iOS. You'll be able to call it to schedule reminders, send text messages, open apps, and look up movie times, sports statistics, and so on. On the Mac, Siri is activated by clicking its dock or menu bar icon.
And just like its iOS counterpart, Apple is opening up Siri to third party applications using the SiriKit API and Siri SDK. With Siri, we will be able to ask about sports results, locate your files, work out math problems, send messages, open applications, search the web, and more on macOS.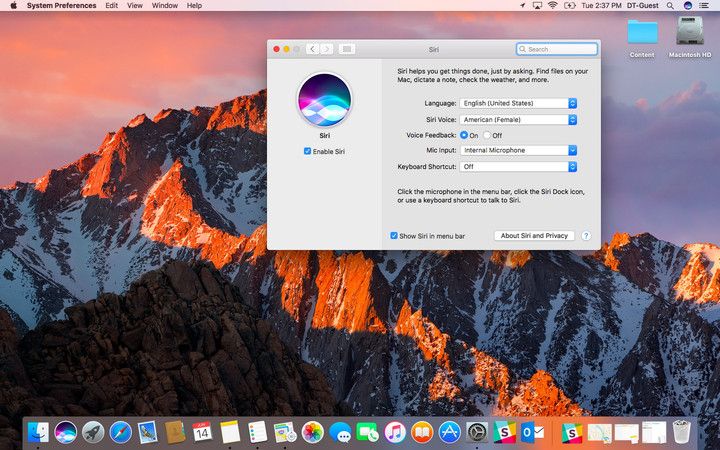 3. Photos Continues to Evolve
The Photos app in Sierra has been further enhanced to improve the way your photos are displayed and sorted. Photos can turn your precious moments into unforgettable experiences called Memories. The app promises to help you rediscover your forgotten moments by grouping images by criteria like people, places, holidays, travel and more. And intelligent search are supported, you can search your photos by what's in them.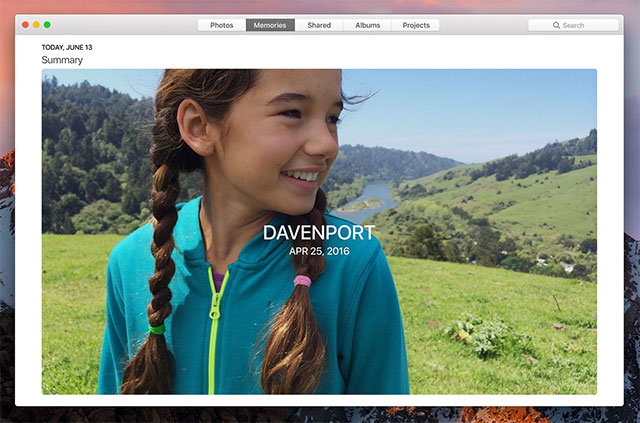 4. Optimized Storage
On macOS, Siri will work almost identically to how it works on iOS. You'll be able to call it to schedule reminders, send text messages, open apps, and look up movie times, sports statistics, and so on. On the Mac, Siri is activated by clicking its dock or menu bar icon.
When your Mac's HD or SSD is running out of room, the first solution you can think of is to find a Mac cleaner app or use a duplicate file finder to release hard drive space. But on macOS Sierra, Optimized Storage can help you automatically free up Mac storage space by storing rarely used files in the cloud and removing old files you no longer use, so there's always space on your Mac for your new files.
5. Auto-Unlock Your Mac
Also new in macOS Sierra is the ability to automatically unlock your Mac with your Apple Watch over Bluetooth. When your Apple Watch is close to your Mac, you can unlock it simply by waking it without the need to enter a password. This is super convenient. But this is a feature that appears to be limited to the Apple Watch only, so if you don't own one, then Auto Unlock won't happen.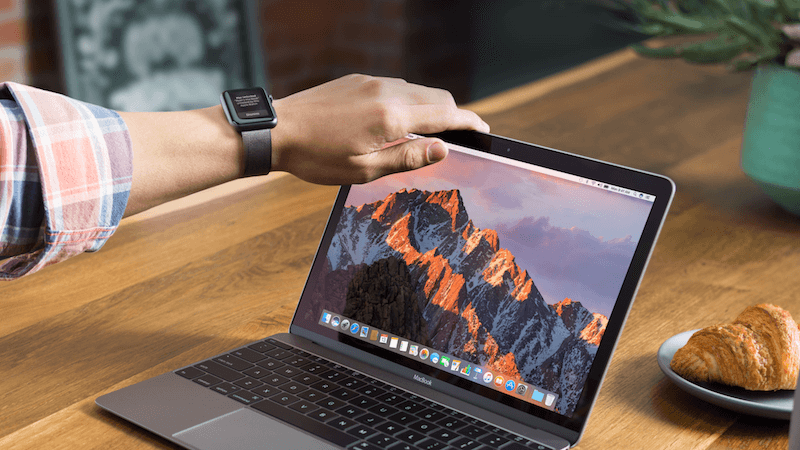 6. iCloud Drive
We always store our files and folders on Desktop, and sometimes they disappear due to unknown reasons, then we feel regret for not backing up the files. But now your Desktop and Documents folder can be automatically stored and updated in iCloud Drive, and you can also access your Documents and Desktop folders from any device via iCloud Drive.
iCloud will also make it possible for users to share items on their Mac desktops to other Macs, as well as to their iPhones. Users have already stored more than 10 billion documents on iCloud. - Craig Federighi
7. Apple Pay
Along with iOS 10, macOS Sierra supports Apple Pay in the web browser, allowing Mac users to pay for purchases made on the web using Apple Pay. To be able to use Apple Pay in Safari on your macOS, you will see "pay with Apple Pay Button", which will prompt your nearby iPhone or Apple Watch for authentication when you click on it. With Apple Pay on macOS Sierra, online shopping will be a more secure and handier way.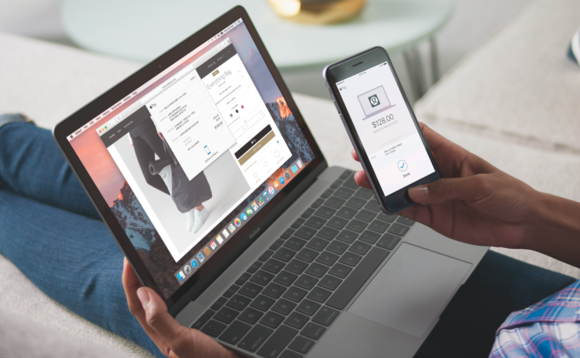 8. What are the other new features?
There are also some other new features showcased at Apple's Worldwide Developers Conference. They include Picture in Picture, Tabs, and Universal Clipboard, etc. You can read the details below:
Apple File System, a new file system not only for macOS but also for iOS, tvOS, and watchOS.
Universal Clipboard, seamlessly integrate your macOS and iOS clipboards by copying on one device to paste on another.
Enhanced Messages, allow you to send large emoji, take advantage of quick responses that allow you to "like" a message with a thumbs up (among other things) and play videos or view expanded links right there in the conversation.
Support for third-party app integration with the Contacts app.
Tabs, keep windows from piling up on your desktop.
Apple Music improvement, make it more easier to find your favorite songs and discover new ones and let everyone see the best of what's available on Apple Music, from exclusives and new releases to playlists and top charts.
Picture in Picture, allow you to play videos in a small window on your desktop while you're working in other windows.
What macOS Sierra features you can get now on El Capitan?
After you read all the new features of macOS Sierra, I believe that you can't wait to experience them, because I have the same motivation. And there are some features that we can get now on El Capitan.
1. The New Wallpaper. We can switch out the wallpaper to make El Capitan more closely resemble Sierra.
Download macOS Sierra wallpaper for desktop, iPhone and iPad!
2. Unlock Mac with Your Watch or Phone. We can unlock our Mac with our apple watch or iPhone over Bluetooth using third-party apps like Knock 2.0 ($4.99) and MacID ($0.99).
3. Better Photo Management. Actually, some features of Photos in macOS Sierra are basically what Google Photos has in the cloud. So before macOS Sierra released, we can download the Google Photos uploader for Mac for free to better manage our photos.
4. Share Clipboard. We can use some tools like Command+C($3.99) to share a shared clipboard between your Mac and iOS device. Just connect your Mac and iPhone to the same local network, then share clipboard as you like.
5. Optimize Mac Storage. On El Capitan, we can upload files that we rarely use to cloud services such as Dropbox and use some third-party apps such as Cisdem Unarchiver to compress large files or apps like Cisdem Duplicate Finder to remove duplicates on Mac.
6. Picture-in-Picture with Helium. There's already a free third party app called Helium that can allow us to easily overlay videos and use the whole screen on Mac.
When will macOS Sierra be available?
We can experience some features of macOS Sierra on El Capitan now, but they are limited and some are paid, when will macOS Sierra be available? As introduced in paragraph 1, the final version will be available in the fall. Like the previous several versions, it will be a free update. And the public beta will be released in July. If you can't wait to run macOS Sierra, you can try the public beta when released. But you have to keep in mind that it's beta software, so there will be bugs and interface issues. You'd better backup your Mac data before installing the beta, otherwise you may lose you data and the only way you can get your data back is via a powerful data recovery for Mac.
Want macOS Sierra beta, sign up now!
Can macOS Sierra run on your Mac?
Here's the list of Macs that can run macOS Sierra.
MacBook (Late 2009 and later)
MacBook Air (2010 and later)
MacBook Pro (2010 and later)
Mac mini (2010 and later)
iMac (Late 2009 and later)
Mac Pro (2010 and later)
To determine your Mac's model year, click on the Apple logo in the top-left menu bar and select About This Mac. The model year is listed in the main Overview tab. If you have any questions about macOS Sierra, just leave comments below.