Twitter enables people from different counties to make communications, and share their thoughts or experiences to the public in the format of text, image and video. It allows people to do all actions to other people's posts, but download is forbidden. Therefore, this article will show the guides below on how to download Twitter videos on computer, Android and iPhone. If you are stuck in downloading a Twitter video, read it to get an appropriate solution.
The Best Twitter Video Downloader App
Download videos from over 1000 websites
Only require the URL to download all videos in high quality, including yours and others
Download and convert videos to 600+ video and audio formats, like MP4, AVI, MOV, MP3, AIFF, etc.
Able to download multiple videos at once without leaking personal information
Can customize the file parameters based on personal needs
Offer a wide range of editing features, such as cutting off unwanted segments, cropping extra video parts, adjusting video effects, etc.
Combine several clips into one large file
Work on Windows and Mac

Free Download
Windows 11/10/8/7

Free Download
macOS 10.12 or later
Using Twitter Video Download Bot (PC, iOS and Android)
Because of the huge demand in downloading, many bots are created to help Twitter video download. If you want a video, just mention the bot in the reply section, and the bot will then reply to you with a download link later, some even including different quality options.
However, the bots have the risk to be closed suddenly due to the Twitter rule. So you'd better follow multiple related accounts for alternatives, like @DownVideoBot, @GetVideoBot, @DownloaderBot, etc.
Besides, using a bot has to rely on a third party after all, which may cause uncertain delays of minutes or hours. The thorough solution is to accomplish the download by yourself. If you need, read on to acquire the independent download ways.
How to Download a Twitter Video on Computer
#1 Using the Best Twitter Video Download App
Cisdem Video Converter can also download video from TikTok, YouTube, Instagram, Bilibili, Dailymotion, and other 1000+ websites. It is able to download videos in high quality like 1080P, 4K resolution, providing crystal-like picture for people to enjoy. And it supports downloading multiple videos simultaneously and grabbing them quickly without damaging quality.
Apart from being an all-in-one video downloader, it also makes a quite stir as video converter and DVD ripper. Therefore, users can also use it edit, convert and play the downloaded videos according to personal mind.

Free Download Windows 11/10/8/7

Free Download macOS 10.12 or later
Steps on how to download a video from Twitter via Cisdem
Step 1. Get the best Twitter video downloader app
Download and install the latest version of the App based on your computer system.
Double-click to run it, 3 tabs will appear in your sight. Click

for downloading videos.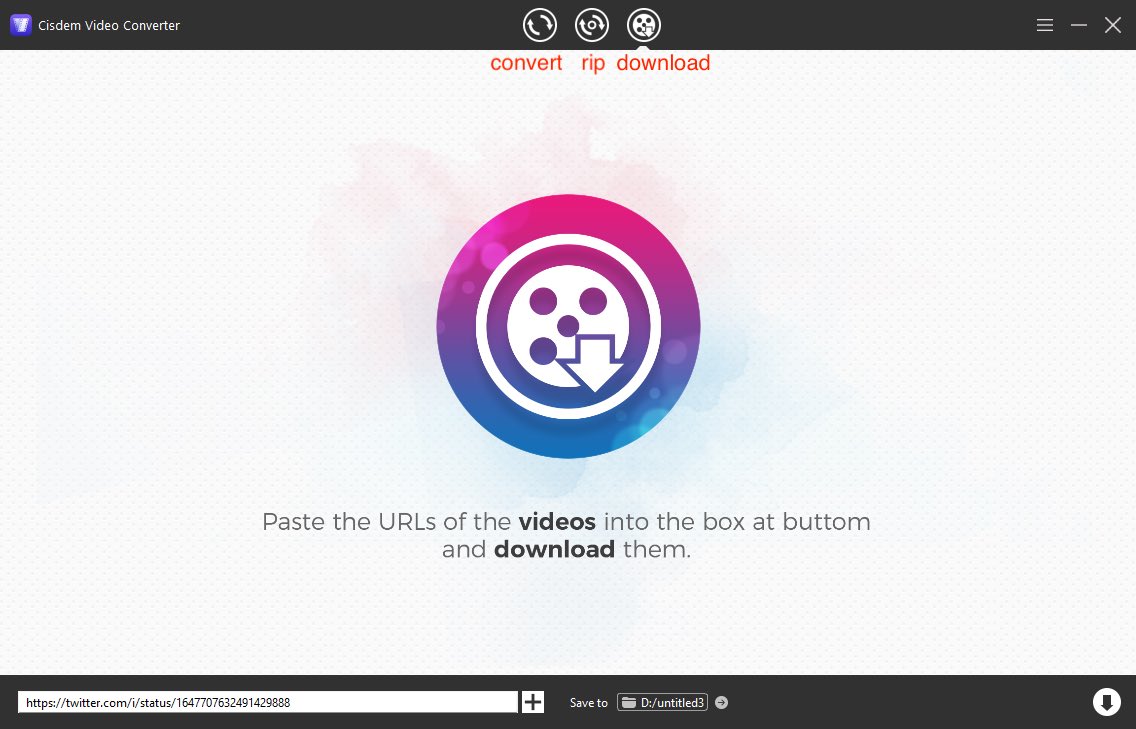 Step 2. Copy a URL of the video
Visit Twitter website with any browser on your computer, find any video you want, right-click on anywhere of the video and select the popped-up "Copy video address" option.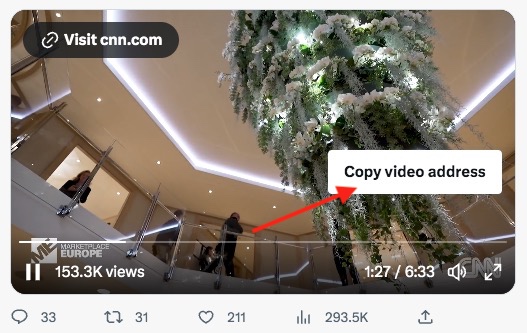 Step 3. Paste the URL
Back on Cisdem, paste the URL into the bottom field for adding URL, click "+" or hit on "enter" key to analyze the video.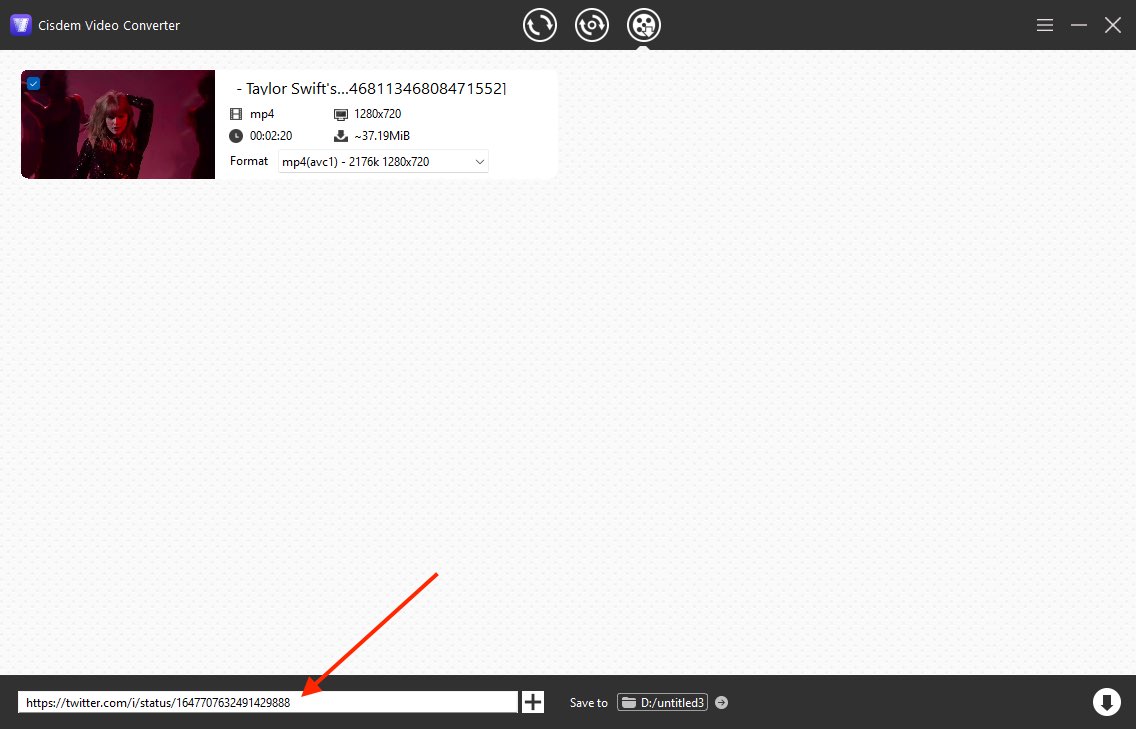 Step 4. Download the video safely and quickly
After analyzing, you can select the Format button to choose a desired resolution. Finally, tap on "Download" icon to download Twitter video to MP4.

Q1: How to download multiple videos from Twitter?
If you want to batch download Twitter videos, you can repeat the copy-n-paste process to download videos in bulk. For Mac version, there is an easier way by clicking "Files > Input URLs" on the top menu bar. Then, you only need to paste the copied URLs, one URL for one line. Once done, tap on "OK" button to analyze them simultaneously and immediately, and then follow the steps mentioned above to download them at once.

Q2: How to make the downloaded Twitted videos to any format you want?
Since Cisdem Video Converter is prowess for a powerful converter, you can also rely on the conversion function to convert the downloaded videos to other 600+ formats supported by Cisdem.
If you want to download Twitter video to MP3, tick out

icon on the video thumbnail to find the just downloaded videos on your local folder, and then drag and drop them to the first interface of Cisdem, which is for conversion. The rest is to select MP3 as the output format in the "General Audio" section and& finally start the converting process. Or you can choose other format if you want.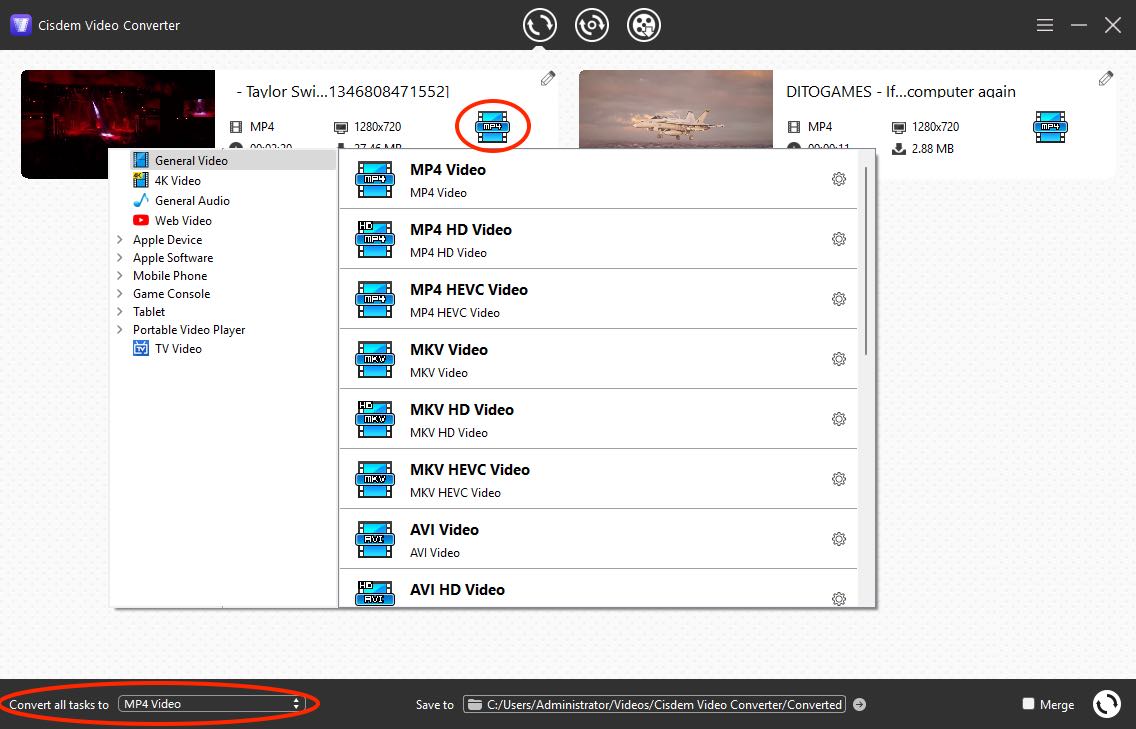 #2 Using a Useful Browser Extension to Download Twitter Videos Free Online
Twitter Media Assist, an excellent Twitter video downloader extension, is a boon for users who make Chrome and Firefox as the default browser. Compared to other extensions, it directly shows a download button below the video, which goes an easier way for people to save videos. But, it compromises the quality in some extent, while the damaging extent is unnoticeable and the video quality is acceptable.
Steps on how to download Twitter videos with extension
Take Chrome browser as an example, open it and install Twitter Media Assist on the chrome web store.

Visit Twitter site with your account, the Download icon has already shown on the bottom right corner of all videos.
Just click the Download icon of the video that you want to save.

#3 Using a Reliable Online Twitter Downloader Service
If you want to download Twitter videos without installing software, there are countless online video downloaders available for you, and twittervideodownloader.com is a superior online Twitter video downloader, which makes fast respond to the pasted URL. It is easy to use and offers different quality options for people to choose. Unlike the software, this online service only supports downloading video from Twitter and can only download one video at a time.
Steps on how to videos from Twitter online
Open a browser, visit Twitter, and copy the URL of a video.
Then move to https://twittervideodownloader.com/.

Pate the URL into the URL filed, click "Download".
On the analyzing result, tap on the"Download Video" option of the according resolution you want.

It will then take you to a new page where the video is playing, click "three-dot" icon and select "Download" button to save the video.
How to Download Twitter Video on Mobile
On iPhone
If you are accustomed to watch videos on mobile phones, AnySave is an excellent Twitter video downloader for iPhone users. It can also download videos from other popular websites, like Instagram. It offers various skins for users to make a preferred design. However, if you want to make unlimited downloads without ads, you need to upgrade to its pro video for higher speed and higher resolution.
Besides common-used downloaders, there are some effective file manager apps on iPhone that can be also used to download Twitter videos, such as Documents app and iOS shortcut. Just choose a handy one based on your habits.
Steps on how to download video from Twitter on iPhone via AnySave
Get AnySave from the APP Store on your computer, and open it.
Move to Twitter, find the video that you want to save, click the Share icon on the bottom right corner and then select "Copy Link" on the expanding sheet.

Back to AnySave, tap on "Paste from Clipboard" to paste the URL. Or you can also manually paste the URL into the blank filed.
Touch on "Save" button to start the downloading process. Once done, click the box icon on the upper right corner to see it.

On Android
Surprisingly, Twitter Video Downloader app is designed to download Twitter videos on Android phones. But if you want videos from other websites, you need to switch help for other tools. Back to the app, it downloads videos quickly and supports batch downloading. Besides, it is designed with a built-in video player to enjoy the videos directly, which is really convenient for people.
Steps on how to download video from Twitter on Android
Download and install the software on your phone.

Open Twitter, move to the Tweet that contains your favorite video.
Tap on share icon, select "Share Tweet via" and then select the app - "Twitter Video Downloader".
On the opened downloader app, paste the URL at the top empty box.
Click Download button.
How to Download a Video from Twitter DMs
DMs are short for direct messages, which is for communicating with others in privacy. So, when you received fancy videos in your DM, how do you download those videos?
The steps are approximately similar to download tweet videos, the crucial part is to look for a workable downloader. However, since videos from DM are high encrypted, it is harder than downloading normal videos. After testing, we found an effective tool called TwiDropper that can help you make it easily.
Steps on how to download video from Twitter DM
Open TwiDropper through a browser.
Click on "DM" on the main interface.
Tap on Log in button. If you haven't log in your account before, it will take a while to certificate your identify step by step.
Then select "Authorize app" button.
Upon entering your account, it can detect all videos from your Message and display them on the page.
It offers "HD", "SD" and "LD" quality options for you to choose.
Click "Download" to save them on your device.

Conclusion
Some people may also want to download private Twitter videos. Through experimental practices, the most efficiency and reasonable way is to send a following request to the private account and then wait for the person to accept. Other ways, like utilizing Google Search cache or creating a fake account, are either too complicated or ineffective. Although there are some apps produced to view private Twitter accounts, this is unethical for the sake of personal privacy.
Therefore, before getting consent, you'd better grab the ways mentioned above to download non-private video at will. Compared to free methods, using the desktop software to download Twitter videos is more recommended, because it not only shortens the process to save videos in higher quality and more formats, but also enables downloading videos from many other popular or small media websites.