How to delete duplicate music files all at one time? I use different music players to download and play music on my Mac. And there must be many duplicate music files. How can I find and remove all duplicate songs on my Mac?
We all love to play music on our computer. As we build up our music collections over the years, it is natural that we might end up with some duplicate songs in the music library. For the most part, ridding your library of duplicate tracks is pretty painless and time consuming. Luckily, you can locate and remove duplicate music files from iTunes and use a duplicate music files finder to remove them from the hard drive of your computer. It can helpfree up hard drive space and improve the experience of playing music on computer.
Remove Duplicate Music Files from iTunes
iTunes is a fantastic music manager for both Mac as well as Windows. However, one problem persists, that of duplicated audio files. Sometimes the app can get multiple copies of the same song, or even two copies of the whole album. Duplicated files in iTunes are annoying because they waste space, make searching more complicated, and sometimes you end up playing the same song repeatedly. Luckily, it also provides the ability to check for and remove duplicate music files from the library.
Locate all duplicate tracks. Open the app and click on Library, then choose Music. From the menu at the top of your Mac screen, choose View > Show Duplicate Items. Or hold the Alt or Option key and choose "View > Show Exact Duplicate Items".
Select the duplicates that you want to remove. You can sort duplicates by name or artist to group items together, then use other columns to decide which duplicate to remove. Or press Command+A to highlight all duplicate songs in the list.
Remove the duplicates. You can right click on the list and select "Delete" to remove selected duplicates with super ease.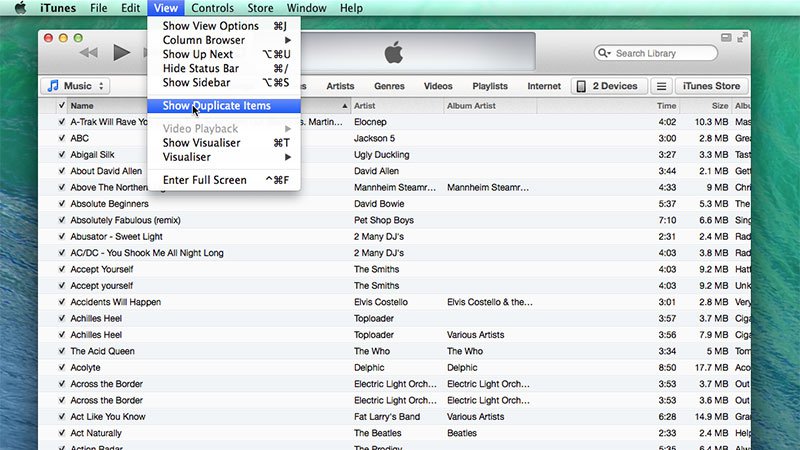 Remove Duplicate Music Files from Mac and Windows
Find and Remove Duplicate Music Files from Your Mac
Even though you can manually remove duplicate tracks from iTunes, but there are still some duplicate music stored in your Mac folder. This is where Cisdem Duplicate Finder comes in. Cisdem Duplicate Finder is one of the best duplicate file finder which can help you find Mac duplicate photos, music files, videos and other types of files and remove them easily. You can download free trial of Cisdem Duplicate Finder and follow below steps to locate and remove duplicate music files from Mac.

Free Download
Add folders to scan duplicate songs. To get started, launch Cisdem DuplicateFinder on Mac and take a look around. Drag and drop Mac folders to scan for duplicates. Or click "+" button to add your Mac folders. Then click on the "Scan" button to begin the scanning process.

Tip: In Preference, you can set to skip packages and filter scanning duplicates by file size. You can also choose one of the two ways to remove duplicate music files: Move duplicate files to Trash, Delete duplicate files permanently.

Shows results and preview the duplicates. Give this tool a bit of time to scan your folder. After scan, all the duplicates will be listed. In the list of duplicates, you can preview each music duplicate to figure out which tracks you want to keep.
Select and remove unwanted duplicate tracks. For safety, by default this app will keep at least one instance file of the duplicates after removing them. You can also select duplicates manually or select all duplicates by clicking "Select All" button. Then click Delete button, the app will automatically remove duplicate songs and the wasted disk space will be reclaimed.
Find and Remove Duplicate Music Files from Your Windows PC
If you are a Windows user, you can use Cisdem Duplicate Finder for Windows which can accurately detect and locate duplicate songs from your computer. It fully supports Windows 11 and Windows 10. Advanced search methods and modes are applied to make sure that you can detect and remove duplicate music files. You can also use it to find other duplicates files such images and videos. It provides fast scanning and searching speed.

Free Download
Get the software program on your PC. Open it.
Drag and drop the folder(s) you want to scan into the scan area on the software's interface. Click the Scan button.
Once the scanning is finished, you will see how many duplicates have been found and how much space you can recover by removing these files.
To remove these useless files, just click the Delete button.

Peter has always had great enthusiasm for writing, programming and web development. He likes writing about software and technology, his works are featured on some tech blogs or forums like Tom's Hardware, CNET, etc.