You might prefer using WordPerfect to create files that contain images, objects, tables, and formatted text. However, WPD is a proprietary format and hard to transfer to others. Converting WPD to PDF seems a good solution to this problem since PDF file:
Preserves the original layout when sharing it to others
Can be protected by a password
Works on any operating system, Mac and Windows included
Easily integrates non-text elements like images, hyperlinks, etc.
Can be converted to other file formats directly without any unnecessary steps
Therefore, how to convert WPD to PDF on Mac and PC? It's a challenge, and here I will walk you through the best WPD converter for all of you.
How to Convert WPD to PDF on Mac/PC without Changing Fonts?
For Mac
Cisdem Document Reader is an incredibly straightforward yet practical WPD to PDF converter for Mac. It provides a set of tools for reading/printing/converting files, adding bookmarks, extracting images, etc. The software is in small size, so it's a good choice for users who are limited by hard drive space. Meanwhile, it loads your WPD file faster than its competitors.
Main features of Cisdem Document Reader:
Easy to use and lightweight
Convert file formats to JPEG, PNG, TIFF, BMP, Text, GIF
Open WPD, WPS, XPS, OXPS, VISIO, DjVu, and PDF files in batches on Mac
Make all elements in these documents are precisely presented, including original text style, images, graphics, tables, hyperlinks, layout, and formatting
Giving you the smoothest reading experience with the customize toolbar: page thumbnail, searching pane, page navigation, zoom, rotate, save, etc.
Steps to Convert WPD to PDF on Mac
Step 1.

Free download Cisdem Document Reader and launch it on your Mac
Cisdem allows each user to try its Document Reader for free. you can click the "Free Download" button to try it. And then you need to install this tool on your Mac and run it.

Free Download
Step 2.

Open your WPD files on your Mac
After launching the Cisdem WPD converter on your Mac, you need to open your WPD files on it next. Click the "View" button on the top, you can add your files. This tool allows you to open WPD files in batches. Before converting, you can view the detailed contents of your WPD file.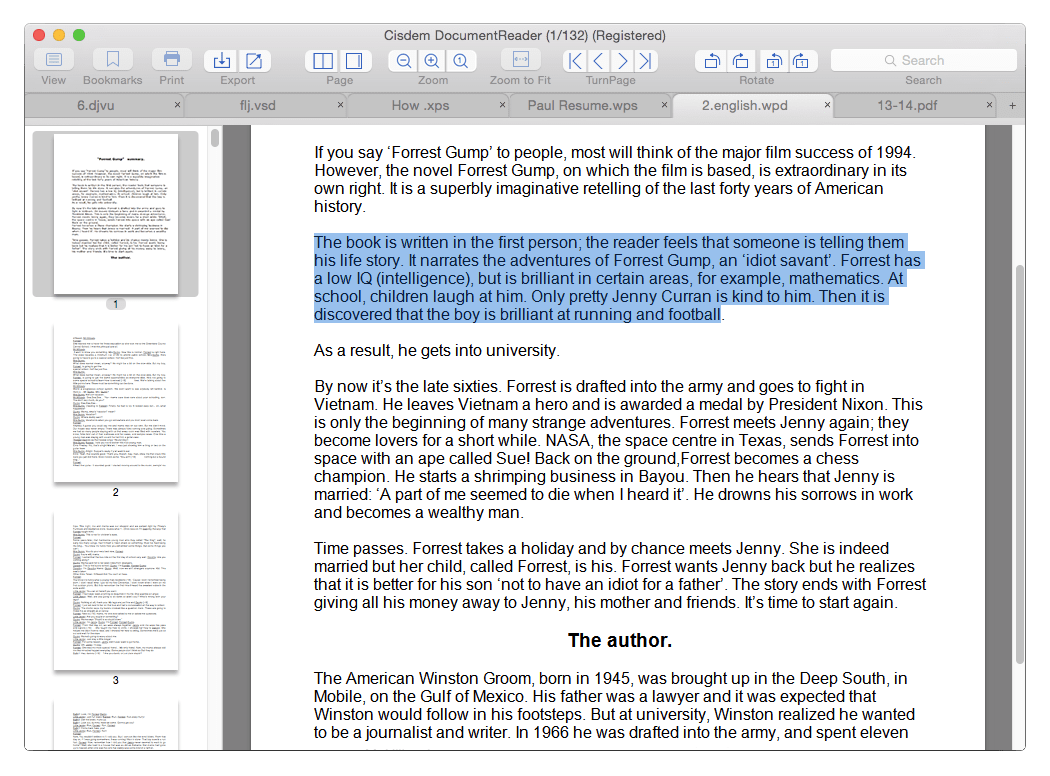 Step 3.

Convert WPD to PDF on Mac
Cisdem DocumentReader is super easy to use, just click the "Save to PDF" on the top, a window will pop up, you will be asked to select "Copies" and "Pages". Then click "PDF", and your WPD file will be converted to PDF successfully.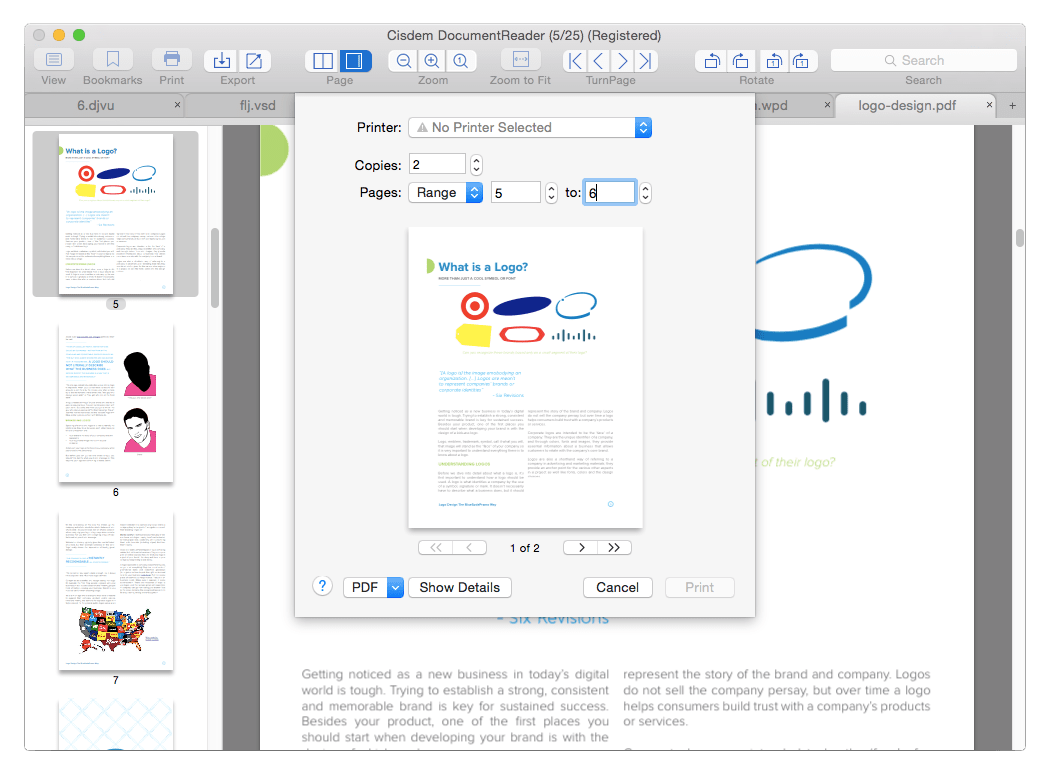 For Windows
Tied to the Windows desktop, Corel WordPerfect Office is a decent WPD to PDF converter. With suite-wide PDF publishing options, it lets you share your documents, charts, and presentations with friends, families, or colleagues.
Steps to Convert WPD to PDF via "Publish to PDF":
Step 1.

Download, install and launch Corel WordPerfect Office on your Windows.

Step 2.

Click on "File" > "Open" to load the WPD file you desire to convert in WordPerfect application.

Step 3.

Click "File" > "Publish To" > "PDF" to display the "Publish to PDF" dialog box.

Step 4.

Choose a folder to save the output PDF file and click "OK".
Steps to Convert WPD to PDF via "Print".
Step 1.

Open WordPerfect app and search for the WPD file by clicking "File" > "Open".

Step 2.

Navigate to "File" > "Print".

Step 3.

When the Print dialogue pops up, change the printer setting to "ADOBE PDF", and click "Print".

Step 4.

Choose the output location and click "Save".
How to Convert WPD to PDF Online?
If you search "Convert WPD to PDF" on Google, a variety of free WPD converters have been established. Now, let me introduce the 2 best ones to you.
# Zamzar.com
Zamzar is one of the popular web-based WPD to PDF converters. It supports lots of document formats, such as WPD, PDF, WPS, XLS, MOBI, DOC, TXT, RTF, EPUB, CSV, UOS, HWP, HTML, CHM and so on. But the maximum uploaded file size is up to 150 MB only. And it's not a WPD viewer online, you can't batch preview the files before conversion.
Steps to Convert WPD to PDF Online with Zamzar.com:
Step 1.

Go to https://www.zamzar.com/convert/wpd-to-pdf/.

Step 2.

Import the WPD file that you would like to convert by clicking the "Add Files" button or directly drag-n-drop it to the interface.

Step 3.

Select PDF as an output format.

Step 4.

Hit the "Convert Now" button.

Step 5.

Once your WPD file is converted to a PDF, Zamzar will head over to a result page that contains a download link. Click on the "Download" button to save the converted PDF file.
# OnlineConvertFree.com
As the name of the web service indicates, it's the second fantastic free online converter that ensures you to convert WPD to PDF, DOC, DOCX, ODT, OTT, RTF, SDW, STW, SXW, TXT and XML. But unfortunately, this online WPD converter is an ad-infested site and has a limited memory capacity (can only process 2 files at a time).
Steps to Convert WPD to PDF Online via OnlineConvertFree.com:
Step 1.

Visit https://onlineconvertfree.com/convert-format/wpd-to-pdf/.

Step 2.

Upload the WPD file you want to convert by clicking "CHOOSE FILE" or drag and drop the file into the blue area.

Step 3.

Choose the output format as PDF.

Step 4.

Click "CONVERT".

Step 5.

Finally, download the converted PDF file.
What I have to mention is that the online WPD converter is not your best choice for WordPerfect to PDF conversion:
Limited Functions- it has a limitation on the size of uploaded files and offers limited features. It's not a WPD viewer online, hence it can't help you open and read your WPD file online.
Not Safe Enough- It will obtain your WPD files for some hours, so others may occupy your WPD files. Meanwhile, your action and document information might also be stored.
FAQs about WPD to PDF Conversions
Can I Rename .WPD to .PDF?
No, you can't.
If you directly rename .wpd to .pdf, the file will be damaged and can't be opened.
Can I Convert WPD to PDF through Google Docs?
No, you can't.
Google Drive only empowers you to preview the WPD file but doesn't let you open it in Google Docs, thus you are unable to export the file as PDF, DOCX, ODT, RTF, TXT, HTML, or EPUB.
Conclusion
By now you should have found a way to convert WPD to PDF on Mac or PC. Online WPD converters are quick, handy, and best to use for those non-private or non- confidential file conversions. Desktop WPD converters are packed with more features and are capable of converting files to PDF safely without an Internet connection.