Sometimes, we need to export the data from a Word table to Excel, by doing so, we don't need to re-create a Excel file from the start. Many users once converted Word to Excel by manual copying and pasting, but it needn't to be this. Here in this article, several solutions to easily convert Word to Excel, while keeping the formatting is introduced.
Convert Word to Excel with Microsoft Office (Excel 2016)
If you a regular user of Microsoft Office, you can directly utilize this Microsoft suite to convert Word to Excel. MS Excel allows users to import data from text, which makes it possible to export Word text to spreadsheet.
Open Word in Microsoft Office Word, then go to File> Save As;
Choose "Plain Text" in the drop-down list of output format;
Then Click "Save" to export Word file as text;
Then run Microsoft Office Excel, choose "Data" from the toolbars and click on "From Text" to import the Word text;
Choose "Delimited" in the Import Wizard, and tweak the settings according to your needs, then click "Finish";
Select an existing or new worksheet to import the data to Excel and click OK;
Save the Excel file.
However, this solution is only recommended when your Word file is not fully filled with data or complicate tables, otherwise, you will have to spend a lot of time on adjusting the formatting.
Word to Excel with Formatting Kept
Get all data clustered after converting a Word to Excel file? Yes, it is not easy to preserve the formatting, since Word and Excel are totally 2 different document types. But no worries, we can get this formatting issue fixed by using a professional Word to Excel Converter.
The existing Word to Excel Converters on the current market all apply the same principle to perform the conversion: Save Word to PDF first, then convert PDF to well formatted Excel. Here we will introduce 2 converters, one is for mac users, and while the other one is for Windows users.
For Mac Users
PDF Converter OCR for mac, is originally designed to convert any PDFs on mac. But as it evolves to meet up with all kinds of needs from users, it now enables users to convert virtually any popular documents:
Convert Word to Excel, JPG, PDF, etc.;
Convert native PDF to Word, Excel, PowerPoint, Text and other 12 formats;
Convert scanned PDF and images to searchable PDF, editable Word, Excel, etc;
Convert an image file to another image format;
Create PDF from Word, Excel, CHM, ePub, HTML, etc.;
Extract image from PDF;
Merge, compress or protect PDF when creating PDF files form other documents;
Batch conversion is supported;

Free Download
Convert Word to Excel on Mac
Choose "Creator", then drag and drop Word files for importing. You can upload multiple Word files at one time if you want to convert several Word files to Excel;
Click "Convert" to save Word as PDF;
Go to "Converter" and upload the PDF files that you create from the Word documents.
Choose output as "Excel". If you want to convert some image tables, turn the OCR on to perform OCR on the PDF.
Click "Convert" to export PDF as Excel. Your Word file is now converted to Excel on mac.
Notes:
For more accurate OCR, you can click the "Settings" icon. You will notice that the OCR applied zone are marked as Texts, Images or Tables in different colorful areas, you need to check if all OCR applied zone is marked correctly, if not or improperly, manually adjust (deleted the mark box first, then click on one of the icons under OCR applied zone, now you can drag a mark box to select all zone you want to be marked as the format you prefer). For example, if you want to output a part as table, remove the mark box in this zone, click on "Mark Tables" in the OCR applied zone, then drag a mark box to select those contents you want to mark as Tables. You can resize the mark box by dragging its corners.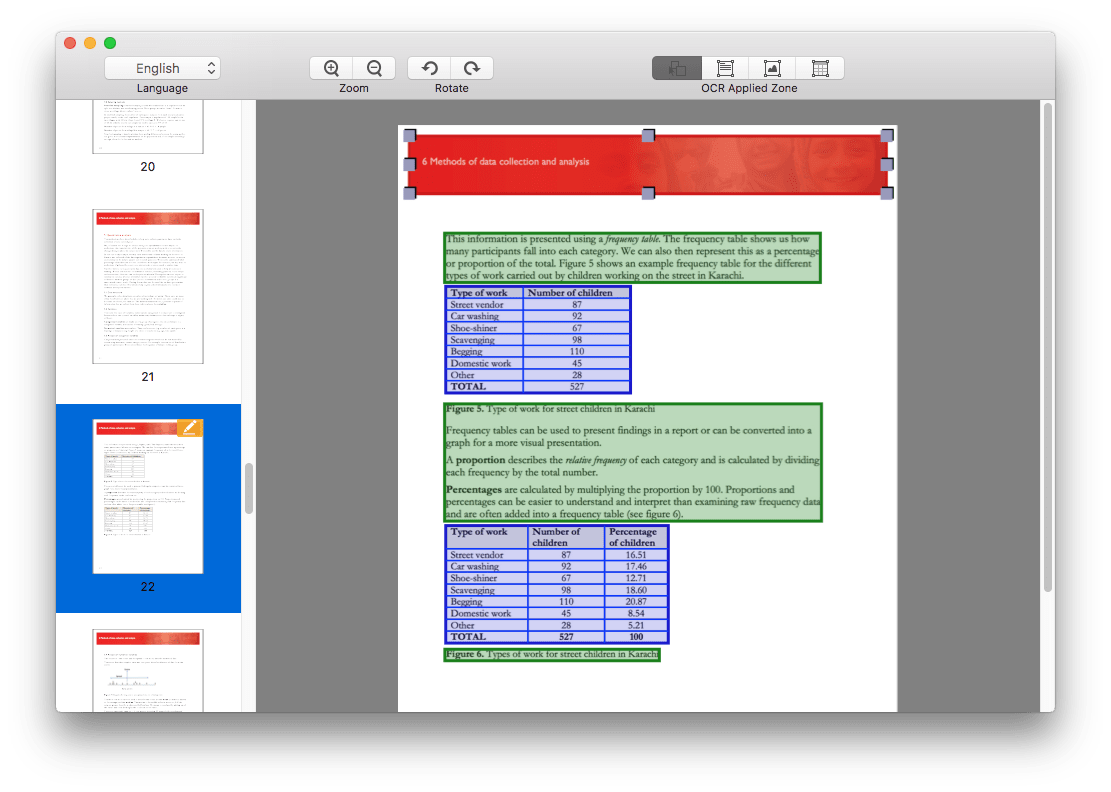 For Windows Users
PDF Converter Pro for Windows is quite similar to PDF Converter OCR functionally. Basing on the same work principle, this program can also convert Word to Excel, convert PDF to various formats, even create PDF from other documents easily on Windows PC.
Convert Word to Excel on Windows
Choose "Create PDF" and drag&drop your Word files into the program;
Click "Convert" to save Word as PDF first;
Then go to "Convert PDF" and import the file you generated from Word file.
Choose output format as Excel.
Click "Convert" to finally export Word as Excel on Windows.
Word to Excel Online Free
In the case you don't need to convert a Word file to Excel very often, or you are not willing to install any 3rd party software for conversion, you can change Word to Excel online free.
CoolUtils Doc to XLS Converter is an online free program allowing users to convert Docs files into different formats, such as Word to PDF, Word to JPG, to Text, Tiff and HTML. It can process conversion in batch, and allow users to convert files from computer, Google Drive and Dropbox.
Click "Select files", and then upload Word files to the program;
Choose output as Excel, also you can tweak the options to customize Excel output;
Click "Download Converted File" to get Excel output;
Attention:
​Don't upload highly private files for online conversion, which may bring potential risk of information leakage;
Don't upload super large Word for file, which may slow down or pause the conversion;
Re-check the Excel output especially when your Word file is quite complicated in formatting.
Conclusion
No matter you are using an online or a professional Word to Excel Converter, the conversion quality is always the most important criteria to evaluate the job. If you are looking for high quality results, you'd better try an expert, I mean, those professional ones.

Connie Wisley


Connie has been writing for Mac productivity and utility apps since 2009. Each review and solution is based on her practical tests, she is aways energetic and trustworthy in this field.