Pages, a part of iWork productivity suite run on Mac OS, is a powerful word processor enabling users to create beautiful documents with creative layout or formatting. It gets more and more popular among office people. And PDF, a universally recognized and standard format to store/share information, also fills every aspect of our work. It is quite simple to save Pages as in PDF, but not that easy to convert PDF to Pages, especially when you want to convert scanned PDF to iWork Pages. Never mind, here we disclose you 3 proven ways to perform the conversion.
First, Make Your Choice.
First thing first, we need to realize that, the conversion of "Scanned PDF to Pages" has to be performed by a tool with OCR feature.
OCR means Optical Character Recognition, it is the mechanical or electronic conversion of images of typed, handwritten or printed text into machine-encoded text. Put it in a nutshell, OCR technology help you to recognize the text on scanned PDFs, then you can export the recognized content as in other editable formats with an OCR tool.
In recent years, the research about OCR goes deeper and deeper, there are quite a lot of OCR tools available, but they vary in terms of performance and feature. Basically, there are 3 types OCR tools: professional desktop OCR software, online free OCR tools, PDF tools with built-in OCR feature (like Adobe). Before you start to perform the conversion, you may need to think about a little further to choose the tool fits your needs.
If you have installed Adobe Acrobat, go directly Part 2 for the solution;
If you require high on Content Accuracy, Speed, File Security, Formatting Retaining and will have to work on scanned files for a long while, go to Part 1 for the solution;
If you want a FREE conversion, go to Part 3 for the solution.
Part 1. Use a Dedicated Program with Best Results.
PDF OCR Converter, as users highly recommend, is dedicated OCR program designed to convert PDFs(both native and scanned one) and image into editable files with amazing results. With its easy-to-use interface and high quality OCR recognition, you can effectively convert scanned pdf into various editable formats, such as Microsoft Office, iWord, HTML, ePub, etc and make it look exactly as the original PDF. Also, users are allowed to create, merge, protect and customize PDFs with its free PDF Creator built in the program.
Follow the steps to convert your scanned PDFs to Pages
Step 1. Download and Install PDF OCR Converter on your mac.

Free Download
Step 2.Add files to PDF OCR Converter by clicking "Add" or directly drag&drop the file.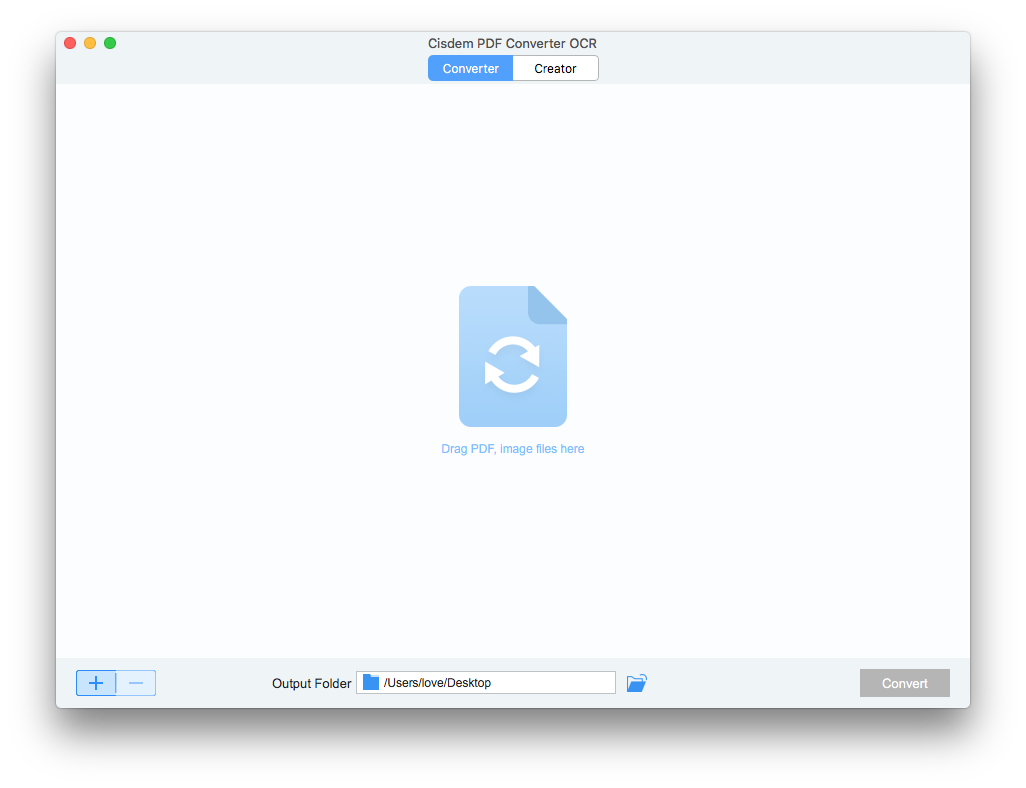 Step 3. Prepare for OCR
When you finish uploading the file to PDF OCR Converter, download the OCR module and choose page range. Also, select output as Pages before conversion.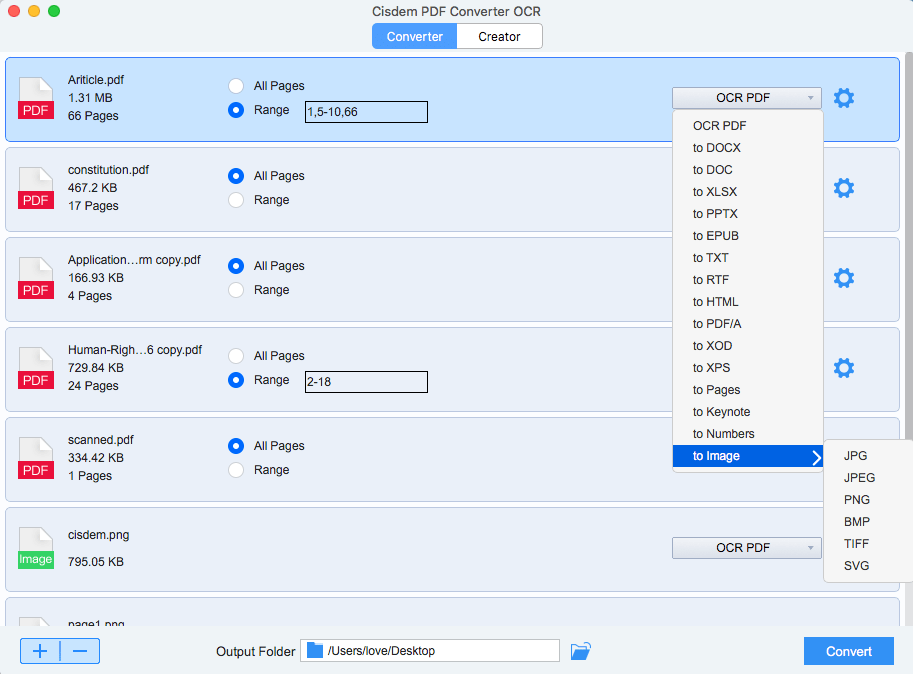 Step 4. Convert scanned PDF to Pages on Mac
Click "Convert" to start the conversion. You can find the Pages file in output folder within seconds.
Part 2. Use Adobe Acrobat
If you have installed an Adobe Acrobat on your mac, you can make use of its built-in OCR function to perform the conversion. But you need to know 2 points before the action:
Adobe Reader cannot perform OCR;
Adobe Acrobat cannot directly convert scanned files to iWork Pages, it does allow you to convert the scanned files to word, to excel, to text, etc, but iWork Pages is not an output option in Adobe Acrobat.
So, this is how to perform Adobe OCR. Recognize the text in Adobe Acrobat(mac version: X Pro, XI Standard, and Pro DC), export to Word, then save Word as Pages.
In Adobe Acrobat X Pro, XI Standard:
Open PDF in Acrobat X Pro or Acorbat XI Standard;
Go to View>Tools>Recognize Text in This File;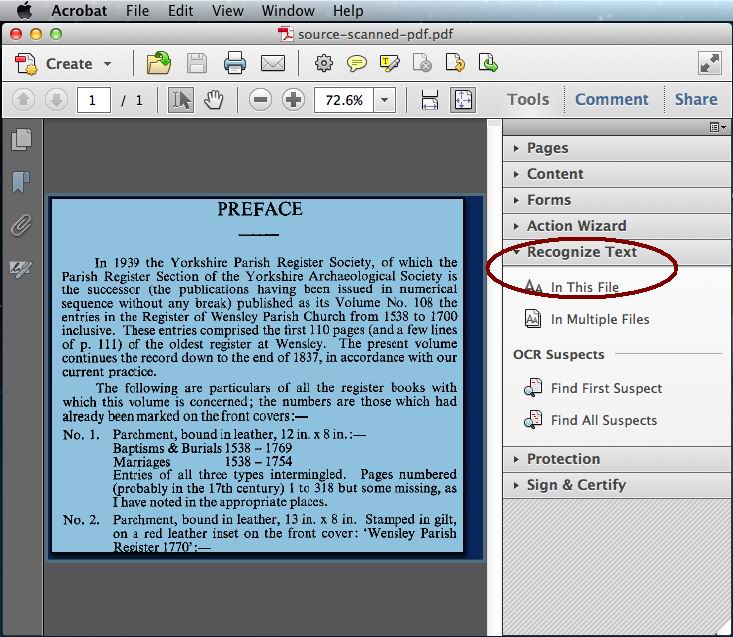 Go to File>Save As>Microsoft Word;
Open Word file with Pages, go to File>Save, the scanned files will be saved in Pages.
In Adobe Pro DC:
Open the file in Acrobat DC;
Click "Adobe Export PDF" in the right pane;
Click "Convert" to perform the OCR;
Once the file is recognized, save the recognized file as the Word;
Open Word file with Pages, go to File>Save, the scanned files will be saved in Pages.
There are 2 conversions occurring during the whole process, which will adversely impact the retaining of the layout and formatting. Do not use Adobe for non-wordprocessor files.
Part 3. Use Online Free Service.
If you really care about the price tag and don't have to work with scanned files on a regular basis, online OCR service will be a good option. However, the great inconvenience will be the same as that using Adobe Acrobat, you need to convert scanned files to Word first, then to Pages, since there are quite few allowing users directly to convert scanned files into Pages.
When you google "Online OCR", you may get the result as following: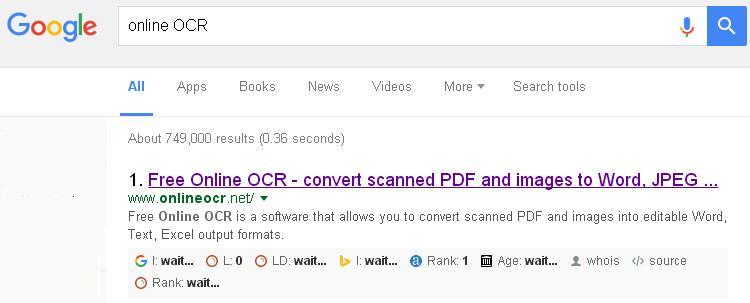 Online OCR, is the online free OCR service appearing as the top result in Google, and according to the test results, it is proved to be a plausible way to convert scanned files into writable formats.
It is easy to use, just follow the steps and perform OCR.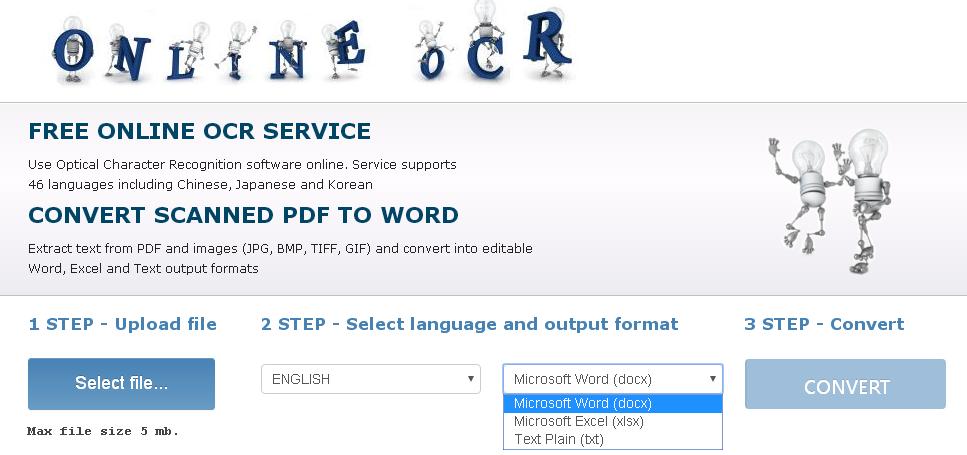 Once you have downloaded the converted file in Word, open with Pages and save it in Pages, done.
There are 2 conversions occurring during the whole process, which will adversely impact the retaining of the layout and formatting; also, there is a file size limit.
What Else is on the List?
You may be wondering if we have chosen the best from those best to perform OCR, we have! But if you are looking for more options and if you are not so sure that we have recognized your concerns when performing OCR, then check what is else should be on your list.
Or if we miss out something really great, inform us in the comments.