MP4 is a common container format compatible with almost all software, devices and media players. In digital file conversion, we prefer to convert other formats to MP4. But there are exceptions. When you want to save your MP4 videos to DVD format for burning them to DVD quickly without re-encoding, you should convert MP4 to MPEG2, as MPEG or MPG (MPEG-2, AC-3) is best format for DVD.
Read this article to get the best MP4 to MPEG2 converters for Mac or Windows, also learn the step-by-step guide on how to do the MP4 video to MPEG2 conversion.
Easy-to-use Yet Robust MP4 to MPEG2 Converter
Convert MP4 to the video formats encoded with MPEG2, MPEG4, H265, VP8, AC-3, MP2, PCM, AAC, etc.
Convert MP4 to MPG, TS, MP3, MKV, AVI, FLAC, MOV, or any other format
Convert media files to presets for devices like iPhone, iPad, iMovie, Xbox, Sony TV, Samsung TV, etc.
Support over 250 formats and 350 preloaded profiles in total
Rip DVD disc and DVD folder to digital formats like MP4
Do basic video editing such as cropping, rotating, watermarking, etc.
Download 4K, HD, SD videos from 1000+ websites including YouTube
Preserve high-quality output results
Batch downloading and batch converting
Support macOS 10.12+; Windows 10 or later

Free Download

Free Download
What is an MPEG2 file?
MPEG2 (a.k.a MPEG-2, H.222, or H.262) is a common codec standard for lossy video and audio compression. Typical container formats that incorporate MPEG-2 compression are MPEG2 PS (.mpg) and MPEG2 TS (.ts). The former is used on DVD-Video discs and HD DVD videodiscs, and the latter is used in broadcast systems.
Common DVD format settings
If you convert MP4 to MPEG2 for DVD-Video, below are the common settings:
The Best MP4 to MPEG2 Converter for Mac and Windows 10/11
Cisdem Video Converter is an excellent MP4 to MPEG2 converter that aims to make audio and video conversion at a super-fast speed.
Apart from MP4 (h264/h265 + AAC) and MPG (MPEG2 + AC3), it supports a vast variety of input and output formats such as MKV, AVI, MOD, TOD, WMV, 3GP, M4V, WebM, MTS, VOB, etc. This is why you can use it to efficiently convert videos for iPhone, iPad, Apple TV, Android phones, game console, tablet, media player, and so on. It can also work as a YouTube downloader, DVD ripper, basic video editor, and video combiner.
Steps to Convert MP4 to MPEG2 in batches and high quality with Cisdem:
Step 1. Download and install Cisdem Video Converter on your computer.
Step 2. Import MP4 files.
Launch the application. Drag one or more MP4 files into this app.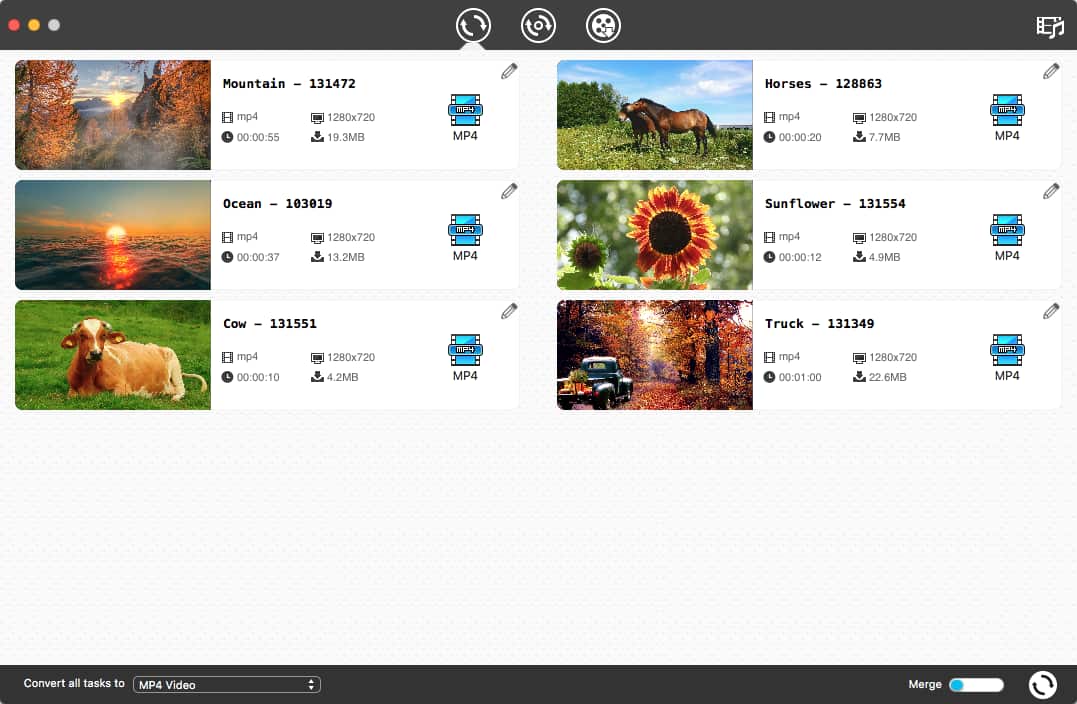 Step 3. Select the output format.
Click the format button like

to open the format panel. Go to "General Video" and select the output format as:
MPEG Video
MPEG HD Video: Fix the resolution to 1280 * 720p. The resolution of the original video is preferably higher than or equal to 1280 * 720p.
Click the "gear" icon and change video codec to "mpeg2video" in the "Advanced Settings" window. Also, you can tweak other file parameters, such as changing audio codec to "ac3".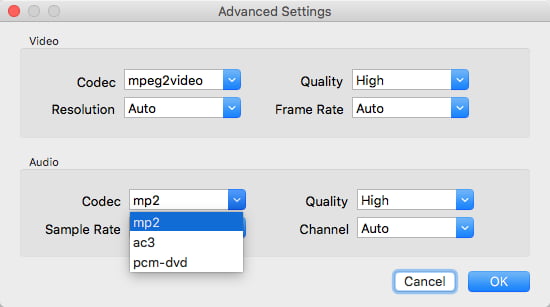 Step 4. Edit the video (optional)
If you need to do some basic editing like trimming, cropping, rotating, adding effects or subtitles, just click the

button.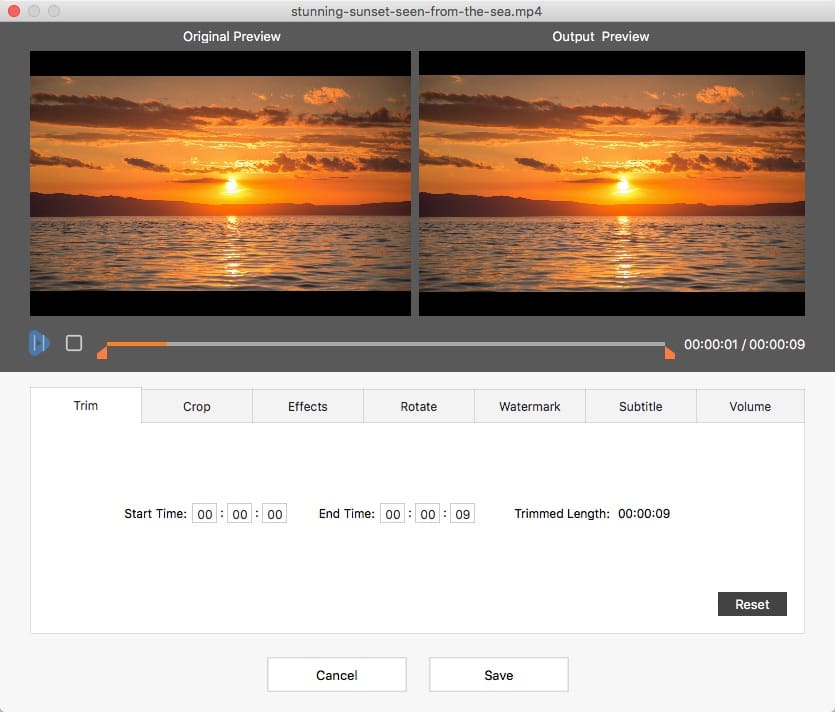 Step 5. Start converting MP4 to MPEG2.
Click

button, and the conversion will start on Mac.
After the process is completed, you can click

button to open the folder that contains the converted files.
Pros:
Safe and Easy to use
Quickly convert MP4 video to MPEG2
Convert video codecs like MPEG2, H264 to MP4
Convert 4K videos without quality loss
Batch convert multiple files
Other features: online video downloading, DVD ripping, video editing, etc.
Cons:
Not available for old operating systems
How to convert MP4 to MPEG2 online for free (no watermark)
Can I convert MP4 to MPEG2 online without watermark? The answer is yes. This is a frequently asked question, which is based on the commonly known fact that many online tools watermark converted files. The good news is there are online MP4 to MPEG2 tools that don't add watermark. They are available for all platforms such as macOS, Windows, Android, iOS, etc.
#1 Online-convert.com
Available in four languages including English, this is a totally free online conversion service that allows you to convert MP4 to a wide variety of other formats. In addition, it can also convert audios, documents, e-books and images. To access advanced features such as batch conversion, you need to become a premium user.
Visit https://video.online-convert.com/convert-to-mpeg-2 in your browser.
Upload MP4 videos to the online tool.
Change video and audio settings. Note: mpeg2video codec has been selected by default.
Click the "Start conversion" button. After the conversion, the converted file will be automatically downloaded.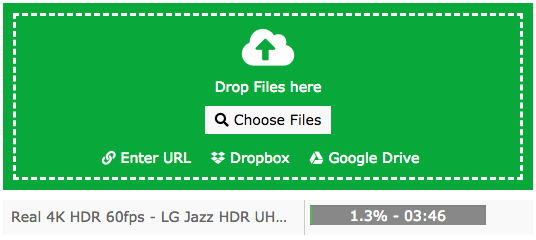 Pros
Free and no need to install
Convert MP4 to MPEG2 free without watermark
Support a few other output formats
Cons
100MB file limit for free users
Convert up to 20 files per day and 5 files at a time
Not safe enough
#2 Convertio.co
This is another online MP4 to MPEG2 converter without watermark. As an all-inclusive tool, it supports an array of conversion types such as video, audio, document, presentation, ebook, and more. It ensures you to import files from computer location, Dropbox, and Google Drive.
Open https://convertio.co/mp4-mpeg2/ in your browser.
Upload an MP4 file from your computer hard drive or cloud services such as Google Drive.
Click the gearwheel icon and configure the video/audio settings.
Click the "Convert" button.
After the converting process is done, you need to download the converted video file to your computer.

Pros
No need to pay and install
Can transform MP4 to MPEG2 with no watermark
Multiple output formats
Cons
The maximum file size can't exceed 100MB
Allow 2 concurrent conversions only
There is a risk of leaking your private video information
How to Convert MP4 to MPEG2 Using Handbrake
Handbrake is one of the best transcoders that's capable of converting an MP4 file to MPEG-2. It has been around for over a decade, and you can use the software with confidence.
Handbrake allows you to add multiple MP4 videos to queue. But when converting files, only one MP4 file is converted at a time instead of all files at the same time. And based on our test, trying to convert an MP4 video file from Handbrake on Mac Pro takes a very long time. It spent 9 hours to convert 2 hours of MP4 video to MPEG2.
Open the app on your computer. Add an MP4 file by clicking the "Open Source" icon on the toolbar. You can also import the file by dragging and dropping.
Click the "Video" tab which is on the right side of the "Filters" tab.
From the "Video Encoder" dropdown list, select "MPEG-2".
Go to the bottom-left corner of the interface and find the "Save As" field. Change the file extension from .mp4 to .mpg.
Click "Browse" to select a location on your computer to save the converted video file.
Click the "Start" button on the top toolbar. The conversion from MP4 to MPEG2 will start.
Pros
Free to use
Wide input supported formats
Can also convert DVD to MPEG2
Cons
Occupy a lot of CPU
Conversion speed is slow
How to Convert MP4 to MPEG-2 Using VLC Media Player
Also known as VLC, this is another open-source app that can help you convert an MP4 video to MPEG-2 TS or PS. While it's commonly used as a media player, it can actually work as a basic video transcoder with a few supported formats.
Converting MP4 file with VLC is pretty fast, but it doesn't rank among the premium MP4 to MPEG2 converter in terms of quality. We tested 3 video files, one of which lost audio track after exporting to MPEG2.
It works a bit differently on the Mac and Windows. We will take the macOS version as an example and show you how to use it to make a conversion.
Open VLC. Drag an MP4 file into this app. Alternatively, you can add files by clicking the "Open media" button.
Go to the menu bar on the top of the screen on Mac. Select "File" > "Convert/Stream". The "Convert & Stream" dialog box will appear.
In the "Choose Profile" section, select "Custom", and then click the "Customize" button.
Under the "Encapsulation" tab, select "MPEG-PS".
Switch to the "Video codec" tab. Pick "MPEG-2" as the codec.
Hit "Apply".
In the "Choose Destination" section, click "Browse" and choose an output location.
Click the "Save" button to start the conversion.
Pros
Completely free
Can also transform other videos to MPEG2
Play DVDs and any digital files
Cons
No batch conversion support
The output quality is not good
How to Convert MP4 to MPEG2 Free via FFmpeg
FFmpeg is the most powerful and all-purpose software project for handling all kinds of multimedia tasks, including MP4 to MPEG-2 conversion. In fact, most free and paid video converters are taking FFmpeg behind the scenes.
It has no GUI and needs to rely on the command line to turn MP4 into MPEG2. Therefore, it's more suitable for advanced users or engineers who are familiar with the command line environment.
Download FFmpeg.
Open Terminal on Mac or Prompt on Windows.
Type the command.
To change only the video codec, use ffmpeg -i input.mp4 -c:v mpeg2video output.mpg. Also to transcode the audio codec, enter ffmpeg -i input.mp4 -c:v mpeg2video -c:a ac3 output.mpg. Replace input.mp4 with your own MP4 file.
Press the "Enter" key on the keyboard to execute the command.
Pros:
Compatible with multi-platforms
Record, convert and stream media files with help of integrated libraries and programs
Support any format
Cons:
A bit complicated for beginners
Need to master lots of command lines for different tasks
Conclusion
There are different types of MP4 to MPEG2 converters available. You can choose one of them according to your need. If the video file is small in size, and converting MP4 videos to MPEG2 is not something that you do frequently, you can use an online tool. If you are passionate about video making, video editing and need to convert videos on a regular basis, it's recommended to choose a professional and powerful video converter that supports a wide variety of formats.