Does anyone know of a good free program that converts MP3 to MIDI files? I would like to make some ringtones and can't find a program. Most go from MIDI to MP3. – From poi-factory.com
MIDI, the abbreviation of Musical Instrument Digital Interface, is a popular file format that's used to play keyboard instruments. The past few days, I saw some forum users ask how to convert MP3 to MIDI or YouTube to MIDI. If you have the same doubt, here is the right place. In this article, we will offer you the best MP3 to MIDI converters.
The Best MP3 Converter for Mac and PC
Convert MP3 to multiple media formats with high quality
Convert to 500+ formats in batch, like MP3, WAV, MP4, AVI, MKV, MOV, etc.
Convert to optimized preset for almost all of the devices
Rip DVD movies to videos with few steps
Download online videos and audio

Free Download

Free Download
Why Need Convert MP3 to MIDI Formats?
The instrument voice of MP3 is so simple that it can't expression well to the sheet music. In this case, you'd better quantize the MIDI file to make it more readable.
MIDI format is more compact than MP3, so the whole song is able to be stored in hundreds of MIDI messages.
Due to the compact size of MIDI audio file, it's quicker and easier for online uploads and playing.
Reliance on the recording platform, MIDI has high-quality output and might sound better than MP3.
There is no need to re-record notes if you change pitch, duration and other parameters in MIDI files.
How to Convert MP3 to MIDI with Online Ways?
Converting MP3 to MIDI files can become an easy task if you use the correct tool. To fulfill the complete process without downloading any extra program, the best free online MP3 to MIDI converters will be great helper.
Bear File Converter
Bear File Converter is a free MP3 to MIDI converter to transfer office documents, videos, images, audios and other file formats online. In addition to converting MP3 to MIDI, it can convert WAV, OGG, AAC, WMA to MIDI online as well. Now let's focus on how to convert Mp3 to MIDI with online converter.
Find the "Convert WAV (or MP3, OGG, AAC, WAM) to MIDI" option at the homepage of Bear File Converter what is under the list of Audio Converter.
Upload your MP3 file by clicking the grey button, or drag & drop it to the MP3 to MIDI converter, or type the URL directly. It's worth noting that the upload file size should be less than 50 MB.
At this moment, you should start converting MP3 to MIDI online. The conversion process takes a while, but it won't be long. Once all finished, you can download the MIDI file.
ZAMZAR
Regard as another useful online converter for MP3 to MIDI, Zamzar offers you a great experience of file conversion. It supports a variety of output formats, including image formats, documents formats, video formats, music formats, e-book formats and more. You may be uncomfortable to leave your email address, but I sure it is absolutely safe.
Upload MP3 file less than 100MB from your computer or websites.
Search for music formats > MIDI to make it your output format.
Enter your e-mail address to receive converted file.
Click Convert button to transfer your file and this online MP3 to MIDI converter will send the result to your email.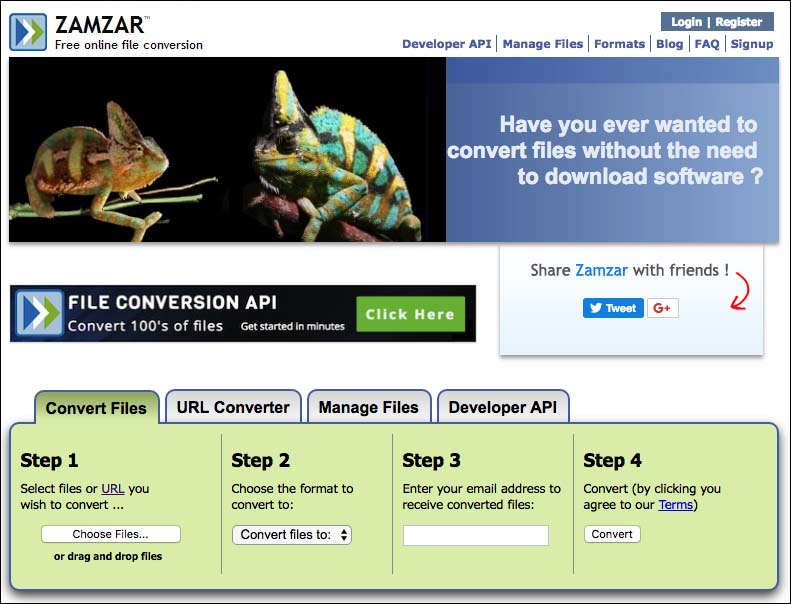 How to Convert MP3 to MIDI via Audacity Software?
There are also some MP3 to MIDI converting software that can assist you to make the audio conversion, such as Audacity. It is a great free audio editing tool around. With it, you can convert audio files in MP2, MP3, M4A, OGG, FLAC, MIDI, etc. Follow the guides below to learn how to convert MP3 to MIDI via Audacity.
Install and run Audacity on your device. Click File at the tool bar and then choose Open or Import to add MP3 file.
Navigate to File > Export Audio, a small window will pop up. Select the output format as Other uncompressed files and set Options. Afterwards, choose SDS (Midi Sample Dump Standard) from "Header" tab and pick your own encoding. Finally, click Save button.
At the last step, you can convert MP3 to MIDI by pressing the OK button. But before that, you can feel free to modify the MIDI audio information.
Conclusion
Free MP3 to MIDI converters indeed bring convenience to convert MP3 to MIDI. Sometimes, however, it doesn't completely meet your demands due to the few supported formats. If you would like to convert MP3 to other formats, you can try Cisdem Video Converter for Mac. It will give you an unexpected experience.

Peter has always had great enthusiasm for writing, programming and web development. He likes writing about software and technology, his works are featured on some tech blogs or forums like Tom's Hardware, CNET, etc.