M4A is the extension of the standard MPEG-4 audio file. Since Apple began using M4A in its iTunes and iPods to distinguish the video and audio files from MPEG-4, the M4A extension has become popular. But M4A is an audio format compatible with Mac. If you need to play it on Windows, Samsung, Android LG, HTC, or other systems, you may meet some knotty troubles.
Whereas MP3 is a sought-after audio format that can be recognized by most devices and players. To play M4A anywhere, you'd change it to MP3. How to convert M4A to MP3 on Mac with the easiest ways? Here shows the ultimate guide.
How to Convert M4A to MP3 on Mac Free with iTunes?
In terms of audio quality and file size, M4A indeed has a greater advantage over MP3. But if we are able to play the M4A file, all the advantages are just decorations. So changing M4A to MP3, you will have no worries about the M4A audio playback problem.
In this part, you will know how to convert M4A to MP3 on Macintosh with iTunes - the app preinstalled in macOS Mojave and earlier.
Launch iTunes. Click the tab in the upper banner, navigate to "iTunes" > "Preferences" > "General".
In the "General" interface, click on "Import Settings…".
Choose "MP3 Encoder" from the dropdown menu of "Import Using". Click OK.
Select an M4A song that you want to handle and right-click the song to bring up a menu. Choose "Create MP3 Version" to save your M4A songs to MP3 format in iTunes on your PC.
Although this method requires only a few clicks to complete the conversion, it is not my most recommended method. Because iTunes only provides users with limited output audio formats. Meanwhile, since macOS Catalina, iTunes separates into Apple Music, Apple TV, and Apple Podcasts.
How to Convert M4A to MP3 on Mac without iTunes?
Apart from iTunes, we can still use other useful converters to start the conversions. Here we list 4 tools to help you.
#1. Cisdem Video Converter (professional conversion app)
Cisdem Video Converter for Mac is undoubtedly the best program to convert audio, video, and DVD to all hot formats and devices without quality loss. It's able to perform batch conversion of multiple media files in one go.
Except as a converter to change M4A to MP3 on Mac, you can also regard it as a video downloader or DVD ripper due to its versatility.
Impressive features of Cisdem M4A to MP3 converter for Mac:
Convert M4A files to MP3, AU, AMR, FLAC, and other audio formats
Convert videos to 300+ formats, including 4K/3D
Rip DVDs purchased from the store or made by yourself to media files
Edit, enhance & personalize videos before conversion
Extract audio from video into M4A, MP3, etc.
Download videos from YouTube, Vevo, Dailymotion, and other 1000+ sites
Joint audio of any format into one single audio file
Supported OS: macOS 10.12 and later, 12.0 Monterey and 13.0 Ventura included
Step 1. Import M4A files to the program
Download and install Cisdem M4A to MP3 converter on your Mac. Launch the program, drag and drop the M4A files to it.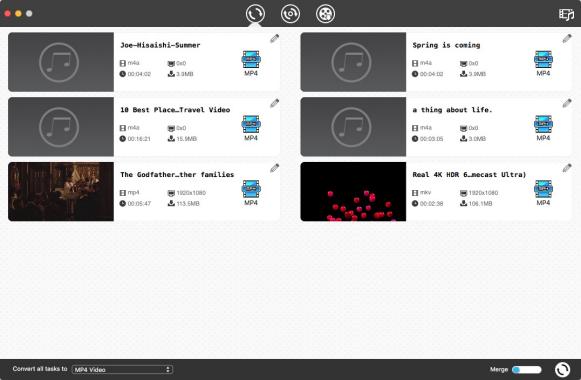 Step 2. Select MP3 as output format
Click on the blue format icon, a format tray will pop up. Choose "MP3 Audio" from the "General Audio" tab.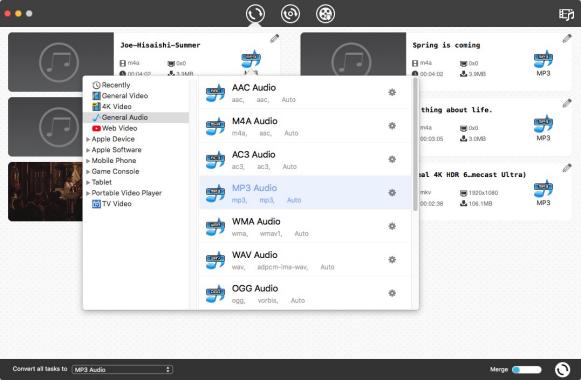 For further configuration, click the "gearwheel" icon next to the output option you choose. And then an "Advanced Settings" window displays. You have an opportunity to adjust the parameters of the exported audio such as sample rate, channels, bitrate, etc.
Note: If you are not a technical user, keep the current settings, which are already good enough.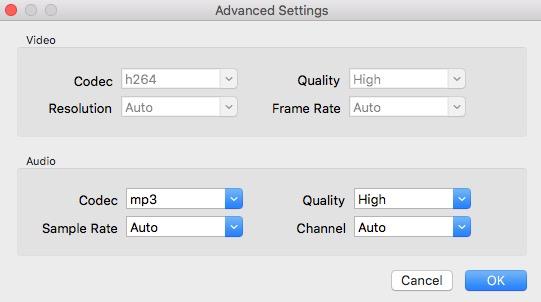 Step 3. Convert M4A to MP3 on Macintosh
Select a file destination as the output folder. In the end, click the

icon to start the conversion of M4A audio to MP3 on Mac without degrading the original quality.
#2 Audio.online-convert.com (Online website)
Online converters are simple, free, and come without any added frills. If you search the keyword "convert M4A to MP3 online" on Google, you will get tons of free tools. To make your selection task a little easier, we pick up one of the best M4A to MP3 converters for Mac online.
Audio-online-convert.com is the one that will help you convert audio to M4A, M4R, OPUS, MMF, AIFF, etc. It lists more than related free online audio converter items. The free account empowers you to convert up to 20 audio files per 24 hours and up to 5 audio files per time.
Pros:
Free and easy-to-use
No need to waste time on the installation process
Customize some audio parameters
Cons:
The maximum upload is 100MB
Support a limited number of conversions per day and each time
May lose audio quality
Go to https://audio.online-convert.com/convert-to-mp3 in your browser.
Click "Choose Files" and select M4A from your Mac
Personalize optional settings like audio bitrate, sampling rate, or trimming audio.
Hit the "Start Conversion" button.
#3 Audacity (open-source audio editor and recording app)
Audacity was initially unable to convert M4A to MP3 on Macintosh, as it was unable to import M4A. The software could only add some common audio file formats like WAV, AIFF, and MP3.
If you have the FFmpeg library installed, it will support more formats, including M4A, AC3, MP4, WMA, etc. Audacity uses LAME to encode MP3, and it actually has been packed with a built-in LAME encoder already. But you can still install a higher version. These two extra libraries are necessary for converting M4A to MP3 but are not packaged together.
Navigate to https://lame.buanzo.org/#lameosx64bitdl. Find the FFmpeg package you need to download to your Mac.
Download and install FFMPEG.
Launch Audacity. Go to the menu bar, and click on "Audacity" > "Preferences" > "Libraries" > locate and add the FFmpeg library.
Return to the main interface of Audacity. Drag-n-drop M4A audio into it.
Head to "File" > "Export" > "Export as MP3". From the pop-up "Extract Audio" window, click "Save".
Edit metadata tags and click "OK".
Note: It can't change the M4A file to MP3 in batches, or your extracted tracks will be merged and save a one stereo file.
#4 Terminal (use command line and FFmpeg)
It's complicated to convert M4A to MP3 on Mac in the terminal. It will cause "command not found" because of outputting a character or letter. It took me a lot of attempts to get it right, which was a bit time consuming, especially for beginners.
Install FFMPEG: https://www.rickmakes.com/ffmpeg-notes/.
If you desire to convert multiple M4A files, copy the batch script here: https://www.rickmakes.com/batch-convert-lossless-audio-to-mp3-shell-script/.
Create a folder on the desktop to save M4A files (Name it "M4A") and the output MP3 files (name it "MP3).
Open Terminal.
Type the command line as the image shows, and press the enter key to begin the conversion.
To convert a single M4A file to MP3, use the commands below:
ffmpeg -i input.m4a output.mp3
ffmpeg -i input.m4a -acodec libmp3lame output.mp3
ffmpeg –i input.m4a -f mp3 output.mp3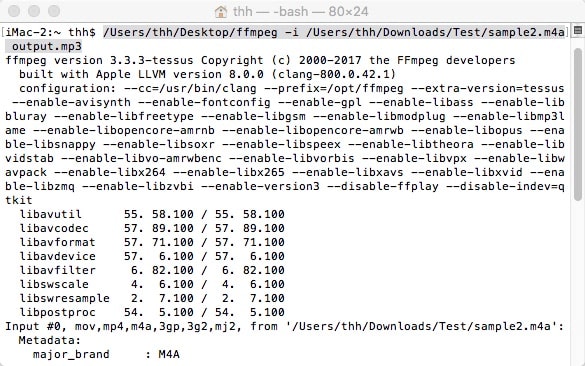 You can't type the command line: ffmpeg -i audio.m4a -c:a copy audio.mp3 to copy or remux M4A to MP3, as they use different codecs.
FAQs
1) Can I convert M4A to MP3 on Macintosh via Google Drive?
In fact, it is similar to use an online converter. But it added the steps to log in to the Google account, and the converted MP3 will be saved in Google Drive. It has designated tools-CloudConvert.com and suggested apps-Cloud FLAC, MP3, AAC Player, and Cloud Audio Recorder.
Sign in to your Google Drive.
Import the M4A file.
Open M4A with "CloudConvert", and then perform the conversion there.
2) Can I convert M4A to MP3 on Mac using QuickTime?
The answer is no. QuickTime merely allows you to export media files to M4A format now.
Whether it's the past or the present, the answer is no.
The old version of QuickTime 7 Pro allows you to export media files to AIFF, AU, and Wave. There are no MP3 options to choose from. The sole solution is to install a third-party add-on (LAME encoder).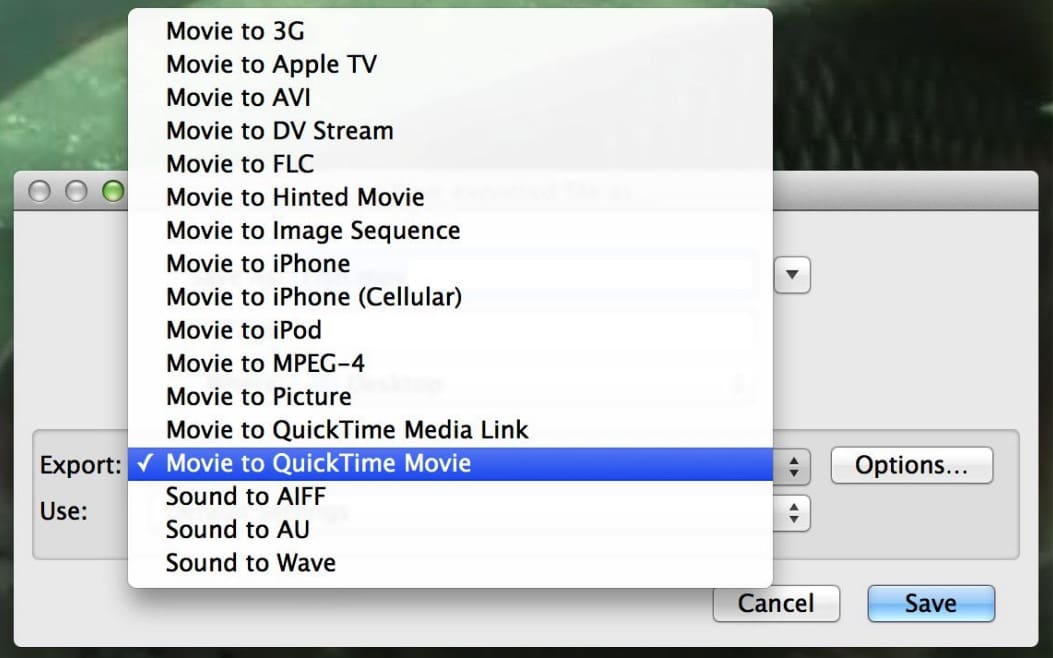 However, QuickTime Player 7 no longer provides Pro upgrades since 2009 and Apple has completely killed it since Catalina.
When Mac OS X Snow Leopard was released, it's equipped with the new QuickTime X Player, which can merely save the audio to M4A format.
3) Can VLC change the M4A file to MP3 on Mac?
Yes, VLC offers a transcoding function. You should select the format as "Audio-MP3" and make sure to manually name the file as "xxx.mp3".
In general, VLC on Mac is not as good as it on Windows.
Conclusion
We introduced 5 ways to convert M4A to MP3 on Mac. Taking into account the limitations of the iTunes application and online converters, as well as the complexity of the command line and Audacity, we are more inclined to use the full-featured applications, like Cisdem Video Converter for Mac. You can easily find the merits of it.