When the video on your Android devices can't be played due to format issues, have you considered converting it to a compatible format? MOV is one such Apple QuickTime video format that isn't supported by Android. In this article, we will look at how to convert MOV to MP4 for Android phones like Samsung Galaxy, OnePlus, Moto G Power, Google Pixel, Nokia, etc.
Why change MOV into MP4 for Android?
To successfully play MOV everywhere
It's the main reason. As we all known, MOV files can't be viewed by the default Android player, but MP4 is compatible with a wide range of devices, including Android.
Save the memory of your Android phone
Most Android phones are equipped with internal storage space between 8GB and 64GB or greater. And the size of a 1080p MOV movie of about 2 hours may be 15-20GB. If it's a 4k MOV movie, the size could exceed 50GB.
In other words, a normal MOV movie will occupy a lot of memory space on Android phone. Converting MOV to MP4 is able to reduce the movie size while high quality is kept.
The Best Android App to Convert MOV to MP4
You can find a large number of video converters for Android in the Google Play store, most of which support MP4 as an output format. Try the two best Android video converters below.
#1 VidSoftLab Video Converter
It comes with an exquisite UI, full of rich features, like video conversion, cutting, compression, joining, stabilizing, name to a few. Not just can it convert MOV to MP4 on Android, but also to FLV, WebM, MKV, 3GP, MPEG, and presets for Windows, Apple, Xbox, etc.
To transcode 4k and 1080p MOV videos, you have to buy premium. Otherwise, the maximum resolution of the resulting MP4 video can only be 960p. But from the feedback of some users who have purchased the paid version, there was no difference in the quality.
Additionally, if you convert one to two hours of movie content, you need to wait more than one hour to complete the conversion. When converting large files, it gets crashes.
Run VidSoftLab Video Converter.
On its main interface, click the "Video Converter" tool.
Select a MOV video from your Android phone. Tap the arrow in the lower right corner.
Choose a format. The default "Common" is fine, and then tap "arrow" again.
Configure video & audio settings based on your preferences, and continue.
Tap the "right" button to change video format on Android.
#2 Video Transcoder
Compared with VidSoftLab, the design and functions of Video Transcoder are much simpler. It aims at converting media files to AVI, FLV, Matroska, MP4, GIF, Opus, etc. All your converted files will be saved in/Movies path.
This best MOV to MP4 converter for Android can also help you with video codec, FPS, resolution, audio codec, and so forth.
However, it doesn't yet implement HEVC/x265 encoding and provides a shockingly slow working speed. It takes over 3.5 hours to transcode a 1GB file.
Open Video Transcoder app on your Android phone.
Tap the "SELECT VIDEO" button to load a MOV video.
Select the container – MP4.
Optionally, adjust video and audio settings.
Tap "ENCODE" to convert .mov to .mp4 on Android.
Video converters for Android are difficult to be perfect due to device limitations, which is why these two apps have so many problems and are still called the best.
Use Online Site to Convert MOV to MP4 on Android
Another way to convert files directly on an Android phone is to search for suitable online tools. They can Transcode your MOV into MP4 as well and not be required to install.
#1 Video2edit.com
Video2edit.com is an online video editing and conversion service for 10+ years. It's pretty similar to online-convert.com by using the same file converter API. It provides services in multiple languages, including English, German, Portuguese, Chinese, Indonesian, etc.
You can use Video2edit.com to convert MOV file to MP4 and other 9 video formats online. Non-registered accounts have the ability to convert 3 MOV files at a time, but the size of a single file or the total file can't exceed 75MB. Even if you pay $15 a month, you can upload up to 1GB of video, which is not nearly enough for a large MOV movie.
Open your Android browser and visit the link: https://www.video2edit.com/convert-to-mp4.
Tap "Choose File" to import a MOV file.
Swipe down to see if to change settings.
Tap the green "START" button to process the video.
Download the converted file or zip file.
#2 Vidconverteronline.com
Vidconverteronline.com is a newer online website to convert MOV to MP4 on Android. Besides local MOV on your phone, it can also transcode video by pasting the video URL.
When you import the MOV video, it will automatically start the conversion. So the "CONVERT" button is actual useless. This also means that you need to select the output format in advance before uploading the video.
The drawback is that this online video converter for Android doesn't support MOV over 200MB or batch processing.
Visit the site http://vidconverteronline.com/convertFileVideo.
Set the video format to MP4.
Choose video quality.
Configure the start time and end time.
Tap "UPLOAD FILE" to import a video file. After 10 seconds, it will audio begin the conversion.
Hit "DOWNLOAD".
The Recommended Solution to Convert MOV to MP4 for Android
The shortcomings of using video converters (apps & online) on mobile phones are obvious. Then why not convert large-size MOV movies to MP4 on the computer, and then transfer the MP4 to Android?
Cisdem Video Converter, available on Mac and Windows, is a powerful program to convert video content to virtually any format and specific device. In the output format panel, it lists popular Android phone brands and models, like Samsung Galaxy, Huawei Mate, Sony Xperia, Redmi, OPPO, HTC, Nokia, Motorola, etc.
What Cisdem Video Converter can do for you:
Convert MOV to 300+ formats, e.g. MP4, MKV, WMV, OGG, MP3
Straightly transcode MOV to Android devices
Convert mass MOV files to MP4 in bulk
Quickly convert 1080p and 4k MOV movies without losing quality
Reduce the file size via HEVC encoding
Edit and play MOV files with the built-in tool
Combine unlimited MOV video clips
Download movies from YouTube, Facebook, and any platform
Steps to convert MOV to MP4 for Android on Mac or Windows:
Step 1. Drag-n-drop all your MOV files into Cisdem Video Converter.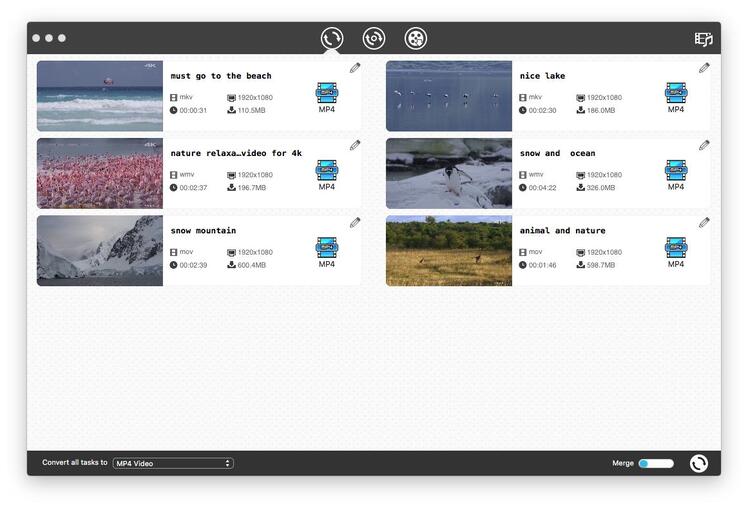 Step 2. Pick an appropriate output format.
Go to choose the MP4 format from the "General Video" category.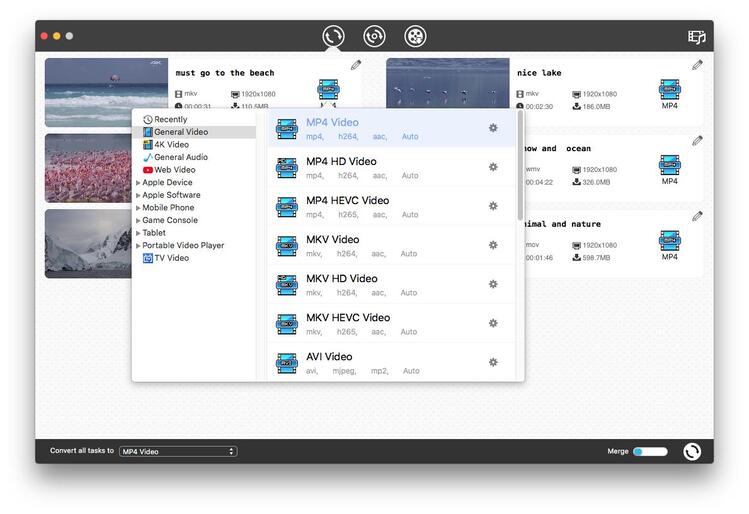 Or choose an Android preset from "Mobile Phone", e.g. "Samsung Galaxy S", "Huawei Mate RS 20, RS", according to your Android mode.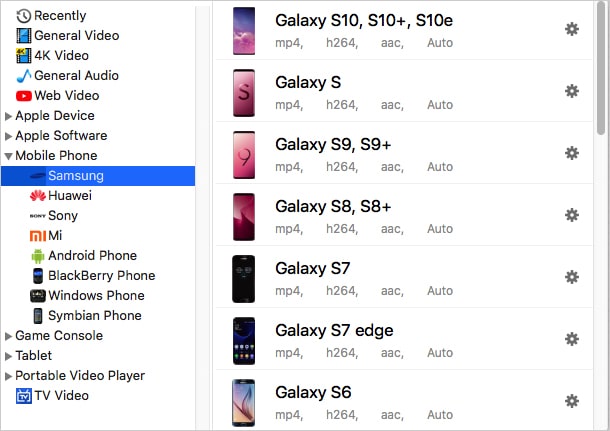 Step 3. Tweak output settings (for advanced users)
To get control of output video parameters, you can make changes to the default settings by clicking the

button to the right side of the format you pick.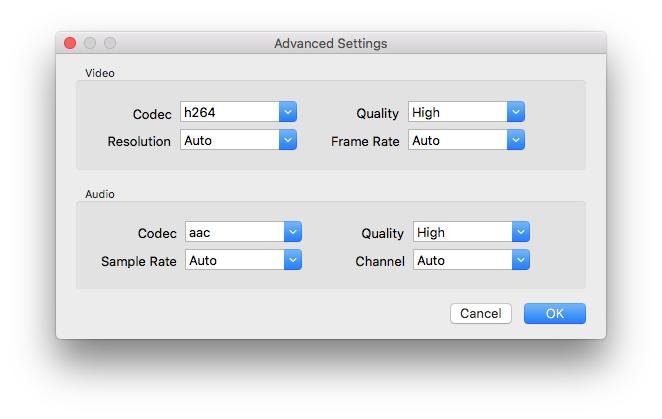 Step 4. Click the

button at the bottom right side to convert MOV videos for Android.
After you convert your MOV movies to smaller but high-quality MP4 files with Cisdem Video Converter, you can transfer them to your Android device.
If you wish to convert .mov to .mp4 on Windows for Android, try WinX Video Converter, which also delivers an impressive video converter solution.
Final Thoughts
In these 3 ways, you can convert MOV to MP4 for Android online or offline, on Android or desktop. But as mentioned earlier, video converters for Android not only have slow conversion speed and poor performance, but also limit the size and resolution of uploaded MOV files. Even many tools on the mobile phone can't convert MOV files in batches. When you use the video converter app on your computer, you will find that all the problems are easily solved.