In terms of traffic on video streaming sites, YouTube and Vimeo take up a massive chunk. Then, why do we still start a topic about how to download Wistia videos?
As a viable video platform, Wistia lets users create, manage, distribute, and analyze video. Plus, it ensures business communications between teams.
And when I browse through Quora, Reddit, or other forums, I find many users are haunted by Wistia video download problems, like the following:
"I use YouTube-dl, and it keeps showing me an error message"
"Chrome extensions are not working for Wistia video download"
"Any software is a little bit easier than Screengrab?"
Thus, it's very necessary to discuss how to download embedded video from Wistia in under a minute. After reading this post, you will have a comprehensive understanding of how to download videos from Wistia, such as downloading Wistia videos for free, download Wistia videos without any software, the easiest way to download videos, etc. If you want to know more details, please read on to know more particulars.
All-in-one Wistia Video Downloader
Download video from Wistia and other 1000+ sites
Download multiple SD/HD/4K videos simultaneously
Convert Wistia videos to MP4, MP3, AVI, MKV, MOV, iPhone, Xbox, etc.
Convert videos to high-quality output up to 4K video (5120*2160)
Customize bitrate, sample rate, codec, video frame rate, and more
Edit & enhance downloaded Wistia with a built-in video editor
Download Wistia Video with subtitles or support adding external subtitles
Rip the entire DVD disc/DVD folder/ISO to any mainstream media formats
Easy to use with an intuitive interface
Support macOS and Windows computer

Free Download

Free Download
How to Grab the Wistia URL Link?
Before downloading Wistia video, you need to get the video address. The link URL from Wistia is not as easily accessible as the link from YouTube and Vimeo. You have to grab it from code.
However, the code for Wistia video download may change each year, regardless of 2018, 2019, 2020, 2021, and even 2022. So the steps might be updated in the future.
Way one: from "Copy link and thumbnail"
Open up one of the Wistia video.
Right-click the video.
You will see an option that says "Copy link and thumbnail", just click it.
Paste the content to the blank text editor, Microsoft Word, or anywhere.
The link in the image: https://truth-about-keto.com?wvideo=o1kvat5mfb is what I need, and other stuff can be ignored.
Way two: use the URL fast.wistia.net/embed/iframe/xxxxxxxxxx directly
Get the code after "wvideo=". (A series of letters or numbers in the way one is "o1kvat5mfb".)
Add the code to fast.wistia.net/embed/iframe/.
Finally, we can easily get the URL: https://fast.wistia.net/embed/iframe/o1kvat5mfb.
Way three: from page source
Open up a Wistia video that you want to download from the website.
Right-click the page and choose "View Page Source" option or add the code "view-source:" in front of the video address.
In source page, hit Ctrl + F key and search "medias".
You will obtain a link as shown below: https://fast.wistia.com/embed/medias/o1kvat5mfb.jsonp.
Remove ".jsonp". The ultimate link is https://fast.wistia.com/embed/medias/o1kvat5mfb.
Verdict
On the whole, we'd like to recommend you to download Wistia videos using link two. Some robust software, like Cisdem Video Converter, also allows you to download videos from Wistia by link one.
Note: When you open link two, you may receive a message said: "This video is not authorized to be embedded here" (like this one: https://fast.wistia.com/embed/iframe/thbohum6b6). Don't worry! It means the owner of this Wistia video has Domain Restrictions turned on. Although you are unable to insert the video embed code into your domain, you can still download it through the link.
How to Download Embedded Video from Wistia on Desktop?
#1 The Easiest and Most Effective Way for Mac or Windows
To download Wistia videos on the computer, Cisdem Video Converter should be your first port of call. It makes light work of not only enabling you to queue up multiple 4K/Full HD Wistia videos for download but also converting them into a format suitable for offline watching.
The downloaded Wistia videos from the website can be customized by the built-in editor. You can do the basic editing by adding watermark & 3D effects, deinterlacing, trimming, merging, etc. Besides, it is pretty easy to download Wistia videos via Cisdem Video Converter which only requires to download Wistia video from URL.
Main features of Cisdem Wistia Video Downloader:
Handle files in batches and maintain high quality
Download videos from 1000+ websites (e.g. YouTube, Vimeo, Brightcove)
Convert videos to 600+ formats (e.g. MP4, MKV, MOV)
Offer presets for regular devices (e.g. iPod, iPhone, Android)
Rip DVD from any clip source
Merge all Wistia videos into a single one
Download video from Wistia and other all websites safely and quickly
Step 1

Get the best Wistia video downloader
Download, install Cisdem Video Converter on Mac or Windows, and launch it.
Notes: if your Mac system is under MacOS 10.14, please download Cisdem Video Converter at https://drive.google.com/file/d/1bQn9z_v09_78P8_GnyM5xav39uEOIn2T/view to download online videos.
You will see three tabs on the main interface, please switch to the third one for Wistia video download.
Step 2

Copy Wistia video URL
Locate a Wistia video you are going to download. Then, simply copy the URL of this video to the clipboard.
Important Tip: Cisdem Video Converter has another formidable feature. If there is only one Wistia video on the page, you don't have to follow the steps above to get its URL. You can directly copy the link in the address bar. The Wistia video on this page will be successfully fetched and downloaded as well.

Step 3

Download Wistia videos
Go back to Video Converter, and paste the link to download box at the bottom of the software. Next, click the down arrow icon to download Wistia video in under a minute.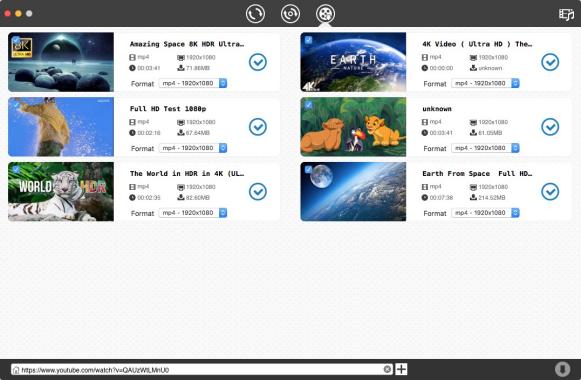 Step 4

Save Wistia videos to ideal formats (selectable)
Drag the downloaded Wistia videos to the convert tab. Click the format icon to choose your target output formats and reset the parameters. Last but not at least, convert Wistia videos without impediment.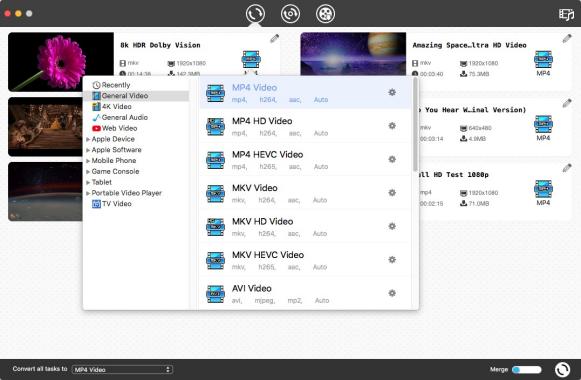 #2 Download Wistia Videos on Windows
Thanks to the compact and straightforward interface, WinX Video Converter Deluxe helps users to download a Wistia video to a heap of output formats, including AVI, AVCHD, MP4, HEVC, iPhone, Android, etc.. It also supports downloading 4K/Full HD videos from Facebook, Vevo, SoundCloud, video camcorder, drone and so on.
What's more, this decent Wistia video downloader for Windows is integrated with some video editing features and video tweaking parameters, which ensures you to complete a perfect Wistia video download process.
Launch WinX Video Converter on Windows.
Click on the "YouTube URL" button to access the download window.
Copy and paste the link of a Wistia video to the address bar.
Click on the "Analyze" button, the Wistia video will be loaded in a second.
Choose a resolution and hit the "OK" button to download embedded video from Wistia.
If needed, convert the downloaded Wistia video to any format.
How to Download Wistia Video with Extension?
Advantages:
Free
No need to copy the URL address
Download Wistia video easily with a few clicks
No install third-party tools
Disadvantages:
Not all the Wistia video can be detected
No different video quality options
Lack of comprehensive functions when compared to dedicated tools
#1 Chrome Extension: Flash Video Downloader
There are three extensions with similar names for Wistia video download on Chrome web store, respectively are The Flash Video Downloader, Flash Video Downloader Pro and Flash Video Downloader. Basing on my test, The Flash Video Downloader does can detect and download partial Wistia videos, but the other two will always tell you "no videos found".
Therefore, we would pay attention to how to download Wistia videos on Chrome via The Flash Video Downloader extension.
Find out The Flash Video Downloader on Chrome web store.
Add the extension to Chrome, and its icon will display on the toolbar.
Locate to a site that embeds videos from Wistia. The Flash Video Downloader will list the detected videos automatically.
You can download a single Wistia video or all of them on Chrome at once.
#2 Firefox Extension: Video DownloadHelper
The three add-ons for Wistia video download I tested on Firefox are Video Downloader Pro, Video & Audio Downloader and Video DownloadHelper. Video & Audio Downloader can extract all Wistia to MP3 audio files, but not videos. As for Video DownloadHelper, it's more useful than Video Downloader Pro and Flash Video Downloader.
Thus, here would mainly illustrate how to download Wistia Videos on Firefox using Video DownloadHelper..
Search Video DownloadHelper extension on Firefox.
Add the add-on to Firefox, and the icon will appear on the overflow menu. If not, you can go to the "Customize" window to drag it into the toolbar.
Navigate to any site that contains embedded Wistia videos. DownloadHelper will catch the videos in MP4. Note: The icon won't show the number of videos.
Download Wistia videos on Firefox. Before that, there is an option for you to quickly download, copy URL, delete & pin video, add video to blacklist and convert video to MPEG, AVI, MOV, etc.
Download Wistia Video Free Online
Advantages:
Free and no installation required
Easy-to-operate and well-organized
Download online files from a lot of video websites
Disadvantages:
Often pop up rough-and-tumble and annoying ads
Most of them can't download Wistia videos in a batch
Offer no or few output formats
Offer no or very humdrum editing features
Not secure enough
#1 ClipConverter.CC (Update: may fail to open the page)
ClipConverter.CC, a web-based free Wistia video downloader, gives users the possibilities to grab videos from 1000+ hot websites and the resolution can up to 4K. Meanwhile, it provides you with several audio and video output formats, including M4A, AAC, MP3, AVI, MP4, 3GP, MOV, and MKV.
This online Wistia video downloader also develops an add-on for Chrome, Firefox, and Safari. You can try to use the ClipConverter.CC extension as an alternative to download Wistia videos.
Head over to https://www.clipconverter.cc/.
Type the Wistia URL of the video into the box.
Click "Continue" to check the URL.
Choose one of the detected media options.
Select the conversion format.
Click "Start". After that, download video from Wistia easily on your computer.
#2 TubeOffline.com
Tubeoffline.com is a decent site for those who need to download Wistia video online quick straightforwardly. It claims to convert your files to MP4, FLV, AVI, WMV, and MP3. But no matter which format I choose as the output, it only empowers me to save Wistia as MP4. As of now bolstered administrations include: DarkAnime, Kakao, GamoVideo, Naver, and more.
Note that Tubeoffline.com is a part of dirpy.com currently. So don't worry about that the search engine shows you another site when you head to Tubeoffline.com. Just keep on pasting the URL of the copied video and downloading it on your device with ease.
Navigate to https://www.tubeoffline.com/download-Wistia-videos.php.
Paste URL into the input field of the online Wistia downloader.
Click "dirpy!" to analyze, and you will be redirect to the download page.
Click the three dots icon on the bottom right corner of the video thumbnail, then click Download button on the popped-up window to download Wistia video for free. The video will be downloaded as .bin extension. You can manually change it to .mp4.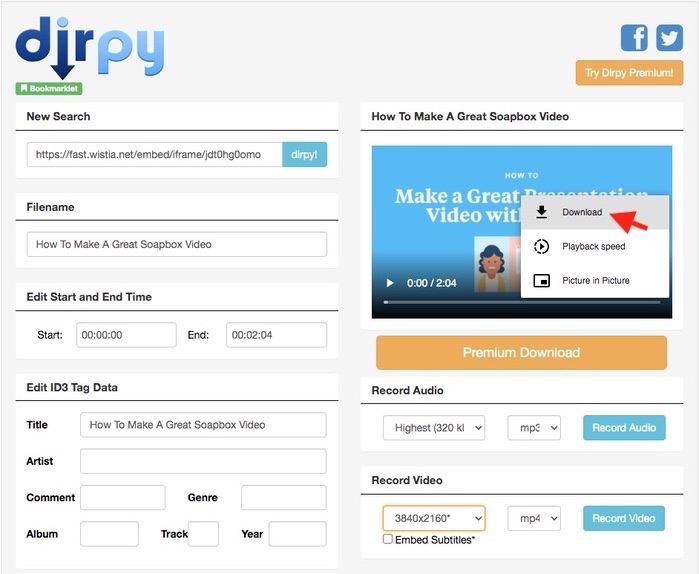 How to Download Wistia Video without Any Software?
Advantages:
Free
Can download Wistia Videos directly without installing any tools
Disadvantages:
The steps are a little bit complicated
Can't improve video quality
Can only download a video at once
In fact, it is capable of downloading Wistia Videos without any tool. And the steps on Google Chrome, Firefox and Safari are similar. Let's take Google Chrome as an example to understand how to download Wistia videos directly.
Open a Wistia video on your Google Chrome, right-click anywhere of the video and click "Copy link and thumbnail".
Open a text editor on your computer, paste the copied link into it to find the video code. In this case, "a74mrwu4wi" is the thing that I need.

Add the code to the end of "https://fast.wistia.net/embed/iframe/" , so that we will get a new link that is "https://fast.wistia.net/embed/iframe/a74mrwu4wi".
Copy and paste the new link into a new tap on Google Chrome and we will get the real video contained in the link.
Come to the bottom right corner of the video, click the gear icon and then click Quality option to select the desired quality format. In this case, we choose "1080p" as the output quality option.

Then, move mouse to the position of the URL, and input the word of "view-source:" in front of the whole URL to activate the View Page Source Window.

Enter "Command + F" on the keyboard (Enter "Ctrl + F" if you are a Windows user), input "1080p" into the search bar and find it. Then, look for the URL ending in .bin extension near 1080p. Plus, the URL is in front of 1080p. In this case, it is "https://embed-ssl.wistia.com/deliveries/063de8cf58795ff2b6643a82f5a17ddcb4a2b5e1.bin".
Copy and paste the real URL into a new tap, change .bin to .mp4, and tap Enter. You will see a video that can be downloaded.
Now, click three dots on the video thumbnail, and then click Download button. The video with .mp4 extension will be saved to computer automatically.

Wistia VS YouTube VS Vimeo