Both the CSV (comma-separated values) format and the vCard format are often used to store contact information, such as names, addresses, phone numbers and email addresses. Some services (such as iCloud) and apps only support vCard. If you want to import contacts from a CSV file to such services or apps, a conversion is needed. This article will show you how to convert CSV to vCard easily in different ways on computer and phone.
Note: vCard is also known as VCF. Therefore, sometimes this article refers to the vCard format (or a vCard file) as the VCF format (or a VCF file).
The Best App to Convert CSV to vCard on Mac
Support contacts from various sources: Mac, iCloud, Google, etc.
Export/convert contacts to 8 formats: vCard, CSV, Excel, etc.
Import contacts from CSV and vCard
Let you view, search, edit, add, group, tag, print, share and sync contacts
Let you backup/restore contacts with a click
Find and delete/merge duplicate contacts
Help you effortlessly convert contacts between formats
Help you effortlessly transfer contacts between sources
Easy to use
Compatible with macOS 10.11 or later

Free Download
Method 1. How to convert CSV to vCard using a converter app
There are desktop and mobile apps that can help you with this conversion. This part will talk about some of them and show you how to use them.
Use Cisdem ContactsMate
Applies to: Mac
If you are a Mac user, you can do the conversion using Cisdem ContactsMate, the best contact manager for Mac. With it, you can easily convert one or multiple CSV files to a vCard on Mac. In addition, this app supports other common formats, making it easy to convert contacts between formats.
Below are the steps.
1. Download and install ContactsMate.

Free Download
2. When you open it for the first time, click OK in the message that appears.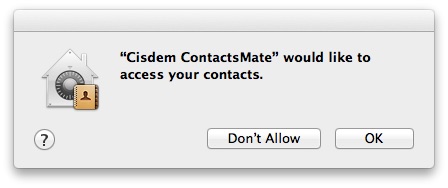 3. In the sidebar, control-click On My Mac and choose New Group.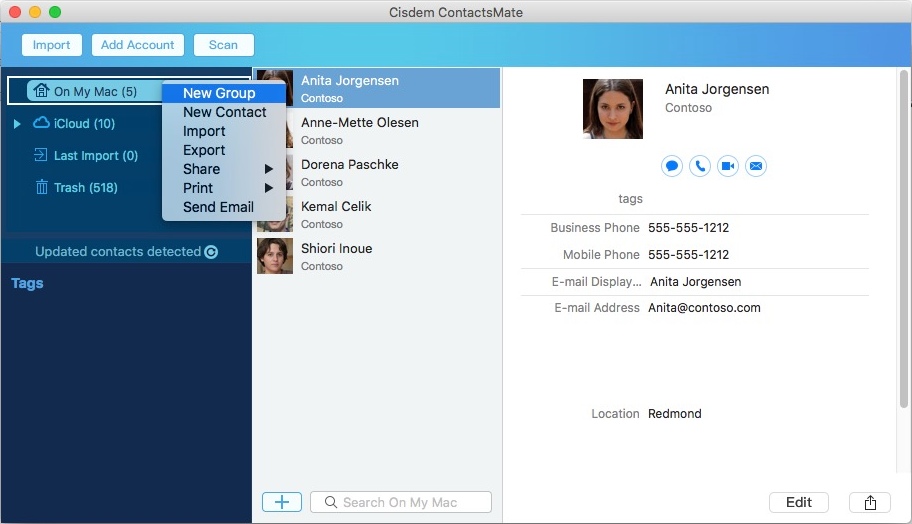 4. Click Import in the top left corner and import the CSV file that you want to convert.
5. Control-click New Group and choose Export.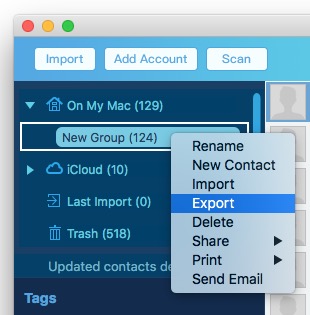 6. To convert CSV to vCard, click the Format dropdown list and choose vCard. Click Save.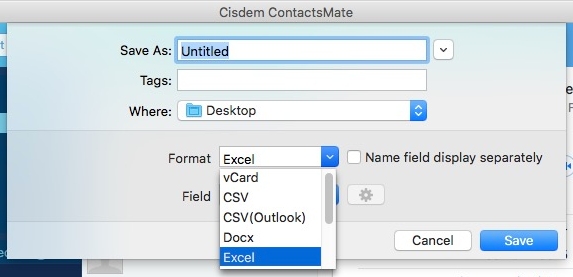 By the way, if it's an Excel file that you want to convert, you can convert it to CSV first, which is very easy. For example, you can use Microsoft Excel.
Note: In step 4, you will see the Field Mapping Selection window. Mapping can help make sure that the contacts will be imported and converted just the way you want. You may need to manually map some of the columns in your CSV file to the contact fields in vCard.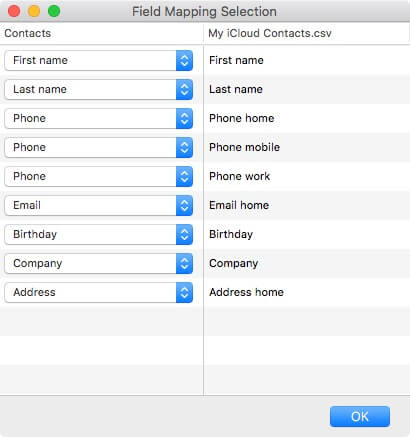 Pros:
Let you directly convert CSV to VCF or other file formats effectively.

Let you export contacts to one or multiple vCard files.

This tool enables you to convert CSV to vCard without Internet connection.

Let you easily import CSV contacts to multiple contacts systems like iCloud.

Help you detect and remove duplicate contacts.

Let you manage and organize large numbers of contacts in one place.
Cons:
Not compatible with Windows computer.
Use CSV to VCF Converter
Applies to: Android
As the name tells, this app is dedicated to doing the conversion from CSV to vCard. It is compatible with Android 9.0 or later. Let you view and share the converted VCF conveniently.
1. Download and install the app. Open it.
2. Tap the folder icon and select the CSV file that you'd like to convert.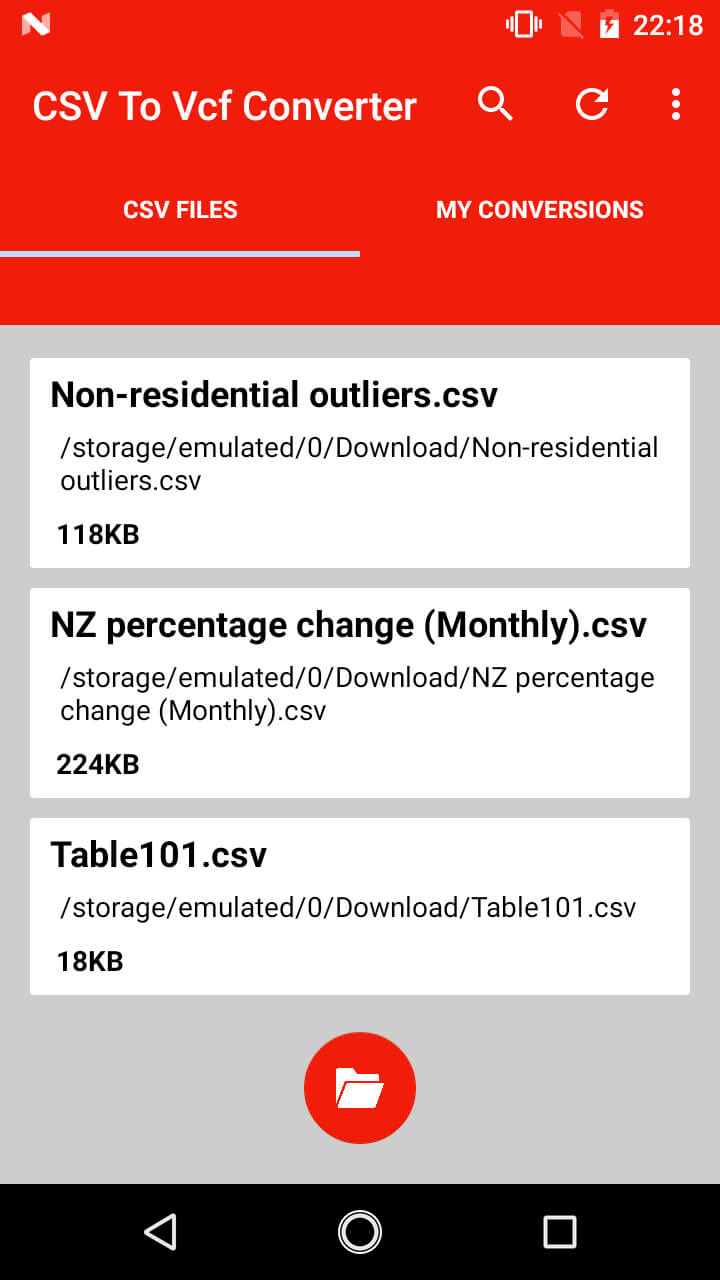 3. Do some manual mapping if needed.
4. Tap Create VCF File.
It's that easy.
Pros:
Simple and easy to use.

No need to worry about privacy leaks.
Cons:
Its functions are relatively simple compared with other converter software.

Doesn't support earlier versions of Android.
Method 2. How to do the conversion for free using an online CSV to vCard converter
Applies to: Windows, Mac, Android and iPhone
This method is very convenient. All you need is a free online tool called TextCompare. You can easily access and use this tool using the web browser on your computer or phone. However, in order to perform the conversion, the tool requires you to upload your CSV file to their server. You may not want to do this for the sake of privacy. The first method can be better because the apps involved work offline.
1. Open your web browser, go to the online CSV to vCard converter.
2. Click Choose CSV File and upload the file that you want to convert.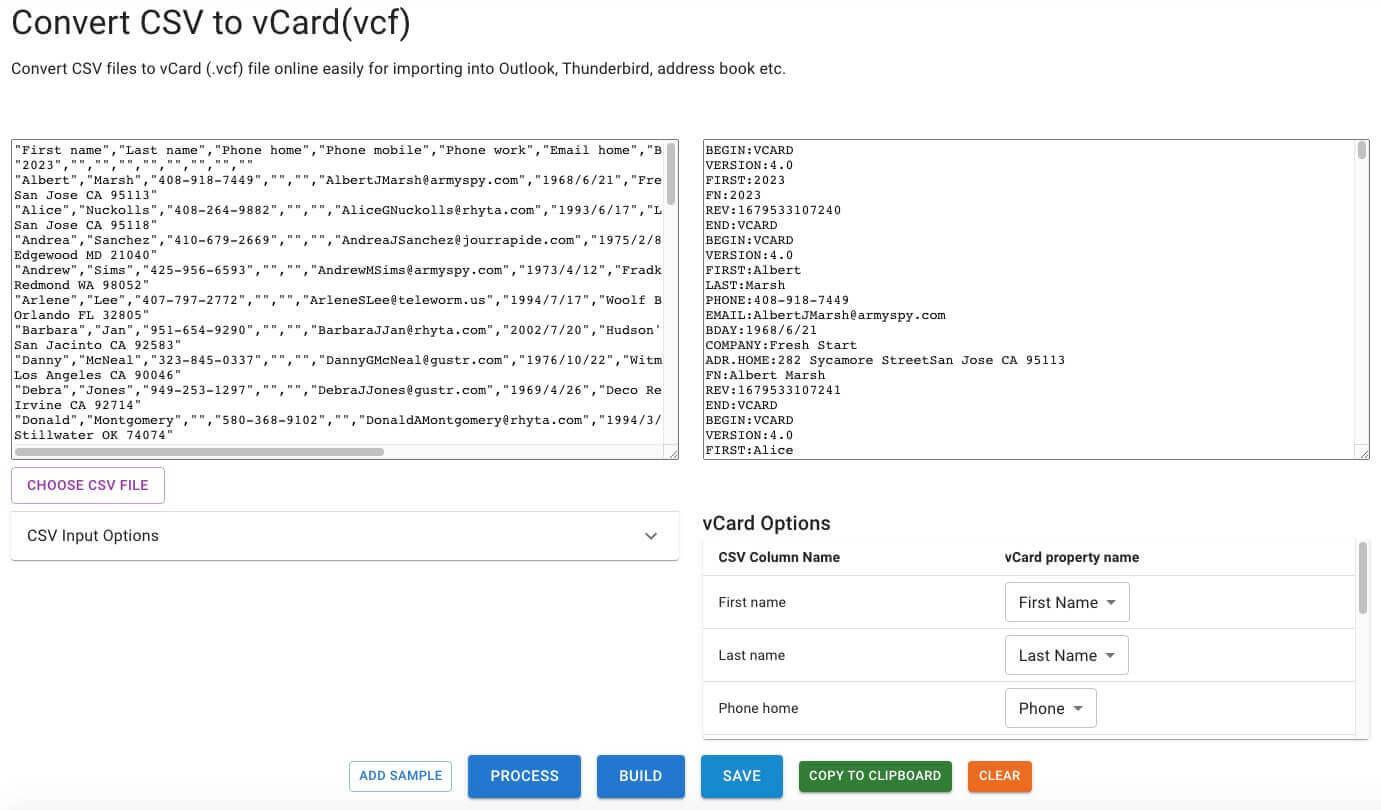 3. If needed, click the CSV Input Options dropdown list and disable/enable options.
4. Click Process and the vCard Options section will appear, allowing you to map CSV columns to vCard fields.
5. Click Build.
6. Click Save.
Tip: The fact is that there are three versions of vCard: vCard 2.1, vCard 3.0 and vCard 4.0. Different services or apps may require different vCard versions. This method only supports converting a CSV file to vCard 4.0. If what you need is, for example, vCard 3.0, you need to manually change "4.0" to "3.0" before you click Save.
Pros:
Don't need to install third-party application.

Free to use.
Cons:
Requires an Internet connection to complete the conversion.

Risk of privacy leakage.

Not flexible enough.
Almost all operating systems have a built-in Contacts app. Windows 11, 10, 8, 7 and Vista have Windows Contacts. And macOS has Contacts. Both apps can help users with the conversion. Since the Contacts app is included with the operating system, this method is free.
Use Windows Contacts
Applies to: Windows
With Windows Contacts, the conversion will take quite a few steps.
1. Select the search button on the taskbar and type "contacts".
2. Choose Contacts in the Best match list that appears. Now Windows Contacts is open.
3. Click Import. Choose CSV (Comma Separated Values) in the dialog appears.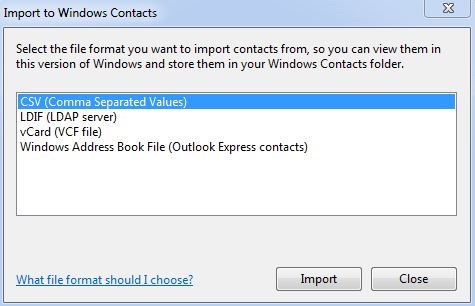 4. In the CSV Import dialog, click Browse and select the CSV file that you'd like to convert. Click Next.
5. Now you can map the fields you wish to import and convert. Click Finish when you finish mapping.
6. Each contact in your CSV file is imported as an individual CONTACT file.
7. Click New folder to create a folder to keep the VCF files that you will get.
8. Click Export. Choose vCards (folder of .vcf files) in the dialog that appears. Click Export.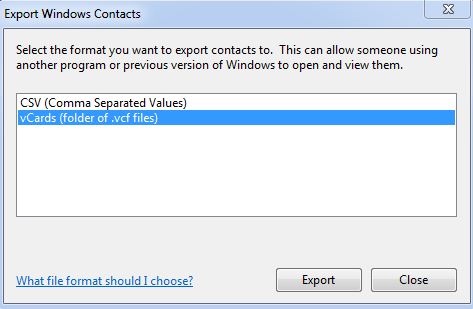 9. Select the folder you just create. Click OK.
Now the conversion is done. If your CSV file contains only one contact, you will get one vCard. If the CSV file contains, for example, 50 contacts, you will get 50 VCF files.
Tip: If you are converting CSV to vCard for iCloud, there is an extra step because Windows Contacts converts CSV to vCard 2.1 but iCloud doesn't support vCard 2.1. You need to manually change vCard 2.1 to vCard 3.0.
Use Mac's Contacts
For Mac users, this method is not that practical. But it does help you get the conversion done.
1. Open the Contacts app on your Mac.
2. From the Contacts menu bar, choose File > Export > Contacts Archive.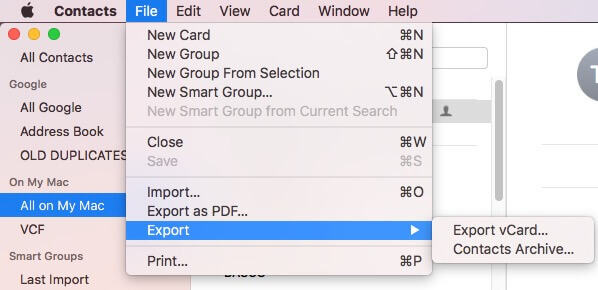 3. Delete all the contacts.
4. From the Contacts menu bar, choose File > Import.
5. Select the CSV file you wish to convert and click Open.
6. From the Contacts menu bar, choose File > Export > Export vCard.
7. Delete all the contacts.
8. Import the archive file exported in step 2.
Pros:
Convert CSV to vCard with built-in tools.
Cons:
The process is a bit cumbersome and takes a long time.

Errors may occur during the conversion, especially for those non-technique users.
Bonus tips
What are the differences between vCard version 2.1, 3.0, and 4.0?
There're different versions of VCF file. The most common and used by us are vCard 2.1, 3.0 and 4.0. All vCard must start with "BEGIN: VCARD" and end with "END: VCARD". And you can usually see the vCard version after BEGIN.
vCard 2.1 is an early version. In this version, only basic information are required, including BEGIN, END, N (the name of the person) and VERSION. And some properties are optional, like ADR (address), BDAY (birthday), EMAIL, etc. But it lacks some detailed information. vCard 3.0 added several new properties, such as FN (formatted name), NICKNAME, providing more comprehensive personal information. The latest vCard version is 4.0, which further expanded with more properties. These versions also different in character set. For example, vCard 2.1 mainly uses US-ASCII, which is limited to English language. But vCard 3.0 and 4.0 supports for the Unicode character set, making it more suitable for international scenarios.
Can I convert VCF 2.1 to 3.0/4.0?
Most applications use VCF 3.0 or 4.0 now, such as Mac Contacts, iCloud. Some older versions of applications like Outlook 2013 still support VCF 2.1. If you found your exported VCF is not compatible with some of your applications, you can manually edit it to conform to the standard of the required VCF version. But this requires some technology skills. There're also some professional tools that enable you to convert vCard 2.1 to 3.0 or 4.0 versions, such as BitRecover vCard Converter Wizard.
Conclusion
CSV is a format widely used for data storage and often associated to spreadsheet programs like Excel and Google Sheets. vCard is a common format for contact information storage. Each format has its advantages and disadvantage when it comes to storing contact information. For example, some email clients doesn't support CSV. Anyway, there are reasons why sometimes we need to convert contacts between the two formats.
This article shows you how to convert CSV to vCard using different methods, including free methods. You can also find some tips to help you get better conversion result. I hope it's helpful.