Tips: MOV is a MPEG 4 video container file format used in Apple's Quicktime program and uses Apple's proprietary compression algorithm (On Macintosh systems, there are seldom software that can open MOV files, except for Quicktime Player, Roxio Toast and Roxio Popcorn, and Adobe Flash.), QuickTime format (.MOV)is commonly seen in our new generation of digital cameras.
"I created with iMovie a .mov file exported it to be HD 1280x720, h.264. I want to burn it to a DVD but have been googling around and can't find any solution. With toast, it wants to recode to MPEG-2 ….. Can someone tell me how to just burn it so I can play it on any DVD without having to recode it again? " -- from Apple Support Communities.
Have you ever met the above same problem and been troubled in burning MOV to DVD? We can play the .mov file on any computer with QuickTime, but it is not easy to play them on a home DVD player. iDVD can recode .mov and burn MOV to DVD, but I have to tell you that iDVD is not suitable for burning HD quality video. "The raw footage imported to iMovie 9 is fine as far as clarity and quality, but the finished project burned from iDVD is horrible!"
In this article, I am happy to introduce 3 easy and free ways to burn MOV to DVD on Mac to replace iDVD, one will help you burn MOV to data DVD which is not able to play on DVD player with Finder and the other 2 ways will help you burn MOV to playable DVD on Mac.
Burn MOV to Data DVD on Mac with Finder
Finder is the default file manager of the Mac OS. We can also burn video to Data DVD; here we'll show you the easy steps:
Step 1: Insert a blank DVD into your Mac's drive. After inserting the following window will pop up,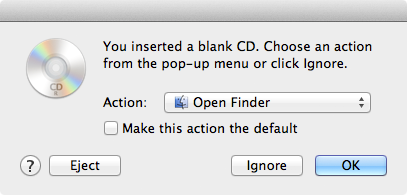 If you don't see this, just make sure that your DVD is blank, choose "open finder" and it will open a new Finder window. The blank DVD appears in the sidebar and a DVD icon on your desktop.
Step 2: Find the video you want to burn to DVD and drag it to the finder window and then just press the "burn" button located on the upper right-hand corner to burn the MOV video to DVD.
If you like you can see check the file size by right click on your mouse and selecting "get info".
Step 3: Then it will pop up a window, ask you to set the name of the DVD and the burning speed, just enter a name for the DVD, and for the burning speed you can choose a low to medium speed, which ensures good quality, even though it going to be slower, it will ensure the disk are compatible with most of the players. After that hit burn to start the MOV to DVD burning process.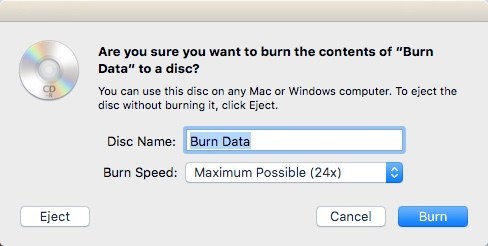 The video you burn in this way will turn into a data DVD, you can use it to store your files. To burn a MOV to a playable DVD, we have to use desktop software, and here we recommend 2 apps for you to burn MOV to a playable DVD, one is good for free and the other is good for its quality and burning speed.
Burn MOV to DVD with Burn on Mac
Burn is completely free software that supports almost all video formats, it even enables one to burn DVDs with various themes, Though it hasn't been updated since 2011, it still works well enough for most people.
Step 1: Download burn from the official site: https://burn-osx.sourceforge.io/Pages/English/home.html
Step2:After downloading, run the application on your Mac, you'll see the main interface below: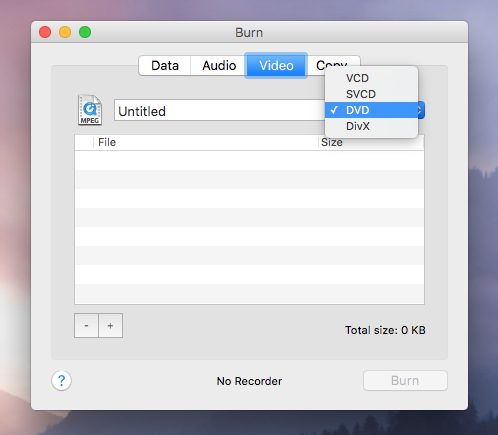 it shows you 4 tabs, Data is for burn video to Data disk which we have shown you how to do this with finder, Audio is for burning a music cd, video is for burn video to video DVD that is playable on most DVD Players, Copy is for copy DVD. As we want to burn MOV to playable DVD we can switch to the video tab.
Step 3: Drag and drop the MOV video you want to burn to the program, it will ask you where to save your DVD, choose a location and set a name for your DVD, and Click Burn.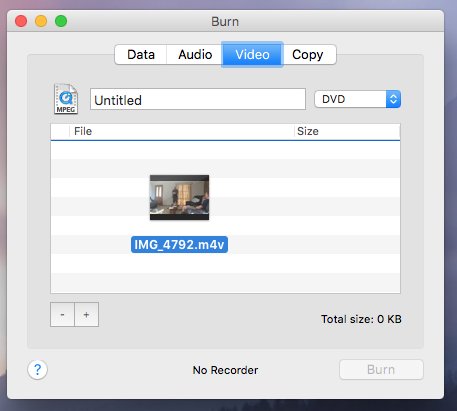 Step 4: In the pop-up window, choose a burning speed, here we also recommend a slower speed which will make sure it will compatible with most of the players.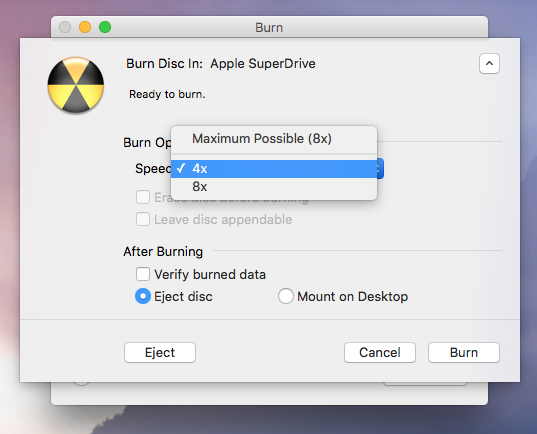 Step 5: Now open your DVD player and it should play well on the DVD player.
Burn MOV Video to DVD with Cisdem DVD Burner
Application: Cisdem DVD Burner for Mac
System Requirement: Mac OS X 10.12 +
Key Features of Cisdem QuickTime MOV to DVD Burner:
Cisdem DVD Burner for Mac can burn MOV to DVD Mac with super fast speed, and it brings no damage or any loss for the HD QuickTime MOV files, to our surprise, there are lots of interesting and useful functions to let you make personalized DVD video, like video editing, DVD menu customization, etc.
Excellent Performance with fast burning speed.
All SD & HD video formats (120+) are fully supported.
Built-in editor tool to rapidly personalize MOV videos (Trim, Effects, Subtitle, etc.)
Let you make a DVD menu of multiple MOV videos, for easily skip and navigation
The intuitive interface and simplest working flow let you enjoy ease and a good mood.
3 Easy Steps to Burn QuickTime MOV to DVD on Mac
If you are interested in this MOV to DVD converter, come to download its free trial version, and launch it, you will see a very intuitive interface with tips on steps to burn MOV to DVD Mac.

Free Download
Download MOV to DVD Converter for free
1. Load MOV Video Files
This burner offers two ways to load MOV videos. One way is directly drag-n-drop the local video files to the main interface. Another way is to load files via

button, which lets you find QuickTime files on your Mac.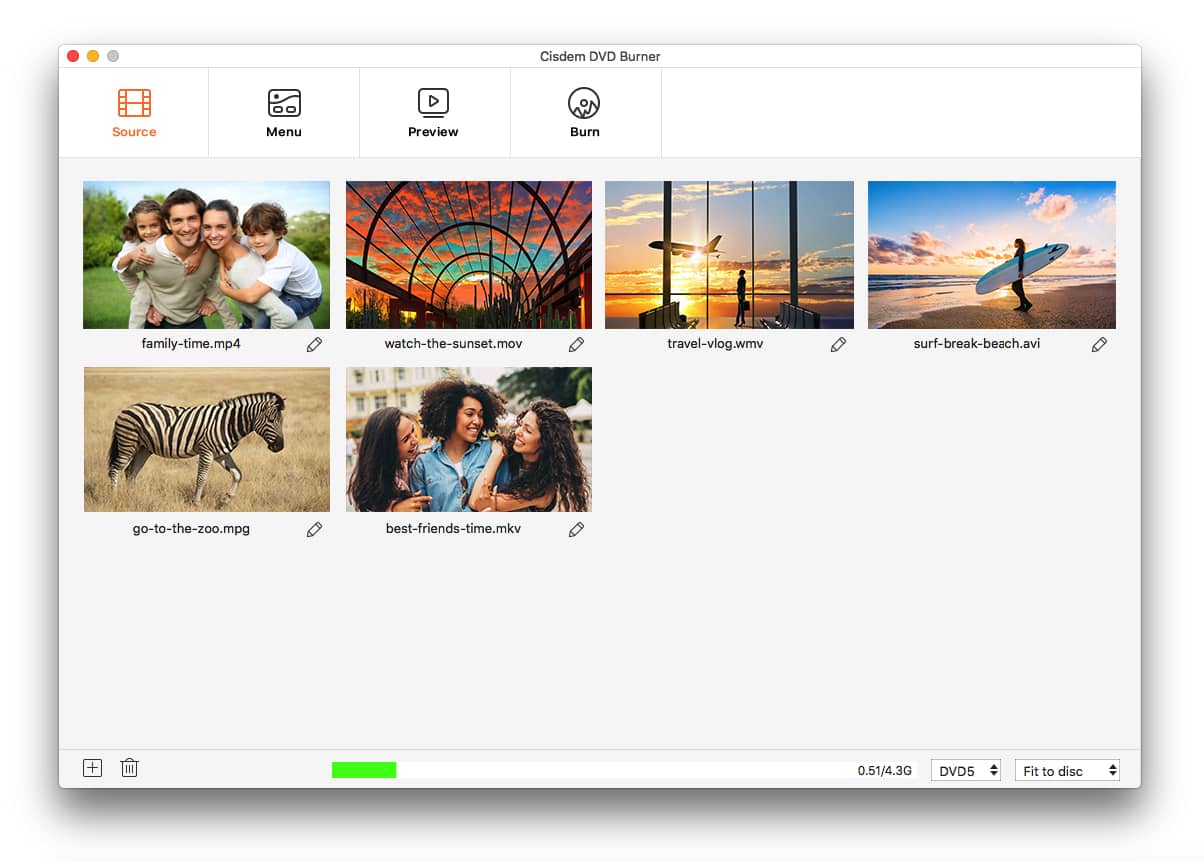 2. Edit MOV Video Files (Optional)
You can edit MOV videos for better quality. Crop the best picture parts, create special image effects (grey, Invert, Gamma, Color tone, Emboss, 3DGrid, etc.), add image/text watermarks to declare your rights or thoughts, load external subtitles easily, etc. for better understanding.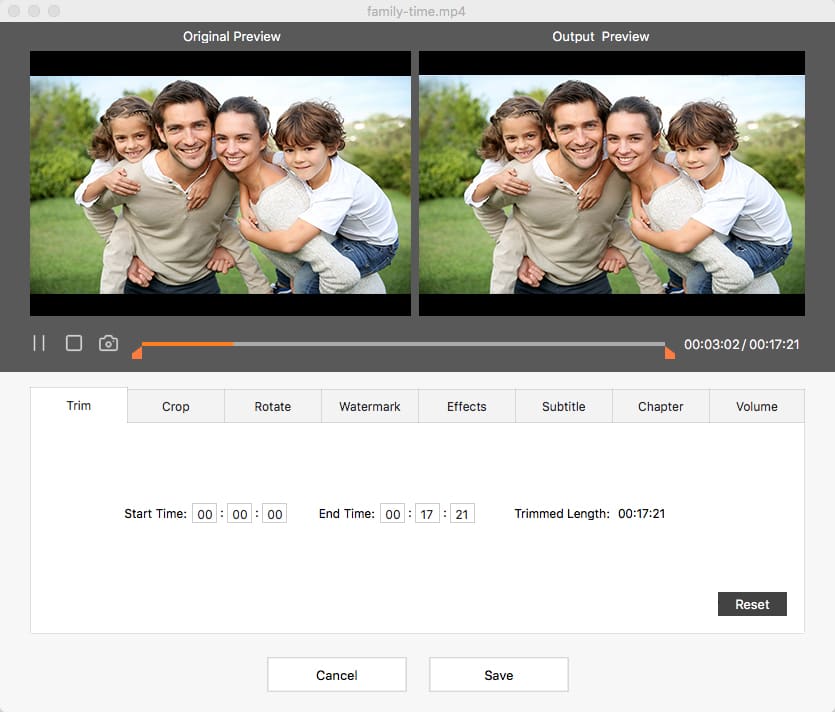 3. Custom DVD Menu Design
If you have multiple MOV files for burning into one disc, I recommend you make a DVD menu. This MOV to DVD converter can let you customize the DVD menu with free templates, buttons, video thumbnail frames, etc., you can also add a sweet song as a menu music background.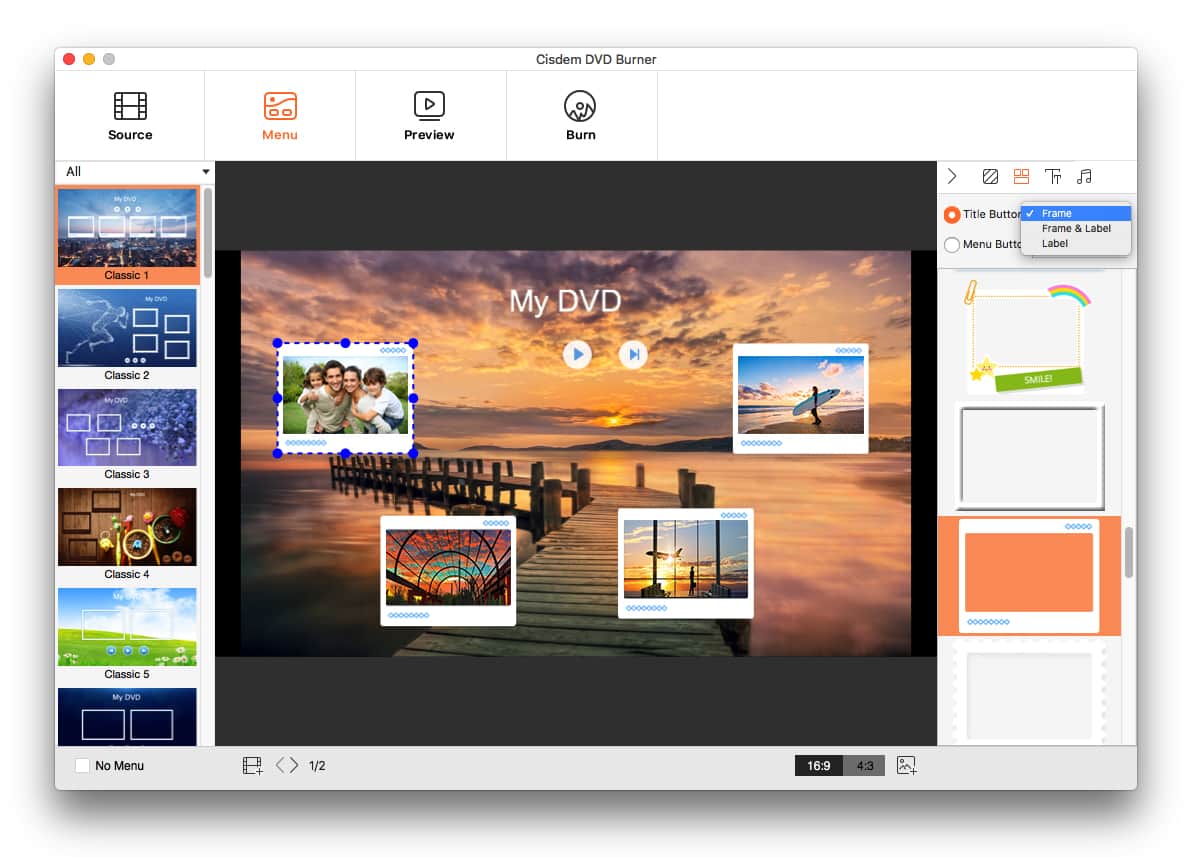 4. Rapidly Convert and Burn MOV to DVD
Click

to preview the whole video effects and check if it is satisfying. Click

and switch to the output window, which allows you to choose DVD type (disc, DVD folder, ISO), rename the DVD title, and preset the output parameters including TV system (NTSC or PAL), playback mode, so that to get the best output playback effects. Click "Burn" and start to burn MOV to DVD Mac as fast as lightning.
Tips: Generally, "NTSC" 30fps is used in the USA, Canada, and Japan, while "PAL" is 25fps, used in Europe and Asia.