QuickTime MOV is a MPEG-4 video container developed by Apple to store commonly used digital media types. We often save our downloaded movies or videos to MOV, because:
It's capable of containing multiple videos, audio, and text tracks
It has a high compression ratio and perfect video clarity.
It's compatible with both Mac and Windows platforms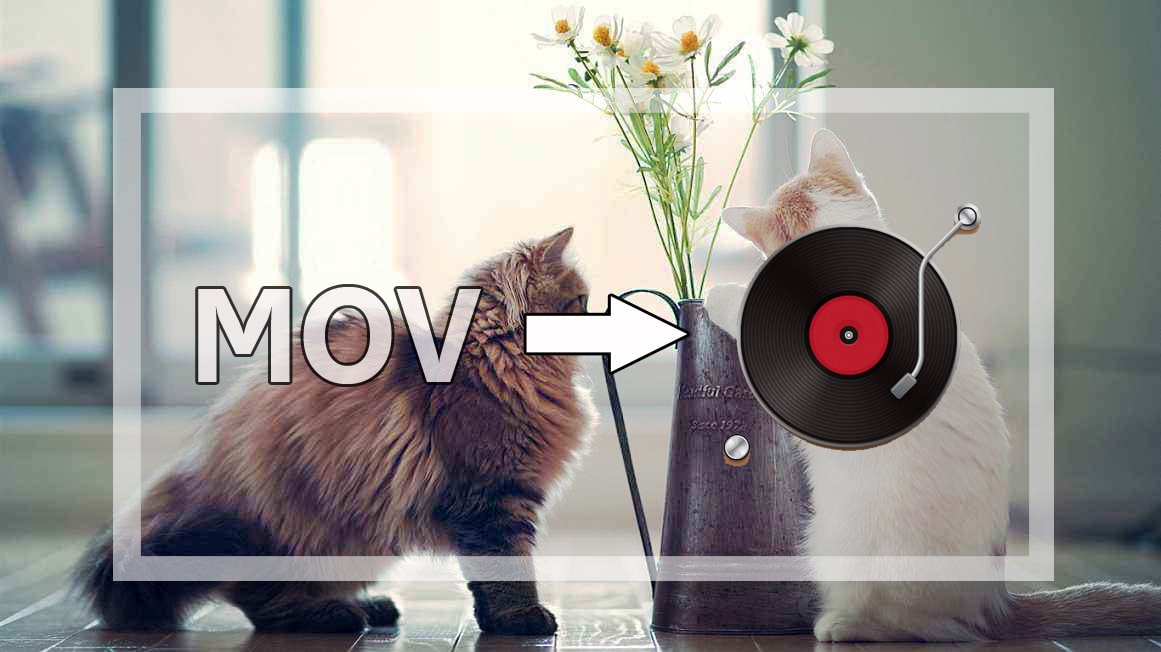 Due to following circumstances, however, you will want to burn MOV to DVD:
Play MOV movies on a TV screen or any DVD player
Burn to DVD for better storage the MOV videos
Reduce the memory occupied by your computer
Here shows everything you need to know about MOV to DVD burning. Read on to learn how to burn MOV to DVD on Mac/Windows.
What Makes an Ideal MOV to DVD Burning Software?
You can find a host of QuickTime MOV to DVD burning software on the App Store that comes loaded with attractive functions and acceptable prices, even some of them help you burn MOV to DVD free. But there are many differences in performance between products. You should test the following aspects before picking out the final MOV to DVD burner.
Usability- Every MOV to DVD converter can do the basic work - burn MOV to DVD. But their layouts, workflows, design logic, and gadgets are definitely different. So you can download the free trials and test their functions and toolsets to see if they are useful and easy to operate.
Quality- The DVD can only display standard-def footage. In the process of burning high-definition MOV video into DVD, your video will suffer serious quality loss. What an ideal MOV to DVD burner can do is to minimize the quality loss caused by compression.
Speed- Record the time it takes for each burning application to download, install, load and burn the MOV files. Of course, the network speed should be about the same.
If the size of a QuickTime MOV to DVD converter is larger than 100MB or more, I will not recommend it, as this MOV to DVD burning software would waste your computer's space.
Price- Expensive programs are not necessarily better. You should choose the most cost-effective MOV to DVD converter. Prices over $80, even more than $50 can be considered later, unless you often need use more complicated DVD burner for your work.
How to Burn MOV to DVD on Mac/Windows?
#1 Cisdem DVD Burner
If you don't want to compromise on usability, quality and speed while burning MOV to DVD on Mac, Cisdem DVD Burner is the apt choice. It can burn any type of video into one master DVD disc, no matter these videos are downloaded from streaming sites or recorded by camcorders or phones. Besides, it contains an array of stylish DVD menu templates and video editing features.
Features of the best MOV to DVD burner for Mac:
The installation package is in a small size
Intelligently compress large MOV videos to fit your DVD storage
Support to burn the majority of video formats to DVD-5 or DVD-9
Create data disc/video DVD /ISO files from any standard or HD video
Customize DVD menu with necessary parameters
Crop, rotate, add subtitles and apply effects, etc. with a built-in editor
Support real-time preview, adding background music, adjusting volume, etc.
Also available for Windows 10/11 now
Install Cisdem MOV to DVD burner on Mac. When the installation is completed, launch the program.
Import MOV videos by dragging them to the app.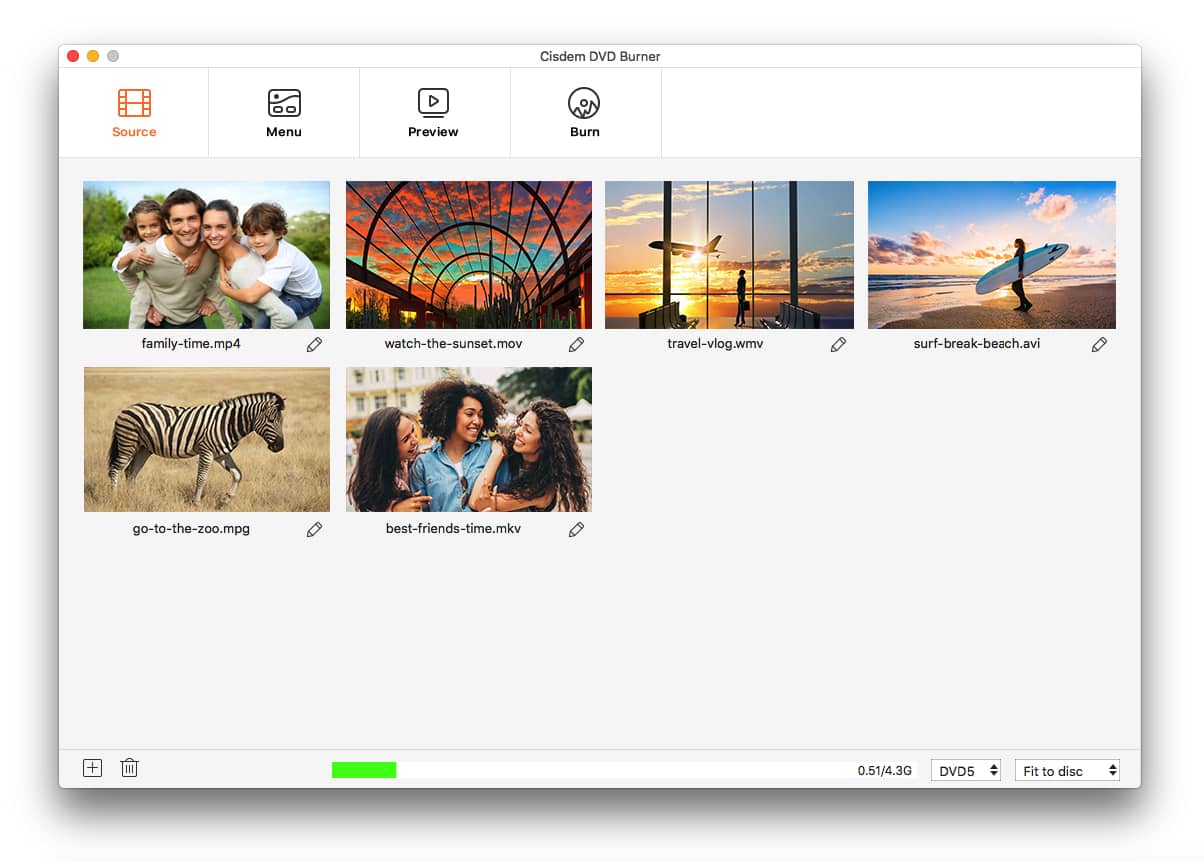 If you intend to edit the MOV videos before burning them to a disc, click

, a new window will open to help you make changes. Once the editing process is finished, press on "Save" button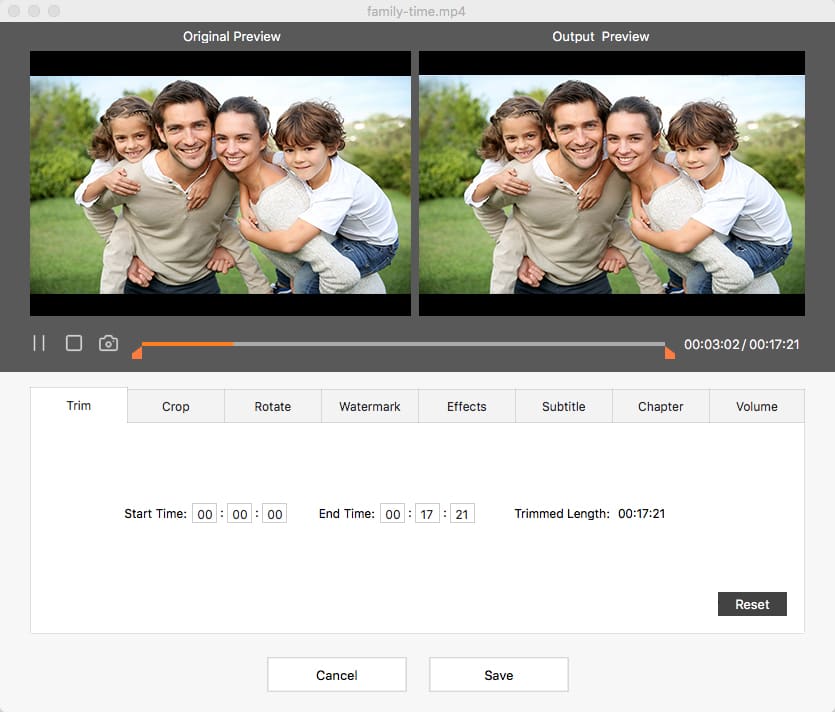 Move to the "Menu" tab and select your favorite menu template.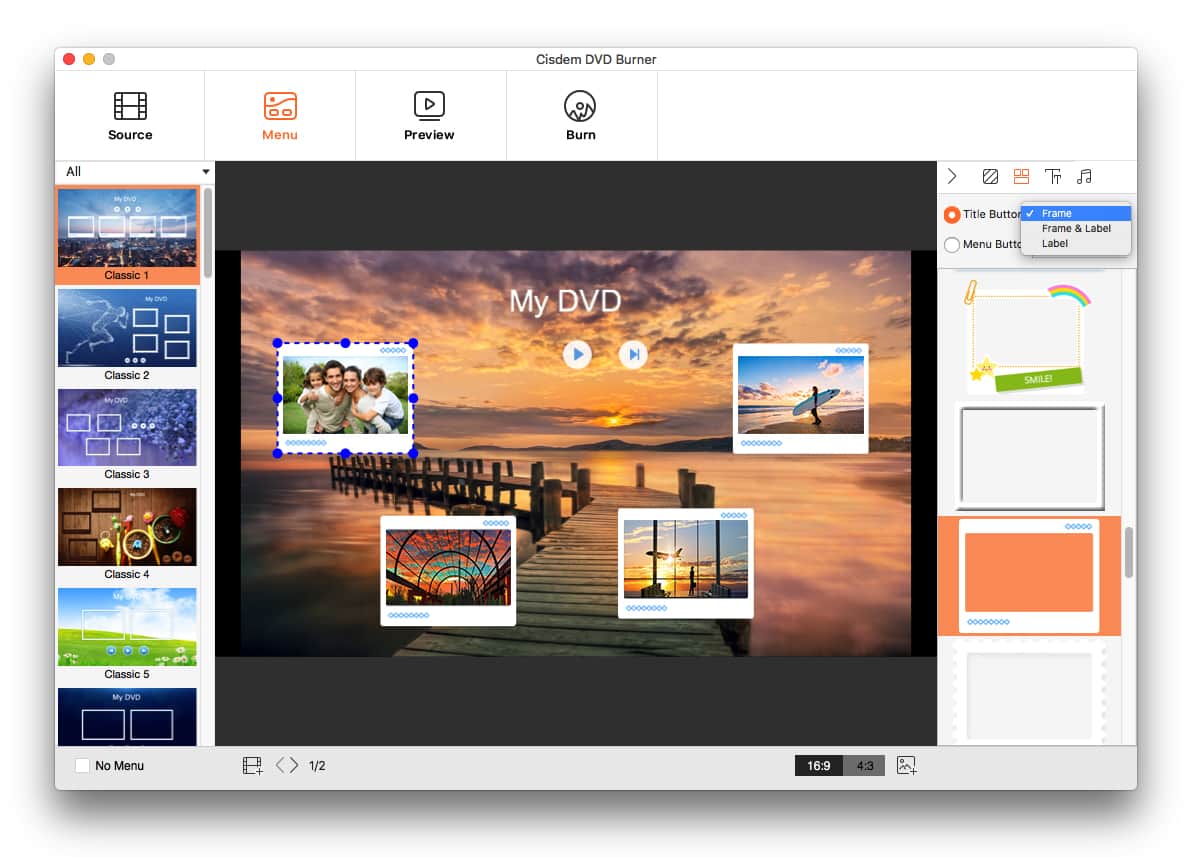 When everything is all set, go to

tab and insert a blank disc. Choose to burn to disc, set the DVD parameters and finally burn MOV to DVD on Mac.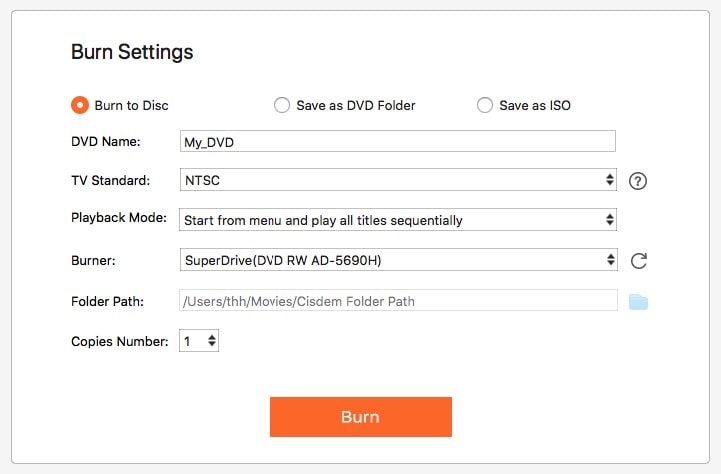 #2 DVD Flick
DVD Flick enjoys a good reputation among all sorts of MOV to DVD burners for Windows. It's able to convert most video codecs and audio codecs, whether you need a music disc, movie disc, or something much more complicated. Same as Cisdem DVD Burner, it helps to create menus & subtitles for your DVD, plus supports 4:3/16:9 ratios and NTSC/PAL.
Best MOV to DVD Burner Windows:
Burn MOV to DVD free without ads
Support 80+ formats on DVD for your needs.
Configure project with general, video, audio, playback, and burning option
Offer a few DVD menu themes
Add self-define audio track and subtitles
Step 1. Run DVD Flick on Windows and drag MOV videos into the program. Meanwhile, insert a blank disc.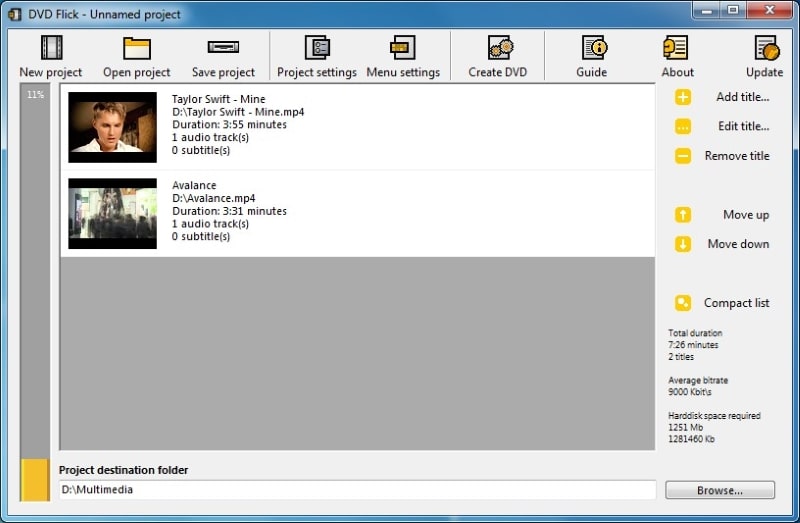 Step 2. Click on "Project settings" on toolbar at the top. Edit Title > choose DVD (4.3GB) as Target size > set Target format in Video tab > tick the box of Burn project to disc when getting to Burning tab > hit on "Accept" button.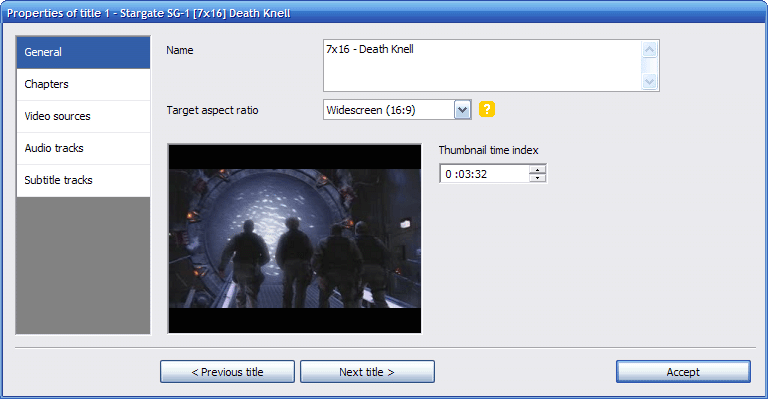 Step 3. Come to "Menu settings' to choose one of the menus- they are a bit outdated.
Step 4. Preview the videos to see it in action. If you want to exit the preview status, either press ESC or right click on the preview window.
Step 5. Tick the Enable menu checkbox and accept all your operations.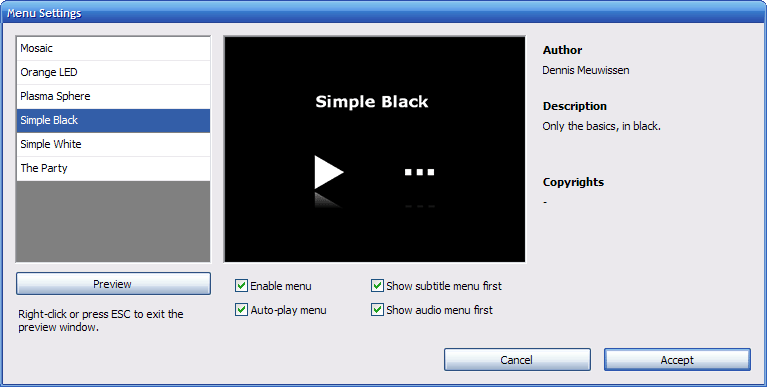 Step 6. After saving the project, everything you should do now is to create DVD and start encoding.
Tips: When importing the MOV videos, don't let the vertical bar on the side be red. It indicates you have over loaded the DVD projects. If ignoring it, the software will create a DVD with low quality.
During the testing process, we can find very few free MOV to DVD burner for Mac, DVDStyler might be the one that is relatively easy to use. As for freeware for windows, there is so long a list so that we are dazzled, such as True Burner, StarBurn, CDBurner XP, AVStoDVD, Bombono DVD, etc.
The free DVD burning software is the darling of users. We all want to burn MOV to DVD without spending a penny. But if you are quality conscious and desire a professional-looking DVD, free MOV to DVD burner may not be the best choice for you.
Tips & Tricks about MOV to DVD Burning
The original MOV videos should be in high quality as much as possible.
Use an effective MOV to DVD burner as we introduced above.
Purchase quality guaranteed disc. Believe me, poor quality discs are easy to head to the scrap heap.
Defragment your disk before burning QuickTime MOV to DVD.
Burn MOV to DVD with an erasable optical disk first, checking the quality and order after burning. If they are all correct, subsequently, burn MOV with a non-erasable optical disc.
Don't run multiple programs while burning MOV to DVD, otherwise, it will reduce the power of DVD burning software and have a bad effect on the final product.
Set the Universal Disc Format (UDF) to around 1.02 to ensure maximum compatibility among drives.
Don't set the write speed too fast.
Don't forget to finalize and eject the disc.
How about Converting MOV to HD DVD?
HD DVD is a high-density optical disc format to store high-definition videos and other data. It can be divided into four categories: read-only HD DVD-ROM, single-write HD DVD-R, multi-write HD DVD-RW and HD DVD-RAM. But unfortunately, this disc has long been discontinued. Nowadays HD DVD generally refers to Blu-ray. Therefore, you can only burn MOV to Blu-ray, not burn to HD DVD.
Conclusion
Disc burning is not an ancient thing, since plenty of people is still using DVDs and CDs to store data. There is also a great demand for DVD burning software. So these types of software like Cisdem DVD Burner have been doing upgrades and maintenance. Although this tutorial is about burning MOV to DVD, I believe the knowledge of DVD burning can be universal.

Peter has always had great enthusiasm for writing, programming and web development. He likes writing about software and technology, his works are featured on some tech blogs or forums like Tom's Hardware, CNET, etc.