This article will talk about how to block online gaming in different ways. We play games for fun and relaxation. There are many great online sites to play games. However, online gaming can be addictive. Overcoming online gaming addiction can help you become more productive in school, work or everyday life. If you are a parent, you may want to get your child to stop playing games or limit his or her gaming time. There are a few common ways to block or limit online gaming.
The Best App to Help Block Online Gaming on Mac
Block game websites with password on Chrome, Safari, etc.
Also block any other sites
Provide 2 modes to block: Block list and Allow list
Also password lock apps
Offer Schedule feature to block sites and lock apps at certain times
Require password to quit or uninstall AppCrypt
Help stop gaming addiction
Help improve productivity by blocking distracting sites
Help limit time spent on websites and apps

Free Download
How to block online gaming at the device level
On macOS
If you use a MacBook Pro, MacBook Air, or iMac, etc., you can easily block access to gaming sites on your computer with Cisdem AppCrypt, the best website blocker and app locker on Mac.
Download Cisdem AppCrypt and install it. When you open the tool for the first time, you will be asked to set a password.

Free Download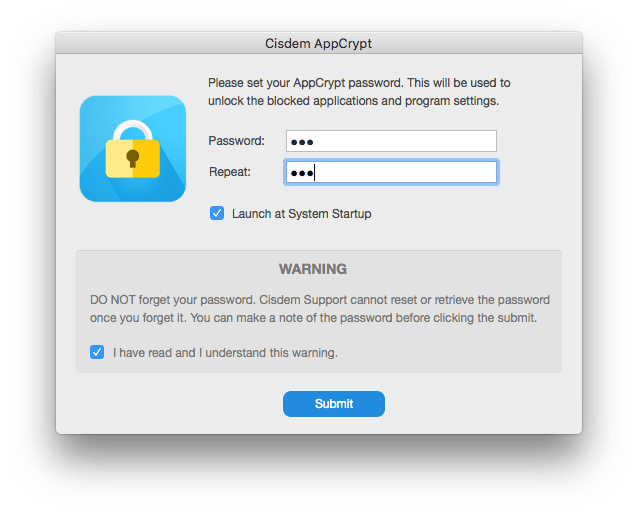 In the menu bar at the top of your Mac's screen, click the tool's icon and select Open Main Window.
Choose the Web Block tab.
In the Web Block tab, enter an online gaming site URL and click the Add button.
Repeat Step 3 to add the other gaming sites that you want to block.
Now the sites are blocked on the web browsers installed on your computer such as Safari and Google Chrome. When you try to open a blocked site, it won't open, and you will see this image.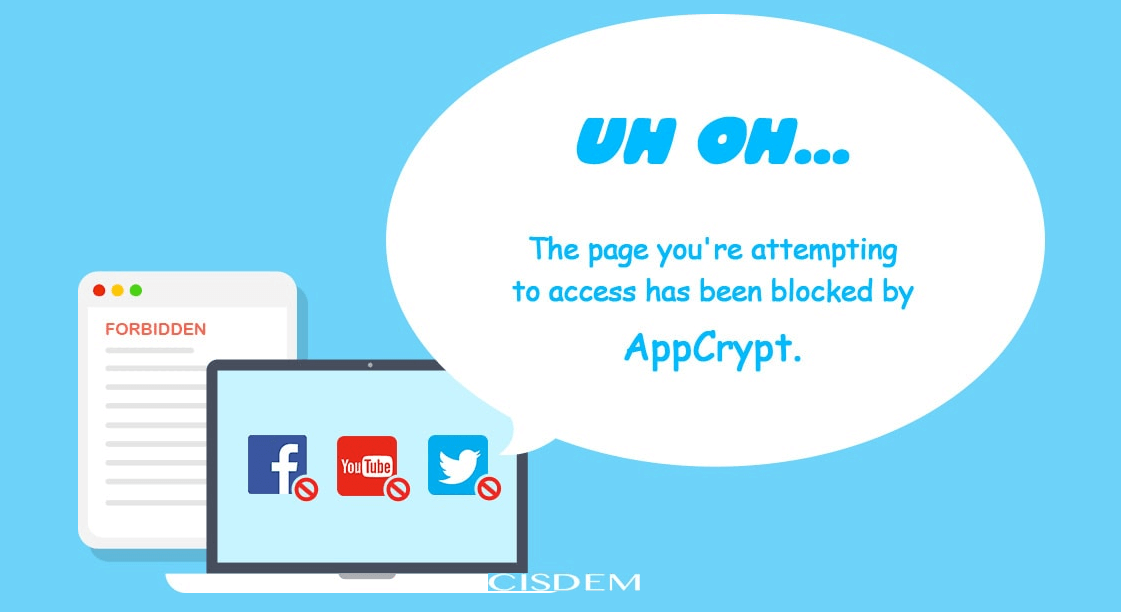 Tips
The Blocklist mode is the default mode. The Allowlist mode enables you to block all websites except the few added to the Allowlist.
To unblock a blocked gaming site, select it in the Blocklist and click the minus icon in the corner. If you want to temporarily disable the website-blocking feature, you can click the tool's icon in the menu bar and choose Disable WebBlocker.
If you are a parent and want your child to only play a few hours of games on weekends, AppCrypt's schedule feature can help. Under the Web Block tab, select a blocked site and click the clock icon before it. Turn on Custom Schedule and add a schedule. You can add multiple schedules. If you want to add a general schedule that applies to all blocked sites. Click the Schedule icon in the toolbar and add a schedule. You can easily edit or delete a schedule.
Here's how to lock the game apps on your computer. Click App Lock. From the Applications folder that shows up, select the game apps and click Open.
If you want to use AppCrypt to prevent yourself from playing online games, you can ask a family member or a friend to set the password for you. Without knowing the password, you won't be able to access websites blocked by the tool, quit the tool or uninstall it.
On Windows
How to block games on Windows 10? WinTools URL Blocker can be used to restrict online gaming sites on Windows 7, Windows 8 and Windows 10. The tool requires no installation and is very easy to use. It works with all common web browsers.
Download URL Blocker and open it.
In the box next to the Add button, enter an online gaming site.
Click the Add button.
Repeat the previous two steps to add more sites to block. Click the Apply button.
To unblock a specific site, check the box next to it and click the Delete button. You can mass select sites by selecting All.
URL Blocker lets you export your list of gaming sites to block. You can import the list to another computer with this tool installed. It's convenient.
On Android
Many people tend to play games on their Android devices. How do you limit online gaming time or completely block online gaming on Android? BlockSite can help. Designed primarily to block distractions and increase focus, this app can also help you overcome your addiction to online gaming and improve your time management.
On your Android phone or tablet, open the Google Play Store app.
Install BlockSite. Open the app and enable it.
Enable Block Sites if it's not already turned on.
Tap the plus icon in the bottom right corner.
Under the Website tab, enter the URL of the online gaming site you want to block. Tap the tick icon.
Repeat the previous two steps to add more URLs.
By default, the added gaming websites will be always blocked as long as the BlockSite app is running. To limit gaming to certain times of the day and days of the week, you can use the Schedule feature. To do this, tap the clock icon and select the start time and the end time.
You can use the same app and follow a similar process to block the game apps on Android.
On iOS
If your iPhone is running iOS 12 or later, it will be very easy to block the online game apps thanks to the Screen Time built into iOS.
On your iPhone or iPad, go to Settings > Screen Time.
Turn on Screen Time.
Set a passcode to make the blocking more effective.
Tap App Limits.
Choose the Games category. Tap Add in the top right corner.
Now set a time limit. If you aim to completely block games, you can select 1 minute, the minimum time limit allowed.
When it comes to blocking online gaming sites, you can also use Screen Time.
In Screen Time, tap Content & Privacy Restrictions.
Enable Content & Privacy Restrictions.
Tap Content Restrictions > Web Content.
Select Limit Adult Websites. Tap Add Website under the Never Allow section.
Enter a game website in the URL field. You can add more websites to make them inaccessible.
How to block online games on router
Do your children spend too much time playing online games? If you want to reduce their gaming time or ban gaming altogether, you can set parental control on router. Many Wi-Fi routers come with parental controls and content filtering. It can help you limit children's access to online games. Below are instructions on how to use the method. Note that different brands of routers may have different options, but the method still works.
To access router settings, you need to know the router IP address. You may find it at the bottom of the hardware of the router. You can also find it on your computer.
On your computer, slick Start and enter "cmd" and click Command Prompt.
Enter "ipconfig" and press the Enter key.
Look for the Default Gateway IP address. That's the address you need.
Below is how to block online games on Wi-Fi.
Open a web browser. Enter the IP address in the address bar.
Log into your router. Now you should be able to access your router's settings.
Enable the parental controls.
Among the devices connected to this Wi-Fi network, select the device to which you want to apply the blocking.
Now you can add the URLs of the online gaming sites.
Choose to always apply the blocking or apply it at specific times.
Save your settings.
How to block online games on Chrome
You can also do the blocking at the browser level. Since Google Chrome is the most popular web browser, we will use it as an example and show you how to block online gaming using this method.
Go to the Chrome Web Store. Install BlockSite provided by https://blocksite.co.
Click the extension's icon in the Chrome toolbar and click Edit block list.
In the left sidebar, choose Block Sites.
Enter a game site URL and hit the Enter key. You can add more URLs one by one.
Tips
It is optional but recommended. Right-click the icon in the toolbar and choose Manage Extensions. Scroll down and enable Allow in incognito. It will prevent your child from bypassing the blocking with Chrome's incognito mode.
By clicking the Schedule button in the top right corner, you can easily set up the blocking schedule.
Conclusion
Gaming is not a bad thing, but excessive gaming is not good. There is more than one way to block online gaming or limit gaming hours. By breaking a child's video game addiction, parents can get the child to spend more time studying and socializing. It's also a solution to game addiction among adults.

Rosa has worked in Mac software industry for more than eight years. She believes that the purpose of software is to make life better and work more productively. In addition to writing, Rosa is also an avid runner.