Playing games is fun and helps you relax. Playing certain games can help with strategic thinking. Online gaming can also be a way to meet and connect with people. And there are other benefits. However, gaming can also be addictive and a waste of time. Also, certain games are inappropriate for kids and teens. So blocking access to games becomes a thing.
This article shows you how to block games on computer, be it a Mac or Windows PC. It talks about how to block game apps and browser-based games. It talks about how to block games permanently or only during certain hours. Whether you are looking for a way to block games for kids or yourself, this article can help.
The Best App to Block Access to Games
Lock apps, like games, with password
Block websites on Chrome, Safari and more browsers
Let you block specific sites and pages, URLs with certain words, and categories of sites
Also let you block all websites except specific ones
Let you lock apps and block websites permanently or at scheduled times
Easy to use
Hard to bypass
Help stop playing games or reduce gaming time
Help with parental controls, productivity and privacy protection
Available for Mac and Windows PC

Free Download
macOS 10.12 or later

Free Download
Windows 11/10/8/7
How to block games on computer permanently
There are two common types of games that one can play on a computer: the game apps that one downloads and installs on a computer, and the online games that one plays through a web browser. This part shows you how to block them.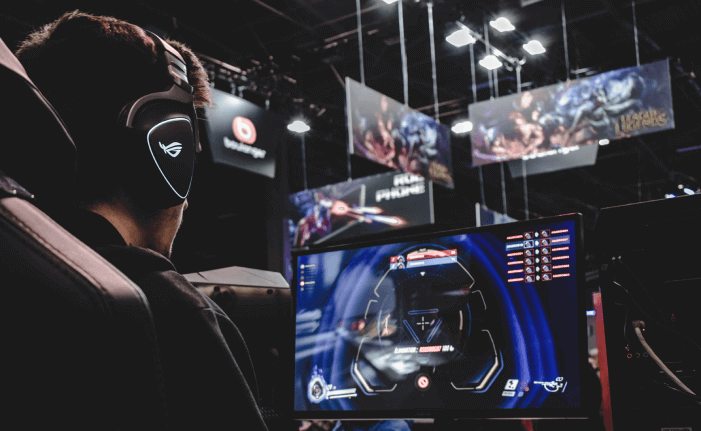 How to block game apps
Step 1. Install the game blocker.
Download and install AppCrypt on a Mac or Windows PC.

Free Download macOS 10.12 or later

Free Download Windows 11/10/8/7
Step 2. Set a password.
When you open it for the first time, set a password. It's recommended to select the Launch at System Startup checkbox.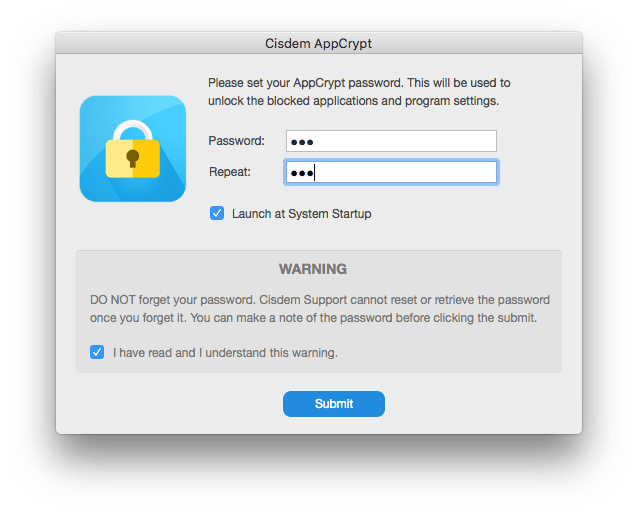 Step 3. Open the main window.
On a Mac, click the lock icon in the menu bar to choose Open Main Window. On a Windows PC, click the AppCrypt icon in the taskbar.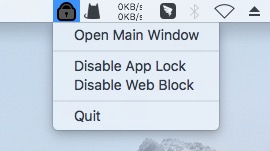 Now enter the password to access the main window.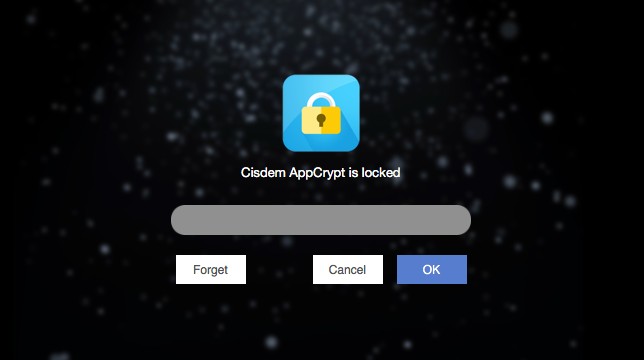 Step 4. Add specific game apps to block.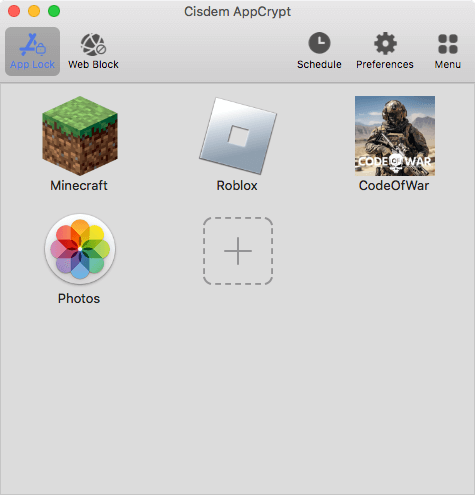 On a Mac, under the App Lock tab, click the Add button

. Select the specific games that you want to block and then click Open. Alternatively, you can use drag and drop.
On a Windows PC, drag the desktop shortcuts of the games into the App Lock tab, either individually or all at once. Alternatively, you can use the Add button.
(Here's a note for Windows users. If a certain game doesn't have a desktop shortcut, you need to manually look for its file. This file is what you click to play the game. This file is usually located at "C:\Program Files". When you find this file, drag it into the App Lock tab.)
Now the game apps are blocked.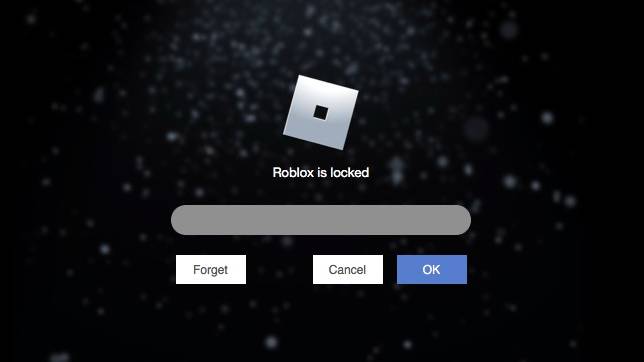 How to block gaming websites
Browser games are available on gaming websites. A game can be available on different gaming websites. A gaming website can provide various games. Below is how to block such websites. Since the same game blocker is used, I skip the first three steps.
Step 1. Go to the Web Block tab.
In AppCrypt, click the Web Block tab.
Step 2. Add specific gaming sites to block.
In the URL field, enter a game website that you'd like to block and click Add. Add other game websites.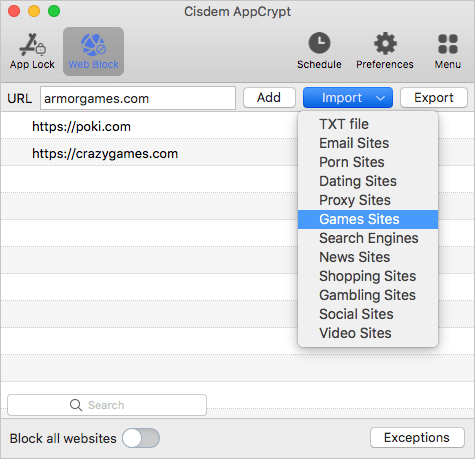 In addition to specifying websites, you can click the Import dropdown menu to choose the category Game Sites, which will automatically add tons of gaming websites to block.
(Here's a note for Windows users. To be able to block websites on supported browsers, AppCrypt requires you to install an extension on the browsers.)
Now the game websites are blocked on Chrome, Safari (on Mac only), Edge, Firefox (on Windows only), Opera and Brave. AppCrypt supports these six browsers and allows you to lock unsupported browsers.
Tip: It's also possible to block all websites except user-specified ones, which allows you to block all game websites on supported browsers. To do so, turn on Block all website at the bottom of the Web Block tab, click Exceptions, and then add specific websites to the Always Allow list.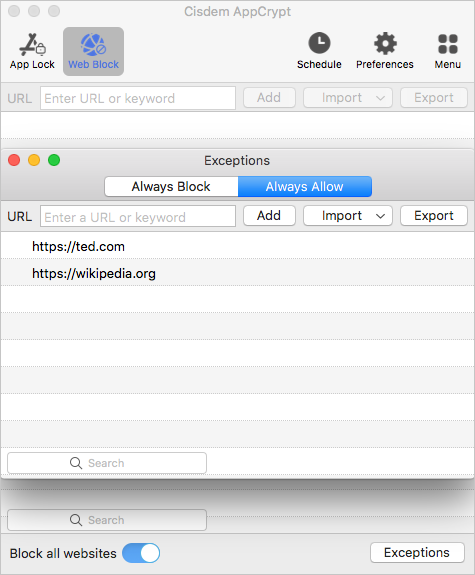 Summary
The blocking is permanent as long as AppCrypt is running.
When one tries to open a blocked game app, one will be prompted to enter the password. Without knowing the password, one won't be able to open the game.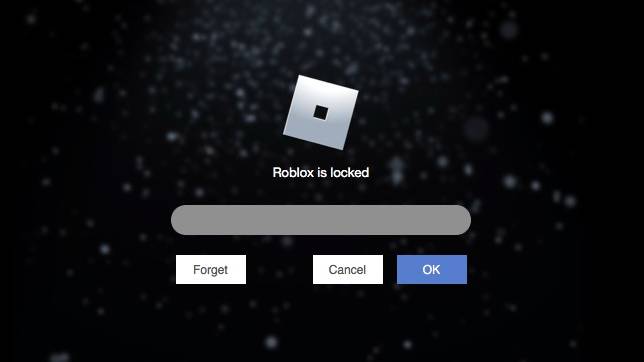 When one tries to open a gaming site, the site won't open.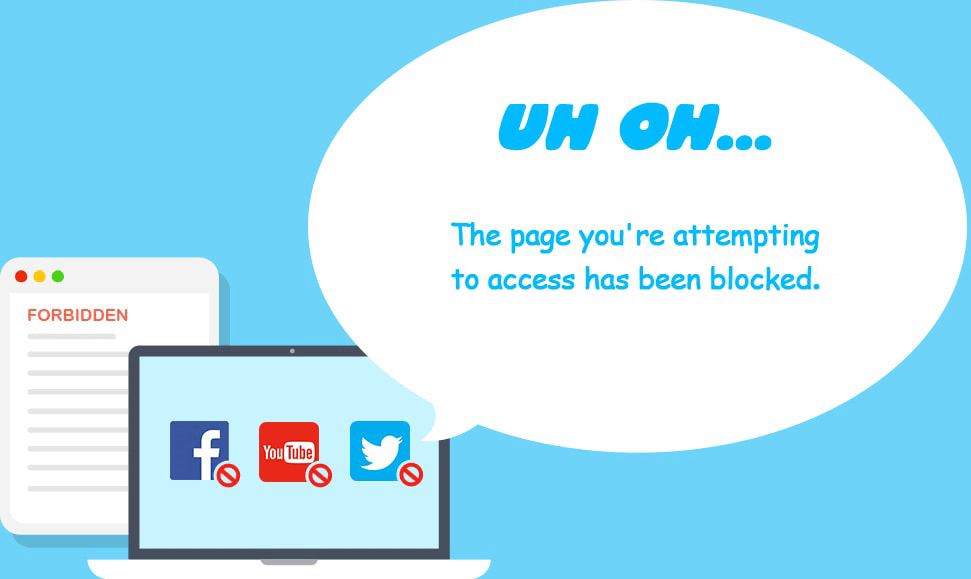 There are four ways to unblock a game permanently or temporarily: removing the game app or site from the block list, entering the password when prompted, quitting AppCrypt, and disabling App Lock or Web Block. Any way requires the password.
By following the steps above, parents can make games inaccessible on their children's computers or other computers like the family computer. The same steps can also help prevent adults from accessing games. If you want to stop yourself from playing games, please ask someone else (like a family member) to set the password for you.
How to limit gaming time by blocking games at certain times
As mentioned, AppCrypt keeps blocking the items on the block list as long as it's running. What if you don't like the idea of blocking games forever? Perhaps you only want to prevent your children or yourself from spending too much time playing video games.
The good news is that AppCrypt allows you to schedule the blocking.
Step 1. Add games to the block list.
The previous part of the article shows you how to do this step by step.
Step 2. Schedule the blocking of a specific game.
Go to the App Lock tab or Web Block tab to find the game app or website. Click it, and a clock icon will appear. Click the clock icon to bring up the Custom Schedule dialog. Turn on Custom Schedule.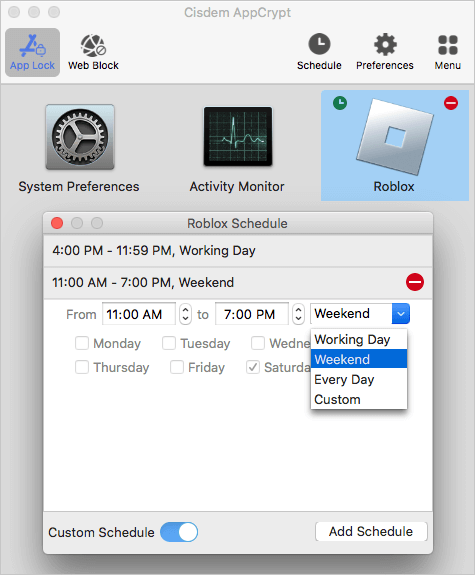 Click the existing schedule to edit it according to your needs. You can specify times of the day and days of the week. You can add schedules if needed.
You can schedule the blocking of other games in the same way.
This way, you control the amount of time your children or yourself can spend on games and the specific times when games are accessible. There's lots of flexibility. For example, you can set a one-hour time limit on games on school days or work days and allow more gaming time on weekends.
Conclusion
Gaming is not a bad thing. But sometimes you may have to prevent or limit access to games for the sake of parental controls, productivity or digital wellness. Too much gaming can lead to excessive screen time, emotional and even physical health problems, negative effects on study, work or personal life, etc. This article provides instructions on how to block games on computer and talks about the details that you'd probably like to know about the blocking. I hope it's helpful.