How to limit screen time for adults? Here you will find a list of apps that can help you reduce screen time on phones and computers.
Personal computers, smartphones and the Internet are becoming increasingly accessible and affordable. We spend more and more time on screen. There have been many studies on how excessive screen time can negatively affect children. One common solution is for parents to monitor and limit children's screen time. Too much screen time is also bad for adults. Negative effects can include poor sleep quality, decreased productivity, neck pain, back pain and more.
The grown-ups tend to have more self-control when compared to children. When you realize that you spend most of your leisure time on your smartphone and want to make a change, you can prevent yourself from using your phone too much. But sometimes willpower alone is not enough. In such a case, some great apps can help you out.
How to use apps to help reduce screen time for adults on:
Limit Time Spent on Apps & Websites
Allow you to set time limits on websites
Allow you to set time limits on apps
Can't be bypassed due to the AppCrypt password
Let you block any websites
Block webpages as well
Also lock apps
Help reduce screen time
Help reduce digital distractions and improve productivity
Help protect your apps and privacy
Available for Mac and Windows PC

Free Download
macOS 10.12 or later

Free Download
Windows 11/10/8/7
How to limit screen time for adults on iPhone and iPad with Screen Time
If your iPhone is running iOS 12 or later, then luckily there is a built-in solution to curb screen time. It is called Screen Time and comes as part of iOS. It offers a set of features and can be used to deal with screen overuse in three ways. Let's look at them one by one.
Before getting started, enable Screen Time first.
On your iPhone, go to Settings.
Tap Screen Time.
Tap Turn on Screen Time.
When asked if this iPhone is for yourself or your child, select This is My iPhone.
App usage reports
Screen Time provides you with a report about how you use your iPhone, letting you know which apps you use the most. To find the report, tap the graph, and then you can find the detailed report of the current day or the last seven days. The phone itself isn't that interesting. It's the apps installed on it that tempt you to use your phone a lot. If the most used apps are just for entertainment purpose, you can start using them less, or stop using them or remove them from your iPhone.
Downtime
The Downtime feature in Screen Time can be very useful especially when it comes to reducing screen time before bed. During downtime, you can only access phone calls and the apps added to the Allowed Apps list, and other apps will be completely blocked.
In Screen Time, tap Downtime.
Turn on Downtime.
Specify a start and end time.
App Limits
You use your favorite apps too much, which can lead to increased screen time. To limit your time spent on them, you can use the App Limits feature. It allows you to set screen time limits on individual apps or a category of apps. Compared to Downtime, this feature offers more flexibility. That being said, both features can be very useful for different scenarios.
For example, if you are an adult who spends the majority of your screen time on social media such as Facebook and Instagram and you want to stop this, you can follow the steps below.
Go to the main screen of Screen Time and tap App Limits.
Tap Add Limit.
Choose the Social Networking category and tap Add in the top right corner.
Set a time limit.
You can also limit the screen time spent on an individual app on iPhone. Tap the graph in the main screen and then tap the specific app. You will find the Add Limit option.
Set a passcode
These features are useful. However, if you are too addicted to your phone, you may be tempted to ignore the limit or delete the screen time limits. Setting a Screen Time passcode can help prevent this from happening.
In the main screen. Tap Use Screen Time Passcode.
Set a passcode and re-enter it.
If there isn't a passcode, when a time limit is over, the Ignore Limit option will appear. Once there is a passcode, this option won't show up. Instead, you will only get the Ask For More Time option, and tapping it will ask for the passcode.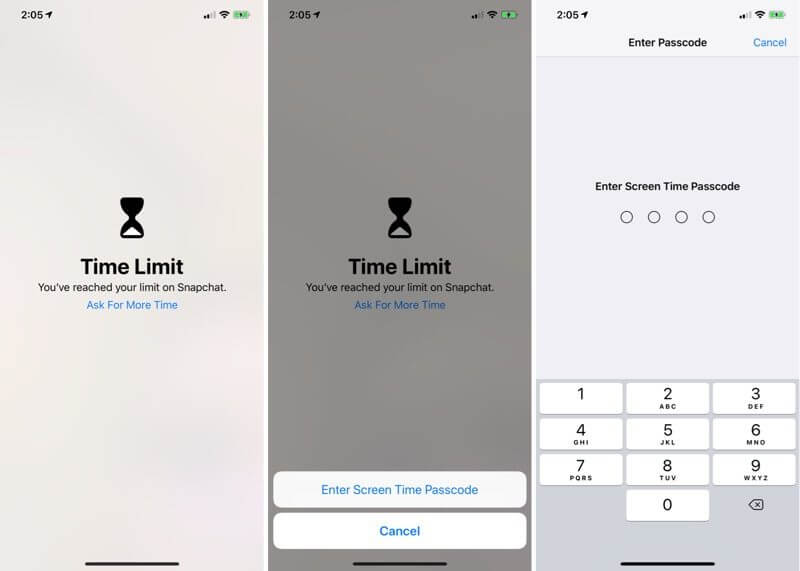 Now here's something important. To limit screen time for yourself as an adult, you need to ask someone else to set the passcode for your phone. If you set it yourself, you can easily bypass the limit. It should be someone that you trust and see often because you may need to add, edit or delete screen time limits from time to time. It requires passcode to make changes to Screen Time settings.
How to limit screen time for adults on Mac & Windows with AppCrypt
If you don't use your phone a lot and your problem is using your computer too much, you may find this part helpful.
You can easily limit your own screen time with Cisdem AppCrypt. It supports Mac and Windows PC. Below is how to use it.

Free Download macOS 10.12 or later

Free Download Windows 11/10/8/7
Download AppCrypt and install it.
The first time you open it, ask a trusted person to set the password for you.
On a Mac, click its icon in the menu bar and choose Open Main Window. If it is a PC, right-click its icon in the taskbar.
Enter the AppCrypt password and now you are in the main window.
Let's start with dealing with the websites that you spend much time on. Click Web Block in the toolbar.
Enter the URL of a website (e.g. youtube.com) and click Add. Add other websites that you spend too much time on.
Under the App Lock tab, use the Add icon or drag and drop to add the apps on which you spend a lot of screen time.
Now in the toolbar, select Schedule.
Click Add Schedule.
You can create multiple schedules. For example, you can allow more screen time on weekends. If you enable Apply to All, the time limit will be applied to locked apps and blocked websites.
In step 6, you can also import a category of websites (such as Video Sites) to put limit on.
Putting time limits on your favorite apps and websites can effectively prevent yourself from spending too much screen time on your computer.
Tip
If you use your computer for work or school, you may need to stare at the computer screen for long periods of time, and you don't want to prolong it. But distracting websites such as YouTube and Facebook may lead to a decline in productivity and result in prolonged screen time. The faster you get your work done, the lesser time you spend on your computer screen. It's a good idea to block such distractions.
How to limit screen time for adults on Android with Digital Wellbeing
How to limit screen time for adults on Android with Digital Wellbeing You work in front of a computer all day and spend hours on your Android phone after work. It becomes the norm for many people. Developed by Android, Digital Wellbeing can help you stop using your phone so much. It comes with a number of useful features, which can be used to curb screen time. Digital Wellbeing is available in Google Play store.
Dashboard
When you open Digital Wellbeing, you will be presented with the dashboard where it shows the total screen time and the most used individual apps. If you tap it, you will find more details. This gives you a view of how much screen time is spent and how the time is spent and helps you know where to start with your screen time reduction.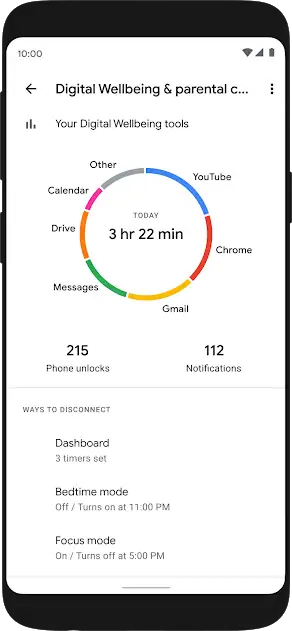 Bedtime mode
You may have tried to avoid screen time before bed, but it's not easy. This feature may help you put away your phone and limit screen time before bed. It will make your phone black and white, which can make watching videos and browsing through Instagram less enjoyable. It will also mute your phone. Schedule a time, and it will run automatically.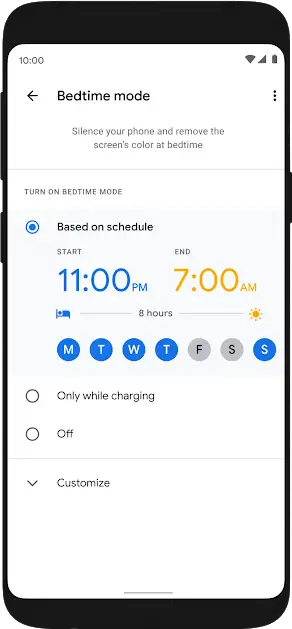 App timers
In Digital Wellbeing, it's the feature that is more related to screen time control. Since it lets you know which apps and websites you use most, you can set daily limits to reduce screen time spent on them. Go to the dashboard and you will find a timer dropdown list next to each app listed there. You can set a 15-minute timer, 30-minute timer or custom timer, etc. Once it's up, the app's icon will be grayed out. If you tap it, you will get the App isn't available message.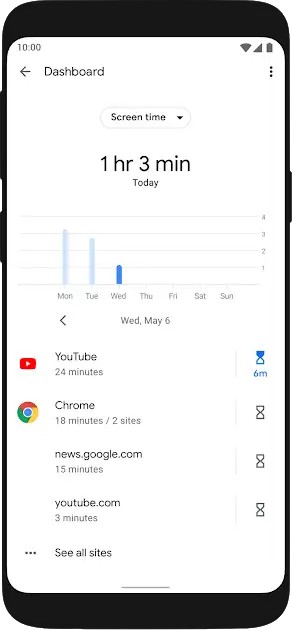 You can easily delete a time limit and make changes to your settings, and it won't ask for password. Digital Wellbeing doesn't really restrict you from using your phone. It's more about helping you do it. It still requires your own willpower. It may be useless for children but is helpful for many adults.
Conclusion
How much screen time is too much for adults? There isn't a certain answer. But there can be signs of excessive time on screen such as eye fatigue, itchy eyes, declining productivity, decreased social interactions, social media addiction, etc. How to limit screen time for adults? Some built-in and third party apps are available. Some of them let you know how your screen time is spent and where to improve. Some let you set and enforce screen time limits.