Resume is a required document to get job chances or offers in an application or interview, it contains family or educational backgrounds, skills and experience.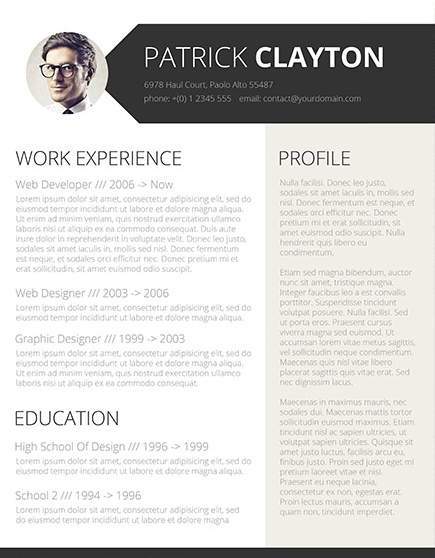 Before receiving any interview offers, a resume is basically the first and only document you can submit to impress the employers, which means that a resume is quite critical for a job seeker. But what is the best resume format to get attention and gain a face-to-face interview from your dream company?
Here we will explore which one is the best resume format to pave your way to success in the New Year, also, there are open source of some popular resume template for you.
What is the Best Resume Format?
There are 3 types of resume format, each type has its own good points and shortcomings, but you will need to pick the best one according to your own cases.
#1 Chronological Resume Format
It's a global resume format has been used for a long time. In this format, job seekers need to list everything in reverse chronologically order (the most recent experience listed at the top)
#2 Functional Resume Format
It is skill-based, used to highlight your skills and competence relate to the position you apply for. Hence, it is filled with different types of skills or experiences to impress others with your capabilities.
#3 Combined Resume Format
As you may have realized, a combined resume format is a mix of chronological and functional format. There is a chronological list of the job seeker's educational or work history, also a part demonstrating his/her skills.
Different type of resume format applies for different job seekers, you should decide which one is your best choice basing on analytical information listed in the following table:
As you can see, chronological resume format is deemed as a standard one, but the best resume format still depends on your own work experience and what do you want to highlight to impress the employer.
Which File Format is Better to Save/Send a Resume?
Once you have compiled your resume, which format do you use to save or send the file? Word or PDF? I hope you are choosing adequately, the PDF.
Yes, everyone has Microsoft Word, it allows us to edit and modify the resume easily. I have to admit, Word is a good way to create and edit a resume, but it is not the best format to save or send a resume.
Word is Not Recommended to Save or Send a Resume
The resume formatting will be in a mess if opened with another viewer;
The resume is editable in Word, it is not secure;
Word won't allow you to contain rich elements (media, interactive elements, etc) to express yourself in a creative way;
PDF is the best Format to Save or Send a Resume
PDF is highly accessible, everyone can open the PDF resume across different platforms;
A PDF editor is required to edit or modify the file, which prevents other deliberately alter your resume;
The resume formatting will be retained exactly as same as original when opening it;
Users can add passwords to protect their resumes from editing or printing;
Users are allowed to add rich PDF elements (multimedia, form, java scripts, etc) to the resume for a perfect presentation on experience, skills and achievements.
So, job seekers are recommended to submit resume in PDF, to make each part of the job seeking looks professional.
Websites to Get Free Resume Template
It is time consuming to design and create a resume from the start, yet luckily, there are lots of good free resume templates open to users, here we collect 3 most common used resume format for you with direct download address, if you think they are useful, spread the word to let more friends utilize such good resources:
If you want more choice on free resume template, you can check following website to pick your favorite.
Office offers 100+ free resume template in Word formats, you are allowed to edit these templates and personalize as needed. There are basic, functional and chronological formats for different position.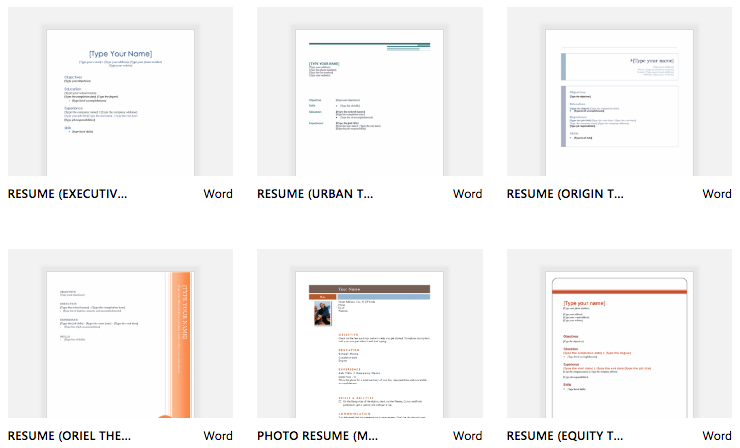 Once you have chosen the template, click it and go to the download page, click on the "Download" icon, you will be able to get the resume template in Word. Then modify the template by adding your information, and create your own resume for job application.
#2 freeresumes
There are 75 free resume templates available on this platform. Comparing with other open sources, these templates are more creative in design and format, making a resume quite beautiful. In addition, all these templates are saved in Word format, users can edit and customize easily.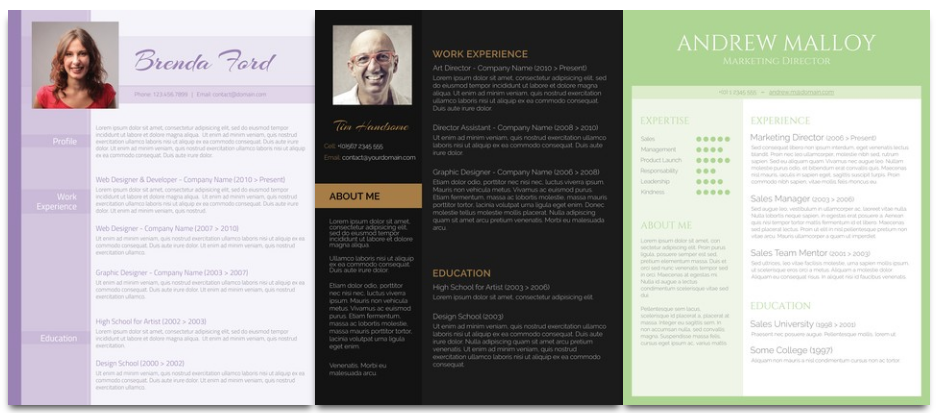 Once you have picked your favorite format, click it and go to the download pages, some of those templates are total free for direct downloading, just click the download icon to get the resume template. Yet, some free resume templates are locked for free download, in this case, you just need to share this resource as it guides on the page to get the free template, it is still easy and won't cost too much time.
#3 tidyform
Though there are just 15 free resume template available on this website, all the resume templates are in categories for easy pick, also, there are different version for each resume template, you can choose to download resume template in PDF, Word, even Google Sheet.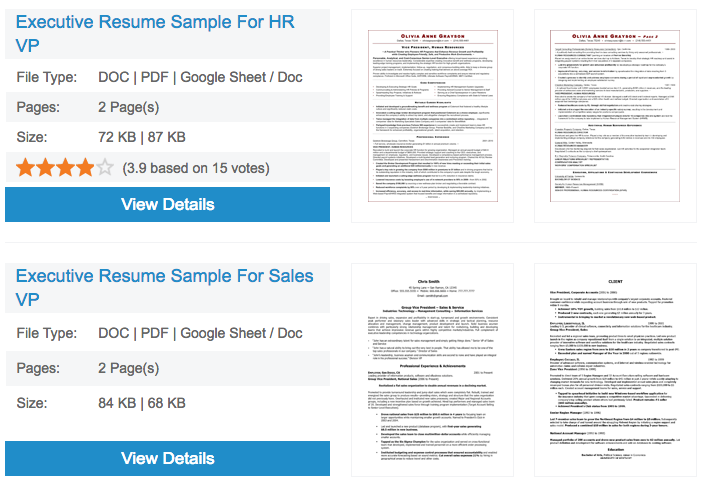 Once you have pinpointed a resume format to download, choose the category, let's say Executive Resume Template, click and go to the download page. There are different samples for choosing, click to view the details and pick one by clicking on the resume thumbnail. You can either directly download to your computer or choose to email the resume template to your email box for later usage.
How to Modify and Personalize a Resume Template?
Templates are just templates, we still have to make the template our own resume, meanwhile, to make it stand out from thousands of resumes. And that is why we need to modify and personalize a resume template. But how?
If you are using Word resume template
It can be much easier to modify and personalize a resume if you are using a Word template, just open it in Microsoft Office Word and modify the file as you always do on a Word document.
The last step to process a Word resume template is exporting as PDF, as aforementioned, your resume should be saved and sent in PDF format. Yet, the conversion between Word and PDF will sacrifice the file quality to some extent, to save your trouble on messed formatting or layout in converted PDF resume, you'd better use a professional PDF Converter.
If you are using PDF resume template
In this case, you will need a PDF editor to modify the PDF file. However, if you don't want to pay for an expensive PDF editor, such as Adobe, you can edit the PDF resume in Microsoft Office Word by converting PDF to Word first, then save the modified Word as PDF again.
As you may have noticed, no matter which resume template you are using, you will need a PDF tool to modify and manage the file to cut the time, and for your convenience, here we recommend PDF Converter OCR for you, it helps to:
Create Resume PDF from other document type, such as Word, Text, Image, HTML, etc;
Compress resume PDF if necessary;
Convert PDF resume to Word or other formats for easy editing;
Convert scanned PDF or images to editable resume template with OCR feature;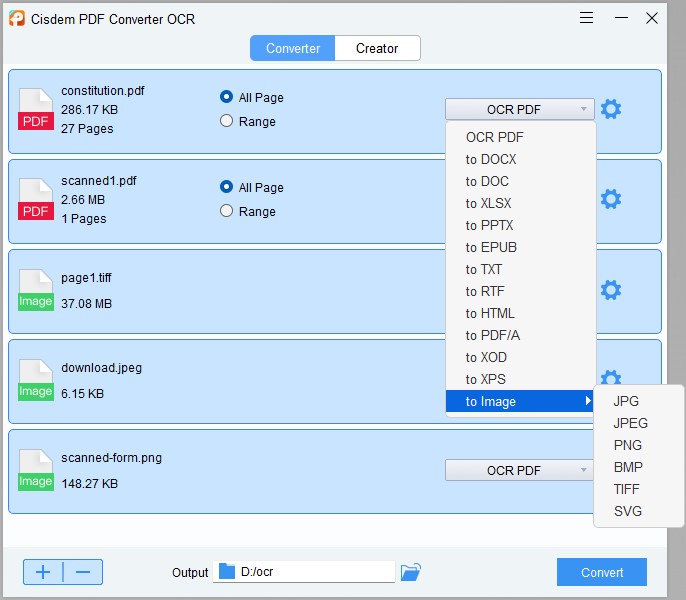 Resume is indispensable in the course of job seeking, but can be much easier to create if you find some good templates. So, what's your best resume format?