A good contact app can make managing contacts easy, efficient and even fun. If you are on the hunt for the best contact manager for Mac, check out this list of the best apps to manage contacts on Mac. I hope the list will help Mac users make better decisions when choosing contact management software.
Easily Manage Contacts on Mac
Support various contacts sources: Mac, iCloud, Google, Exchange, etc.
Export/convert contacts to 8 formats: CSV, Excel, vCard, etc.
Import contacts from CSV and vCard files
Let you view, search, add, delete, edit, share and print contacts
Let you group and tag contacts
Let you directly text/call/email a contact and send a group email
Find and delete/merge duplicate contacts
Let you backup/restore contacts with a click
Easy to use and customize
Compatible with macOS 10.11 or later

Free Download
What makes a good contact management app for Mac?
Apple's Contacts app on your Mac can help you manage and organize contacts, but this native solution may lack the features that you need. That's where third-party solutions come in. Below are some basic criteria in choosing the best contacts app for Mac. It should allow you to easily:
Add new contacts and edit existing contacts.
Search your contacts.
Create and manage contact groups.
Organize contacts by tagging.
Sync contacts with popular services such as iCloud and Gmail.
Import, export and back up contacts.
Let users easily use contact information
Find and clean up duplicate contact entries.
The best contact manager for Mac 2023
1. Cisdem ContactsMate
Compatibility: macOS 10.11 or later
Latest version: 6.5.0, released in September 2022
Price: $29.99 one-year subscription; $49.99 one-time purchase
Cisdem ContactsMate is a powerful, easy-to-use app to manage, organize and clean up contacts on MacBook Pro, MacBook Air, iMac, etc.
In addition to the local contacts on your Mac, it can handle your contacts from various other sources such as iCloud, Google, Exchange, Yahoo, etc. You can manage all your contacts in one place.
Let's take a look at its great features.
Sync contacts with Google, iCloud, Exchange and more accounts
In addition to the contacts stored in Mac's Contacts app, ContactsMate supports contacts kept in Internet accounts such as Gmail, iCloud and Yahoo. With this Mac contact manager, you can effortlessly gather all your contacts to access and manage in one place.
Open the app. Click Add Account

in the toolbar.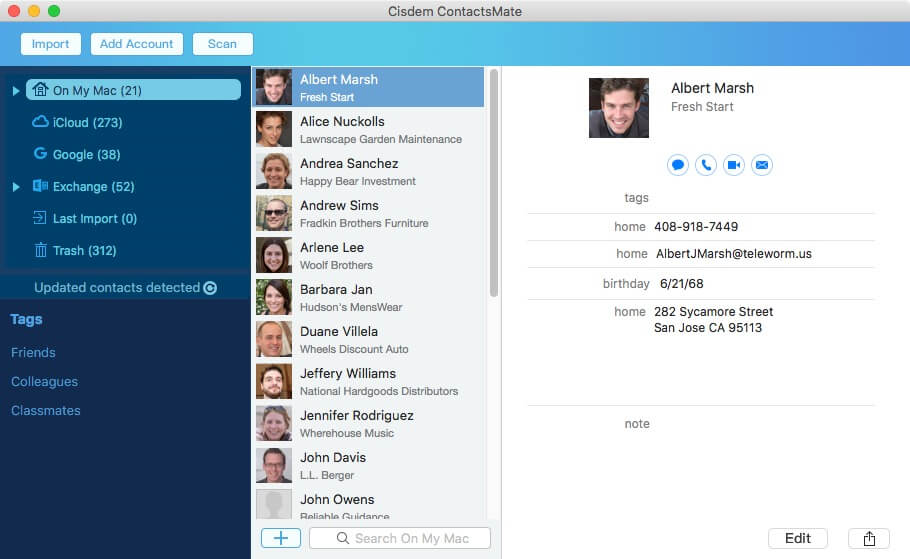 In the Internet Accounts window that appears, select a service. Sign in using your account.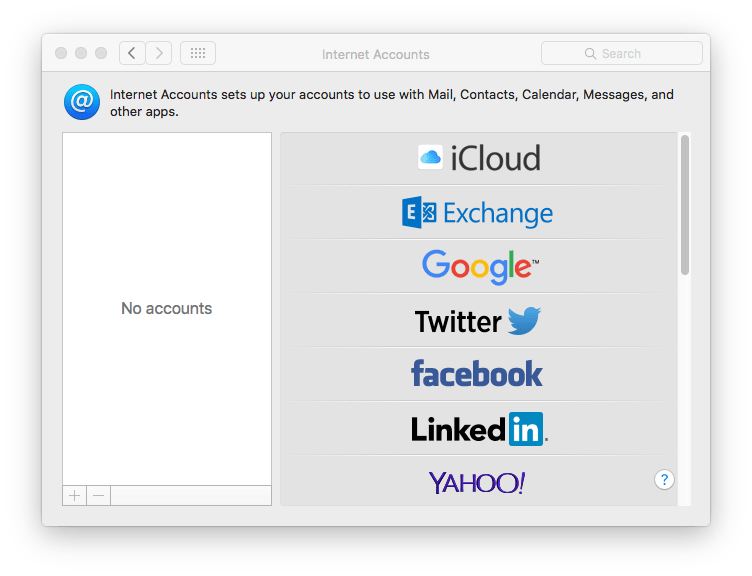 Select the Contacts checkbox.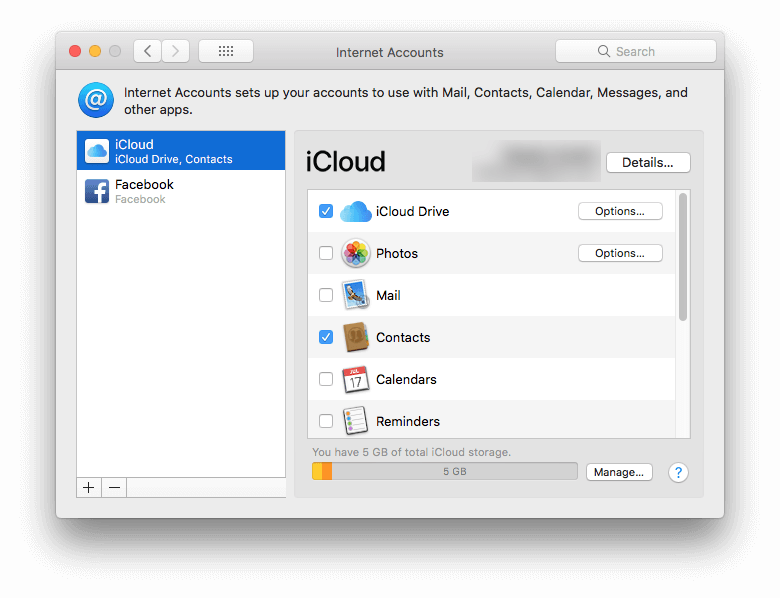 Click the refresh icon
next to the Updated contacts detected message. Now the added account should appear in the left sidebar. When you select the account, the contacts in it will appear in the area next to the sidebar.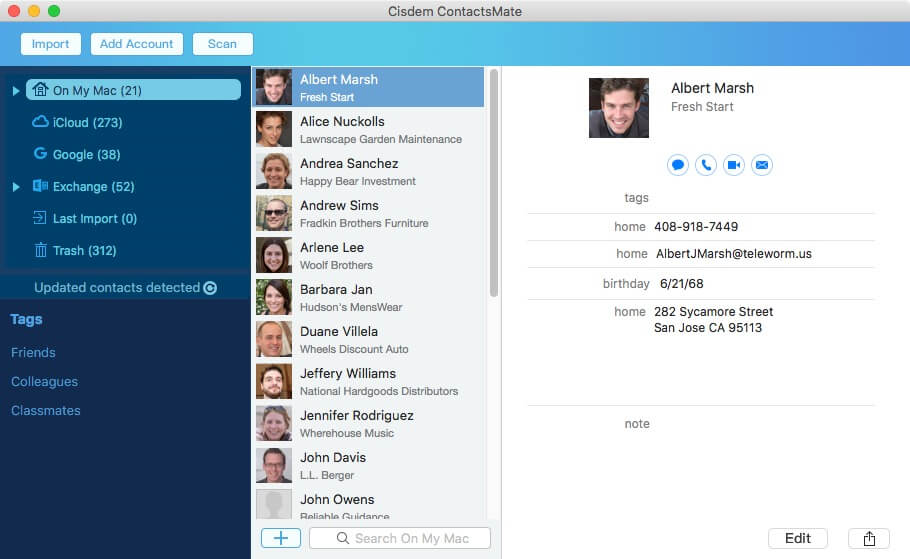 When you make changes (such as editing or deleting) to the account's contacts in ContactsMate, the changes will be automatically detected and synced to the account, and vice versa.
View, search, add, edit, delete, share, print and use contacts
The best contact manager for Mac lets you easily performs basic tasks. Click the blue add button at the bottom to add contacts. When adding a company as a contact, you can select the Company checkbox. Select a contact, and you can view or edit it as you wish. To add a field when editing, click the black add button in the bottom left corner of the editing area.
The search field is located at the bottom of the main window. And you can find the share icon

in the bottom right corner. You can also find the Share, Print and other options by control-clicking a contact.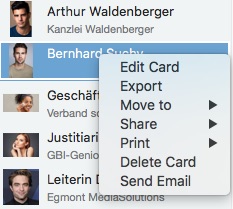 Well integrated with macOS, this app enables you to directly email, call or text a contact. Select the specific contact and click an icon below the name to text, call or email the contact. You can send group emails too.
Organize contacts by adding tags and creating groups
You can add one or multiple tags to individual contacts to efficiently categorize and filter them. You can find a field to add tags when editing a contact.
If you often send emails to the same bunch of contacts, you can create a group for them. The next time you send an email, just control-click the group and choose Send Email.
To create a group or sub-group, in the left sidebar, control-click On My Mac or an Internet account and choose New Group.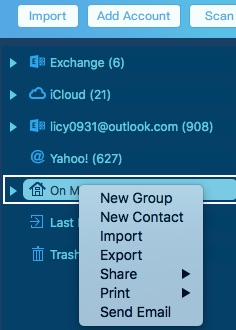 Export, import and back up contacts
To export contacts to a desired format, control-click On My Mac or an Internet account you have added to ContactsMate and choose Export.
In the dialog box that shows up, click the Format dropdown list and choose a format. It supports 8 export formats: CSV, Excel, vCard, TXT, DOCX, HTML, Numbers and Pages. Some services such as iCloud only support very few export formats. This Mac contact manager provides far more choices. It can import contacts from CSV and vCard files.
Backing up contacts is also a snap. Open the Preferences window.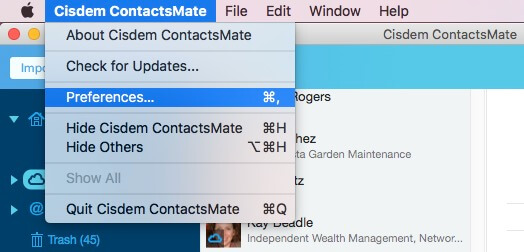 Go to the Backup & Restore tab, select a contacts source (e.g. your Mac's Contacts or iCloud account) and click Backup. To restore, select a source, choose a version of backup and click Restore.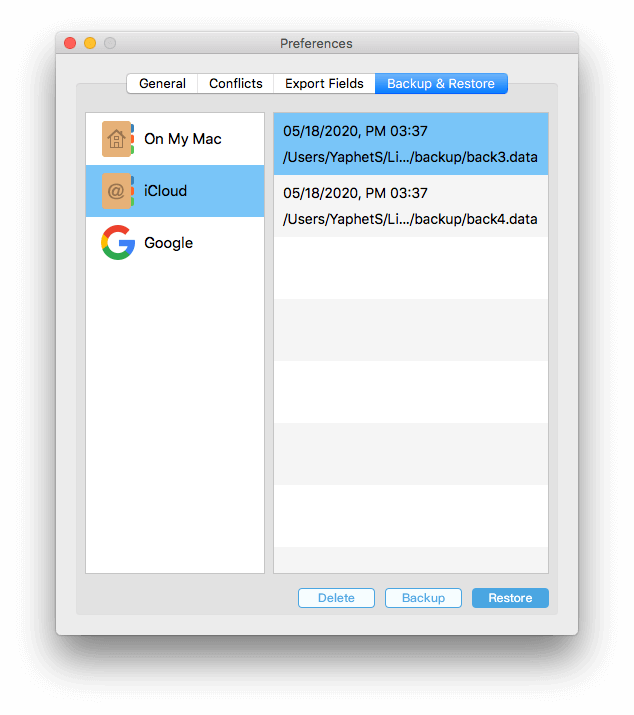 Find and clean up duplicate contacts
Having duplicate entries of the same contact may cause inconvenience or confusion. Some entries are exactly the same. There can also be partially duplicate entries. The best contact manager for Mac detects duplicate contacts and provides multiple solutions for you to deal with different types of duplicates. Here's the detailed guide on it if you are interested.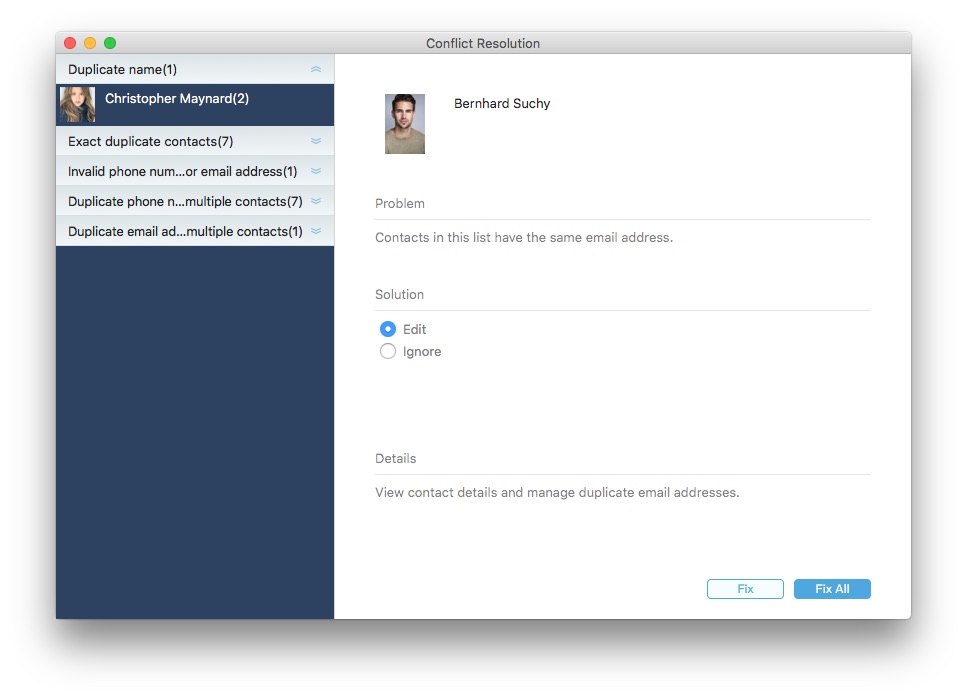 Also, it can identify contacts with incomplete or invalid information.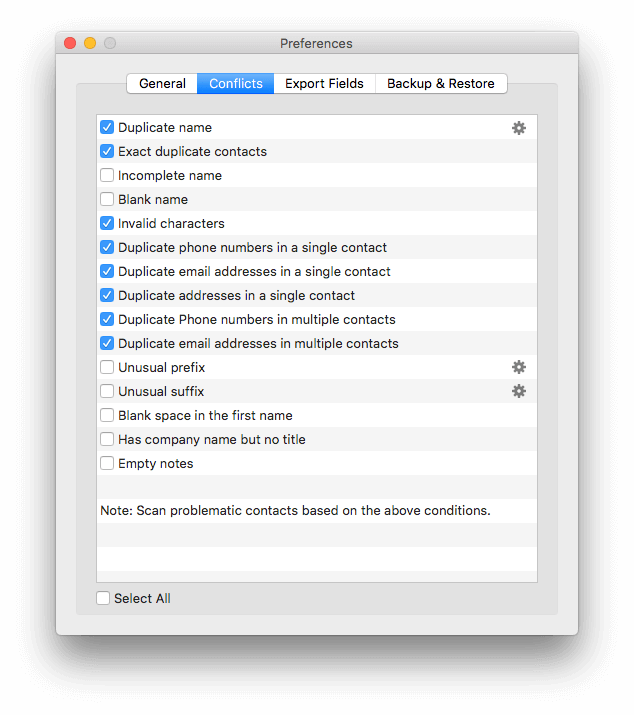 Get ContactsMate to keep your contacts well organized and clean on Mac!

Free Download
2. BusyContacts
Compatibility: macOS 10.13 or later
Latest version: 2023.1.1, released in March 2023
Price: $49.99 for 1 license
BusyContacts is another one of the best contact app for Mac. Many people use it as a replacement for the built-in address book. There are two ways you can view your contacts in this app: the List view and the Card view. Both are convenient.
In the app, you can easily add, edit, delete, filter and search contacts. It allows you to use tags to organize contacts. The great thing is that you can add a tag color, such as purple for the Coworker tag and Green for the Family tag.
It can work with contacts from iCloud, Google and some other accounts. The syncing speed is decent if even you have added multiple accounts. The added accounts will appear in the panel on the left.
BusyContacts also has something unique to it. It is designed to integrated with BusyCal, a calendar app from the same developer. The integration makes it easy to follow up events in this address book app.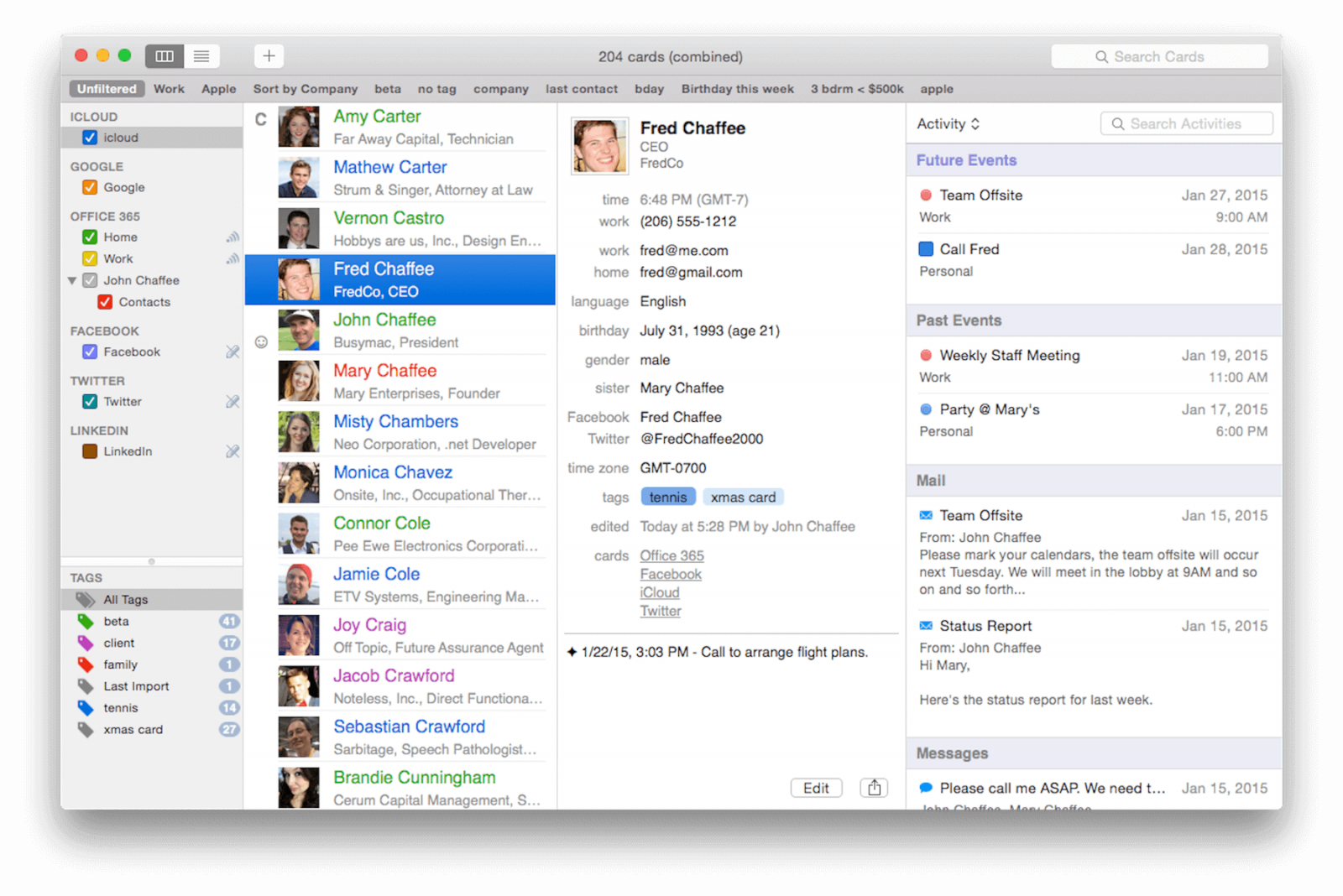 Pros
Support contacts from certain cervices and platforms
Let you switch between two view modes
Let you perform basic tasks to manage contacts
Make it easy to tag and organize contacts
Provide a useful filtering tool called Smart Filters
Can be used with BusyCal
Cons
Some options are somewhat hidden or confusing
A bit expensive
3. Contacts+
Compatibility: macOS 11 or later
Latest version: 22.12.1, released in December 2022
Price: $9.99/month
Developed by FullContact Inc., the FullContact app used to provide contact management solutions for individuals and businesses. In 2018, the company acquired Contacts+, a contact management app. The FullContact app is now a part of Contacts+.
Contacts+ helps you easily access, organize, maintain, share and clean up contacts from Internet accounts on your Mac. You can use it to sync your contacts across services and accounts, remove duplicate contacts, add tags and perform other tasks. It works with Google Contacts, Exchange, popular social media platforms and more. Note: This app doesn't work with Mac's local contacts, but it allows you to import local contacts to manage.
You can add tags to your contacts so that you can easily sort and organize them. In addition, this app automatically adds the Missing photo tag to contacts without the profile picture and the Missing phone tag to contacts without the phone number, helping you to effortlessly find contacts with incomplete information to edit.
This top-rated Mac contact manager has a simple and easy to understand interface. It's free to use. However, to access full features, you need to get Contacts+ premium. With the free version, you can only sync one account, and other features are also limited.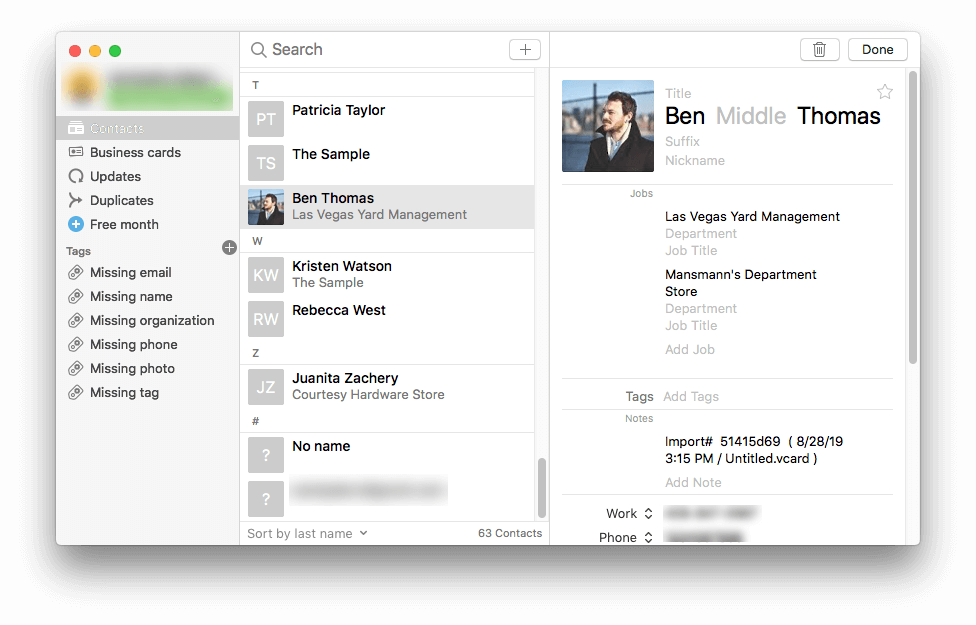 Pros
Sync contacts across multiple services and accounts
Enable to efficiently tag and sort contacts
Let you effortlessly import and export contacts
Clean up your contact list
Simple, easy-to-use interface
Cons
A bit costly
Sometimes fail to sync as expected
4. Top Contacts
Compatibility: macOS 10.12 or later
Latest version: 1.3.3, released in September 2019
A relatively new app, Top Contacts does a decent job of managing contacts on Mac. Users can easily add, delete, view and edit contacts. It offers useful features such as Tags and Add Relations, making it more efficient to navigate and organize. When it comes to searching, you can set up customizable filters to quickly locate contacts. It's also quick and easy to share and print contacts.
The Calendar and To-Do features are available for all contacts, enabling you to create reminders for events and follow them up. One of the great things is the support for recurring events. In addition, it allows you to attach documents and other files such as contracts and agreement to any of your contacts. You can preview attached files in this tool directly. These features are worth exploring and can help you improve efficiency greatly.
The app is almost as versatile as the best contact manager for Mac. But currently, it only supports syncing contacts with iCloud. No other services are supported.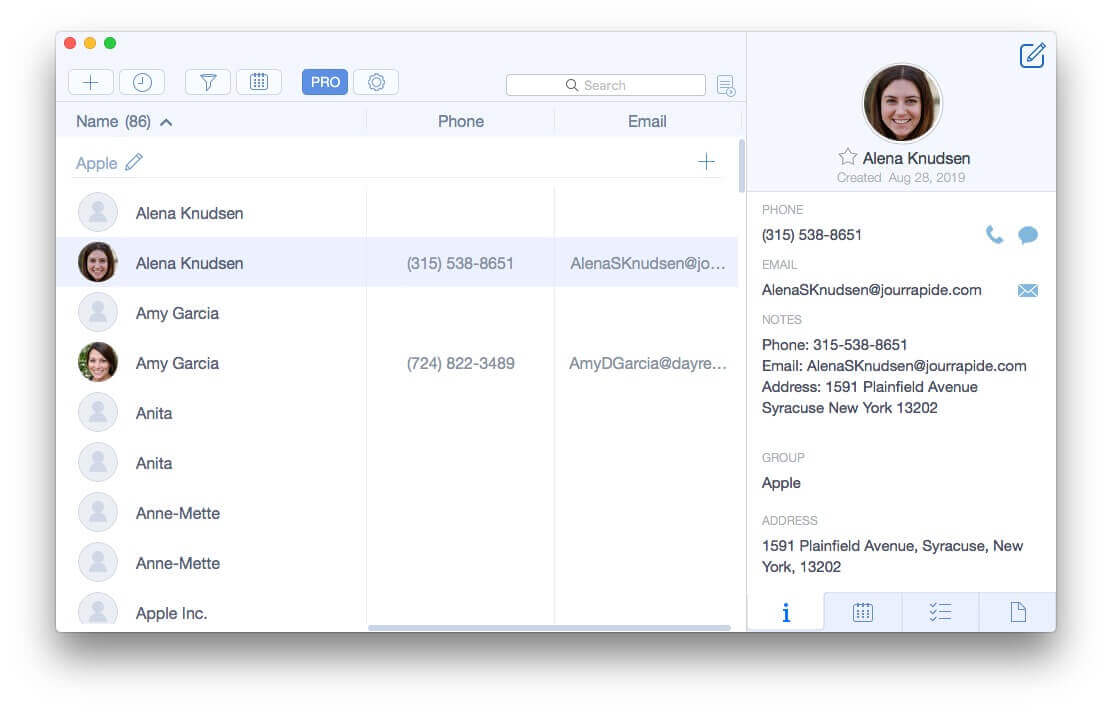 Pros
Easy to use and versatile
Offer two convenient view modes
Let you effectively and efficiently organize contacts
Offer advanced, customizable filters
Provide useful calendar and to-do list features
Cons
Only support syncing with iCloud
No update since 2019
5. Cardhop
Compatibility: macOS 11 or later
Latest version: 2.2.6, released in March 2023
Price: $6.99/month
Cardhop is worth considering if you are looking for an app to do basic contact management tasks such as searching, editing, adding and using contacts. But it's not your average contacts app. With it, you can actually handle your contacts on Mac in a fun way.
There are a few ways to add new contacts. You can do it by going to the settings and choosing New Card. Or, you can directly input the new contact's information in the search bar, and this great contact manager for Mac is smart enough to automatically creating a new card. Don't forget to click the Add Contact button to save the new card.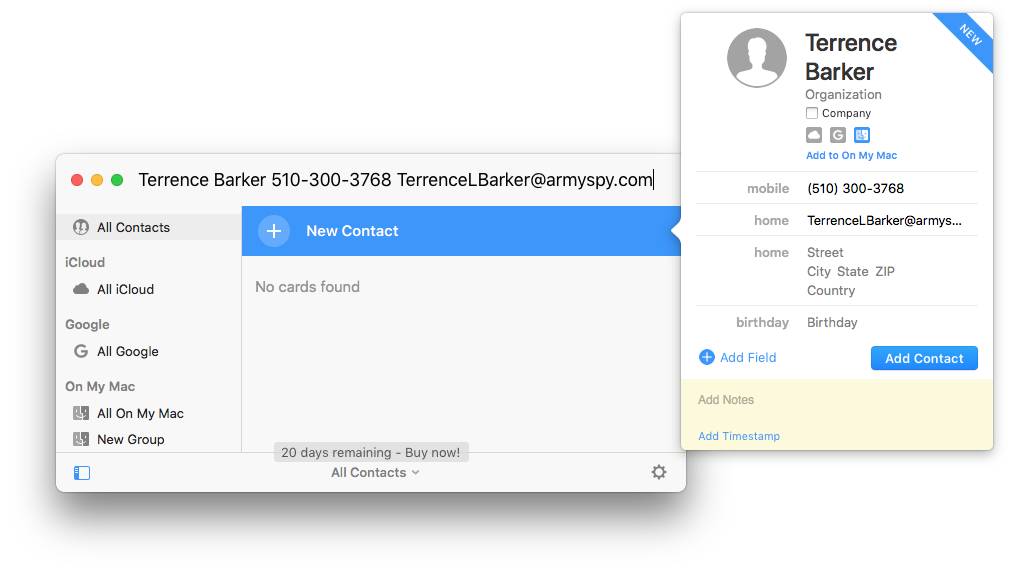 You can even edit an existing contact by specifying the name and entering new information in the search bar. Cardhop will automatically parse and recognize the information you enter.
Here is another way to create a new contact. Select text containing contact information from anywhere on your Mac such as a webpage, control-click and choose Send to Cardhop. Cardhop will immediately create a new contact according to the selected text, and then you can change or enrich the card.
But it's not that convenient when it comes to viewing contacts. To view contact information, you need to select the contact.
Pros
Can be accessed from the menu bar and using keyboard shortcut
Easy, handy and fun to use
Allow you to create contact groups
Provide a list of recent contacts
Cons
Inconvenient contact viewing
Conclusion
The article recommends and reviews the best macOS apps to manage contacts, which can help you choose the best contact manager for Mac. They are great for individuals and small businesses to use. Keeping your contacts list clean, organized and well maintained can make things easier and improve efficiency.