Despite YouTube's endless offering of learning, lifestyle, entertainment, and news resources, you can't download videos directly from YouTube. What if you want to access YouTube offline, back up your YouTube videos locally, or avoid buffering and slow streaming? Whatever the purpose, the YouTube MP4 converter will work for you. This article shows you how to convert YouTube video to MP4 on Windows with the best YouTube to MP4 downloaders.
The Best App to Convert YouTube Videos to MP4
Download 1080p/60fps, 4k/60fps, or above YouTube videos
Support video downloading from 1000+ online websites
Convert any YouTube link to MP4, including YouTube shorts, playlists, clips, songs, videos, etc.
Download multiple YouTube videos to MP4 at once
Combine all YouTube downloads into one MP4
Also convert YouTube to AVI, MPEG, FLV, MP3, M4A, mobile Phone, tablet, etc.
Convert DVD or any multimedia file to MP4
Provide an integrated video player and editor
Powerful yet easy to use
Available for Windows and Mac operating systems

Free Download

Free Download
Jump to the YouTube MP4 converters introduced in the article
How to Convert YouTube Videos to MP4 on Windows in Batches Quickly
Based on the test, Cisdem Video Converter should be the safest and best YouTube to MP4 converter for Windows. It can convert several YouTube videos simultaneously as well as keep high quality during the conversion. It's amazing! Any YouTube URL you put into the software is able to turn into MP4 format. Other than converting YouTube video to MP4 on Windows, it also supports 1000+ input websites and 300+ output formats.
Download Cisdem Video Converter.
If you are a Windows user, download its PC version below. Then install and open it.
Free Download Free Download
Add YouTube videos that you expect to download.
Copy the URL of a YouTube. Go to the "Download" interface and paste the URL into the text box at the bottom.
Click the "+" icon to analyze the video. You can continue to add more than one YouTube video to the list at once.
Convert YouTube videos to MP4 on Windows in batches.
Select MP4 as the output format, and also select the resolution you want. Click the "download" icon to start downloading YouTube to MP4.
Tip: To alter MP4 parameters or convert YouTube to other digital formats, you can drag-n-drop YouTube downloads to the "Convert" interface for further conversion and editing.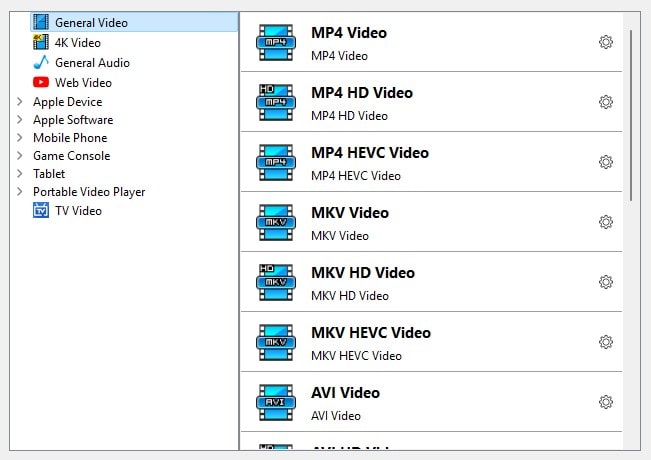 How to Convert YouTube Video to MP4 on Windows Free with VLC
Few people are aware that VLC is not just a video player, but also a YouTube MP4 converter for multi-platforms, including Windows. It can play and download videos from YouTube, Vimeo, Soundcloud, Liveleak, BBC, Twitch, etc. video. However, VLC is not a professional video downloader, there are no batch downloads and the speed of converting YouTube video to MP4 on Windows is a bit slow.
Get the link of your desired YouTube video.
Fire up VLC Media Player. Click on "Media" > "Open Network Stream".
Paste the YouTube video link into the Network Protocol bar.
Click the triangle next to "Play" and choose "Stream."
When the "Stream Output" window appears, click "Next".
Hit "Add > Browse" to choose the file destination and name it. Then click the "Next" button.
Pick "Video - H.264 + MP3 (MP4)" from the Profile drop-down list. Click "Next".
Hit "Stream" to transcode YouTube to MP4.
How to Convert YouTube to MP4 on Windows via Online Tools
Online services will convert YouTube URL to MP4 for free without requiring software installation. The fly in the ointment is that most web-based converters can't download YouTube videos in bulk and are not as safe as dedicated apps. If you need the free online YouTube to MP4 converter for Windows, below brings two for you.
Option 1. Using Y2mate
Although the original site has been blocked, mirror sites are available. One of the best is y2mate.lol. It offers an abundance of YouTube video resources, and you can discover your desired video to download through a keyword search. Additionally, Y2mate is one of the few websites that can download 4k YouTube videos in MP4, MP3, and WebM formats.
Make a copy of the YouTube video link.
Browse to https://y2mate.lol/.
Put the copied link in the text box. Press the "Start" button.
Analyze the input link by clicking on "Download video".
Switch to MP4 format. Choose the quality and file size based on your preference.
Under the Action section, click "DOWNLOAD".
In the pop-up dialog, hit "DOWNLOAD".
Option 2. Using Onlinevideoconverter.com
Onlinevideoconverter.com is an old website that can be used to convert YouTube video to MP4 on Windows. It supports over 100 different video sharing websites, in addition to YouTube, such as Facebook, Ted, VK, Funnyordie, Gametralers, and Godtube. Unfortunately, it is not able to download 4k videos. Among the output formats, there is one video format and six audio formats. Besides converting a video link, this online YouTube to MP4 converter allows you to convert a video file and record a video as well.
Make sure that you have the YouTube video link that you wish to download.
Access the website at https://onlinevideoconverter.com/.
Simply click on "CONVERT A VIDEO LINK".
Add your copied link to the blank field.
Specify MP4 as the output video format. Click "START".
Click "Download". Note: Scan the QR code provided if you need to store the converted MP4 video on a smartphone or tablet.
How to Download from YouTube to MP4 on Windows Using Command Prompt
The open-source tool - youtube-dl is required to convert YouTube video to MP4 on Windows through the Command Prompt. With it, there are a lot of websites from which you can download videos, not just YouTube. You can also insert the -f option followed by the format code to specify a format. In spite of its power, learning to use it can be a challenging process.
Install youtube-dl on your Windows computer, and initiate Command Prompt.
Locate a YouTube video and copy its link.
Put the following command in the Command Prompt: youtube-dl [YouTube video link] -f mp4.
Replace [YouTube video link] with the actual YouTube URL, for example, youtube-dl https://www.youtube.com/watch?v=UehlLB3gYJo -f mp4.
Begin the download and conversion by pressing "Enter".
FAQs
Can I download HD YouTube to MP4 via Chrome extension?
Quite difficult, it seems. I tested 5 popular video downloader Chrome extensions. One of the five can download YouTube, but not HD 720p or HD 1080p YouTube to MP4. The other four are unable to detect the video. The test results are as follows:
What's the best website to convert YouTube to MP4?
Even though they are crammed with advertisements and are unable to bulk download videos to MP4, Y2mate wins due to its ability to download 4k videos.
Can I record YouTube to MP4 on Windows?
Yes. The Camera app pre-installed on Windows computers can record YouTube videos to MP4. Also, you can use an online screen recorder or a third-party app like OBS Studio, Camtasia Bandicam, and Camtasia.
Is possible to unblock and download age-restricted YouTube URL to MP4?
4K Video Downloader is capable of bypassing age restrictions, but we do not recommend that you do so. YouTube uploader makes videos invisible to teenagers and children under the age of 18 to protect them, as videos may contain content that is inappropriate for this age group.
Is converting YouTube video songs to MP4 illegal?
While downloading and converting YouTube songs to MP4 does violate the YouTube user agreement, it is not a violation of copyright laws if the purpose is not for commercial gain.
Final Words
You've learned how to convert YouTube video to MP4 on Windows using four tools. Three free YouTube to MP4 converters are available. VLC is the safest among them and the online converter does not need to be installed. These two free options are suitable for beginners, while the command line tool is more difficult to get started. Cisdem Video Converter isn't free, but it's safe, easy to use, and can download any YouTube link to MP4.

Peter has always had great enthusiasm for writing, programming and web development. He likes writing about software and technology, his works are featured on some tech blogs or forums like Tom's Hardware, CNET, etc.