When trying to extract files from RAR archive, I come across error message stating, "Unexpected End of Archive". What's wrong? How to extract them? - From WinSCP Forum
"Unexpected End of Archive" means the .rar or .zip file that you were trying to download is not complete or corrupted. Sometimes you might encounter this error message when you open or compress files with WinRar. How to fix the problem? Next, let's talk something about unexpected end of archive error.
WinRar Not Working? Try Cisdem
For mac users
Open RAR, Zip, 7-Zip, ISO, Udf, Wim, TAR, CHM, Hfs, Nsis files on mac
Load files fast
Preview files before decompressing
Partially or wholly extract files from the archive
Compress files back to Zip, 7Z, Tar and Wim
Protect zipped files with password
Fast search with keyword

Free Download
Reasons Behind Unexpected End of Archive
If your download process is though browser, some interruptions may occur, like power failure and poor connectivity, especially in the case of your file is in a big size.
You have changed your file extension. Don't make an attempt at changing other file extension into .rar or .zip, you know, the archive file may get corrupted.
You are likely to get this error after improper compression of archive file. Such a compression header file could become damaged, which makes archive file unable to be accessed.
On occasion virus or malware on your device have chances to cause archive file corruption. They are bad factors from network that can attack your file severely.
If you store the zipped file in system hard drive, then the bad sector disk may not allow you to open archive file.
Mismatch always causes unexpected end of file error. It's also called CRC error and coming up when you are handling compressed data type.
Symptoms of Unexpected End of Archive Error?
In reality, that operating system get corrupted can result in unexpected end of archive error and other dangerous errors. When you find these errors on your device, following symptoms should also show up.
The screen will get stuck for a period of time. If you open many sites and apps concurrently, these programs may be forced to exit.
Everything runs slowly. Your mouse and keyboard become less flexible. But be sure to remember, don't generally keep your hands on the keyboard and the mouse.
Once unexpected end of archive error appears, current program window might be crashed.
Your device breaks down persistently showing "Unexpected End of Archive" error while running the identical program.
Fix WinRar Unexpected End of Archive Error
It's usually goes well when you download a rar or a zip file that's lower than 5 mbs. However, if the file size is quite high, chrome will stop downloading halfway and the downloaded speed will be 0 kb/s. Finally, it tells you the download is completed. But when you are going to open this file, it comes with "Unexpected End of Archive" error.
Situation 1. File is Corrupted
If you notice that the downloaded file is smaller than in the link site, it means your file is corrupted. Here are some methods that you can have a try:
Redownload the file
Clear the temporary files
Use a better browser
Try a software download manager
Do a full system antivirus scan
Situation 2. File is Not Corrupted
If the downloaded file size is as same as it is in the link site, then you can use WinRar built-in repair tool to fix this issue:
Open file with WinRar on your device. Select File -> Tools -> Repair. The program will be repaired right now.
In Archive type, you can choose Treat the corrupt archive as RAR or Treat the corrupt archive as ZIP, which is according to your file extension. Then click OK.
The archive file stands a good chance of be repaired successfully on condition that a message pop up saying recovery record found. Click Close button after the repairing process finished.
Now you can extract your archive file. Navigate to Commands -> Extract without confirmation, and then your file will be extracted to the same folder as the repaired archiver.
WinRar Not Working Anymore? Find WinRar Alternative for Mac
To avoid unexpected end of archive error, you'd better do some preventive measures. One of the measures is using a reliable tool for compressing and decompressing files. If WinRar doesn't work well for you, just turn to a WinRar alternative. I have collected a great application named Cisdem Unarchiver for Mac users. You can zip and unzip file with it easily on Mac.

Free Download
Main Features of WinRar Alternative for Mac
Load archive files in batch and extract them with one click
Compress files into Zip, 7Z, Tar format and create a password to protect them
Quickly retrieve your files, photos, and passwords via Keyword Search
Preview files before decompressing it on Mac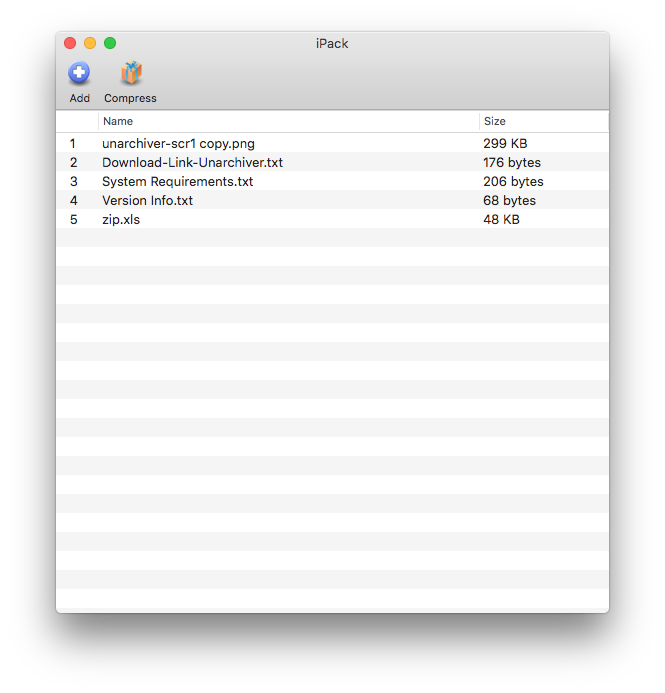 Other Tips to Fix WinRar Error
Back up your file often. In this case, you will no need to worry about the destruction of file.
Download and Update antivirus software regularly to secure your device from harmful viruses.
Supposing that operating system warns the harm that it can cause to your system, please quit download archive attachment from internet immediately.
Avoid interruption while downloading or transferring is in progress.

Jose specializes in reviews, how-to guides, top lists, etc. on PDF, data recovery and multi-media. On his spare time, he likes to travel or challenge some extreme sports.