It is quite understandable that you can open and view an ISO archive on Windows easily. But if you want to open and view ISO file on a Mac? Is there any good ISO Extractor for Mac to open and view ISO files that works as perfectly as that on a Windows PC. Today, you will get to know what is ISO file and which ISO Extractor for Mac is recommended to have a try.
Best ISO Extractor for Mac 2022
Extract files from ISO, Zip, 7z, Rar, Tar and so on
Extract files from encrypted archives
Create Zip, 7z and Tar files
Preview contents in archives
Encrypt archives
Batch support

Free Download
About ISO File
What is ISO File?
ISO, also called as ISO image, is an archive file containing all the contents of every written sector on an optical disc, like CD, DVD or Blu-ray disc. Very often, ISO file is used to launch large programs, since it can pack all the program files in a single package. An ISO file is either burned to optical disc or extracted to save certain files only.
Can We Extract ISO Files?
Yes, of course.
For Windows users, it is just a piece of cake to open and view ISO files, even the operating system Windows 10/8/7 can be obtained in an ISO format. And Windows users are allowed to unzip or extract ISO files with Windows built-in programs.
For Mac users, a mac ISO extractor is required to open and view the ISO files, and there are both online free and offline desktop tools available.
The Best ISO Extractor for Mac 2022
Criteria to Pick a Good ISO Extractor for Mac
There are both online free and offline dedicated ISO extractors for mac users, but how to choose the best ISO extractor for Mac? No worries, we have the rules, focusing on the top concerns of our users:
Easy to use
Fast to unzip or extract---A good ISO extractor should allow users to fast import the ISO archive and compress the files, no matter the original ISO archive is large or small.
Preview contents in ISO archive---This is extremely important since most of the time, we just need to save certain files to our device. Be previewing the files, we can make sure we are extracting the preferred files efficiently;
Support other archive formats---It is recommended that an ISO extractor supports unzipping other archive formats, especially those popular ones, such as RAR, Zip, 7-zip and TAR files
Extended features---Sometimes, you just need to pack files from an ISO file to other archive formats for easy sharing, in this case, if an ISO extractor builds in an archiver will be quite convenient. Also, it is quite useful when such a program support extracting file in batch and support entire or partial extraction according to needs.
To get the best mac ISO extractor, we have tested a number of apps these days. And finally, we come to the top list as following.
What is the Best ISO Extractor for Mac?
Cisdem Unarchiver wins in battle due to its powerful functions and simple design. Firstly, let me briefly introduce it. Cisdem Unarchiver is the Mac Unarchiver and archiver that allows you batch compress files, preview the contents inside archives and unzip (entirely or partially) archive files on Mac. It can open and extract ISO files without any hassle. Even more noteworthy is Cisdem Unarchiver meets all requirements we defined for the best ISO extractor above.
Main Features of Cisdem Unarchiver
Extract files from RAR, ISO, 7Z, ZIP, UDF, WIM, TAR, CHM, HFS, NSIS
Archive and encrypt files to ZIP, 7Z and TAR
Support extract files from encrypted archives
Preview contents in archive
Batch support
High quality
How to Extract ISO Files on Mac with Cisdem?
Step 1

Download and Install Cisdem Unarchiver on your Mac

Free Download
Step 2

Open and preview contents in zipped ISO files on Mac

Double-click the icon and lauch Cisdem Unarchiver. Add ISO files to list and click it, you will see all the files in The middle of the window. You can then select the single file and preview them one by one in the right of the window.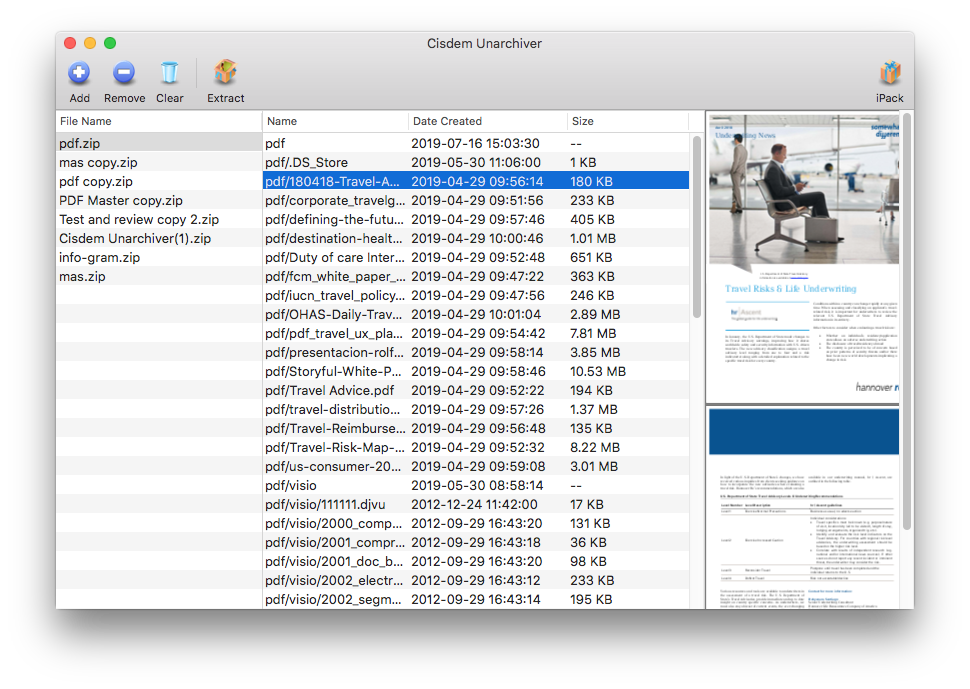 Step 3

Select files to extract from ISO archive

If you have confirmed which files should be extracted, click "Decompress" on the selected ISO files. Then, specify the name and location of the ISO files you want to extract. Finally, save your operation.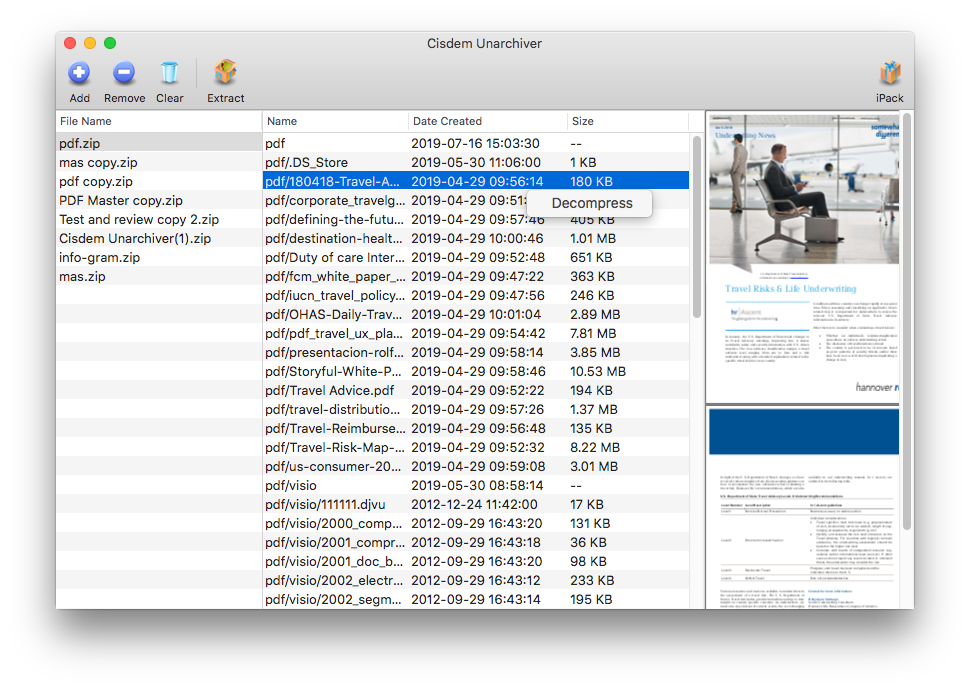 If you would like to read more precise steps or screenshots, go ahead to this article: What is an ISO File and How to Extract ISO Files on Mac?
Other ISO Extractor for Mac (Online Free and Offline)
1. AnyToISO for Mac
As the name suggests, AnyToISO for Mac is a program which can convert files to ISO, extract ISO and create ISO. More specifically, it can also extract DMG, ISZ, BIN, DAA, PDI, CDI, IMG, ZIP, RAR, 7Z, TAR files. When referring to steps, it's very easy to operate. All you have to do is click "File Extract/Convert to ISO", and then extract to folder. But batch operations are supported only using command line. Meanwhile, for other function, it still exists some problems. AnyToISO will not do even a single conversion from DVD media, even if the contents are less than a CD could hold.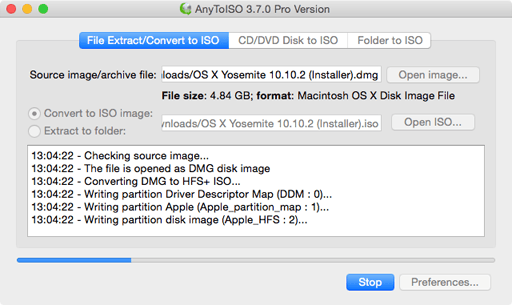 2. B1 Free Archiver for Mac OS
B1 Free Archiver for Mac is a software for creating archive folder and extracting archive file on Mac. It is extremely simple to operate. There is no need for you to consult comprehensive manuals or guides. You can extract compressed archive files, as well as view the content without extracting them to a new folder. The freeware supports most popular formats including ISO. Unfortunately, when you install the software, it apparently requires an internet connection to do so, and it takes a long time. Whenever you actually open and use the program, it takes awhile to load up. Further, if you unchecked the file extensions you didn't want to associate it with, well it doesn't seem to care. It will make every ISO open with this sluggish program by default, and you will have to go back and reset all of that manually.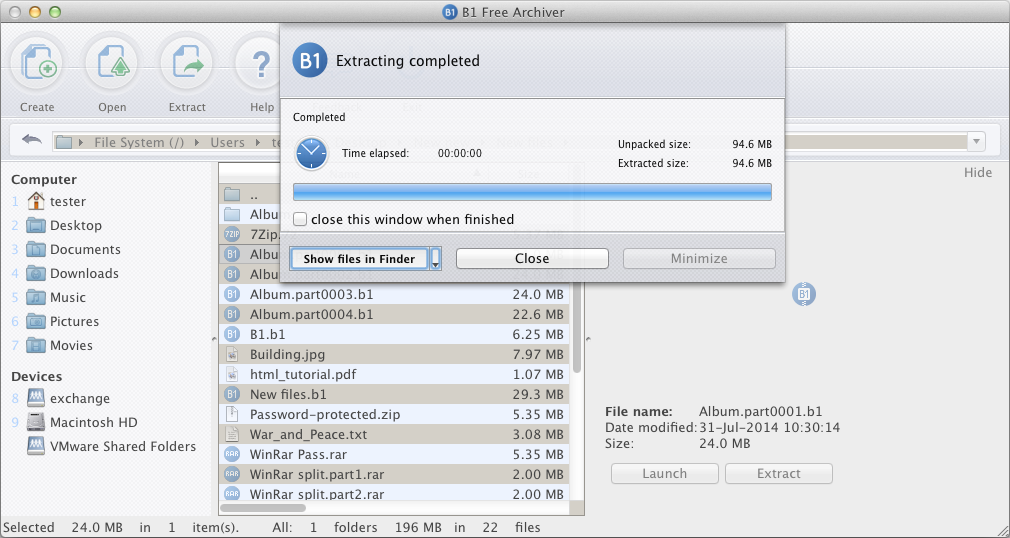 Also, it offers an online free version to extract files from ISO archives, there are less features offered in this online free version, but users are allowed to preview image files in the archive.
3. Extract.me (Online Free)
Extractme archive extractor is an online free program allowing users to extract files from ISO, 7Z, ZIP and other 70 archive formats. You can upload ISO files from your mac, Google Drive, Dropbox or URL for extraction. It processes the extraction fast, but you are not allowed to preview the files before extracting. To save the files into your mac, you need to select and press Shift to download all selected files.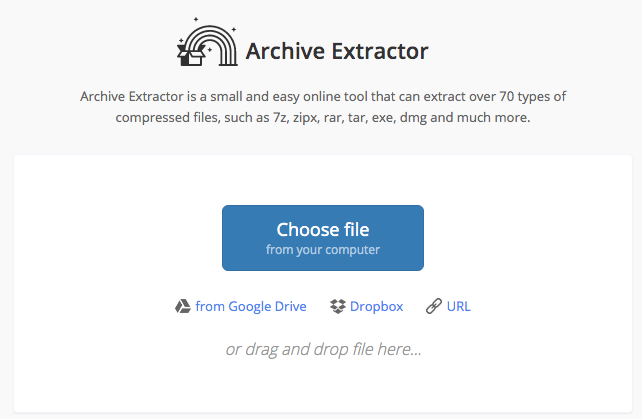 Don't Hesitate. Try Now!
There are more tools out there to extract ISO file on mac, however, it seems that you have abundant reasons to try Cisdem Unarchiver, it can open and extract different files' formats. What's more, you can compress them into Zip, Tar, 7Z formats and save these files with password. Once you pay for it, you will be on life support. But in any case, you'd better try to use the free trial for testing the function before purchasing.

Free Download

Jose specializes in reviews, how-to guides, top lists, etc. on PDF, data recovery and multi-media. On his spare time, he likes to travel or challenge some extreme sports.