This article mainly talks about WhatsApp desktop password protection. It also shows you how to put a lock on WhatsApp mobile app.
WhatsApp is one of the most popular and widely used instant messaging and VoIP services in the world. It allows users to easily send messages, make calls and share files. WhatsApp is available as a mobile app for iOS and Android devices. It also provides a desktop app for Mac and Windows computers. If you want to use WhatsApp in browser, you can navigate to its web site and then link your phone to your computer.
In the digital age, privacy protection is more important than ever. WhatsApp has taken efforts to protect users' data. For example, it puts end-to-end encryption on chats and backup data.
What can users do to protect privacy on WhatsApp? You can sign out of the app, but it will be impractical because you probably use WhatsApp on a daily and even hourly basis. Also, you can lock your computer or phone when you are away from it, but sometimes there are situations where you have to let others use your device. There's a solution! You can lock WhatsApp desktop or mobile app. Let's look at how to set password for whatsapp desktop and mobile app below.
The Best Privacy App to Lock WhatsApp on Mac
Lock WhatsApp and any other apps on your Mac with password
Automatically lock WhatsApp after a period of inactivity
Record failed attempts to access the locked apps
Require password to unlock apps, quit or uninstall AppCrypt, etc.
Also block websites and webpages with password
Offer a schedule feature to lock apps and block websites
Help block distracting, inappropriate or other wanted online content
Can be used for privacy protection, productivity and parental controls etc.
Hard to bypass
Support macOS 10.12 or later

Free Download
How to set WhatsApp desktop password protection on Mac
macOS doesn't come with a feature for you to put a password on individual apps. Luckily, there are third-party tools available. You can easily and effectively password protect WhatsApp desktop with Cisdem AppCrypt, the best app locker and website blocker for Mac.

Free Download
1. Download AppCrypt and install it on your MacBook or iMac etc.
2. The first time you open the tool, set a password.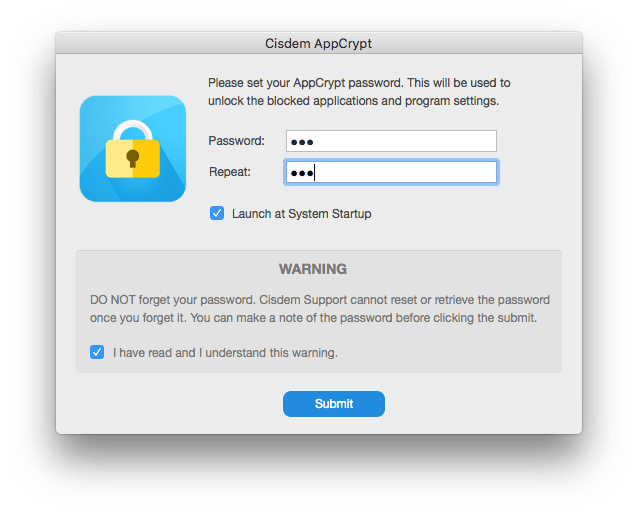 3. When the tool is running, click its icon in the menu bar and choose Open Main Window.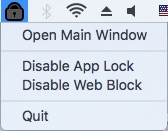 4. Enter the password to enter the main window. Under the App Lock tab, click the plus icon +.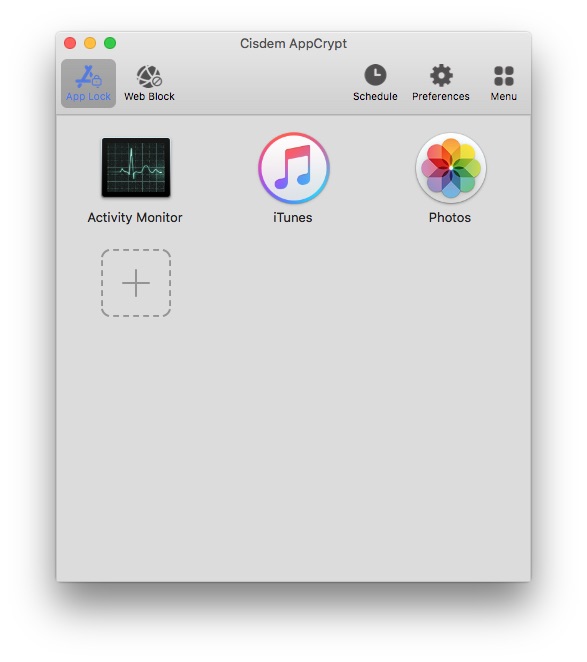 5. Select WhatsApp (and other apps that you'd like to lock) and click Open.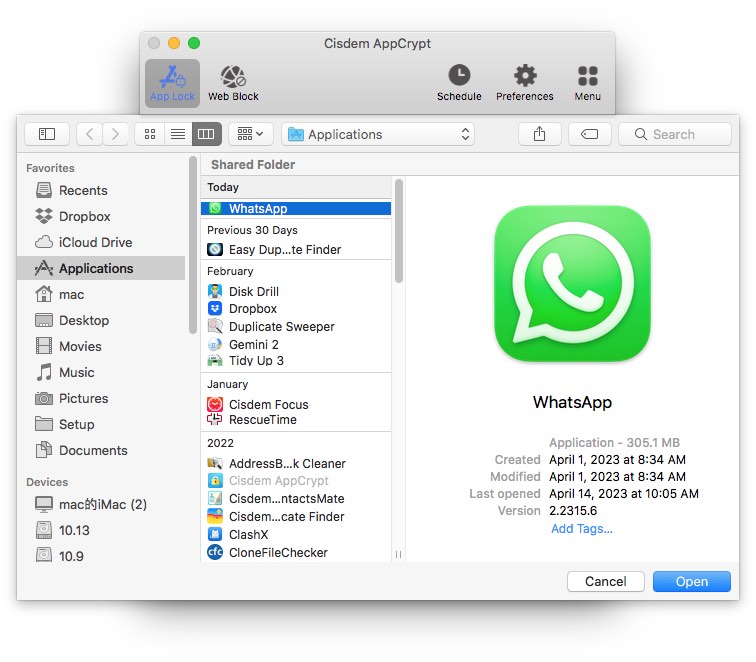 Now the WhatsApp desktop app is locked.
When you or someone else tries to open it, a dialog box will show up asking for password. To unlock WhatsApp, one will need to enter the correct password.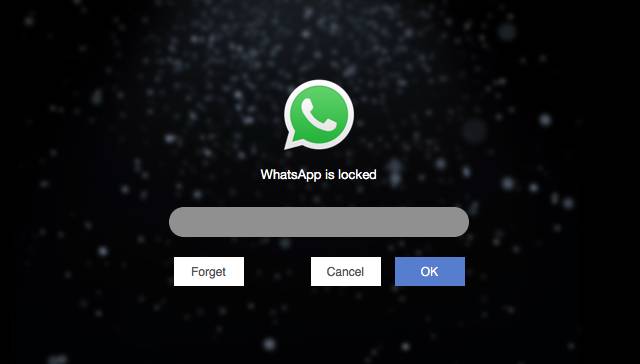 If one enters the wrong password, WhatsApp will still be locked and secured. And AppCrypt will record this failed attempt with the date and time and take a photo of the person who tried to break in.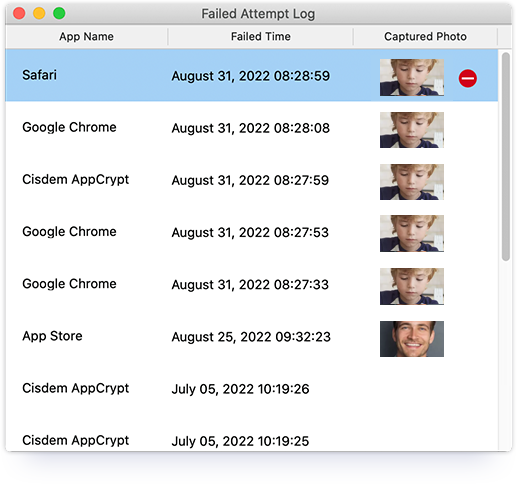 To remove the lock, select WhatsApp under the App Lock tab and press the delete key.
Tips
As long as AppCrypt is running, it will prevent any unauthorized access to the locked WhatsApp. Here is how to make this tool run all the time. Click Preferences

in the toolbar. Enable Launch at system startup.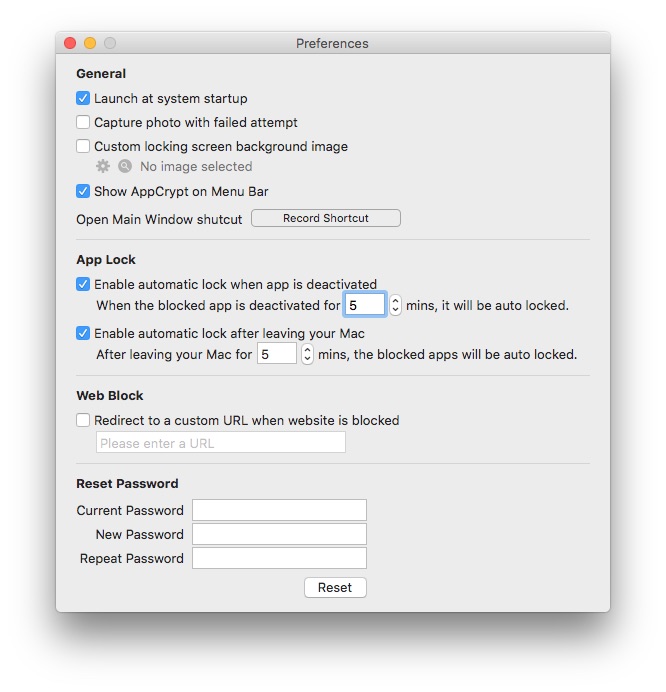 There is also an option, which, if enabled, will automatically relock WhatsApp when WhatsApp is unlocked and inactive for a period of time. Enable the option if needed.
You lock WhatsApp for the sake of privacy protection. If you want to lock certain apps during certain hours to reduce distractions or to limit screen time, the Schedule feature can help.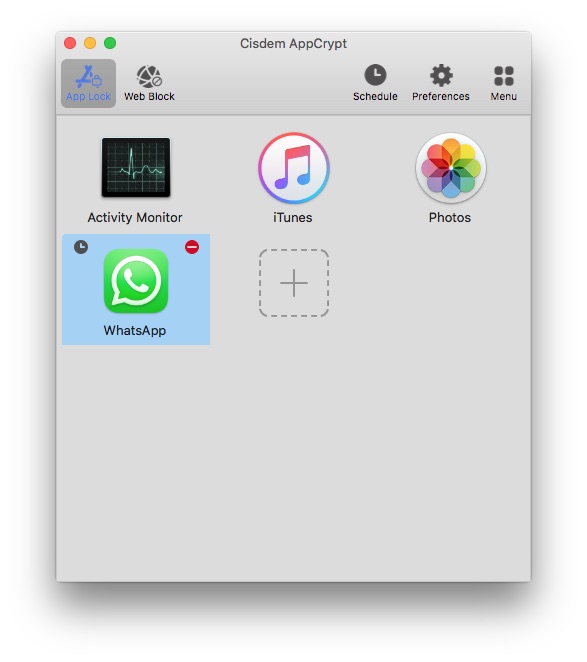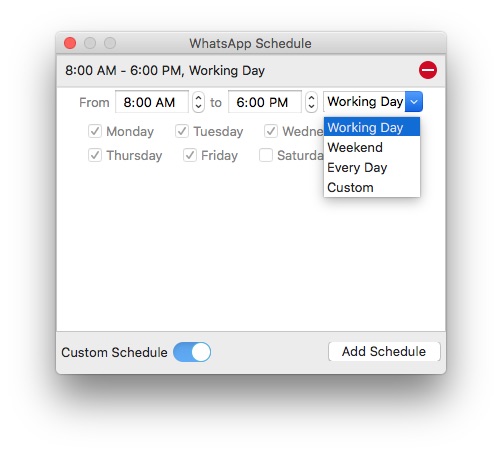 There is also a feature to block websites. Choose the Web Block tab in the main window. You can block specific websites/webpages including whatsapp.com on Chrome, Safari, Opera, etc. To unblock WhatsApp website, just click AppCrypt's icon in the menu bar. Click Disable Web Block and enter the password.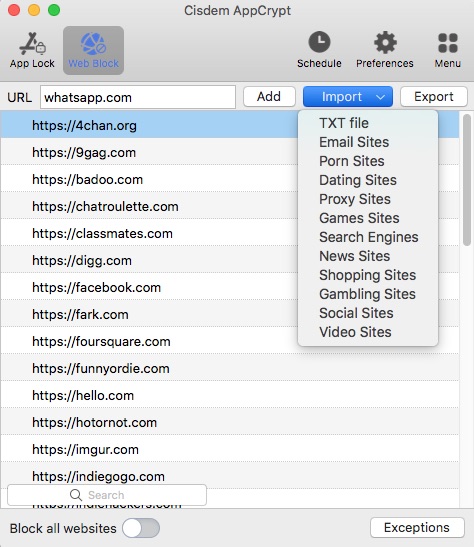 Free Download
How to set password for WhatsApp desktop app on Windows
If you use a Windows PC and want to prevent others who can access your PC from opening your WhatsApp desktop app, you can use My Lockbox. It's easy to use and has a simple interface. Below is how to use it to put WhatsApp desktop password lock.
1. Download and install My Lockbox.
2. Set a password. It's also possible to use the tool without creating a password, but it's strongly recommended to create one.
3. Provide your email address, which is optional.
4. Click OK.
5. In the interface that appears, click Browse. Select the folder where WhatsApp is installed. Generally, you can find it C:\Program Files.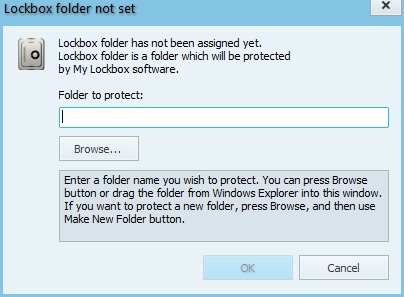 Now WhatsApp is locked. When you try to open it, a message will pop up telling you that access is denied.

To unlock, open My Lockbox and enter the password. And now the Unlock option should be available.
How to lock WhatsApp on iPhone
The content above is for WhatsApp desktop app. Now let's talk about the mobile one.
To offer additional security, WhatsApp allows iPhone users to protect its app with Touch ID or Face ID, depending on the iPhone model.
Note: When WhatsApp is locked, if a call comes in, you can still answer it. And you can still reply to messages from notifications.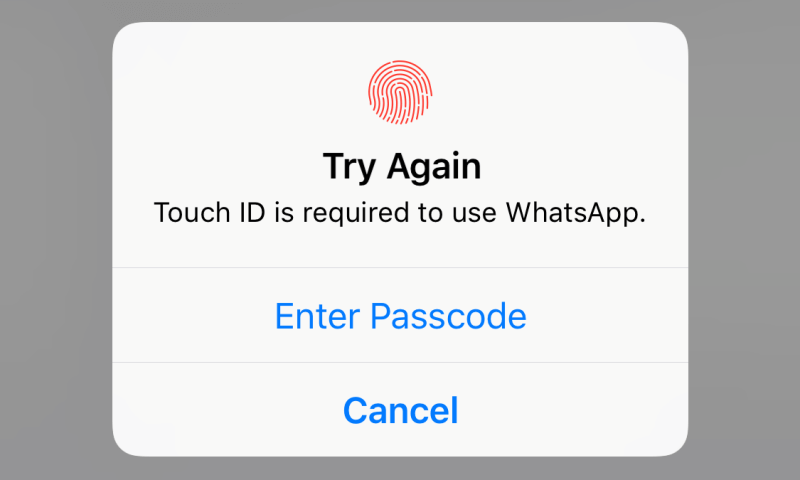 Models supporting Face ID: iPhone 14 Pro Max, iPhone 14 Pro, iPhone 14 Plus, iPhone 13 Pro Max, iPhone 13 Pro, iPhone 13 mini, iPhone 13, iPhone 12 Pro Max, iPhone 12 Pro, iPhone 12 mini, iPhone 12, iPhone 11 Pro Max, iPhone 11 Pro, iPhone 11, iPhone XS Max, iPhone XS, iPhone XR and iPhone X
Models supporting Touch ID: iPhone 5s, iPhone 6, iPhone 6 Plus, iPhone SE (2016), iPhone 6s, iPhone 6s Plus, iPhone 7, iPhone 7 Plus, iPhone 8, iPhone 8 Plus, iPhone SE (2020)
To be able to use Touch ID or Face ID for WhatsApp, you need to first set up Touch ID or Face ID in your device's settings.
1. Open WhatsApp on your iPhone.
2. Tap Settings in the lower right corner of the screen.
3. Go to Privacy > Screen Lock.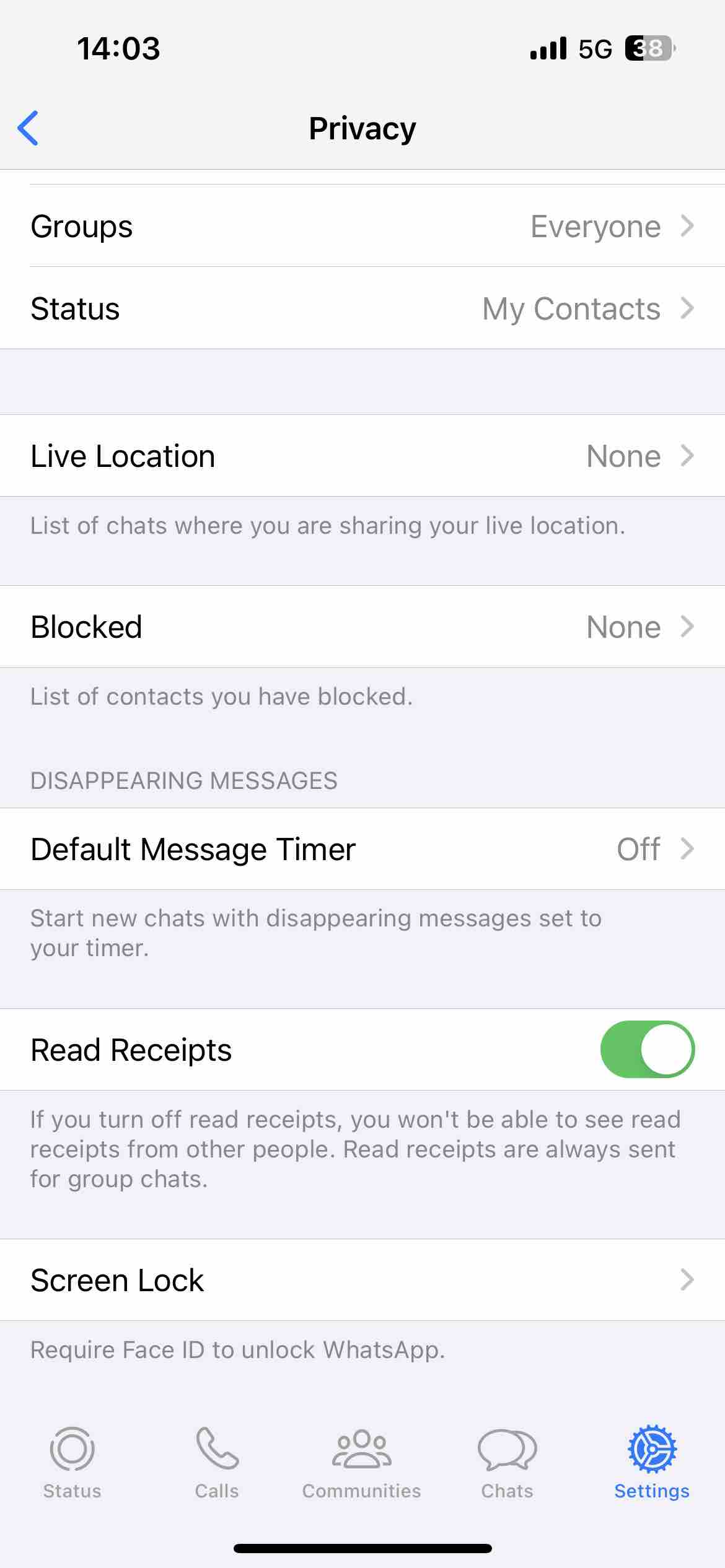 4. Enable Require Face ID or Require Touch ID.
5. From the three options allowing you to decide how often the WhatsApp lock will ask for fingerprint or face recognition, select the option that suits your need.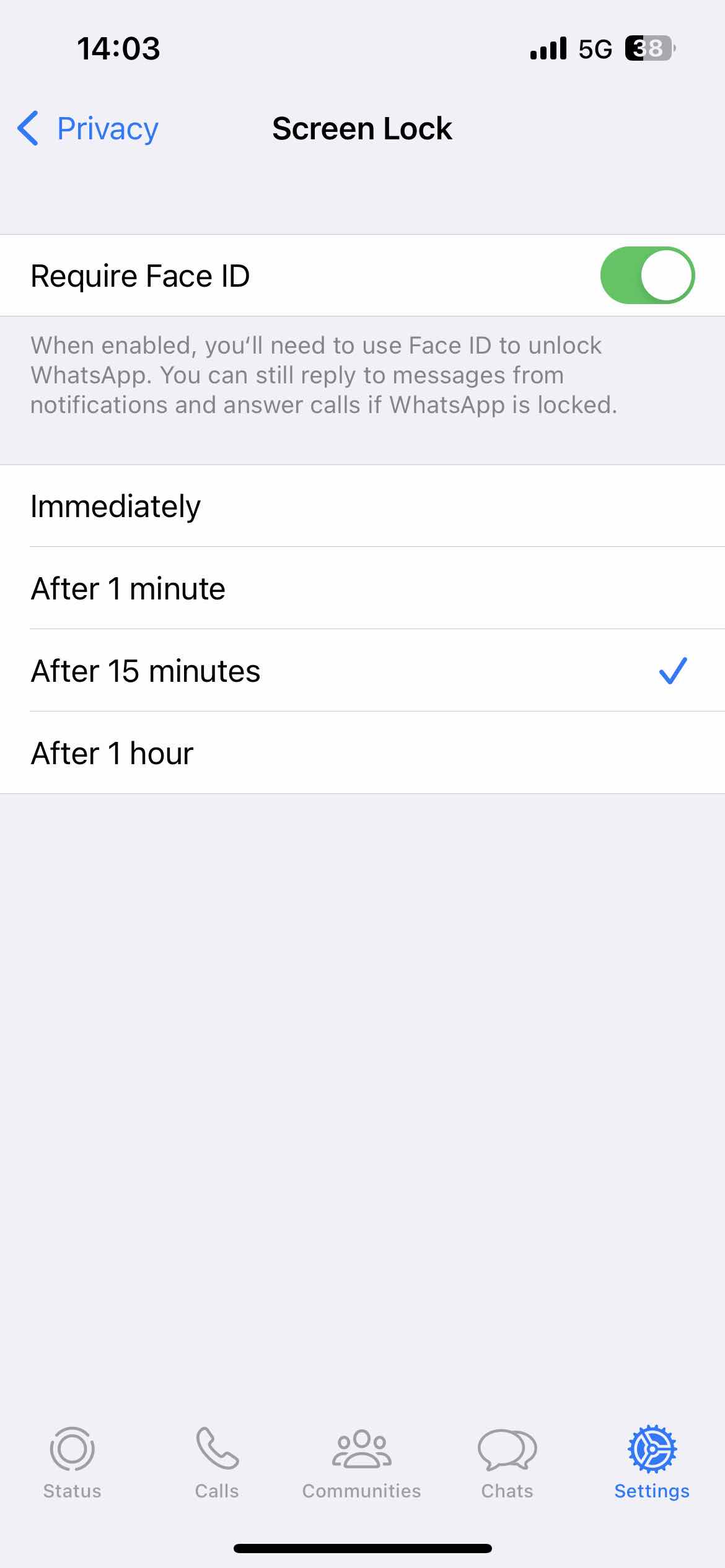 How to put lock on WhatsApp in Android phone
Before October 2019, there were two ways for Android users to secure WhatsApp app. If your phone provides a built-in feature to lock apps, then you can readily use it. If not, you can use a third-party app locker. On October 31, 2019, WhatsApp introduced fingerprint lock for Android. Note that it's only for Android devices with a fingerprint sensor running Android 6.0+. And it doesn't work on certain Samsung models (Samsung Galaxy S5, Samsung Galaxy Note 4, or Samsung Galaxy Note 8).
Also note that the locking doesn't prevents you from answering a WhatsApp call.
Set up fingerprint on your phone.
Open WhatsApp.
Tap the 3-dot icon and select Settings > Account > Privacy.
Scroll down and tap Fingerprint lock.
Enable Unlock with fingerprint.
Confirm your fingerprint by touching the sensor.
Select the amount of time for WhatsApp to automatically be locked by fingerprint.
If you turn on the option Show content in notifications, you will be able to preview messages inside message notifications.
To turn off the fingerprint lock for WhatsApp, go to the app's settings and turn off Unlock with fingerprint.
Use WhatsApp web? Try this tool to lock it
Above are how to password lock WhatsApp app on desktop and mobile. How about WhatsApp web? Although its web version is limited in some features, some users still used to using it on the web for saving memory or other reasons. Fortunately, there's a Chrome extension can help you use WhatsApp web safely.
Password Lock for WhatsApp Web allows you to password protect your WhatsApp web account on Chrome browser. Once adding this extension, it'll prompt you to set a password the next time you visit WhatsApp web. Then the password will be required every time you or other users of this computer try to access WhatsApp web. What's more, to further protect your privacy, this extension enables you to password lock WhatsApp web instantly. Just click the Chrome extension icon on the top right corner. Tap on this WhatsApp locker extension to activate it quickly.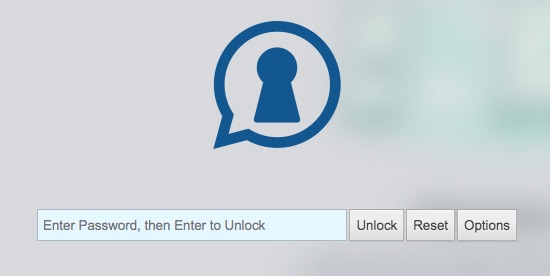 Conclusion
As you can see, it's easy to apply WhatsApp desktop password protection and mobile app fingerprint locks. By doing so, you can keep your chat, conversations and privacy away from prying eyes. If there isn't a built-in feature to lock apps, you can turn to third-party solutions such as AppCrypt for Mac. In addition to adding WhatsApp lock, you can also use the same tool to lock other apps on your computer.