Tumblr is a popular blogging and social media platform that allows users to post videos, images, concise texts, and more. It hosts millions of short blogs, most of which contain videos. When you flip through Tumblr, you probably want to see those interesting videos. But sometimes it happens that "Tumblr videos won't load". If your videos are not playing on Tumblr on computer, read this article.
Symptoms When Tumblr Videos Won't Load
When Tumblr videos won't play, the symptoms they present are different. I have collected feedback from forum users about the problem. If you are also experiencing something similar, it's time to fix it right away.
Only a few seconds of HTML5 video embedded in Tumblr can be played. Then "broken content" icon is displayed.
The video keeps loading and crashing (icon keeps spinning). It just doesn't play, no matter how long you wait.
Nothing happens when you click the triangle or arrow play button in the video
The video window remains black, and has nothing to do with the real video size, all expressed as 0:0.
The rectangle to play Tumblr video is grayed out
Indicates that the video format can't be opened
Why Tumblr Videos Won't Play and How to Resolve?
1) Clear cache & cookies
Insufficient memory is the main reason lead to Tumblr videos not loading. So the first measure is to clear cache.
On Chrome:
Click on the three vertical dots icon, situated in the upper right corner.
Hover over "More Tools," and then click "Clear Browsing Data".
Choose the period of time you wish to delete "Browsing history", Cookies and other site data", and "Cached images and files". If needed, switch to the "Advanced" tab to tick more options.
Hit the blue "Clear data" button.
On Firefox:
Click the "Open menu" icon in the upper right corner. Select "Preferences" in the drop-down text menu.
The about:preferences web page will be opened. In the left panel, click "Privacy & Security".
Navigate to "Cookies and Site Data" and hit "Clear Data" to open its dialog.
Click "clear".
On Safari:
Click the "Safari" menu in the top left of the screen to expand Safari specific options.
Choose the "Clear History" item.
A small dialog pops up. To fully clear your history, cache & cookies on Safari, choose "all history", and clear it.
Although Tumblr runs through a web browser, playing videos on a computer takes up high CPU and memory usage. You can close all unused apps and background utilities (via Task Manager on Windows, Activity Monitor on Mac) to free up as much system space as possible.
If the problem is not resolved, restart your computer or reinitialize the Internet router.
2) Update web browser
Outdated web browsers might also cause "Tumblr videos won't load" issue. Check your browser. If you are still using the old version, upgrade it and then replay Tumblr videos.
Chrome: Update Google Chrome
Firefox: Update Firefox to the latest release
Safari has no official instructions. You can refer to these two articles:
https://www.whatismybrowser.com/guides/how-to-update-your-browser/safari
https://helpdeskgeek.com/how-to/update-apples-safari-browser-in-windows/
3) Uninstall or disable Ad blockers
Some ad-blocking extensions or add-ons can result in Tumblr video not playing. Note: You should try to play Tumblr videos in incognito mode first, as the extensions are unable to be used in incognito mode.
On Chrome:
Click the three-dot menu icon in the upper right corner of the window.
Head over to "More Tools" > "Extensions".
Find the ad blocker. Remove it or click the slider to disable it.
On Firefox:
Click the menu button in the top right.
Once the about:addons page opens, go to "Extensions" tab.
Locate the ad blocker that makes videos on Tumblr not loading. Click "Disable" or "Remove".
4) Install a VPN
When your Tumblr videos won't play, it is not necessarily an accident. Some countries or regions explicitly prohibit access to the Tumblr website. You need to install a VPN to bypass geographic restrictions, ISP throttling, access regionally restricted content, etc.
To confirm this fact, you can see whether images, text, etc. can't be loaded as well.
5) Find help from Tumblr
Another scenario is that Tumblr's server is overloaded, causing Tumblr video not playing.
Like the servers of Facebook, Twitter and other social media sites, Tumblr's server has a set maximum capacity. If it's exceeded, the website gets crash.
You can check Tumblr outages reported in the last 24 hours via the Down Detector platform. If someone has reported the same problem, you can wait for a prompt external fix. If not, click "I have a problem with Tumblr" to send your report.
6) Use alternatives to Tumblr
Reddit users recommended installing the Tumblr alternative, such as Sappһire by Awefull (free), Blue Sapphire by gaurav.sharma (free), and Turtle Blog Viewer by Selom ($1.99).
All-in-one Solution to Fix Tumblr Videos Not Loading
Whatever the reason is that Tumblr videos won't load, you just need to download Tumblr videos for playing them offline smoothly. There are two stuffs you should use - a Tumblr video downloader and URLs of the Tumblr video you would like to download.
Cisdem Video Converter for Mac is a special program developed for the purpose to download videos from any video streaming site, including Tumblr.com. You can download Tumblr HD clips and audio easily. It won't lose the original video quality, even 8K videos.
It's multifunctional that lets you edit downloaded Tumblr videos and convert them to 300+ formats for playing on mobile phones, tablets, or other devices without Internet connecting.

Free Download
Steps to fix videos not playing on Tumblr:
Step 1 – Open the Tumblr video downloader
Launch Cisdem Video Converter on your Mac. Click the

icon at the top of the interface to switch to the download tab.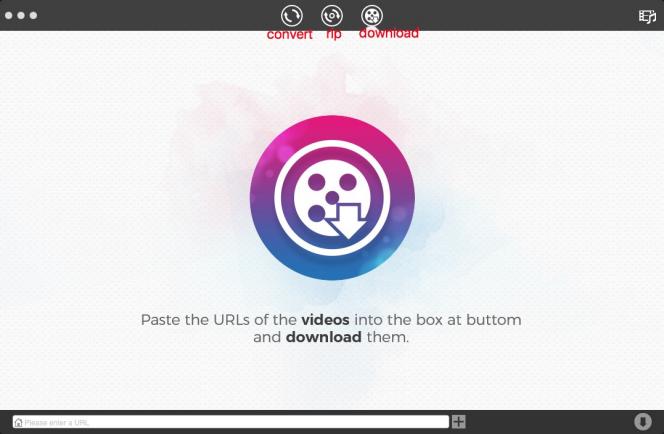 Step 2 – Copy the URL of the Tumblr video
Go to https://www.tumblr.com/ to find the video you want to download. Right-click the video to copy its address or click "share" icon > "Copy link".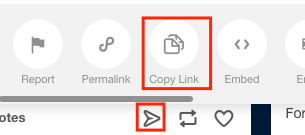 Step 3 – Download Tumblr video (batch supported)
Back to Cisdem Video Converter, and paste the Tumblr video URL into the text field at the bottom. Click the

icon.
You are able to download any Tumblr videos that won't be loaded at the same time. Continue to add the URLs!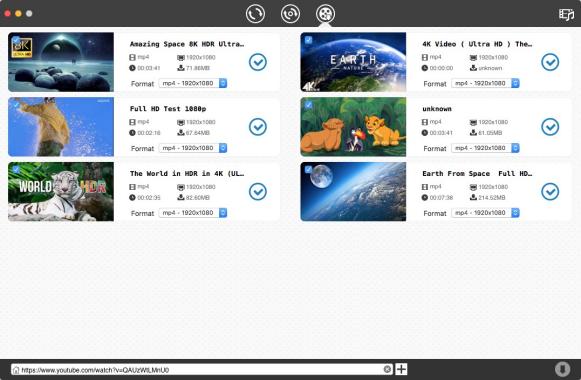 Step 4 - Convert Tumblr video to MKV, MOV, HEVC, etc.
The downloaded Tumblr video is in MP4 format by default. You can also complete the conversion of MP4 to other formats within this software.
Click the

icon at the top. Drag-n-drop videos into the interface, click the

icon to choose the output format and convert it.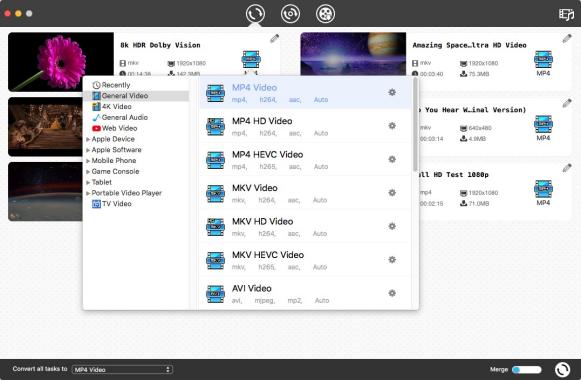 Free Download
Conclusion
So, you don't have to worry that Tumblr videos won't load. You can find a suitable solution for different reasons. In case they can't help, the best way is to download Tumblr videos you desire to play via their URLs. It's very easy.
Note: Tumblr is highly customizable, adding too many extra features will make Tumblr videos loading slowly. To obtain a faster speed on your Tumblr, you can by disabling GIF/endless scrolling and use the default dashboard theme.