What is the best WPS reader for Mac? How do I open WPS files without Works? This article provides a list of the 6 best WPS viewers for Mac and Windows in 2020. WPS or .WPS files are created by Microsoft Works, an office suite developed by Microsoft. Although Microsoft Works has been discontinued and replaced by a more advanced suite for years, there are still many occasions where we need to open and view Works WPS files.
The Best WPS Viewer for Mac
Open WPS file on Mac
Can convert WPS to PDF, RTFD, JPG and more formats
Also let you view 7 other file types like PDF, XPS, Visio, OXPS, etc.
Offer useful tools such as Search, Bookmark, Print, and Extract Images
Provide multiple view modes, easy navigation, smooth zooming and more
Support macOS 10.11 or later

Free Download
The best WPS readers for Mac
Compatible only with macOS 9 and earlier, the Mac version of Microsoft Works was discontinued long before the discontinuing of Windows version in 2009. How can I open a WPS file without Works? It's a question that Mac users may ask. The good news is that there are a few great third-party WPS viewers for macOS.
#1 Cisdem Document Reader for Mac
Cisdem Document Reader is an easy-to-use versatile app allowing you to easily view and manipulate 8 types of files including WPS files. As a WPS reader for Mac, it provides the following benefits.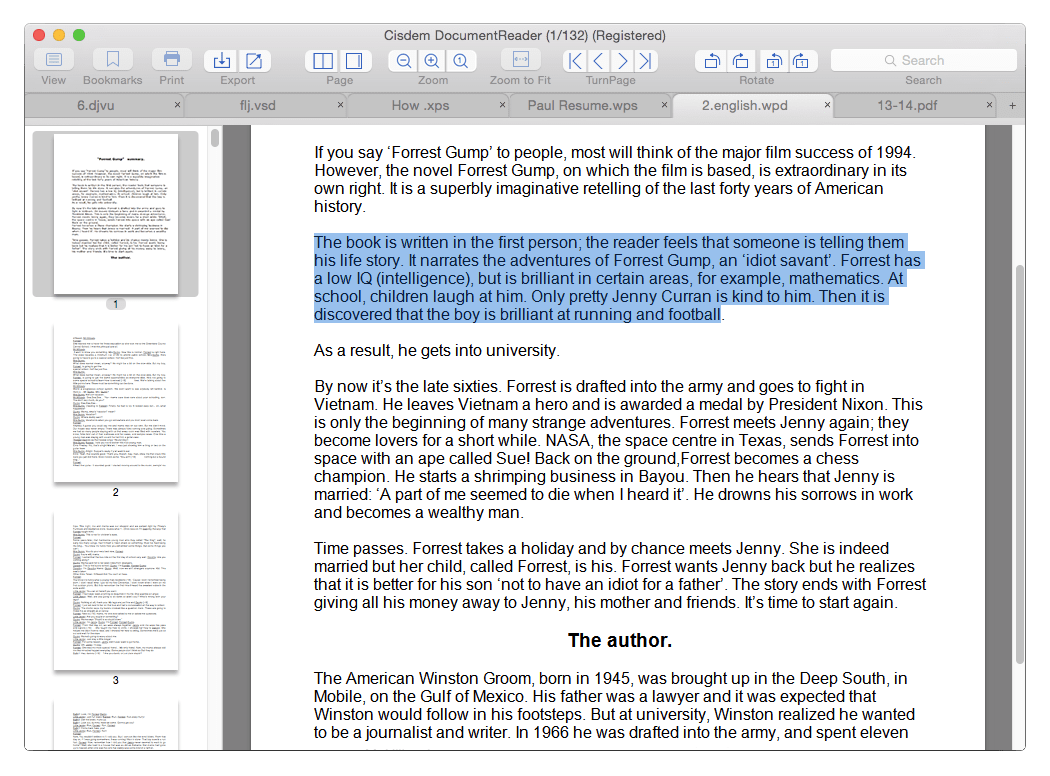 Let you view Microsoft Works WPS files on Mac
Support files created by different versions of Works
Handle large files smoothly
Fully display file content including the original text style, images, graphics, tables, hyperlinks, layout and formatting
Provide tab view for multiple WPS files, allowing quick switching between files
Offer multiple view modes such as Thumbnail view
Come with useful tools like Zoom, Rotate, Print and Search
Make it easy to customize toolbar for better user experience
Also enable you to convert WPS to PDF, RTFD, TXT, JPEG, PNG, TIFF, BMP and GIF

Free Download
In addition, it's more than a WPS file viewer for Mac.

Support 7 other file types such as PDF, WordPerfect, DjVu and Winmail.dat
Enable you to extract images from supported files
Step 1. Download and install Cisdem Document Reader. Launch it.
Step 2. Drag one or more WPS files into the app. Alternatively, you can add files by clicking Open Files.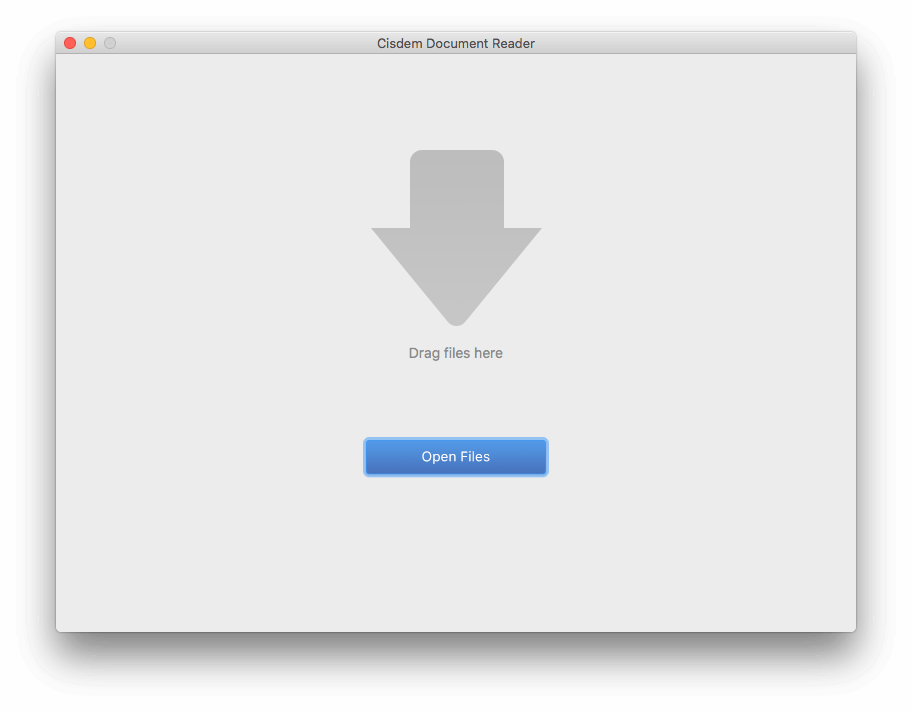 Step 3. Now you can easily view and handle your files. From the toolbar at the top of the interface, you can change view mode and select a tool to use. For example, you can set it to zoom in, zoom out or display actual size.
#2 WPS Viewer for Mac
As the name suggests, the app is especially designed for the purpose of viewing WPS files. It's lightweight and easy to use. You can easily enable Thumbnail view and choose from the 4 display modes it offers. By zooming in/out or selecting Zoom to Fit, you can have better reading experience. It's easy to turn pages, which only requires clicking a button in the toolbar. No essential function is missing. Additionally, it also offers additional tools such as Image Extraction.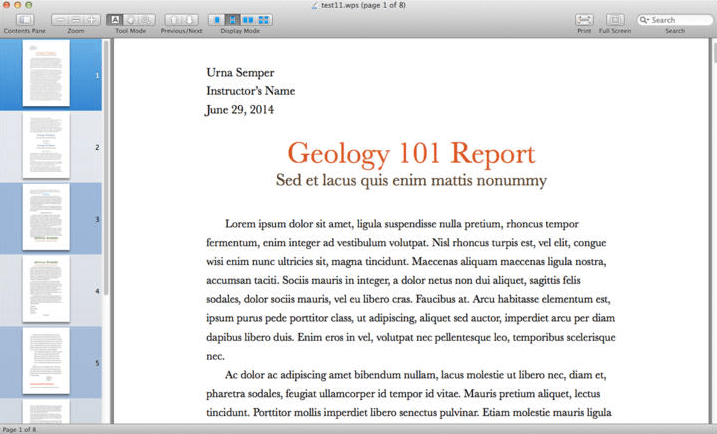 This free WPS reader for Mac only allows you to view the first half part of a WPS file. To be able to read the entire file, you need to purchase the pro version Works Viewer Pro. The app hasn't been updated for a while and isn't optimized for macOS 10.15 Catalina.
#3 Lawbox Works Document Viewer for Mac
With this WPS reader for Mac, you can directly view files created by Microsoft Work without having to convert the files to a widely compatible format. Just get this app installed on your Mac and start viewing. In addition to viewing, you can also search, select and copy text content in a file.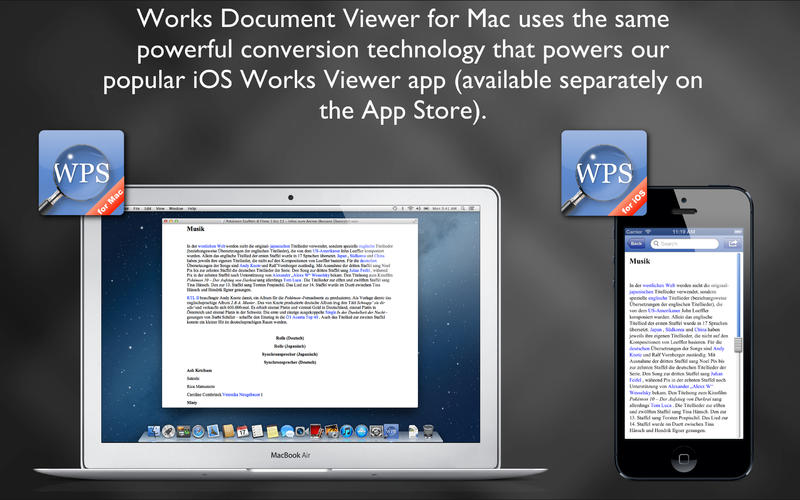 What's more, you can also use it to convert your Microsoft Works file to a text, Word, or PDF file, which can be useful. Note that the conversion will result in the removal of certain things such as page breaks, columns and headers.
The best WPS readers for Windows
#1 Microsoft Works
If you have Microsoft Works installed on your computer, it's undoubtedly is the best choice. There is no need to install third-party software. There are totally 9 versions of Microsoft Works for Windows, with version 9.0 being the last one. According to some PC users, Works 9.0 can work on Windows 10. At the same time, it doesn't work in many cases. You can check out this Wikipedia page to find out the compatible operating systems for different versions. It's the creator of WPS files and a perfect viewer of such files.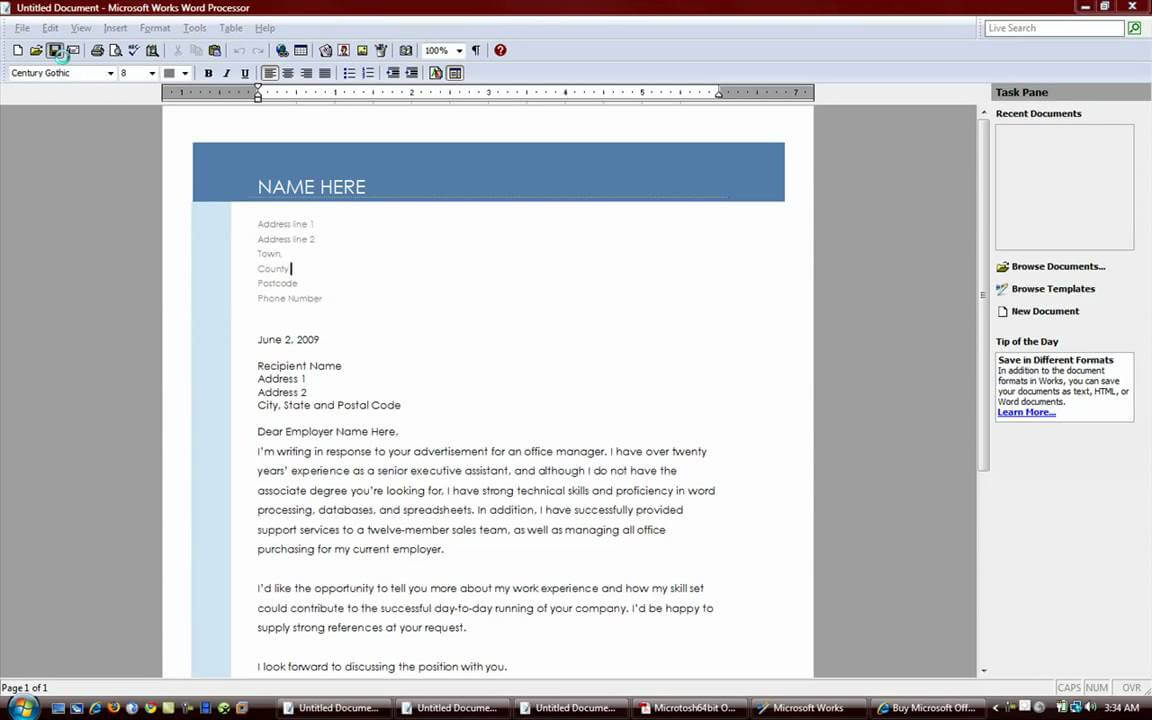 #2 Microsoft Word
For Windows users who are looking for a way to open WPS files without Works, Microsoft actually provides a solution. You can try to open the file using Microsoft Word. Make sure that you choose the option (*.wps) from the dropdown list. If it doesn't work, please install a utility called Microsoft Works 6–9 File Converter, which will help make your Word a WPS reader.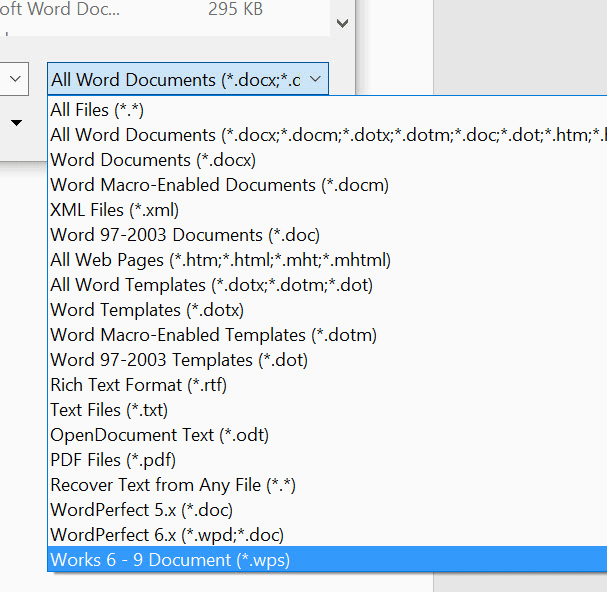 #3 File Viewer Plus
This Windows-only app does a good job of opening WPS files, but it's far more than a WPS viewer. It's versatile with support for a wide variety of file types and formats. The interface looks similar to that of MS Word. As a result, you won't need to spend time getting familiar with this app.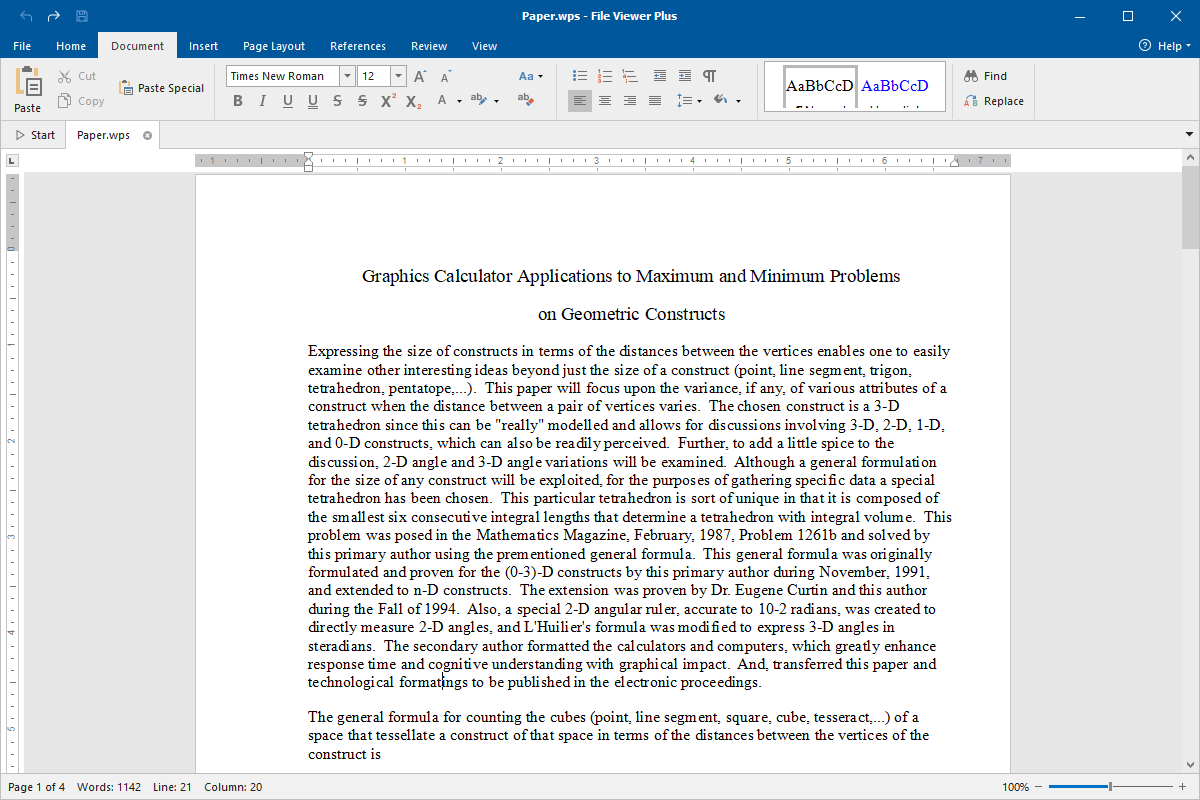 It also enables you to export WPS files to PDF, TXT, EPUB, HTML and a few other file types. What's more, it provides batch conversion. As it only supports basic formatting, you may not be happy with the conversion result if your file is in rich formatting. It's a paid app with a 14-day free trial.
An alternative solution
Except using the third-party WPS reader, the other way to view WPS file on Mac is converting it to PDF. Zamzar WPS to PDF is an online converter, which allows you to convert your WPS file to PDF so that you can open it effortlessly.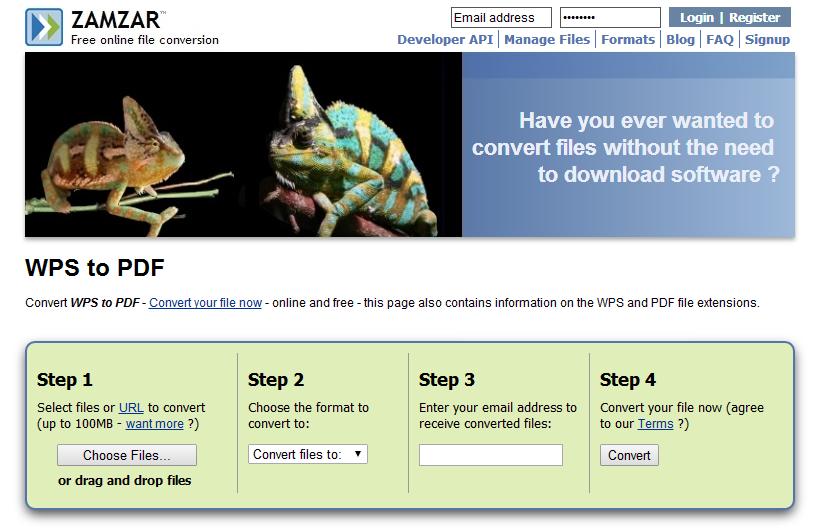 It is excellent for its ease of use and no need to download. But it does not allow you to preview your WPS file and may not able to guarantee the quality of transformation.
Free Online WPS to PDF Converter is another online converter which aims at convert documents and images to PDF. You can upload your WPS files or provide a URL for website, it will help you to convert to PDF instantly.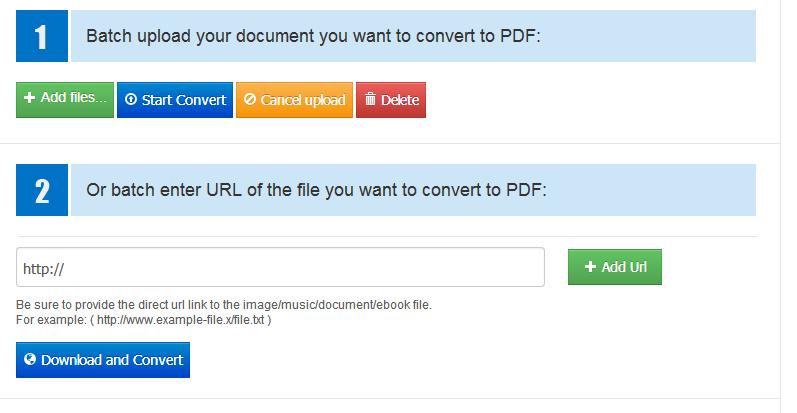 This app is totally free, but the free converter usually can't ensure all elements are in accordance with the original file. And other shortage is the same with Zamzar, it can't preview your WPS file.
Conclusion
Thanks to a WPS viewer, it's possible to open WPS files without Works. Windows users can easily install Works if haven't yet and use it to manipulate such files. For macOS users, Cisdem Document Reader can be the best WPS reader for Mac due to ease of use, great reading experience and useful tools.