"My iPhone is running very slowly, what can I do to improve the speed? In the following days, I will spend my holiday with my boyfriend. And I may also take many photos. But this iPhone has already stored many files. I really need help. Thanks." From Rebecca.
As winter has gone, warm sunshine brings us a new season. It is the best time for spring cleaning. Besides making your house tidy from roof to floor, you will also need some tips for your iPhone cleanup to make it a new iPhone as it is in a mess after the long wet cold time.

Clean up Your iPhone Screen
Unplug the iPhone or iPod Touch and shut it down. If you attempt to clean the screen of the device while it is still turned on, you risk permanently damaging it.
Wipe off fingerprints with a microfiber cloth. Your device may have come with a small, soft cloth that is made to be lint-free. This type of cloth won't scratch the surface of the iPhone or iPod touch. Gently wipe the screen from top to bottom with the cloth to remove fingerprints.
Dampen the cloth to remove sticky substances. If your device's screen has a bit of dried soda or some grime that you couldn't wipe away with the cloth alone, you can wet it a little with clean water. Moisten it with a few drops, squeeze it out, and use the dampened cloth to remove the stuck-on substance.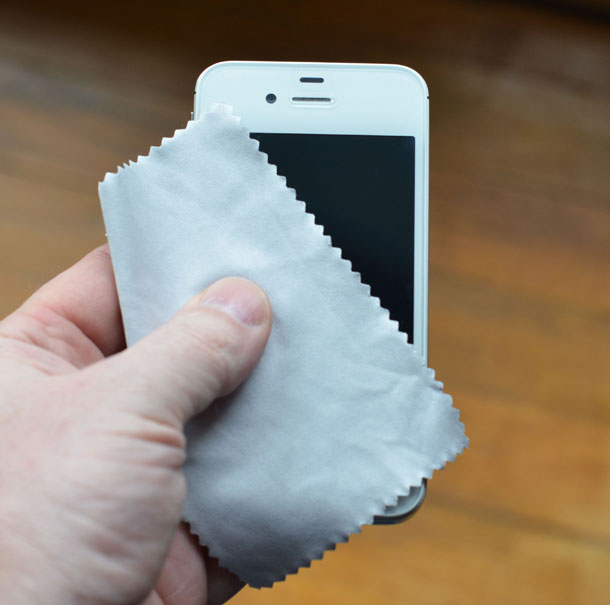 Clean up Your iPhone Unnecessary Data
First you need to check how much storage of your iPhone is taken up by what files. Find in the setting--general--usage to view them in your iPhone. Then what you need to do is to cleanup all the unnecesary app, cache, temp and other junk files. Here below are the specific steps:
Download free trial version of iPhone Cleaner and launch this iPhone Cleaner app on your Mac.

Free Download
Connect your iPhone to Mac and all the files will be listed in Device Manager. With this you will be aware of which files to be reserved and which ones to be cleanup.
Click "App Cleaner" button to scan all your apps and delete the ones you would like to remove from your iPhone. This app will list the documents, cookies, junk files and other data produced by your apps, photos, videos, etc. You can remove these files to free up iPhone space.
Can't Miss: How to Clear App Cache on iPhone and iPad
If the operations above still can not meet your demand of storage space, it is perhaps because large files fill too much of your iPhone storage. You can find them by clicking the relative option and cleanup unnecessary large files.
Before cleanup the unecessary files, it is important to backup the files which your think are important in your iPhone. This can be achieved by iPhoneCleaner's specialized function. Then you can make iPhone file cleanup at any time according to your demand without worry about the loss of data. You can get back to the backup when you are in need of any part of it.
Cleanup contact on Mac is also helpful for iPhone users if you sync your contact between iPhone and Mac.
After these steps of iPhone cleanup, I believe you are now feeling like having a new iPhone. To know more about how to speed up your iPhone, click iPhone Cleaner to view useful specifications.

Megan has an impressive deal of experience with Mac software and has the ability to explain tech stuff in a simplified, straightforward and easy to understand way.