El Capitan (OS X 10.11) introduced the new Mac split screen feature called Split View. It enables you to drag the window to either the left or right side of the screen to snap it as a "full screen" app. Although it does improve the productivity to some extent, you may still need Split View alternatives, because:
It doesn't work with all apps.
You are using Yosemite, Mavericks and Mountain Lion, and don't want to upgrade to macOS El Capitan or later.
Instead of having to manually resize and arrange the windows as you like, here we will discuss how to do split screen on Mac as well as the best Mac Split View alternatives for you.
Best Software to Fix Mac Split Screen Not Working
7 pre-defined modes to quickly resize the window
Control window with custom keyboard shortcuts
Create any number of layouts with independent grid size
Nattily arrange multiple windows side by side, no need to switch them
Fully compatible with the old or new Mac systems: split screen Mac Yosemite, High Serria, Majove, Catalina, etc.

Free Download
How to Split Screen on Mac with Split View?
Split View assists you to run two applications into full screen, placing them side-by-side on your display. There are two methods to enter Split View on Mac:
Use the Full-screen Button
Click and hold the full screen button- the green button, which is in the upper left corner of any of your opened windows.
Keep pressing the button > drag the window to the shaded area of the screen > release the button.
All your active applications will on another side of the screen. Just click the app you desire in Split View.
Use the Mission Control App
Hit Control key and up arrow simultaneously, it will take you to Mission Control. You can see one desktop at the top and windows shown with little blue boxes around.
Click the "+" button in the upper right corner to add a new desktop.
Drag any window to the new desktop.
Send another window to the same screen thumbnail.
Click the thumbnail of the new desktop, you will find the two windows entered into Split View.
When Mac split screen not working, head over to Apple menu > System Preferences > Mission Control, and check if the option "Displays have separate spaces" was ticked or not.
The Most Efficient Way to Split Screen on Mac
It's necessary to look for the most effective way to split screen Mac. Don't casually pick a program from Google Store, and make sure you have chosen the appropriate one. As a bad app would damage your system, plus, some paid apps may not up to your expectation, but money wasted.
Cisdem Window Manager is an innovative and thoughtful program, which not only allows you easily split screen and position window but also offers you kinds of particular effects. It truly is the best software for Mac users who does not have much experience in splitting screen.
Compatibility: OS X 10.8 Mountain Lion or later
Why Choose Cisdem Window Manager
Open the app preference with global shortcut
Do Mac OS split screen via mouse, keyboard shortcuts and grid
Set the edges and borders, or ignore them
Revert to original window size if the window is dragged away
Support to handle 99% of apps

Free Download
How to Split Screen on Mac Yosemite or Other Versions?
The operation of splitting the screen with Cisdem Window Manager is very simple. If you are the first time to use it, please follow my step-by-step guides.
Step 1. Download and install Cisdem Window Manager
Click the icon or the hyperlink below to download the program. It won't slow down your Mac due to the lightweight and nearly taking zero CPU.

Free Download
Download the free trial right now!
Step 2. Authorize access to the software
When launching the software, a dialog pops out prompting that the software would like to control your Mac using accessibility features. Click the "Open System Preferences" button > click the lock icon for making changes > check the option- "Cisdem Window Manager".

Step 3. Customize the settings (Optional)
Set the general attribute if necessary, for example, you can choose whether starting this application when you launch your Mac or not. As for other settings, you can read the following image to earn more details.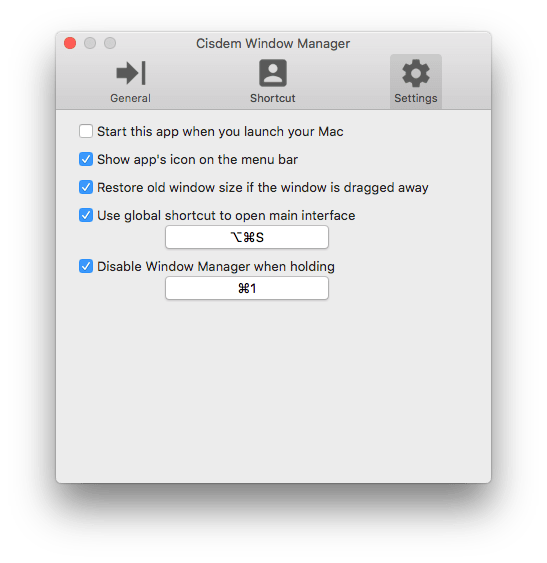 Step 4. Split screen on Mac
Cisdem Window Manager supports 2 different ways to do Mac OS X Yosemite split screen:
Easily drag and set the position and size of windows by 7 pre-defined "hot zones".
Split and arrange your screens with the grid system and unlimited user-customizable keyboard shortcuts. Name the shortcut > set the keyboard and grid > navigate to "Advanced" to personalize the screen edges and borders.
More Alternatives to Split Screen Mac
#1. Moom
Moom, a small independent company, offered by Many Tricks, empowers you to split screen on Mac with keyboard shortcuts or the mouse, or to mix up the two. Moom takes its name from the conjoining of "Move" and "Zoom", as these are the two main things you can do with the app. It lists common window configurations: maximized, top half, bottom half, left half, right half, for you to select from.
Compatibility: OS X Lion or later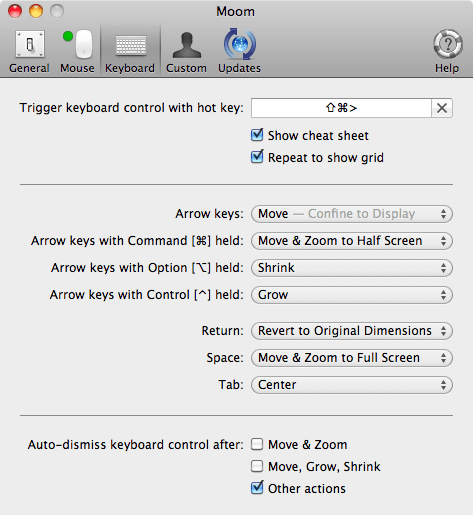 Pros
Once it's set up, it runs quietly in the background
Many preset keyboard shortcuts already set
Cons
May get frozen sometimes and needs to be killed in Activity Monitor periodically
Doesn't work with every window
The settings for the app are pretty jumbled and are hard to get a grip on, especially for first time users
#2. SizeUp
SizeUp allows you to quickly position a window to fill exactly half the screen, a quarter of the screen, full screen, or centered via the menu bar or configurable system-wide shortcuts. It's similar to the functionality- "tiled windows" available on other operating systems.
Compatibility: OS X Leopard or later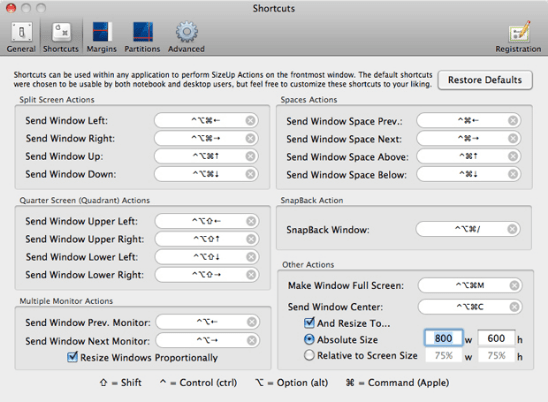 Pros
There are a plenty of options to move and resize windows for filling a quarter, half, middle or the entire screen on Mac
Can move windows from one monitor to another or from one space to another
Cons
Not for the mouse-oriented
Can't change the size of Mac split screen actions on the fly
#3. Shiftit
Shiftit is a simple OS X app to let you quickly manipulate window position and size using keyboard shortcuts. All you need to do is to install the application and add keyboard shortcuts that allow you to resize your windows. It can be used to place windows on the left, top right, lower left, lower right, half left, half right, top, bottom, focused or maximized.
Compatibility: OS X Lion or later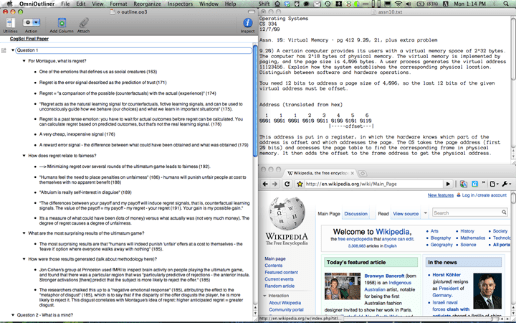 Pros
Can shift windows instantly
Pretty minimal. It offers a small menu extra (next to your volume, wifi, and battery status menus)
Cons
Can't set up mouse gestures. You have to use keyboard shortcuts to resize or split screen Mac
Conclusion
In this post, I have explained how to split screen on Mac (Yosemite, Mavericks, Catalina, etc. included). The best workspace and window management software will make your work on Macbook Pro easier and more convenient. Cisdem Window Manager for Mac should be a flexible app packed with plenty of helpful functions. It can split screen Mac with both predefined window sizes and custom sizes (assign keyboard shortcuts).

Rosa has worked in Mac software industry for more than eight years. She believes that the purpose of software is to make life better and work more productively. In addition to writing, Rosa is also an avid runner.