As we all know, there are many commonly used social media distractions like SnapChat, Facebook, Twitter, YouTube, Instagram and so on. Social media platforms and websites make communication easier and life more fun. At the same time, it's a fact that we are often distracted by them while studying or working. This is especially troublesome when we're writing a huge paper for school or doing a work project on a major deadline. If you are one of us, don't worry, this article will recommend you the best social media blocker tools including app blocker for Mac to help you stay focused and improve productivity. Without further ado, let's check them out.
Social Media Blocker for Mac
When it comes to blocking social media websites on Mac, many users may want to modify hosts files on their devices. But it is super tedious and not easy for Mac novice; furthermore, using Firewall options to block social media apps is complicated. To avoid all these fussy things, all you need is a social media blocker like Cisdem AppCrypt. It is a Mac app that blocks social media apps and locks social media websites. The software also can do the things below for you.
Block any Mac apps and websites from unauthorized users.
One Password for blocking all apps & websites.
Block apps and block games on specific days and times.
Keep track of failed attempts with date, time and optional captured photos.
Allow you to set global shortcut keys to quickly hide or reveal main window and enable or disable website blocker if necessary.
Facts speak louder than words. Cisdem AppCrypt also offers free trial for you. Click the Download button to download free trial of this social media blocker for Mac and follow the guidance below.

Free Download
Download and install Cisdem AppCrypt on your Mac. Open it and you will see the main interface as below. Set the password which is used to access AppCrypt and unlock blocked apps and websites. And don't forget that password because you have no way to retrieve it once forget.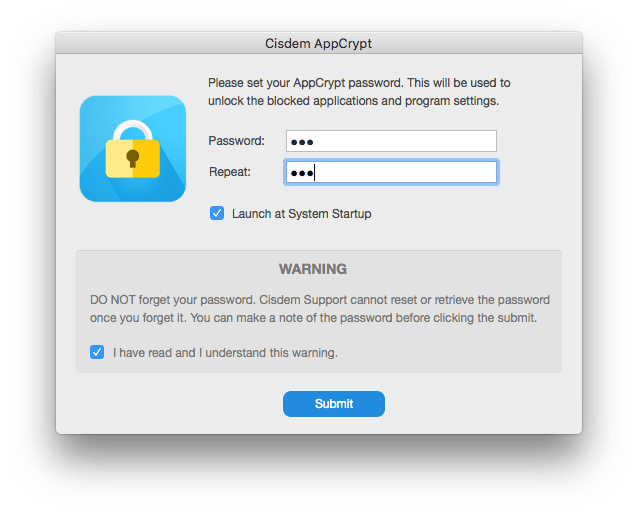 To block social media apps:
Click the plus icon + under the App Lock tab to add FaceBook, YouTube or other apps that you want to block. Every time you try to open these apps, AppCrypt will ask you for the password to access.
If you don't want to block the social media app anymore, just select the app and press the delete key.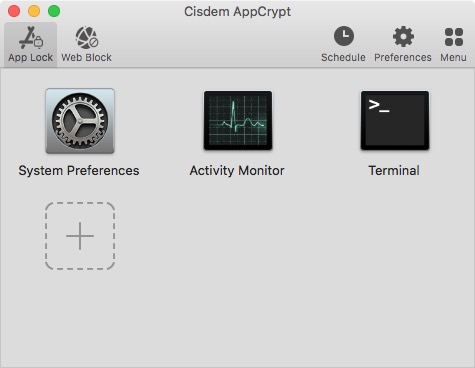 If you want to block any of your Mac apps in a specified time. You can create a general schedule, which will apply to all locked apps. Or you can create a custom schedule for a certain locked app.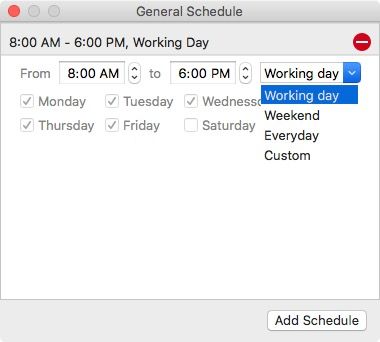 To block social media websites:
If you want to block specified websites, choose the Web Block tab. Add websites' URLs such as youtube.com and snapchat.com. When you access youtube.com or other sites by using any browsers, AppCrypt will redirect it to a safe page saying that the site is blocked.
If you don't want the sites to be locked anymore, just highlight them and remove them from Block list.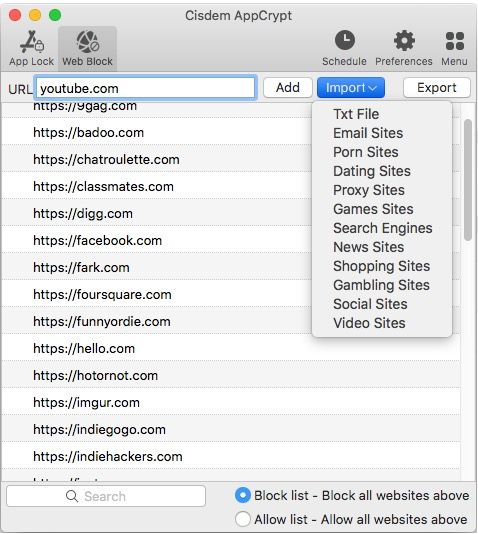 With this social media blocker for Mac, you will find yourself become more productive and more aware of your own work or study patterns.
Social Media Blocker for iOS Devices
Nowadays we just can't do without smartphone. Many of us spend hours on social media apps everyday. What if we want to become more productive and get rid of these distractions? The good news is that there are quite a few social media blocker iOS apps that can help us out. Freedom is an iOS app designed to prevent users from being distracted by apps. In addition to apps, this iOS social media blocker can also block content in websites as well as email. It's easy to use.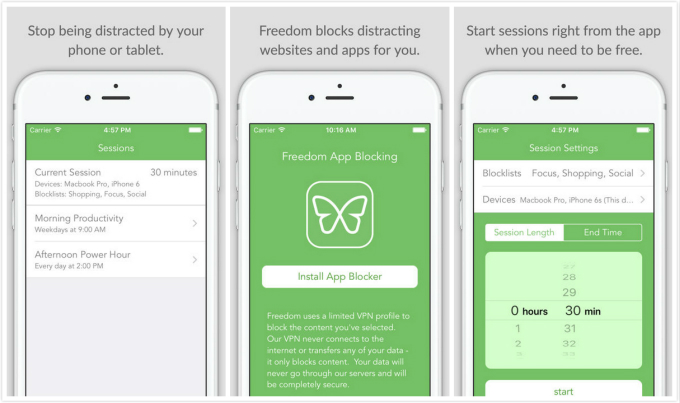 To get started, you only need to create a list of the apps or websites you need to block. You can also schedule the session of how long an app will be blocked. You will not be able to have access to an app or website until the session is over. Once you get it installed on your iOS devices such as iPhone, you can become more productive and less distracted.
Social Media Blocker for Android Devices
There are also great asocial media blockers available for Android users. AppDetox is among the best of its kind. When you need to have some work down or get focused, you can use AppDetox to lock social Facebook, Twitter, or any other distracting apps. It is very user-friendly, and you can set session for specific apps. If you fail to stick to your setting, the app will remind you.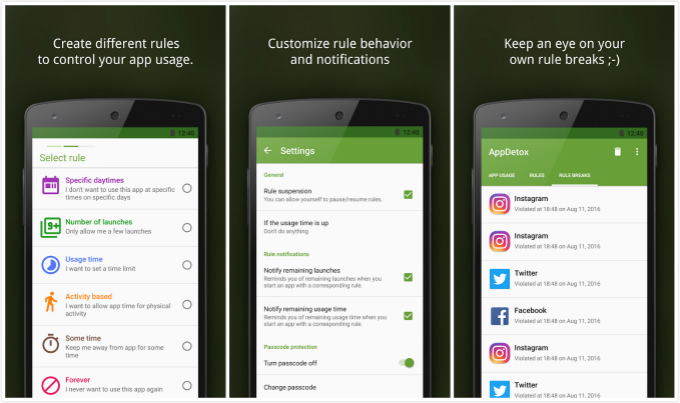 In addition to be an effective social media blocker, it also allows you to know how often and how much you are using each of your apps and to create different rules to control or usage. It's a great tool to use to get rid of smartphone and social media addiction.

Rosa Reyes


Rosa has worked in Mac software industry for more than eight years. She believes that the purpose of software is to make life better and work more productively. In addition to writing, Rosa is also an avid runner.