The iPad and the New iPad Air 2 can perform many wonderful feats. One of our favorites — it's the ability to reading ebooks on iPad, everything from the screen, to the store, to the battery and the size, provides a perfect experience for reading books. As there are many of us who loves to download PDF books over the internet our goal here is to find the best way to download and reading PDF on Mac.
Part 1. How to Free Download PDF on iPad
First, you need to locate the ebooks you want and download them. A great source for free download PDF to iPad is Project Gutenberg, which offers over 100,000 public domain ebooks. Below is the step-by-step guide on how to download PDF on your iPad.
1. Go to the PDF link with whatever browser you use on the iPad - it could be the default browser: Safari, or Chrome.
2. You should now see a button in the upper right hand corner under the address bar that says Open in iBooks. Tap it.

3. iBooks will now load the document for you and automatically save it to your PDF bookshelf. Tap the file to open it. (It may still be downloading to your iPad.)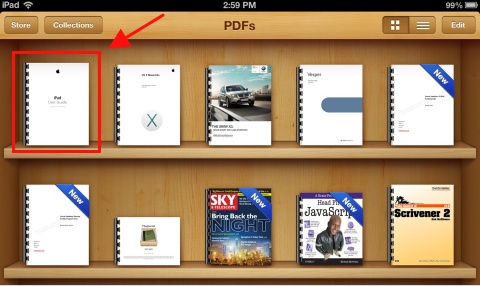 Congratulations! You have successfully downloaded the PDF file to your iPad and stored it in the iBooks app. It'll stay there until you delete it.
Part 2. Best Way to Read PDF on iPad
If you already got packs of PDF files on your Mac, you simply just can't download or transfer a PDF to your iPad and view it right away. This is one caveat to Apple's so-called "walled garden," However, this doesn't mean you can't easily read PDFs on your iPad. In fact, there are several ways to do so.
1. Read PDF Sent As an Email Attachment
Sometimes we might need to download and read PDF files from Email attachment. If you use Gmail, you can simply open up the PDF file right in Gmail and view it without any third-party help. If you use Apple's default Mail app, there are a couple more steps you'll need to take.
In Apple Mail, scroll to the end of your email message.
Tap Download full message (if visible).
If you tap the PDF for several seconds, then you might see the pop up "Open/Open in New Page/Copy".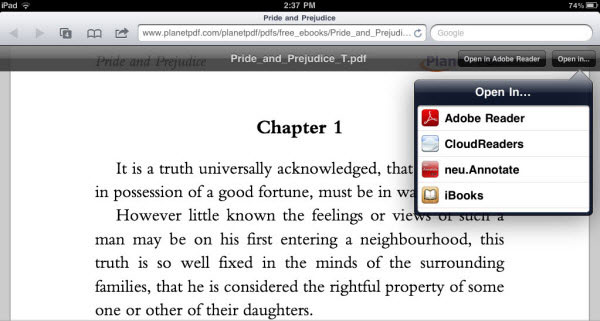 Choose Open and tap on the PDF page to reveal the opening options. See the Open in…menu? Tap it and select iBooks.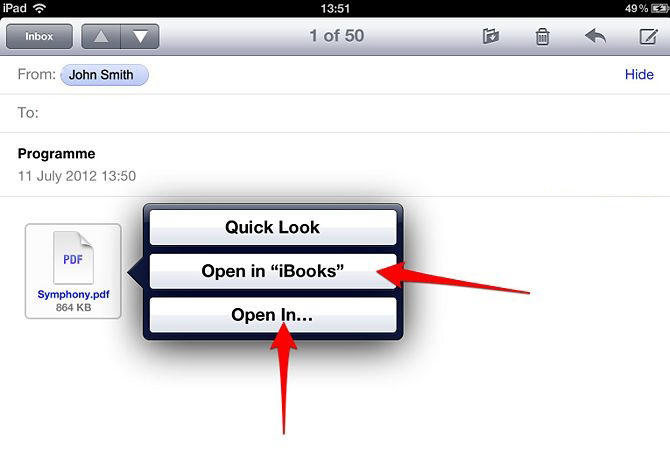 That's it! When you open a PDF with iBooks, iBooks saves a copy to its library.
2. Transfer PDF to iPad with iTunes
Make sure you install iBooks app and iTunes before you transfer PDF to iPad.
Now open up iTunes. Select File -> Add to Library.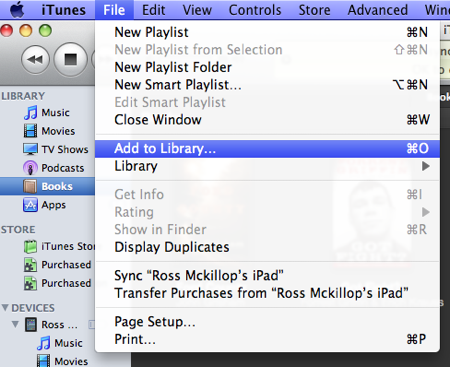 Navigate to the PDF file(s) you want to add to iBooks. You can select more than one file, or select an entire folder. Once you've made your selection, click Choose.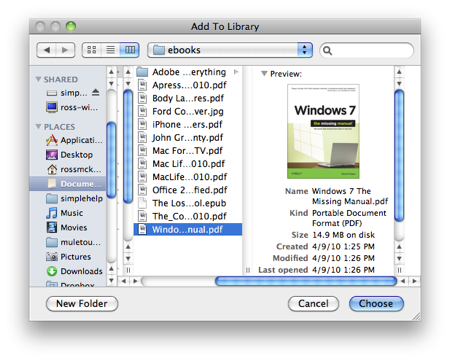 Select Books from iTunes Library. You must have found that the PDF file just added now listed in the iTunes Library.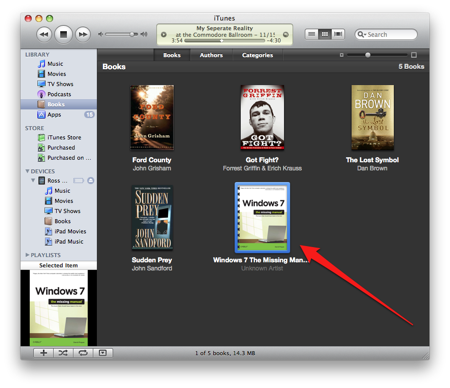 Right-click the PDF file and select Get "Info" from the presented menu.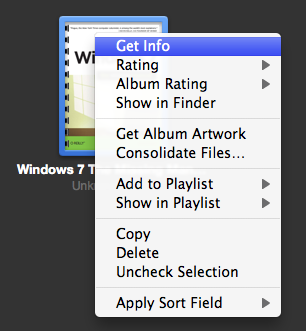 Select the Options tab. make sure the Media Kind is set to Book.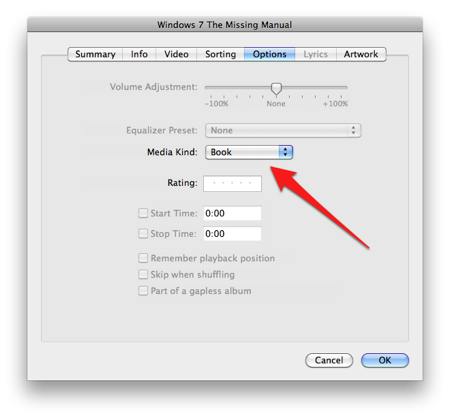 Select the Info tab and add any missing data.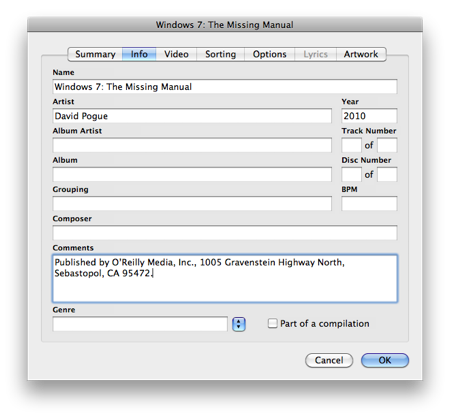 Select your iPad from the Devices list in iTunes. Select Books from the tab list at the top.
Make sure your PDF is selected and then click on Sync.
Open iBooks on your iPad and you'll see a PDFs button at the top. Tap it to open.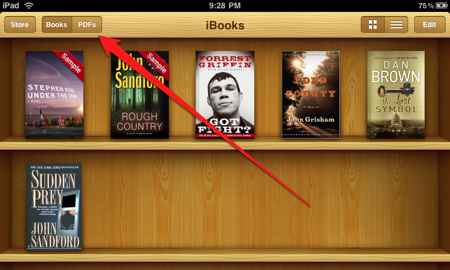 You are done. Your PDF files have been transferred to your iPad. You can now open iBooks App on your iPad and read the PDF files. Once the iBooks started on your iPad, tap on the "PDF" tab at the top of the screen, then all the imported PDF files will be listed, tap to open any PDF files to read on your iPad.
What If Some PDF Files Showing Awkwardly on iPad?
Most PDFs we download online are actually just pure text and iPad renders it beautifully and you can simply click next page and read it very easily. Unfortunately though, not all PDFs are created the same way. Some may be quite complicate with many columns on one page, some information in the sides; or use a dark colour,etc. If this happens to you, you have additional options for reading those PDF on iPad.
The method here we recommend may surprise you, but this is the one that we tested and works really well. As we all know that EPUB could be the highly compatible eBook format for iPad. Converting PDF to EPUB format will help you read those fully formatted or restricted PDF files in a more comfortable way. Don't worry, no coding is required. We'll use a very nice program to convert PDF files to epub format for easy reading.
Cisdem PDF Converter OCR for Mac is a professional PDF program helps you convert a PDF file to ePub format for easy ebook reading. Even it allows you to convert scanned PDF or images into ePub format with its OCR feature. With a PDF Creator integrated into this converter, this program also enables users to create PDF files from other documents. Besides, users can customize their PDFs with this program, such as protecting PDF, combine PDF files, etc.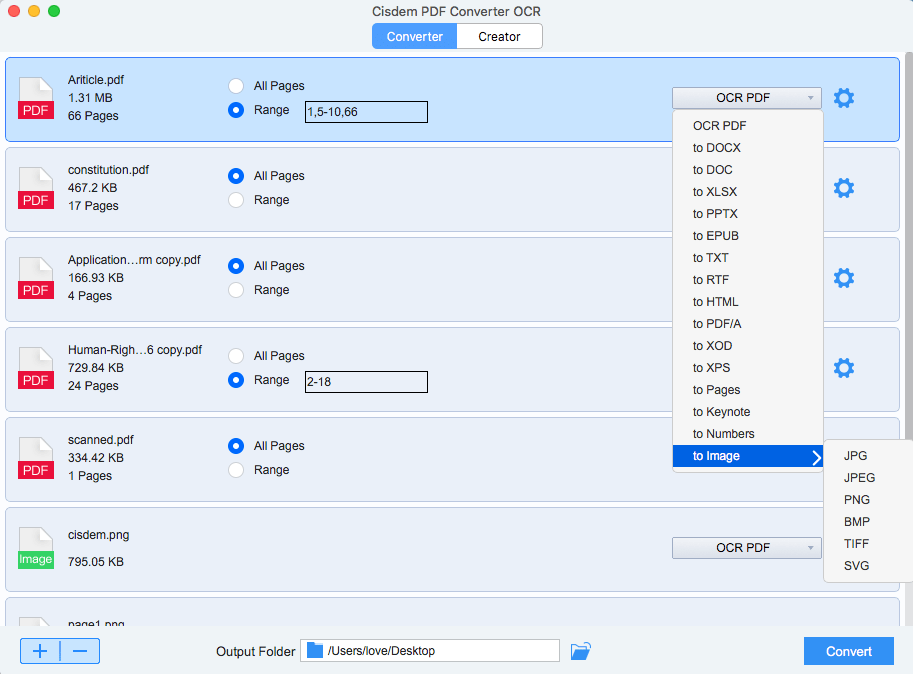 Step 1. Load PDFs: Drag&drop to load PDF files for conversion.
Step 2. Customize the conversion, choose page range, output format as ePub. Download and install the OCR module if you are uploading scanned PDF at the first time, select the language of your file before conversion.
Step 3. Click "Convert" and choose output folder, the conversion will process instantly and fast.
Once the conversion is done, you get EPUB eBooks and you can add them to iTunes before sync with your iPad Air, iPad, iPhone, iPhone 6, iPhone 5 or iPod Touch.

Free Download

Jose specializes in reviews, how-to guides, top lists, etc. on PDF, data recovery and multi-media. On his spare time, he likes to travel or challenge some extreme sports.