To play AVI files on Macs, we need to get a clear knowledge of the AVI format and its feature, and then choose the best video player to play AVI movies smoothly.
AVI, Audio Video Interleaved, is a multimedia container format introduced by Microsoft as part of its Video for Windows software. To open AVI files, your player must support all of these codecs. But Mac's built-in video player - QuickTime is unable to recognize and play AVI files. This article would introduce the best AVI player for Mac, and show you the step-by-step guide on how to play AVI on Mac.
Hot Search: Best Video Player for Mac | 4K Player for Mac
How to Play AVI on Mac with the Best AVI Player?
Cisdem Video Player is a 100% FREE AVI player for Mac to play video / audio files of more than 50 formats (including 4K/5K/1080p HD videos) with no codec packs needed, like WMV, AVI, ASF, 3GP, MPG, MP4, M2T, MOV, MP3, OGG, and all popular HD video formats, etc.
It offers lots personalized video playing features, like load subtitle files automatically and manually, take snapshots, De-interlacing, set soundtracks, etc. All images are displayed clearly and crisply. It lets you enjoy smooth video playing without any bugs and artifacts. Every image, every action, still or moving, is delicately displayed. In all, it is absolutely one of the best AVI players for Mac that you shouldn't miss out.
Steps to play AVI on Mac with Cisdem Video Player
Step 1. Download and launch the freeware.

Free Download
Step 2. Drag AVI movie to the software
Open the software. You can see a pretty crisp and elegant interface. Drag any format video directly from your movie folder to the app.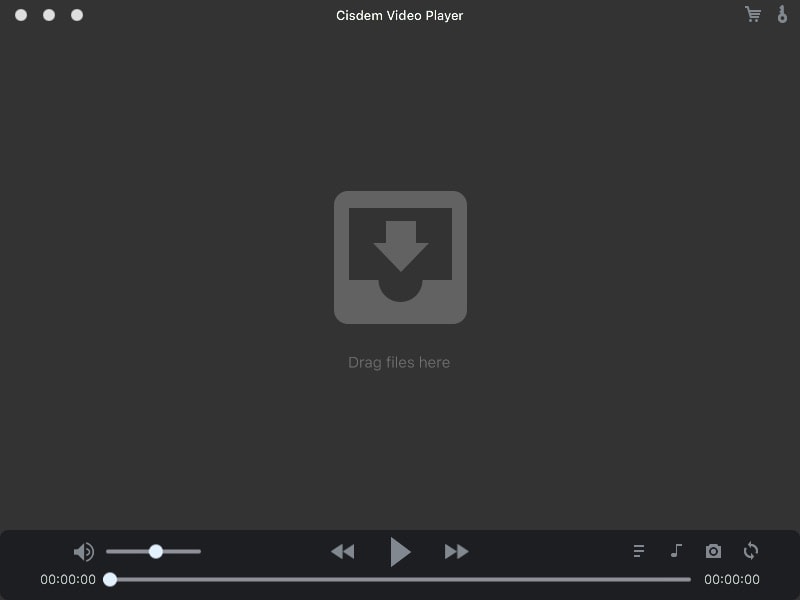 Step 3. Open AVI file on Mac
Click the play button, and start to watch your AVI movie imported.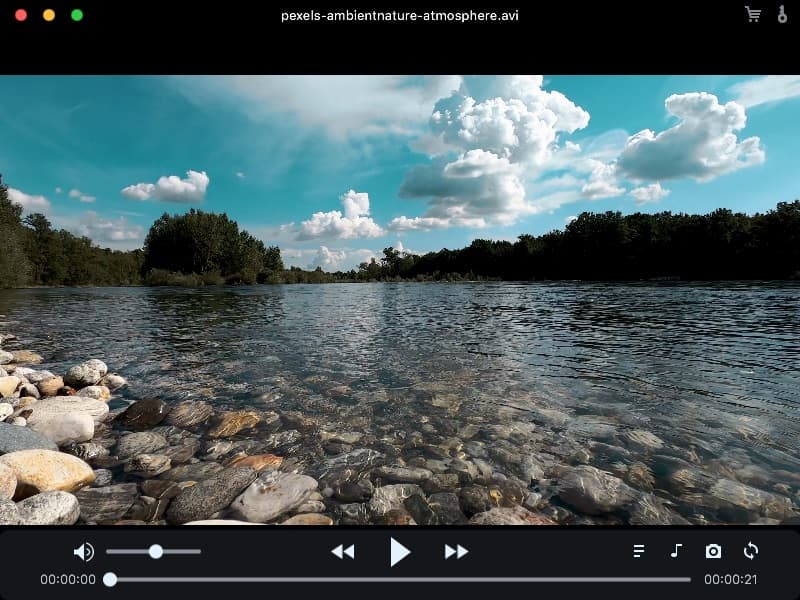 If you want to watch another one when playing one movie with this video player, you can drag the second one to replace the first one and start your new watching.
Look at the toolbar on the top menu. There are many practical tools in this professional AVI player that can be used for some personalized settings.
1. In the "Audio" or

, you can choose the stereo from Mono, Stereo, Left Channel, Right Channel.
2. Use its feature of "Subtitle" and add external subtitles in .ASS, .SRT format and in the language you are familiar with.
3. Control the "Playback" progress, stop, step forward, step backward, take screenshots, etc.
4. Retain file open recently and playback at your will.
5. Click "Window" or the sign

at right top corner of the screen to check the media info of the loaded video.
6. Click

to take a snapshot of your favorite video visual image as save as wallpaper or poster.
7. This free AVI player Mac enables you to make the video screen to the biggest ratio. You can just drag its corner to the bigger screen size, or go to click "Playback" > "Full Screen".
8. In-app purchase: It needs to pay $9.99 to unlock the conversion function. So you can convert AVI to MP4, M4V, MKV, iPhone, and more.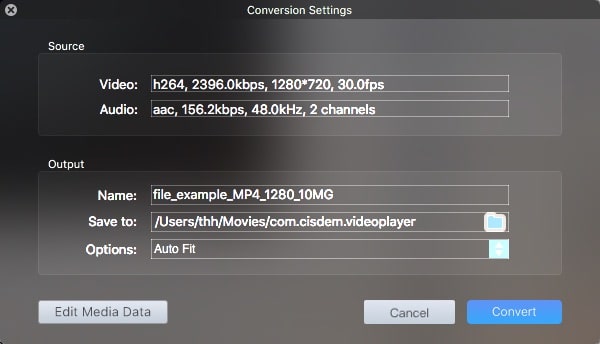 A Professional Video Converter: Easily Convert, Download & Rip Videos
Use the best AVI converter for Mac to:
Convert videos up to 200+ formats, including AVI, MOV, M4V, FLV, MKV, etc.
Edit AVI videos with a built-in tool, like Trim, Crop, Rotate, 3D Effects, Watermark, Subtitles, etc.
Rip DVD movies to AVI, MP4 or other formats for playing on portable devices
Merge all converted AVI videos into a large file
Download online videos from 1000+ sites with the supplied media downloader

Free Download
How to Play AVI Files on Macs Using QuickTime Player?
QuickTime, a popular multimedia technology with a built-in media player, lets you play and view Internet video, HD movie trailers, and personal media in a wide range of file formats. But QuickTime Player only natively plays AVI (Motion JPEG), not all .avi movies.
In this case, you can install a plug-in like Perian, which is a free open-source QuickTime component that enables your Mac to play almost any movie format including AVI files. So you can open AVI files on Mac as easily as it does the native QuickTime video format.
Note: The latest version 1.2.3 of Perian is not compatible with Mac OS X Mavericks (10.9), Mountain Lion (10.8), and Lion (10.7). Moreover, since QuickTime version 10, Perian has no longer been supported.
Steps to play AVI on Mac OS X 10.4.7 or higher via QuickTime (10 or later not included):
Step 1. Download and install Perian from https://perian.org/.
After installation, it will be listed inside System Preferences, not the Applications folder, as it's a preference pane.
Step 2. Right-click the AVI file, and open it with QuickTime Player.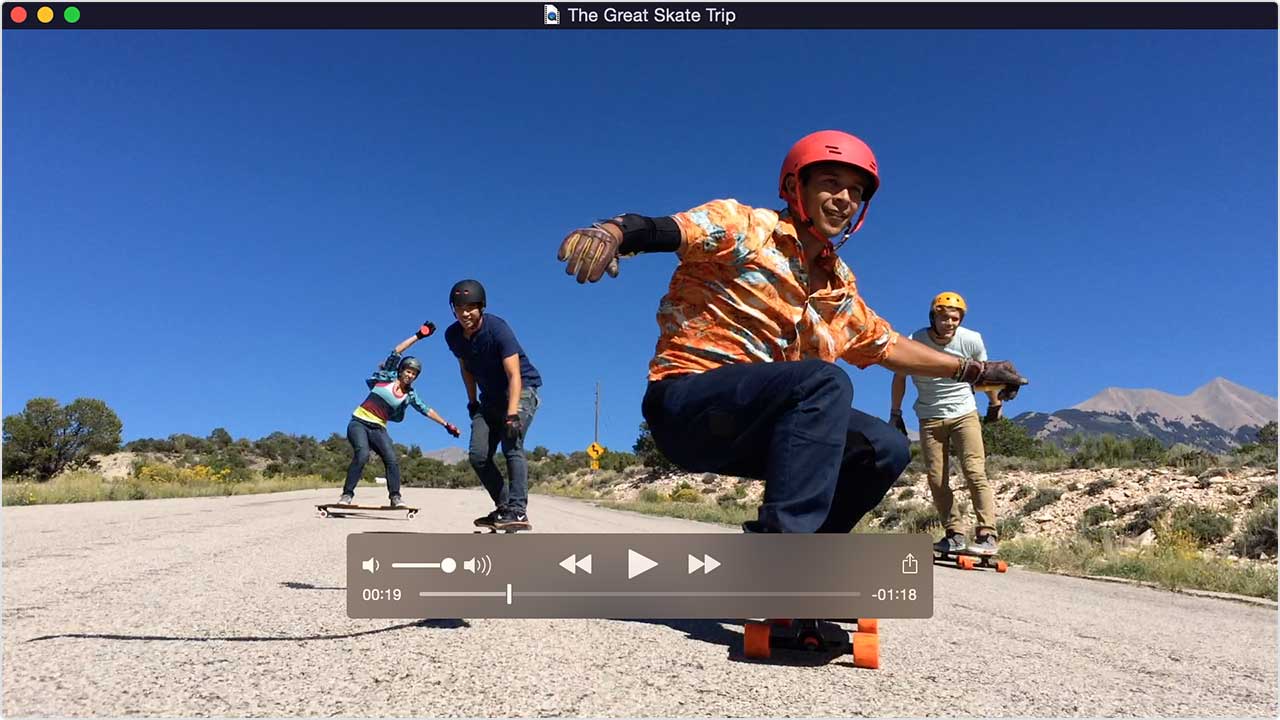 To uninstall Perian, navigate to "System Preferences", right-click on the Perian icon and simply click the Remove "Perian" Preference Pane command.
Another way is to use the 3ivx MPEG-4 codec.
QuickTime 6 or 7 can open 3ivx MPEG-4 encoded videos including 3ivx AVI files without installing Perian or other components.
If the above method is not compatible with your QuickTime or Mac, and you still rely on QuickTime, I advise you to convert AVI to other formats that QuickTime supported, like .mov, .mp4, .m4v, MPEG-1, 3GPP, 3GPP2, AVCHD, DV, etc.
Recommend More AVI Players for Mac
#1. VLC
VLC is a free video player for you to play AVI on Mac. It supports playing multiple media formats. You are able to add subtitles to your video files, set the audio and video's preferences as well, and easily control the playing process. But it comes with a basic interface, less awesome video visual effect, and less intuitive.
Just launch the application and, in the resulting VLC media player window, drag in the movie you want to watch and it will start playing.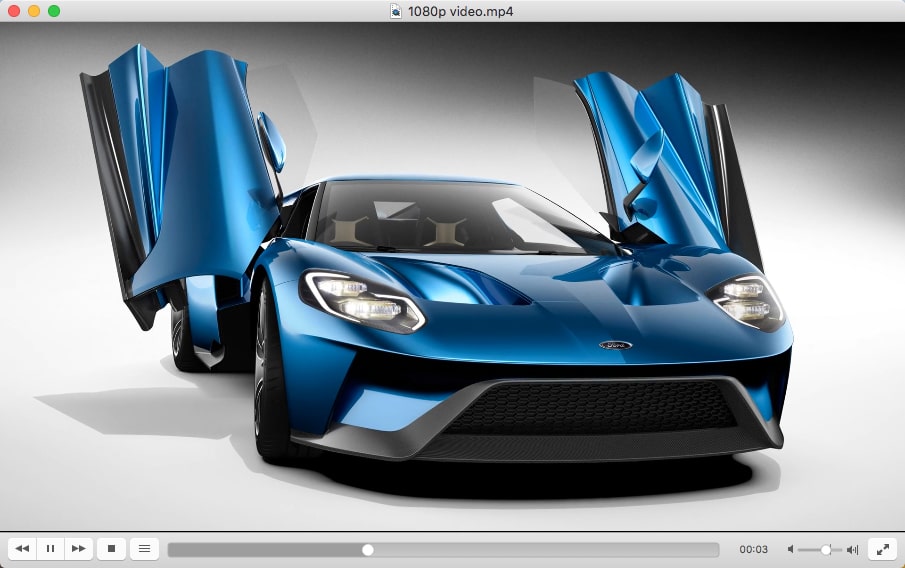 #2. Plex
Plex is an excellent AVI player for Mac that helps you play and manage AVI without glitch. This program optimizes playback of nearly any type of media file, like AVI, MP4, FLV, WMV, etc., and streams all of your media to all your devices anytime and anywhere. Meanwhile, Plex has a media server so you can save your AVI videos into the service. But the operation of it is a bit difficult for beginners who only want to play AVI files on Mac.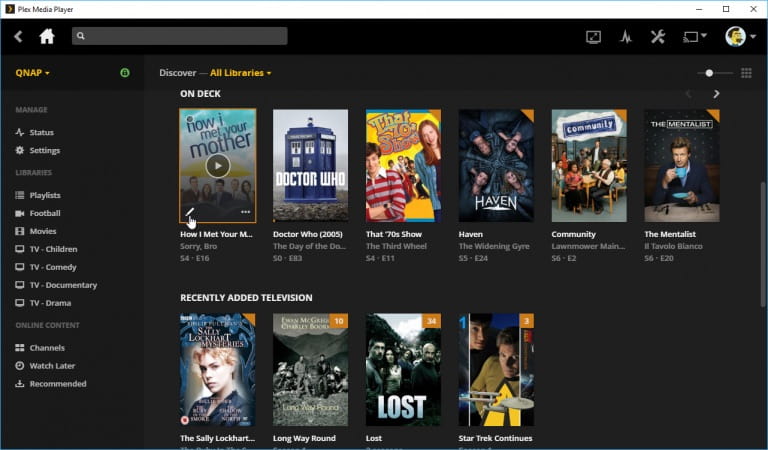 #3. Elmedia Player
Elmedia Player applied hardware acceleration technology capable of playing AVI in a softer manner. You can load all AVI files in a playlist, adjust their playback speed, and audio/subtitles delay. But most functions of this AVI player for Mac are not free, such as customizing video tuner/advanced streaming/audio settings, etc. and even capturing a screenshot.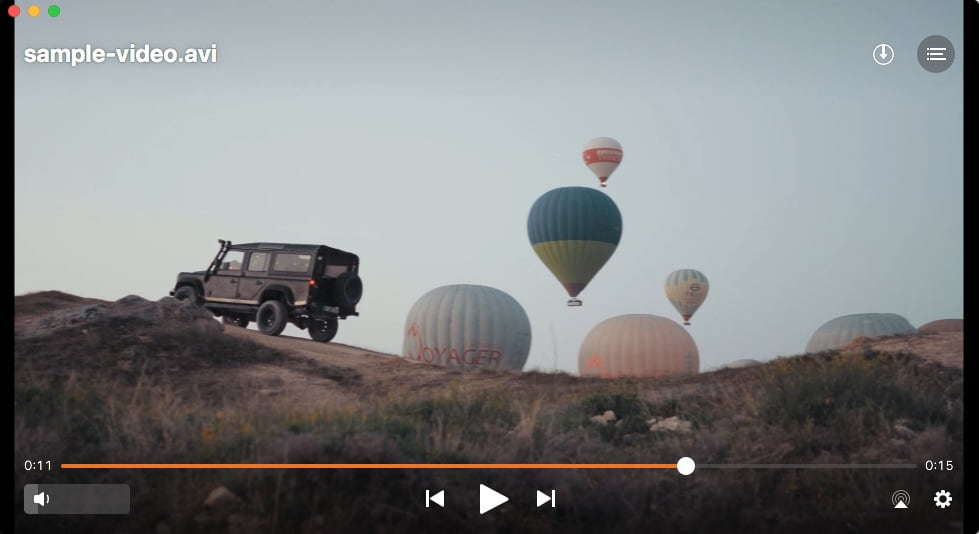 Conclusion
After reading this article, you should know how to play AVI on Mac. The best free media player you can try is Cisdem Video Player. It comes with a more intuitive interface and lets you enjoy a more crisp and higher definition video visual effect. You can easily take snapshots, resume media files, and control the play process. Do you like this outstanding AVI player Mac? Come to download its free trial version and experience your AVI HD movies.