Table of Content
If you are an old camcorder collectors, you must be familiar with MOD format, which is a video format recorded by JVC EVERIO, Canon FS, and some old camcorders. However, MOD is an obsolete video format that doesn't work with a large number of currently popular software/devices. So, this article will show you how to convert MOD to MP4 on Mac and Windows, making it widely available on all devices/platforms with high quality.
The Best MOD to MP4 Converter for Mac and Windows
Convert MOD to MP4, AVI, MKV and other 600+ videos and audios
Batch convert multiple files without quality loss
Match with a built-in media editor to widely customize the videos before converting
Preview editing results in real time
Merge several files into one large file with or without original format
Work quickly through 30X faster speed
Can also rip DVDs and download videos from websites
Easy to use with the intuitive interface
Available on MacOS 10.12 or later, and Windows 11/10/8/7

Free Download
macOS 10.12 or later

Free Download
Windows 11/10/8/7
Basic Understanding about MOD
1. What is MOD?
MOD presents different meanings when it is displayed as the file format or the extension in the different files and apps, such as the audio file ending with .mod file extension that is a standard music module format, video formats created by some camcorders, game application with the Vassal game engine, etc.
The MOD file we will discuss here is the MOD video file format, which is mainly generated from Canon, JVC and Panasonic with .mod extension. It commonly applies standard definition video with a maximum resolution of 480i or 576i. MOD video format is encoding with MPEG-2 video and AC3 audio codecs, so that it is closely appropriate to MPG format. Thus, any system/device supports MPEG-2 can also play MOD files. Because of this reason, MOD videos can be renamed as .MPG directly to work with some DVD players that support MPG.
2. How to play MOD video files?
Because MOD is an old format that is incompatible with modern media players and devices at current, it can be only played by some certain video players, like VLC Media Player, MikMod, Nullsoft Winamp (Windows-only), etc.
Therefore, to enjoy or edit MOD content on any device without limitation, the best solution is to convert it to MP4, the most compatible video format at present. Below, we mainly introduces 2 part on how to convert MOD file to MP4 with or without software. Keep on reading to get your favorite solution.
How to Convert MOD to MP4 with the Desktop Software
Cisdem Video Converter
Cisdem Video Converter is a professional video converter that capable of making conversions among 600+ videos and audios, including MOD and MP4. It ensures fast conversions and supports bulk conversion, so that people can get new high-quality files in a short time with no need to wait in front of the computer all the time.
Besides, it prepares a variety of customization features for the needed people to beautify the added in all aspects, such as restarting file length, adjusting video effects, adding special watermarks for streaming, etc. Unlike other tools, it offers a clear and straightforward interface, allowing people to move to the target section to make according editing easily and preview the editing result at the same time.
Advantages:
Support converting many digital videos and audios
Combine several files into one
Can also customize the encoding parameters
Provide a built-in player to enjoy the added files
User friendly with the simple interface
Disadvantages:
Can only free convert files up to 5 minutes
Steps on how to batch convert MOD to MP4 with Cisdem Video Converter:
1. Get the Application
Download and install the right version of the app according to your computer.

Free Download macOS 10.12 or later

Free Download Windows 11/10/8/7
Run it, it shows you the interface filling with 3 tabs, which is for converting, ripping DVD and downloading videos.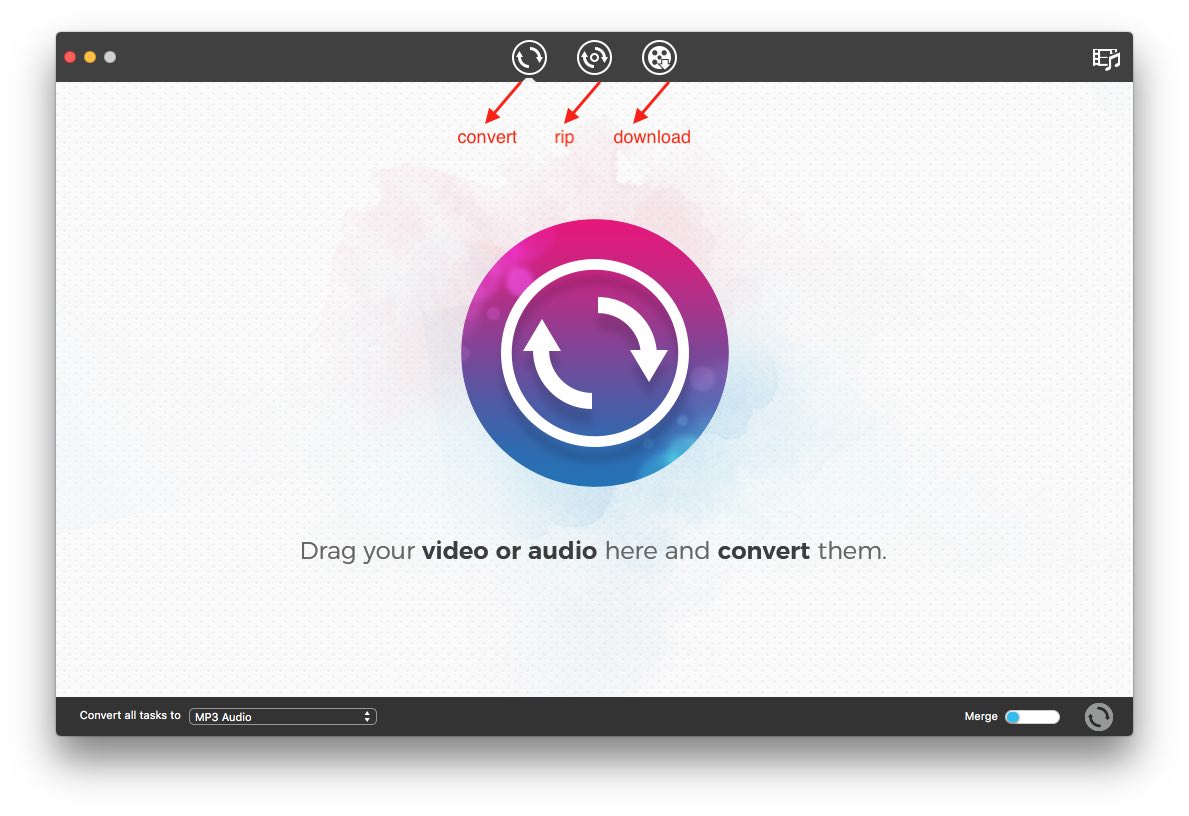 2. Load MOD Files
Stay at the default interface, directly drag and drop all MOD files that you need to convert to MP4.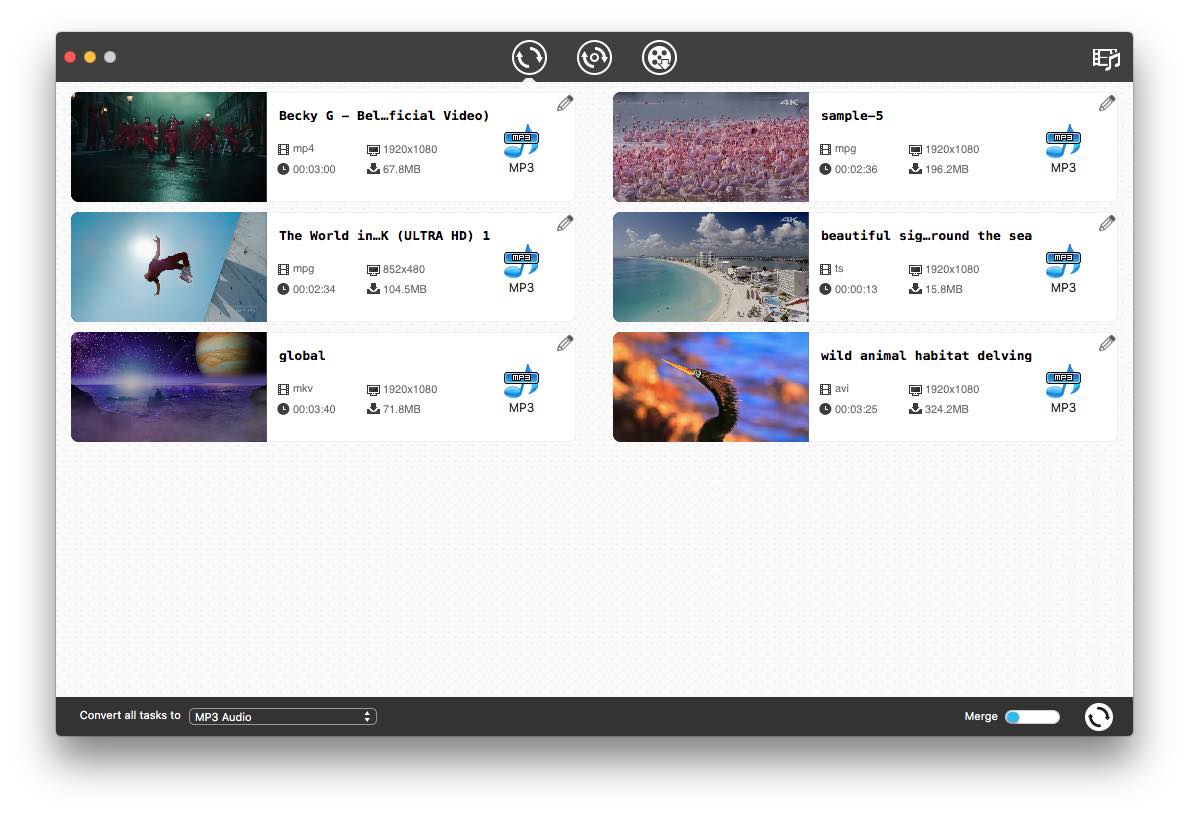 3. Edit the Added Videos (Optional)
If you want to modify the uploaded videos, click the "Pencil" icon to activate the new window for editing. Once done, click "Save".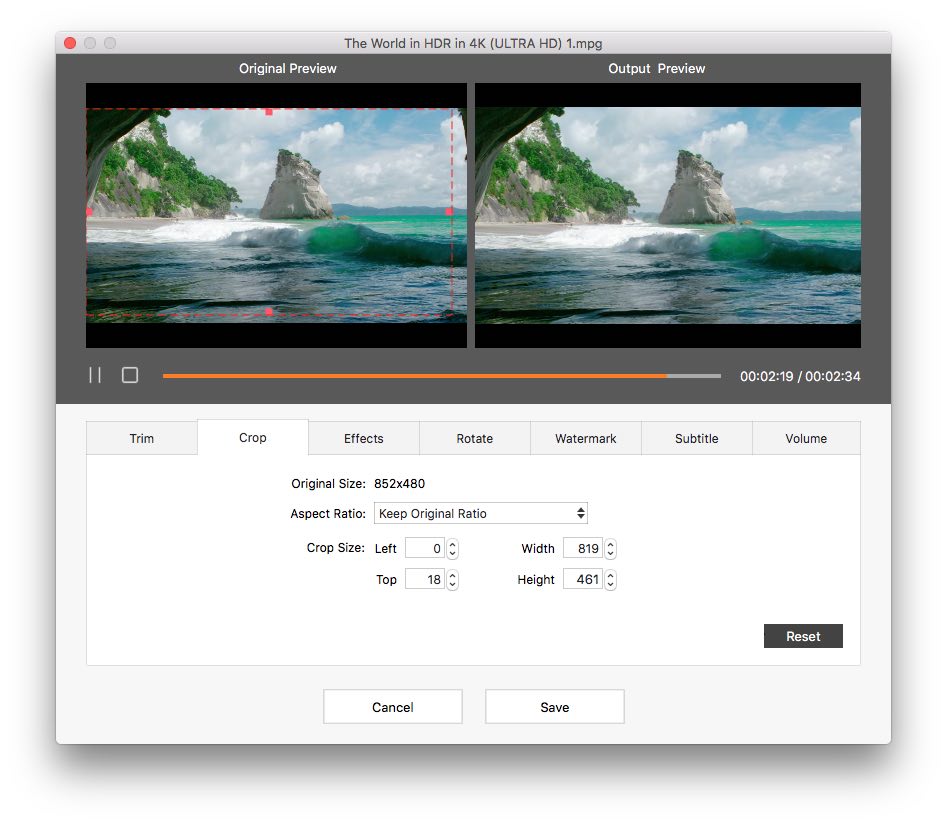 4. Choose MP4 as the Output Format
To do so, click the drop-down icon of "Convert all tasks to" button, click "General Video" > "MP4 Video".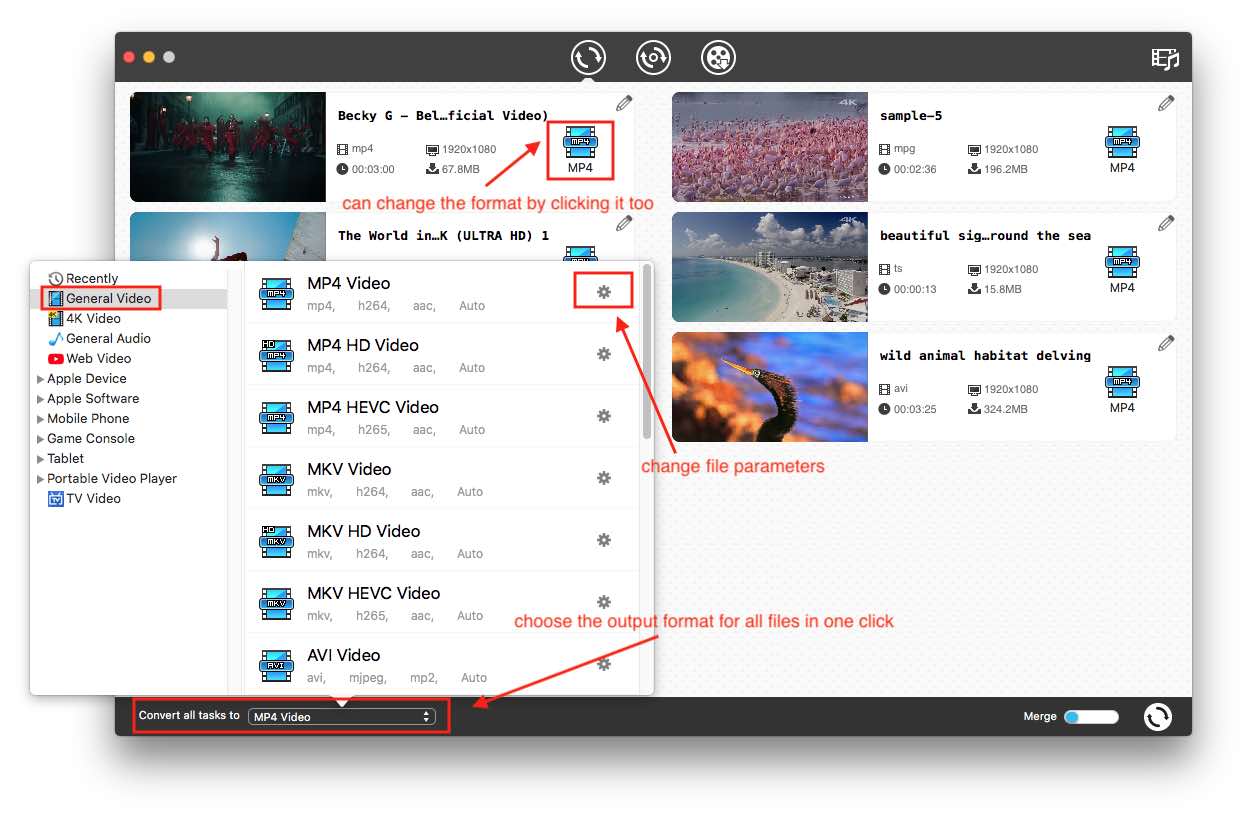 5. Configure File Parameters (Optional)
If you are sophisticated in software, you can click the "Gearwheel" icon to change the encoding parameters based on your need. Click "OK" when done.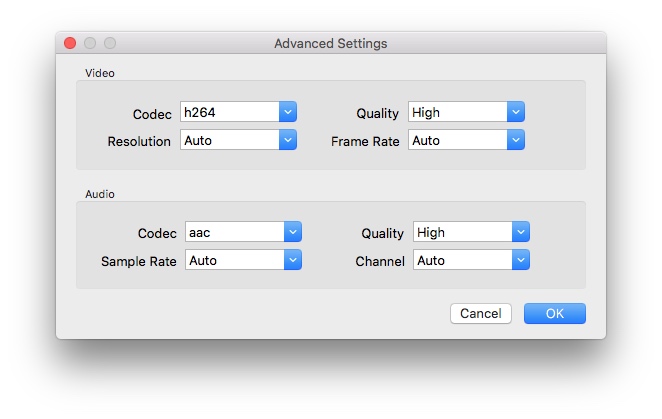 6. Start the Conversion
Finally, lick "Convert" icon to start to convert MOD files to MP4 in batches.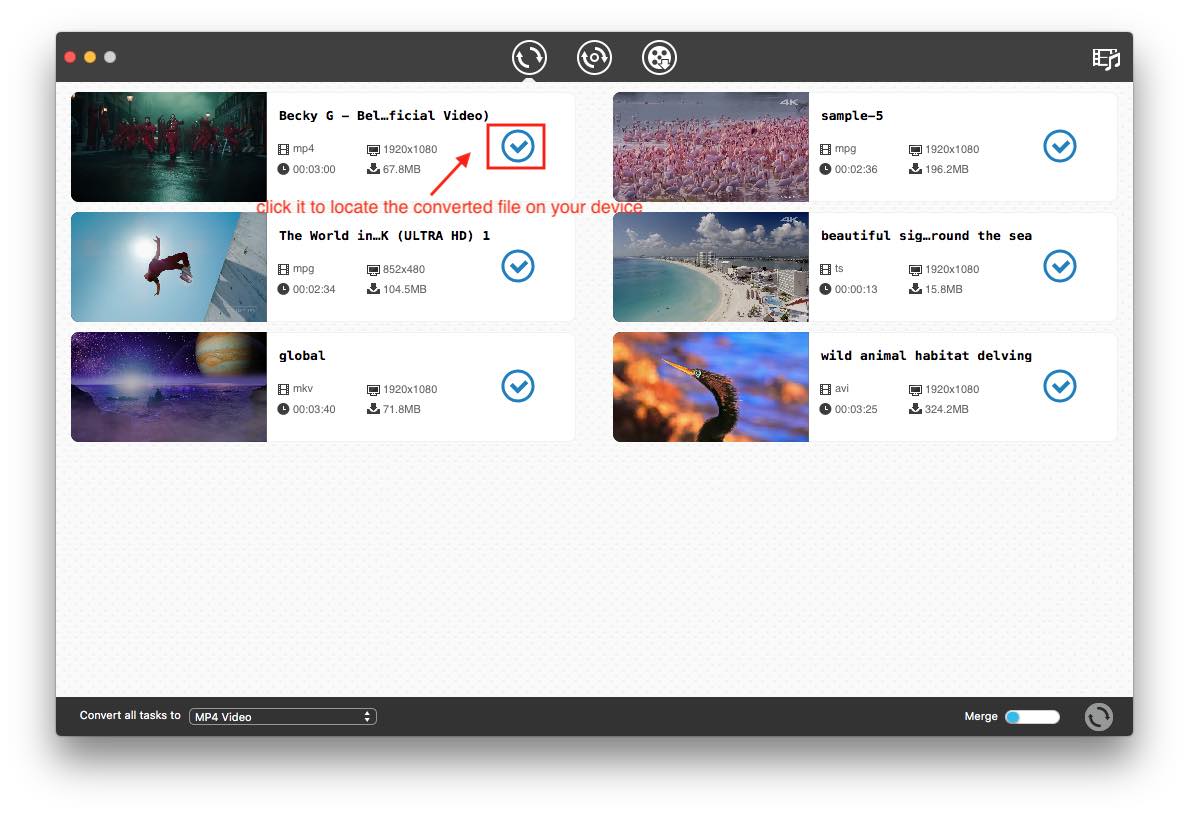 MPEG Streamclip
If you want a free MOD to MP4 converter, MPEG Streamclip is a great option. Except for MOD format, it also supports many other formats like AVI, VOB, MKV, and so on. After adding the video, it will auto play the video by using its embedded video player. What makes it special is that it still supports converting the unsupported formats, but it can only play them in audio format.
Unlike other programs, it shows a pretty simple interface, so if you want to make additional adjustments, you need to activate the according dialogue through the top toolbox. On there, you are allowed to deinterlace video, choose video quality, frame rate, change video display effects, add word watermark, etc. However, it doesn't provide a preview function for people to check the final looking. So, sometimes people may need to restart the task when they are unsatisfied to the new file.
Advantages:
Provide a built-in player to play the added file
Offer basic editing features
Disadvantages:
Can't preview the editing result before converting
Can't batch convert MOD files
The editing interface is a little bit complicated, covering with disorganized buttons
Steps on how to change MOD file to MP4 with MPEG Streamclip:
Download and install MPEG Streamclip on your device.
Add the target file by dragging and dropping.
Move to the top toolbox bar, click "File > Export to MPEG-4".

On the popped-up window, you can change encoding settings or make some file editing based on your needs.

Finally, click "Make MP4" to change MOD to MP4 for free.
Miro Video Converter
Miro Video Converter is a completely freeware that can convert MOD to MP4 for free on Mac and Windows. Although it only offers limited output video options (WebM, MP4 and Ogg Theora), it allows users to convert video to third-party devices directly including Apple, Android, and more.
Also, it supports batch converting multiple files. However, unlike other tools mentioned in this post, it is a pretty simple tool that provides no extra editing features or settings. Thus, people cannot change the output quality, so that people can only maintain the original quality.
Advantages:
Support batch conversion
Disadvantages:
Can't decide the output quality, so the video quality may poor
Provide no useful customization features
Steps on how to batch convert MOV file to MP4 with Miro Video Converter:
Download the program and install it.
Open it, drag and drop the wanted MOD files to the program.
Move to the bottom part of the interface, click "Format >Video > MP4".
Tap on "Convert to MP4" button to start the conversion.

HandBrake
HandBrake is a popular open-source video transcoder for cross platforms. Although it only supports MP4, MKV and WebM as the output format, it is able to convert almost all videos file formats. Besides, it provides some basic editing features for people to modify the added video, such as flipping, rotating, cropping, deinterlacing, adding chapters and so on.
What's more, it is designed with a separate preview window to watch the editing result, permitting people to adjust the inappropriate settings. Besides, it offers an add-to-queue feature that can add multiple MOD videos to a queue and then convert them one by one with a simple click, so that people don't need to wait in the computer. Plus, if you are busy, you can preset the ensuing operation after completing the tasks.
Advantages:
Open source and free
Provide editing features and match with a preview window
Disadvantages:
Outdated interface with cluttered functions, not friendly to users
Not stable conversion speed
Steps on how to convert MOD to MP4 free with HandBrake:
Open the downloaded HandBrake on your computer.
Choose the target MOD file and click "Open" to upload it on the auto prompted window. If the window doesn't appear, click "Open Source" button to load the wanted file.

Click the "Preset" button to choose the desired output video quality, and move to the "Summary" section to make sure that MP4 as the output format.

If you want to make other settings, move to "Dimensions", "Filters" and other sections to make your adjustments according to your mind.
Then, go to the bottom of the program, fill in a new name in the "Save as" box, and click "Browse" button to select a suitable output location.
(Optional) If you have multiple MOD files to convert, click "Add to Queue" on the top and then repeat the upper steps to add other MOD files for converting.
Once done, click "Start Queue" to start the conversion process. Accordingly, click "Start" button if you only have one to convert.

How to Convert MOD to MP4 Without Software
For some people who don't want to install extra applications to increase the burden on computer capacity, it is feasible to convert MOD to MP4 with online converters, and no software is required to be installed. In this section, we have selected two reliable online services through rigorous testings. Welcome to read on for more details.
Digitalofficepro.com
Video Converter is one of the excellent functions provided by digitalofficepro.com. It supports converting 200+ file formats, covering video, audio, image, e-book and document formats. For converting MOD to MP4, it specially offers a separate "MOD Converters" section for people to choose, which is easy to use and has no limit on the file length.
However, it doesn't offer advanced settings to the output file, so it can only remain the original quality and effects. If you are seeking for high-quality videos, this tool may not be suitable for you.
Advantages:
Easy to use
Multifunctional
Disadvantages:
Can't upload files by dragging-n-dropping
Doesn't support bulk conversion
Can't configure the encoding settings
Provide no editing features
Steps on how to convert MOD to MP4 online free with Digitalofficepro.com:
Open your common-used browser, visit https://www.digitalofficepro.com/converter/video/mod.

Tap on "Choose File" button to select the target MOD file and click "Open" button to add it.
Select "mp4" under "Convert To" button.
Click "Convert Now" button to start to upload and convert the file.
Wait a while, click "Download" button to save the new file to your computer when the conversion process is over.
Convertfiles.com
Convertfiles.com is another superior online converter that capable of converting archive, document, e-book, audio, video and other files. For transcoding MOD files, it offers 16 kinds of formats, including MP4, 3G2, 3GP, H264, ASF, AVI, F4V, MKV, MOV, MP3, MPEG, VOB and WMV. And it is designed with a clear interface available for the public. However, it only supports files up to 250 MB currently and can't convert files in bulk. So this way is more suitable for converting small files.
Advantages:
Support converting different types of file formats
Easy to master
Disadvantages:
Contain ads on the page
Can't batch convert videos
Offer no editing feature
Steps on how to change MOD file to MP4 online free with Convertfiles.com:
Open a browser, visit https://www.convertfiles.com/.

Drag and drop an MOD video to the box for adding local file.
Click the drop-down icon of "Output format" box to choose "MPEG-4 Video File (MP4)" option.
Click "Convert" button to start the task and download the new file in the end.
Final Words
To be frank, online MOD to MP4 converters tend to rely heavily on the connected internet, which may take hours or days possible. If you have enough time and only have small files to convert, the online way is acceptable. But if you want to batch convert large MOD files to MP4 without losing quality, a professional desktop converter will be more suitable, which can also provide you with rich customization features to decorate the files.