Want to convert iTunes M4V videos to MP4 for playing on non-Apple devices? Have some DRM-protected M4V files that you want to remove DRM? In this article, you will learn how to convert M4V to MP4 on Mac with 2 different solutions! Let's dive right in...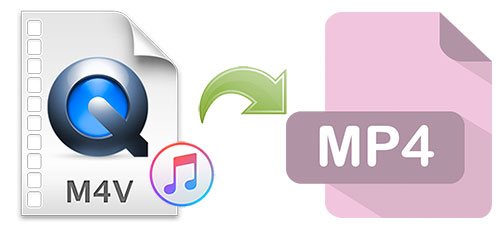 What is M4V
M4V file format is a video container that Apple developed to encode videos, movies, and other content in its iTunes store. It is very close to the MP4 file format, but is occasionally protected by FairPlay DRM copy protection and thus accessible to only Apple devices.
What is MP4
MP4 stands for MPEG-4 and is one of the most widely used container formats that allow a combination of audio, video, subtitles, and images to be held in one single file. and it can be played on most of the popular devices.
Why Convert M4V to MP4 is Recommended?
Compares with MP4 files, M4V videos are FairPlay DRM protected. Thus, M4V can only be played on authorized Apple's products. In other words, outside of the Apple ecosystem, you can do nothing with these files. MP4, on the other hand, is absolutely the most widely used video format. Almost all TVs, computers, portable players, and devices can recognize MP4. It is also the default format for streaming and broadcast as it loads faster.
How to Convert DRM-free M4V to MP4 on Mac
There are mainly two types of M4V videos, one is DRM-encrypted and the other is DRM-free. As .m4v and .mp4 files use the same video (H.264) and audio (AAC) codecs, they are all technically mp4 files anyways. When you simply rename DRM-free M4V video from "XXX.m4v" to "XXX.mp4", it can be played on many MP4 device and software.
However, the video format is too complicated to just rename the file. Even if you rename the .m4v to .mp4, its file structure is still unchanged. To get an actual MP4 file, you need a video transcoder to convert M4V to MP4 on Mac.
Cisdem Video Converter is always worth mentioning. It's able to make video and audio conversions between over 300 formats, including MP4, MKV, FLV, MP3, FLAC, iPhone, iTunes, iMovie, PSP, Twitter, and so on. You can also edit the video by cropping, watermarking, trimming, as you like before conversion. The software allows you to export files to M4V format. But to import M4V, you have to rename it to a non-DRM format like MP4 first.
Steps to Convert M4V to MP4 on Mac Using Video Converter:
To convert video from M4V to MP4, first, download and install Cisdem Video Converter on Mac.

Free Download
Step 1. Add M4V files
Import M4V videos to the software by clicking the "File" > "Add File(s)" button or just drag-n-drop. You can convert multiple files simultaneously via the batch conversion function.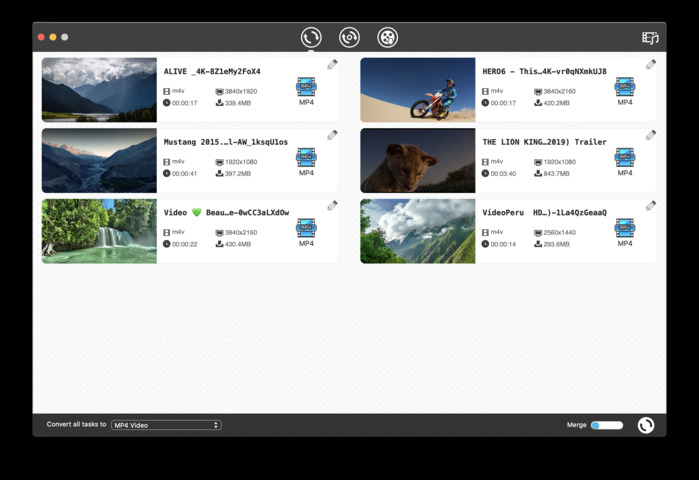 Note: If the M4V videos are on your iPhone or iPad, just connect the device to the computer, and drag and drop to directly input the target videos there.
Besides, feel free to modify files before M4V to MP4 conversion, if necessary. Press the pen icon in the top right corner of the file name to crop, trim, deinterlace, watermark, or add subtitles to the video.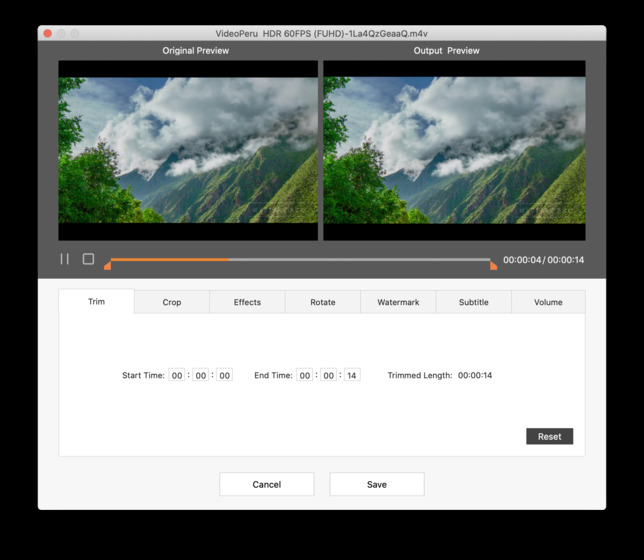 Step 2. Set MP4 as the output format
Click the output format option, and then select MP4 as the output file format. If you want to convert video for a particular mobile device, just plug the device into your computer and the program will detect and choose the right format for you. Press "Convert" to start the batch conversion task. When done, the folder containing the converted files will open automatically.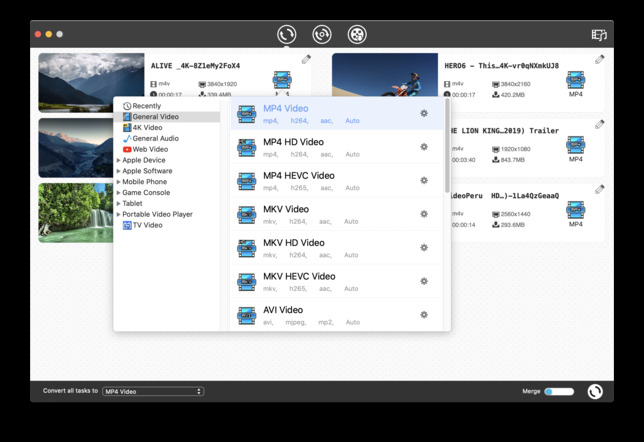 How to Convert DRM-ed M4V to MP4 on Mac
Using the above method, many people can easily change DRM-free M4v to MP4. However, when it comes to iTunes DRM protected M4V files, things get a lot more difficult even though we have already purchased it. If the video is DRM-protected it should stay as m4v, and you can't change its extension to play it. In this case, we'll need to strip the video of its DRM.
TunesKit is the app that can losslessly remove DRM encryption from rented and purchased iTunes movies, and convert it from M4V to MP4, MOV, MKV, and other formats in very fast speed and high quality. and is compatible with both Mac and Windows.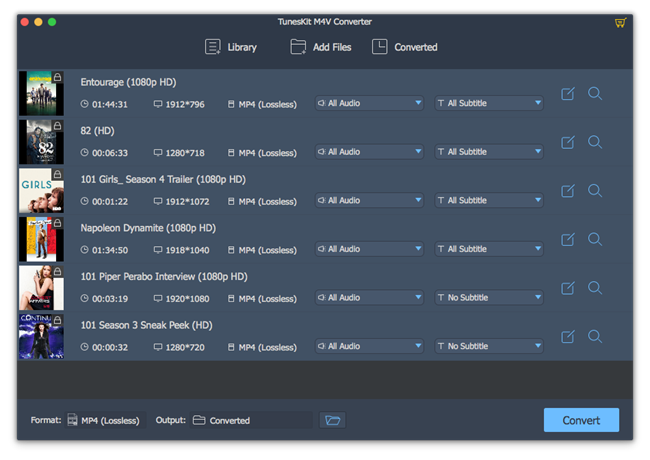 Open iTunes
Then, install and launch Tuneskit. Drag and drop the DRM videos from the iTunes folder to TunesKit.
Hit "Convert" to convert the DRM protected iTunes M4V movies.
When the process is done, click the "Converted" button to get the files you need.
Note that TunesKit is only compatible with an iTunes version lower than 12.6.2. If you have the latest version of iTunes, please use the first method.
FAQ
Can Requiem Convert DRM M4V to MP4 on Mac
Requiem is the no.1 talked free app that can remove DRM from songs, videos on iTunes. However, Requiem hasn't updated since 2012 Version 4.1, and can only support iTunes 10.7 or earlier, also, it can not work with Mac OS X 10.8 or above. which is a very old fashioned way, and most of the tutorials on the web are all using the Windows version of Requiem to convert DRM protected files to MP4, which is very complicated so we advised you don't use Requiem to convert M4V to MP4 on Mac.
Can I Convert M4V Videos to MP4 with Handbrake?
"Can I use handbrake to remove DRM from iTunes M4V movies" is a commonly asked question by most Mac users. Though as a well-known free video converter and DVD ripper, handbrake can convert M4V format, in the official site, it states clearly that it can't convert any files that are DRM protected, Therefore, quite obviously, you can't turn DRM protected M4V videos to MP4 with Handbrake. If someone told you that you can convert M4V to MP4, they are only restricted to the non-DRM M4V video types.
Can VLC Convert M4V to MP4?
VLC is a very popular Mac video player that also has the ability to convert videos, Though VLC works perfectly to convert the M4V files to other formats. But when it comes to copy-protected iTunes movies, that's a totally different story, as it is unable to remove DRM (eg: convert m4v to mp4). If you add an iTunes M4V video to VLC, it will not recognize it, let alone convert it.
Can I use Online Tools to Convert M4V to MP4 for Free?
If, again, the files don't have DRM, you can use online sites like Zamzar, Cloudconvert, etc. to convert M4V to MP4, and most of the online sites works the same, you add the M4V files to the online site, choose MP4 as output format, wait the online site to process and convert the file, the download the MP4 file with link provides by the online site.
Is M4V the same As MP4, Can I Just Change M4V to MP4?
The difference between M4V and MP4 are pretty negligible, there have the same container and without DRM M4V is almost the same with MP4, you can simply change the file extension from .m4v to .mp4. But if the file comes with DRM, you have to remove the DRM first.
Conclusion
The above two methods are tested by us and can help you convert M4V to MP4 on Mac. Each of them has their own unique advantages and disadvantages, Regardless of which method you ended up following, I hope one of the methods above will help you turn M4V movies to MP4 If you have other methods that work please leave it in the comment below.