A good Internet filter, can give you and your family a safe Internet environment. How to choose a best Internet filter app for your devices? This article will introduce 7 best Internet filter for Mac, Windows, iOS and Android. Just choose the one suits you best.
What is Internet filter?
Internet filter is a program to block dangerous, inappropriate contents on your child's devices. Most of them can also monitor and limit the usage time on specific webs and apps. Some of the web filter have accountability report, making you aware of how much time you or your kids spend on social media or games a day.
The importance of Internet filter for your family
With the rapid development of Internet technology, the Internet has long been closely related to our daily life. Since that, without Internet filter, we may be disturbed by harmful or inappropriate information when we surf on Internet. Children may be addicted to Internet. And our work efficiency may be reduced because of Internet. Using Internet filter is the best way to ensure family's Internet safety and mental health.
How to choose a best Internet filter?
You should choose an Internet filter according to your needs and preferences. If you are still confused, below are a few points you can consider.
What device do you use? Mac, Windows, iOS or Android?
Do you need both web filter and app locker?
Do you need an online activities report?
Do you want to limit screen time on your device?
How much can you accept to afford for the Internet filter?
7 Best Internet filter that I recommend
1. AppCrypt
2. ContentBarrier
3. McAfee
4. Net Nanny
5. DNS Filter
6. Bark
7. Kaspersky Safe Kids
Applies to: Mac
Pros:
1. Block specific websites with password.
2. Lock specific apps with password.
3. Block entire categories of websites such as social media, porn, game with 1 click.
4. Offer 2 modes: blacklists and whitelists.
5. Allow you to set schedules to block apps and websites on certain times.
6. Easy to use and hard to bypass.
7. Use little or no CPU.
Cons:
1. Mac-only
Features:
Lock applications with password
AppCrypt are able to lock specific applications with password. Without the password, no one could open the locked app. It also records every failed attempt with App Name, Failed Reason and intruder's photo. When the blocked app is deactivated for 5 minutes (you can custom the time or disable this function), it will auto locked. After leaving your Mac for 5 minutes, the blocked apps will be auto locked (you can custom the time or disable this function). In addition, password is required every time you open AppCrypt, preventing your child or others changing the settings.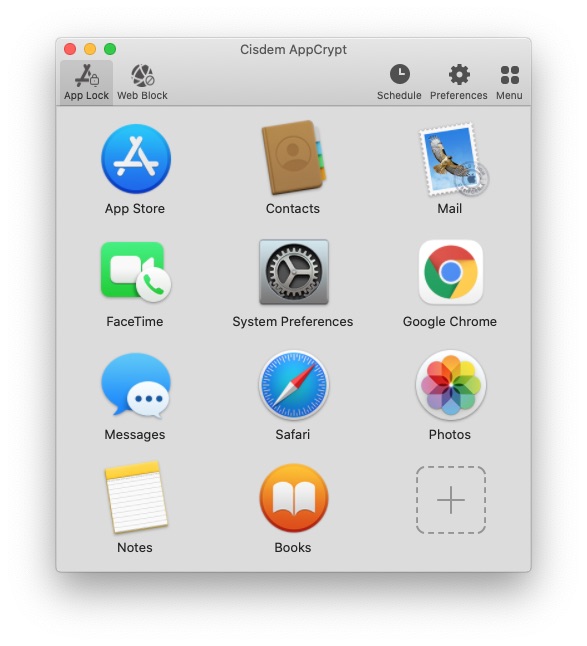 Block access to harmful or distracting websites
AppCrypt can block specific websites in Safari, Chrome, Firefox and other browsers. It also support to block sites by category such as porn, social media and gambling etc. It's the best Internet filter for Mac. And the whitelist mode is widely used by parents. Not only can protect child from inappropriate contents on Internet, but also can prevent us from distracted by all kinds of webs while working.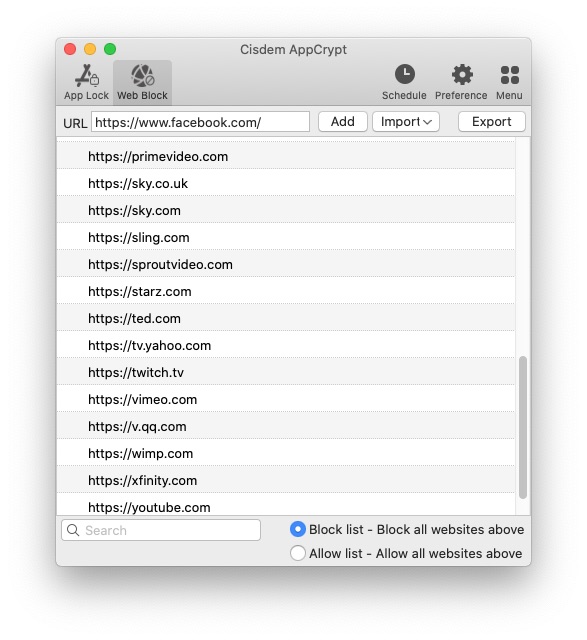 Set up schedule in predefined sessions
The Schedule function of AppCrypt is also powerful and convenient.
AppCrypt allow users to set a general schedule for all the apps and webs, also support schedule settings for specific apps and webs. Using the schedule function to block accessing to distracting websites at working time can help you stay focused.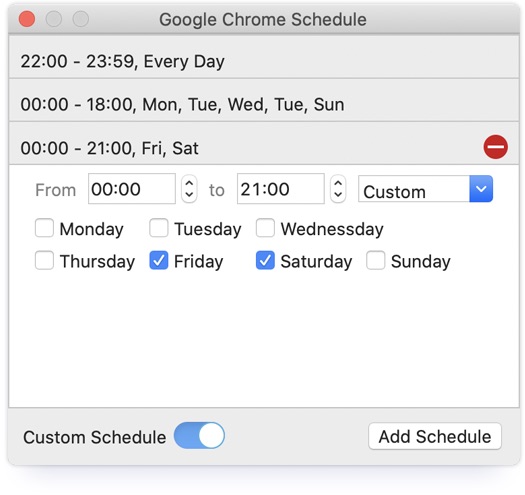 Costs:$19.99/1 Year
Top 2: ContentBarrier
Applies to: Mac
Pros:
1. Support to block out a category of websites.
2. Also provide the whitelist mode.
3. Set time limit on Internet use.
4. Email and chat monitor.
5. Provide the activity reports.
Cons:
1. Mac-only
2. Unable to lock apps with password.
3. Easy to uninstall.
Features:
Time limit restrictions on Internet use
The Scheduled Access function of ContentBarrier can help you control your child's Internet behavior greatly. Only allow network access during selected time periods such as 6:00 AM to 9:00 PM. You are also able to set time limits at access allowed time, preventing your kids from addicted to Internet.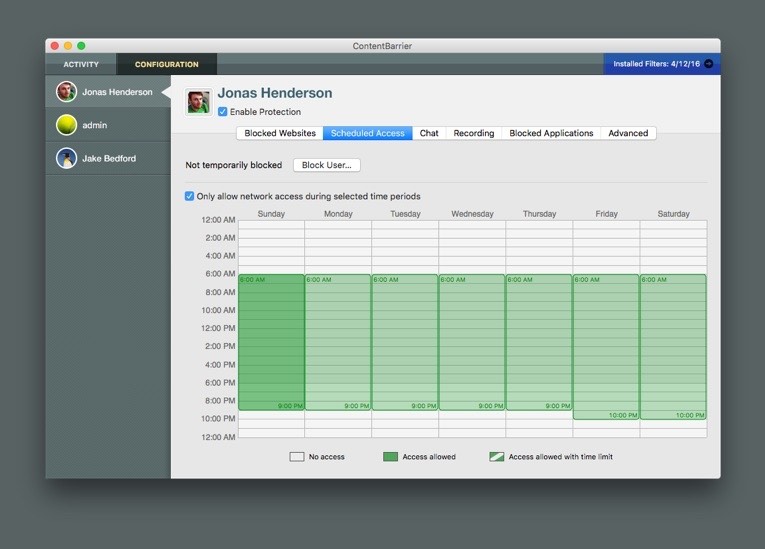 Block webs by category, specific webs and sites with specific keywords
ContentBarrier not only support to block a category of websites and specific websites, but also allow users to block access to sites with specific keywords. In addition, this app will record the visited websites. You can also block specific websites from the history lists.
Block inappropriate emails
ContentBarrier can monitor the e-mail and chat on your Mac. You can set to Allow e-mail, Try to filter inappropriate e-mails using Antipredator, Block email or Block newsgroups. This will keep you away from inappropriate emails. If you want to monitor your child's online behavior, you can choose to receive email alerts when objectionable content is detected.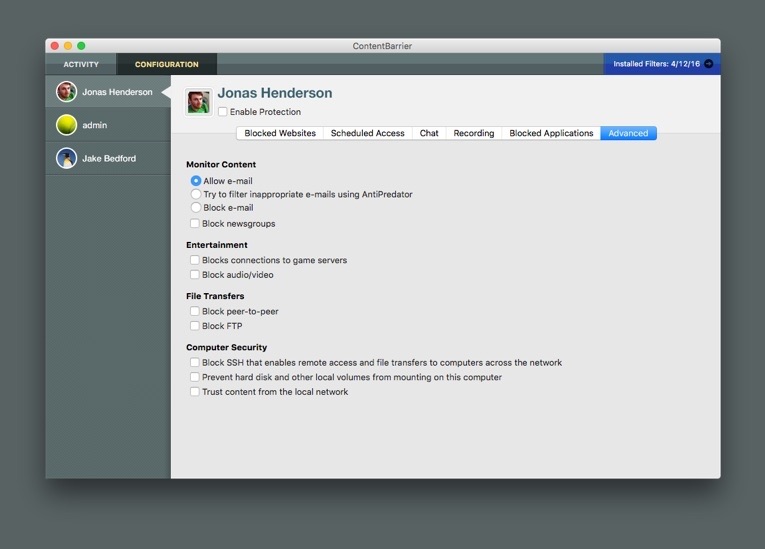 Costs: $39.99/Year
Top 3: McAfee
Applies to: Mac & Windows & iOS
Pros:
1. Protect your computer with antivirus and VPN.
2. Avoid risky websites automatically.
3. VPN will warn you of unsecured Wi-Fi and sites.
3. Provide Protection Score to measure your security online.
4. Easy to setup.
Cons:
1. Unable to block specific webs and lock specific apps.
2. Can't set schedule to limit the Internet use.
Features:
Protection score keeps your online safe
Protection Score of McAfee can check the health of your online protection. It can help you improve your online security easily. It will give you the score and tell you steps of how to improve it. Many elements will affect the protection score. The installing web protection, the activating VPN, adding personal identifiable information to your identity monitoring etc. will increase the protection score. The score ranges from 0-1000.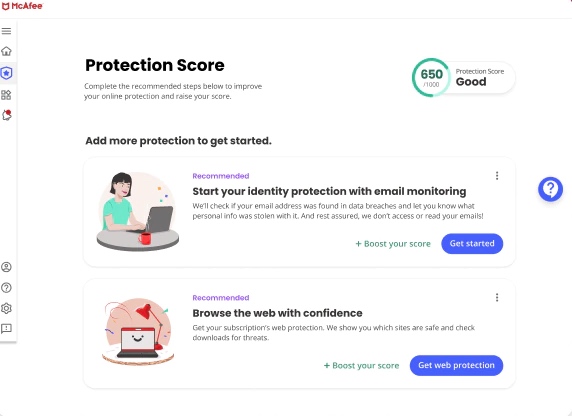 Scan for viruses, risky webs, inappropriate emails etc.
Once installing McAfee, this Internet filter app will scan for viruses, risky webs, inappropriate emails etc. and quarantine/remove them. With the popularity of the Internet, our children are affected by the content of Internet more often. This McAfee app can protect children's mental health maximally.
Protect your computer and smartphones
McAfee is available for Mac, Windows and iOS. It is easy to install and use on your devices.
Costs: $29.99/Year
Top 4: Net Nanny
Applies to: Mac & Windows & iOS
Pros:
1. Monitor your family's online activity.
2. Provide the web filter and content filter from your browser.
3. Allow you to block specific apps and websites.
4. Support to limit the screen time, as you need.
5. Provide reports of online searched.
Cons:
Unable to limit screen time for specific apps
Features:
Real-time content filter protects your child's Internet safety
Different from other traditional whitelist function, Net Nanny provide real-time content filter for kids. Since there are countless new websites appear everyday, the traditional whitelist function that put a list of websites to the block list maybe useless. The real-time content filter will automatically flit inappropriate webs each time a page is loaded. You can determine to allow, block or receive an alert when Net Nanny detected the inappropriate content such as porn, gambling.
Manage your online activity with screen time
Spending too much time in front of screens will cause myopia, psychology problem, decreased sleep quality etc. Using Net Nanny, you can see how much time your devices are being used a day and limit the screen time for yourself or your child to manage the online activity. You can also set to turn off the Internet during selected time period.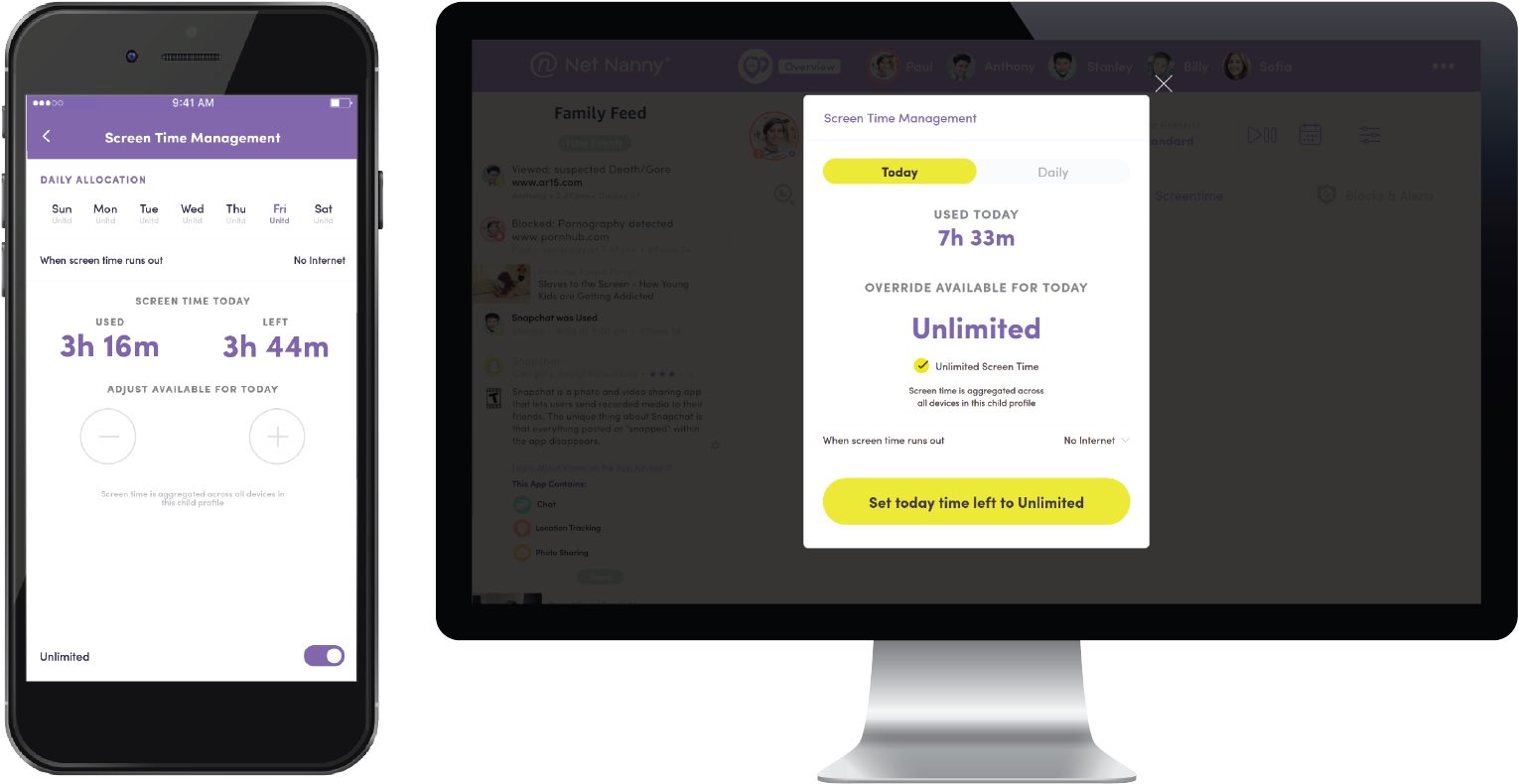 Block apps on your child's devices
With Net Nanny, you can see what applications are installed on your child's device. You will get alert when a new app is installed. This program allows you to view the app's usage report. If you found your child or yourself spend too much time on an app a day, you can set to block this inappropriate app.
Costs: $39.99/Year
Top 5: DNS Filter
Applies to: Mac & iOS & Android
Pros:
1. Stop users from visiting harmful or inappropriate websites.
2. Prevent users from viewing malicious content.
3. Protect users from phishing, malware and ransom ware etc.
2. Provide network activity and security reports.
Cons:
1. Don't support to customize blacklist of websites.
2. Don't support to lock unwanted apps.
3. Don't have schedule function.
Features:
Security threat protection
Protect users' online security is more and more important since the developing of Internet. Users may be attacked by phishing, malware, ransom ware, affect child's mental health, or your data on computer will be stolen. DNS Filter provides real-time domain analysis DNS threat protection. Protect you from different types of DNS attacks on the Internet.
Content filtering for kids and employees
DNS Filter blocks access to 36 content categories. Keep kids and employees on your network safe and productive.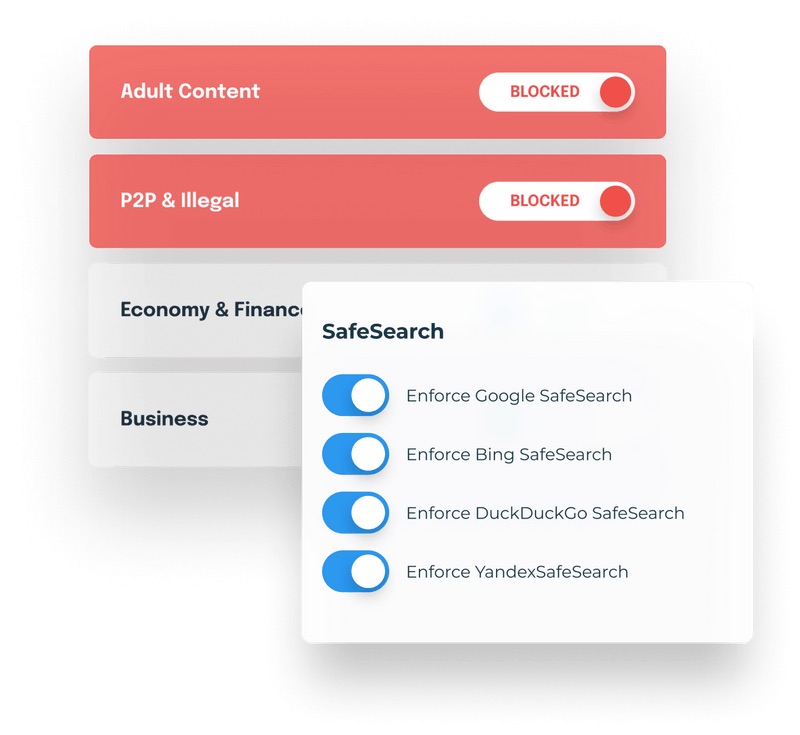 Costs: $1.8/Month
Top 6: Bark
Applies to: iOS & Android
Pros:
1. Block inappropriate websites.
2. Support to add multiple account members.
3. Make sure to protect your personal information.
3. Fast fraud alerts.
Cons:
1. Higher fees than others.
2. Unable to limit screen time.
Features:
Keep your kids safe online
Bark supports you to custom what your child can view online. You can set to limit access to some apps and websites, as you want. This program also support to block harmful or inappropriate websites by category.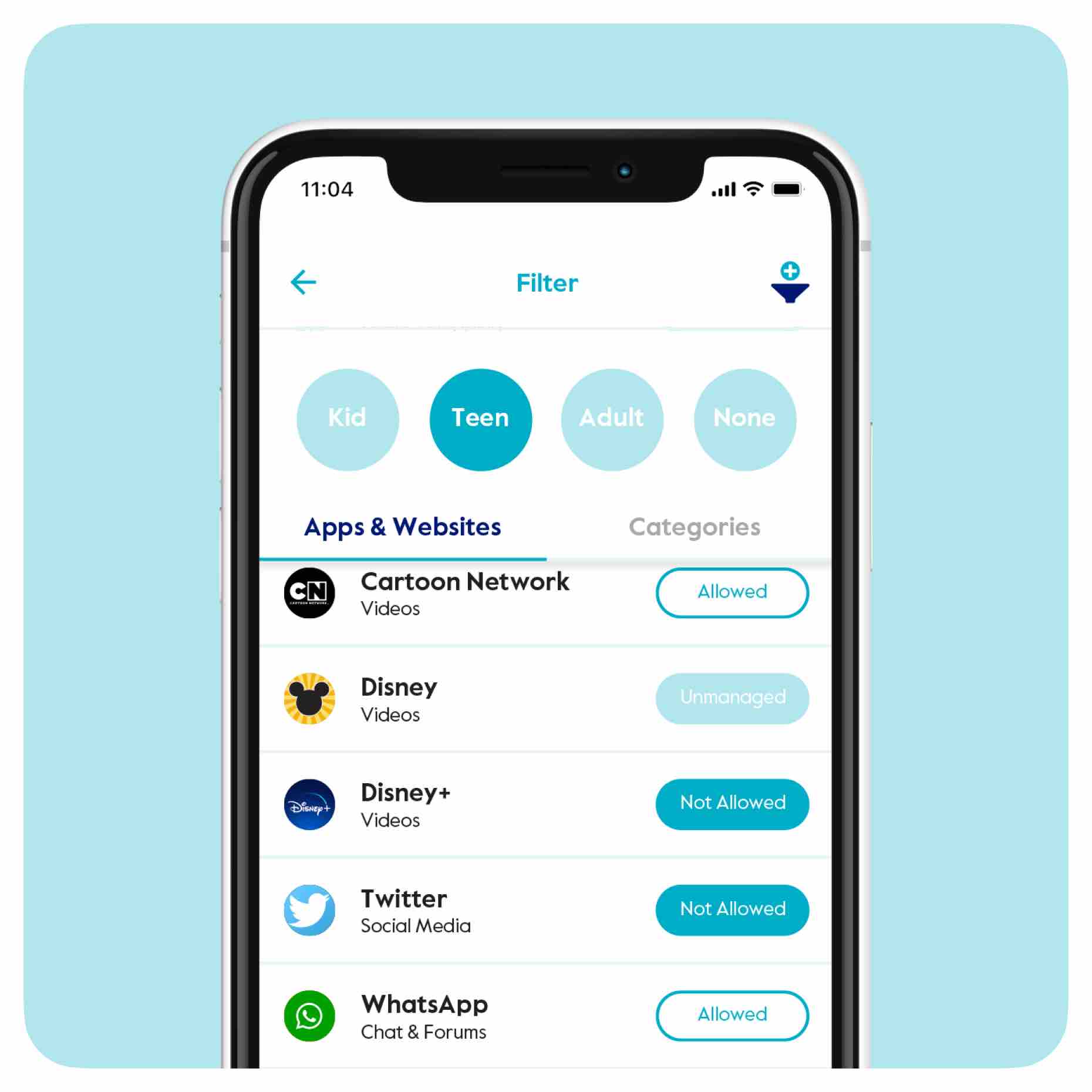 Protect users' identity and personal information
Bark will secure your identity, online account and personal information. Users will get alerted if their personal information was exposed online.
If you want to protect your family online security, you can purchase the family plan. You can add up to 5 people's account (whether kids or adults) to your family plan. But this will costs $50/Month.
Costs: $15/Month
Top 7: Kaspersky Safe Kids
Applies to: Windows & iOS & Android
Pros:
1. Block inappropriate content.
2. With Safe search function.
3. Allow you to set screen time on apps and websites.
4. Be able to track your kid's location with GPS.
5. Be able to see reports on child's online activities.
Cons:
1. Easy to change settings or uninstall.
Features:
Web filter and app filter
Kaspersky Safe Kids is a qualified Internet filter app. Both unwanted webs and apps can be put in blacklist.
Screen-time controls for your kids
If your kids are addicted to Internet, or yourself can't control the online time every day, you can use this program to set the permitted number of hours of screen time. The device will not be able to used once the limit is reached.
GPS tracking for your child
You may be worried about your child's safety when he's out playing. The GPS tracking of Kaspersky Safe Kids will locate your kids wherever they go. Your kids will get alerted if they leave the area you set that you want your kids stay in.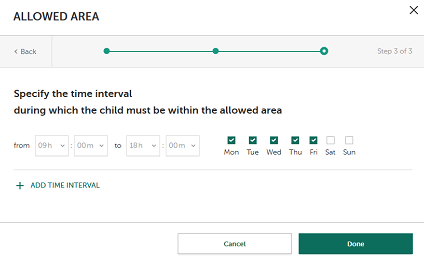 Costs: $39.99/Year
Conclusion
Above are 7 Internet filter app that I recommend. Each app has advantages and disadvantages. They are also suitable for different devices. You can judge them according to your needs and preferences. If you are a Mac user, I recommend you trying AppCrypt. This is a powerful and qualified Internet filter for Mac for your family. It has many useful functions and is easy to operate. Which one do you like best?