There are various causes may drive you to convert PDF to editable Text. Let's say, you want to extract the whole or part of text from PDF file for further manipulation or analysis, or store in database, or you want to read ebooks on eReader, or you want the text to speak, like, to make the text presented via voice speech for learning or other intentions......
However, maintaining the formatting after a PDF to Text conversion is not a piece of cake but critical, since PDF and Text formats are 2 different file formats using different algorithm to present information in different layout and format. And luckily, there are dedicated programs that can help convert PDF into well-formatted Text on mac easily and efficiently.
High-Quality: Convert PDF to Text Easily
If you are working on native PDFs , the files that originally created by PDF tools or generated from an electronic source, such as Word document, computer-generated report, datasheet, etc, a dedicated PDF Converter will be powerful enough to bring you a high-quality conversion.
Doubtlessly, the Cisdem PDF Converter for Mac is the best choice. It is designed to convert PDF into well-formatted Text ,to Microsoft Word(.docx), PowerPoint(.pptx), ePub, RTFD, HTML, Keynote, Pages, Images and more, while retain the original layouts.The Cisdem PDFConverter will change nothing but the output format, all the columns, tables, graphics or any other PDF elements will be maintained.

Free Download
Follow the steps to perform the conversion now!
Launch PDFConverter on you mac
Download the free trial of PDFConverter, it is safe and free, with file size of approx 7M. Install and launch on your mac.
Upload single or multiple PDF into program
Drag&Drop or click the "+" button to add PDF(s) into the interface. You can import as many as 200 PDF files one time. The detailed information of imported PDF will be displayed for your review.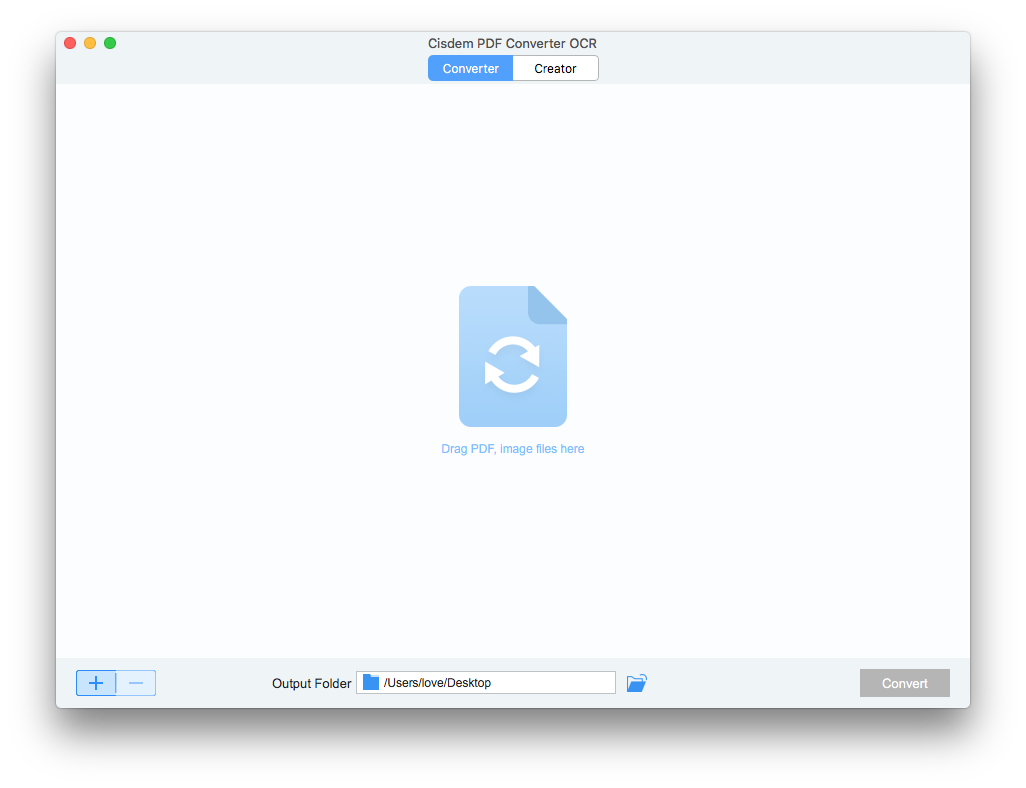 Set your preferences(Page Range and Output Format)
Choose output format as "Text".Cisdem PDFConverter allows batch, partial conversion and encrypted PDF conversion.You can refer to the following details according to your need.
Batch Conversion: Click on the blank area of an imported PDF, the light blue color indicates a PDF is selected. Repeat clicking on the blank area of other each imported PDFs while holding "Shift", all the items will be in light blue color and ready for batch conversion.
Partial Conversion: Choose "All Pages" or fill in the "Page Range" to perform a partial conversion. You can click on the PDF icon to preview the file, then choose the page range as you like.
Start conversion
Once all the settings are adjusted as needed, click "Convert" to start the conversion. The Text file will be in your output folder within seconds. Also you can check the status bar to know the conversion progress.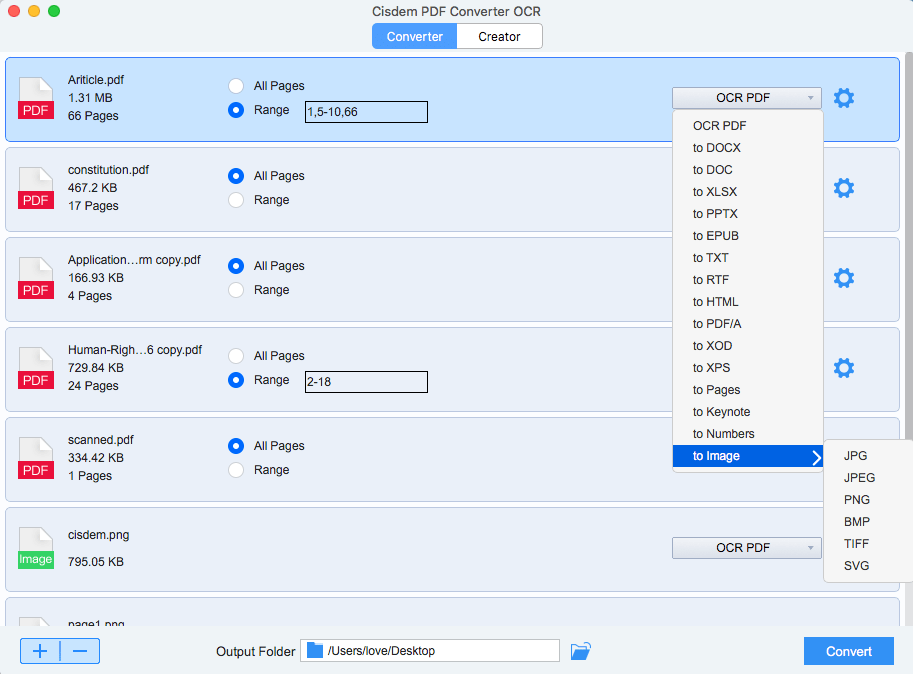 A Glimpse at the Result: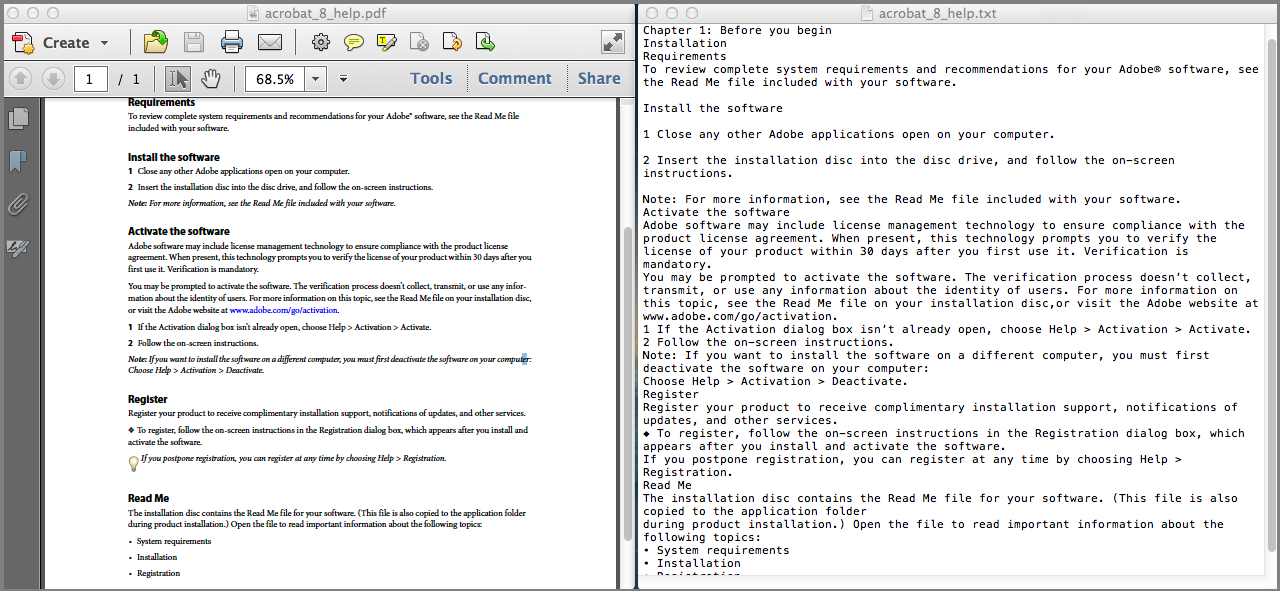 Advanced: Convert (Scanned) PDF to Text with OCR Feature
But also, we have to work on non-native PDFs, I mean, the scanned ones. Scanned PDFs refer to those are not original digital, but the physical paper documents converted into an electronic copy. Scanned copies are usually utilized to keep records and share information not allowing any changes or modifications. To convert the image text, i.e. the scanned PDF to Text, we need to make use of the OCR technology to recognize the text.
Cisdem PDF Converter OCR is an advanced PDF OCR Converter to convert both native PDFs and scanned PDFs, even images into Text, Word, Excel, PPTX, and other frequently-used editable formats. It can preserve the original quality of the file as good as PDF Converter does. Also, it supports batch and partial conversion, even the conversion for secured PDF.

Free Download
Add the files by Drag-n-Drop or Click "+".
Download the OCR module, then the program will recognize the scanned PDF automatically.
Convert PDF to TEXT. Select the output format as TXT. Click the button "Convert" and you can convert your PDF to TEXT files fast and successfully.
Free Tips: Convert PDF to Text with Adobe/Google
Here I also list another 2 free methods to perform the conversion, though the conversion quality will be compromised, it is recommended to use if you don't need to convert PDF to Text so often, or you are not so high demanding on the formatting and your PDFs are simply layout.
#1 Using Adobe Acrobat
Go to File>Save as>More Options>Text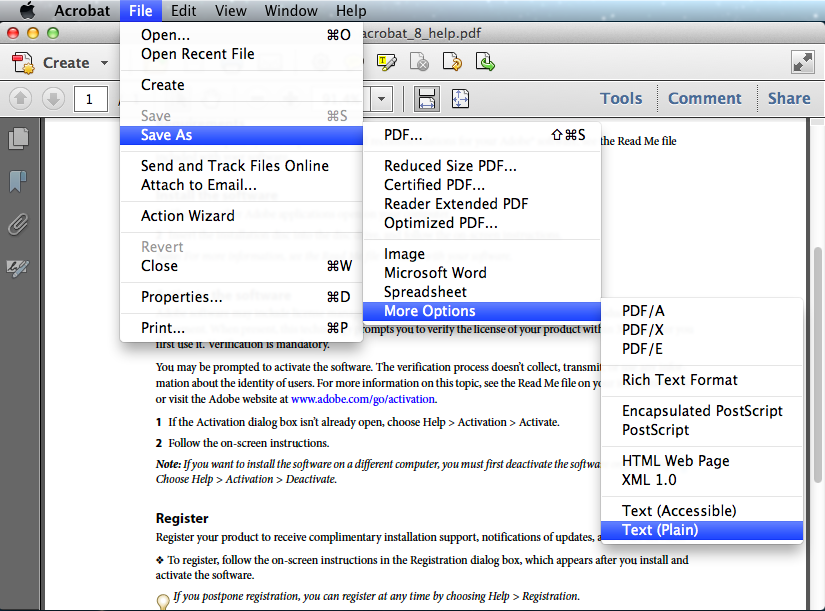 #2 Using Google Docs
Go to Google account>Google Drive>Click "New" to upload file>Right Click on the File>Open with Google Docs>File>Download as>Text.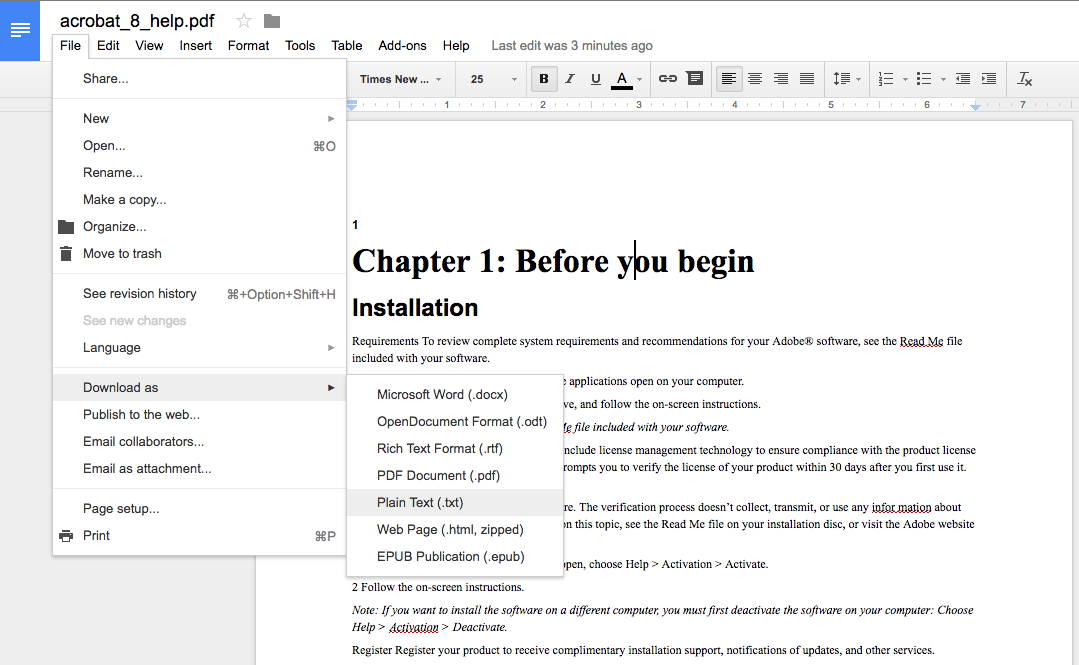 Rosa has worked in Mac software industry for more than eight years. She believes that the purpose of software is to make life better and work more productively. In addition to writing, Rosa is also an avid runner.