In this Freedom app review, we will take a close look at Freedom, a website and app blocker. Digital distractions such as social media can make us less focused at work or study. Many of us tend of spend too much time on computers, phones and tablets. Blocking things like distracting websites and addictive apps can help us improve productivity and limit screen time. Does Freedom app do a good job of blocking apps and websites? What platforms does it support? How do I use it? Please read on to find out.
Freedom app not working? Try This
Block any websites on Chrome, Safari, etc.
Provide two modes: Block Websites and Allow Websites
Block access to any apps
Let you use the Schedule feature to block websites/apps at certain times
No access to the blocked apps/websites without password
Can't quit or uninstall AppCrypt without password
Record failed attempts to open blocked apps
Help reduce distractions and improve productivity
Help limit screen time for yourself or children
Available for Mac and Windows PC

Free Download
macOS 10.12 or later

Free Download
Windows 11/10/8/7
Freedom app review
What is Freedom app?
Available for multiple desktop and mobile platforms, the Freedom app is a website and app blocker. It is primarily designed to help people become more focused and productive. You can also use it for other purposes such as parental control.
Supported OS:
Mac OS X 10.8 and later
Windows Vista, Windows 7 and later
iOS 9 and later
Android 5.1 and later
Is Freedom app safe?
Freedom is safe to install and safe to use. The app contains no adware, spyware, malware or virus. You can safely install and uninstall it. Make sure that you get the app from trustworthy places such as such as the official website and the App Store.
Is Freedom app free?
It's a paid app. There are multiple subscription options available.
Discounts are available occasionally.
A free trial is provided. It allows you to block websites and apps, but there are limitations.
Only 7 sessions available
No access to premium features such as Advanced Scheduling and Locked Mode
To create unlimited sessions and access full features of Freedom app, you need to upgrade to premium version.
Download and install
Freedom is available as an app for computers and phones. It's also provided as a Google Chrome extension.
You can follow the traditional ways to install and uninstall the Freedom app on your devices. On the Download page on Freedom.to, you can find brief installation instructions for each platform. The website also offers very detailed instructions on installation and uninstallation for different platforms.
Features and how-to guide
It's an important part of this Freedom app review. As mentioned above, the premium version offers all the features, and some of them are not available in the free trial. This part will talk about these features.
#1 Block websites
The Freedom app works based on sessions. You can consider a block session (or simply a session) a period of time during which the blocking of websites (and apps) is taking place. Once a session ends, the blocking will stop. How to use Freedom app to block websites? Here we will take the Mac version for example and see how the feature works.
Before getting started, there are a couple of things to do or know. Sign up for an account on Freedom.to. Install the app on your Mac or Windows computer, open it, and then log in with your account. Freedom app is designed in a way that you need to use and configure it through the desktop app as well as the online Dashboard.
Click Freedom app icon

in the menu bar at the top of Mac's screen. Choose Launch Dashboard, or Select Blocklists > Manage Blocklists, which will open the online Dashboard on your web browser.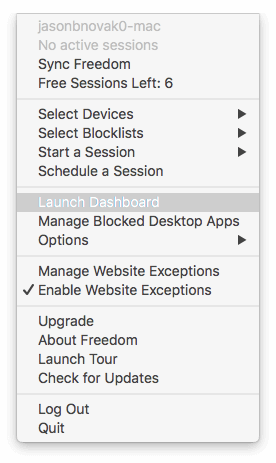 - Customize your blocklists
On the online Dashboard interface, the Block these distractions box presents you with multiple blocklists. Some of the are the default blocklists. You can also create your own blocklists. Once a new list is created, it will also appear in Block these distractions box.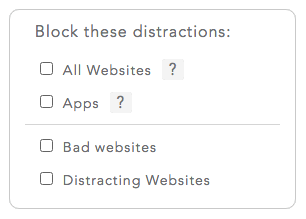 All Websites (default): Once you enable this, all websites will be blocked in a given session, which means the Internet is basically turned off.
Apps (default): It will be talked about later.
Distracting websites (default): Freedom provides a preset list of Distracting Website. You can easily customize the preset list and add any other websites that you'd like to block.
Select at least one blocklist.
- Start a session
There are two ways to start a session.
In the Freedom app, click its icon in the top menu bar and choose Start a Session. There are a few lengths available. You can also choose to create a Custom Length. The maximum length allowed is 1440 minutes (or 24 hours).
On the online Dashboard, enter the desired length and click the Start button.
The second way is handier and provides more options. If you click Start now, the session will start immediately. The two options Start later and Recurring session are premium-only. Recurring session, for example, lets you specify the start time and end time and create a recurring session, which can be very useful.
As soon as a session starts, the websites on the blocklist that you have selected will be blocked. When you try to visit a blocked website, the website won't open. Instead, it will show you following image.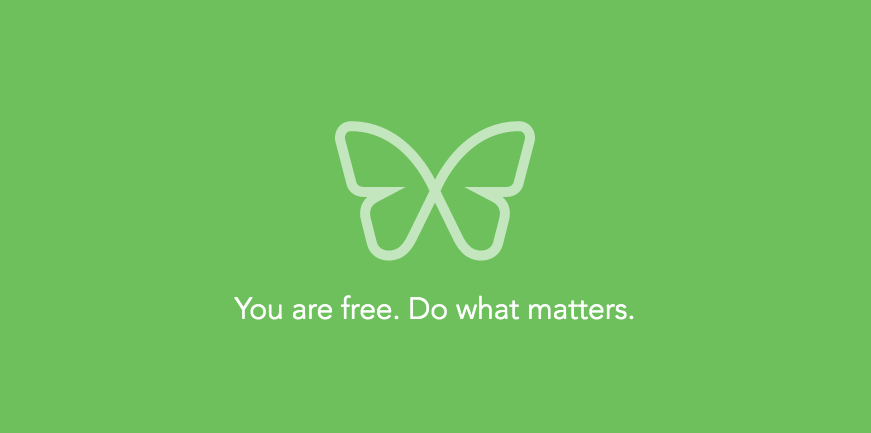 When the time is up, a session will end, so will the blocking. If you want to end a block session before it expires, you can quit the app itself. But note that the session will continue the next time you open Freedom.
#2 Block apps
Freedom app also enables you to block desktop and mobile apps such as Instagram and Twitter. It's similar to the blocking of websites, but of course there are differences.
Click

from the menu bar and choose Manage Blocked Desktop Apps, which will bring up a window. There, you can find a brief explanation and a list of all the apps installed on your device. Select the boxes next to the apps that you want to block. Click Save.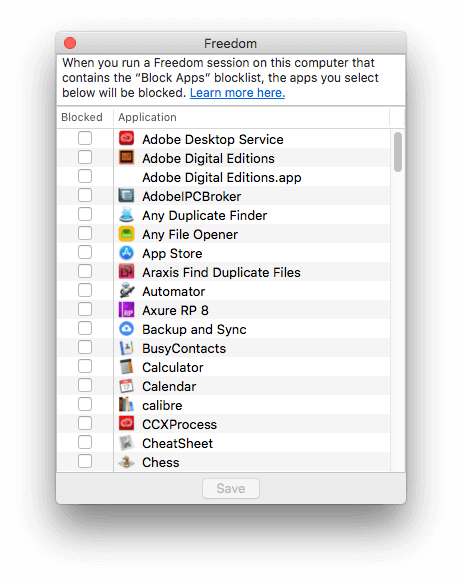 If you run a block session in the desktop app, make sure that the option Block Apps is selected. If you choose to do it on the online Dashboard, check the box next to Apps in the Block these distractions box.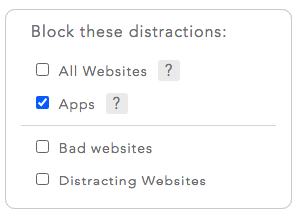 #3 Website Exceptions
You can choose to enable or disable this feature. To enable it, click

and select Enable Exceptions. In the window that pops up, you can add specific websites. This way, during a block session, the blocking will skip these websites even if you have selected the All Websites blocklist or a custom blocklist that contains these websites.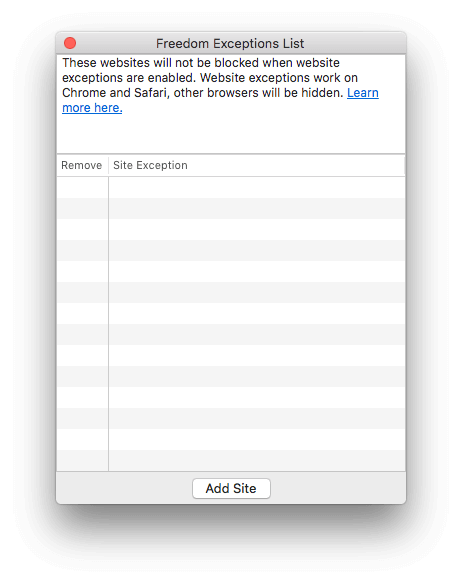 #4 Locked Mode
Available only on the premium version, the Locked Mode can help prevent users from getting rid of blocking by editing blocklists. Once the mode is enabled, it's also impossible to disable the mode itself during an active session. It's designed to add a layer of force to apply the blocking. But this is not enough.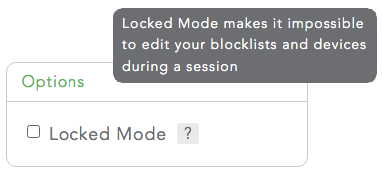 Even when Locked Mode is on, one can easily quit Freedom. Once the app quits, the blocking will stop, and all the distracting or other unwanted websites and apps will immediately become accessible. To prevent this, there is actually a settings option. Click

and choose Options > Disable Quit During Sessions.
#5 Session Annotation and History
On the online Dashboard, you can easily check your session history and add note to sessions. These minor features can be useful. They provide a history and record of the sessions you have run and can give you an idea of what you have achieved and how you can improve.

Summary
Pros
Cross-platform, available desktop and mobile
Block websites and apps
Allow you to create Website Exceptions list to bypass blocking
Provide preset blocklist and let you easily customize and create blocklist
Enable you to create and schedule one-time sessions and recurring sessions
Provide other features like Session History
Cons
Possible to bypass the blocking by quitting or uninstalling Freedom
Expensive lifetime subscription
Alternative apps like Freedom
How does Freedom app work? How do I use Freedom app for productivity? You may have found the answers in the Freedom app review. If you are looking for apps like Freedom and trying to find an alternative, then please read on.
#1 Freedom app alternative for Mac & Windows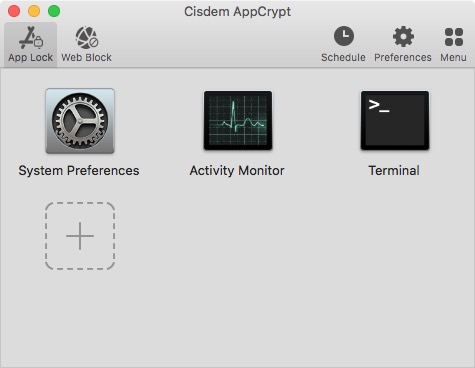 Freedom app not working? Want to try something else? Mac or Windows users can use Cisdem AppCrypt to block websites and apps with password. It's easy to use and versatile. In addition to blocking access to distractions, inappropriate websites and other unwanted websites or apps, it can also be used to protect the important and private apps on your computer. No password, no access. If someone who doesn't know the password tries to open a blocked app, AppCrypt will record the attempt with date, time and a photo of the intruder.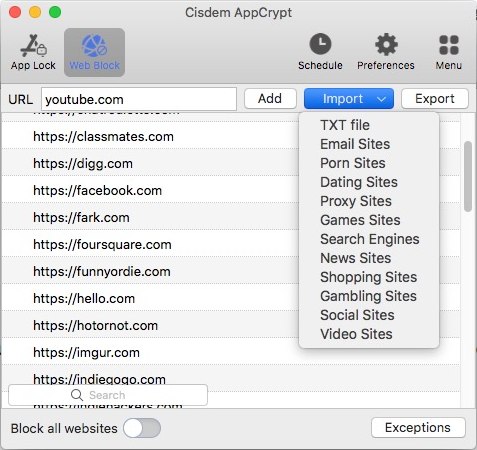 When you use this Freedom alternative for self-control and productivity, you can ask someone you trust to set the password for you. This way, you won't be able to bypassing the blocking by quitting or uninstalling. Both actions requires password. Also, it's recommended to enable Launch at system startup in settings.
One of the great things about AppCrypt is the Schedule feature. You can create one or multiple recurring schedules to block at certain times. It allows you to easily select times of the day and day of the week. It's a great way to limit time spent on apps and websites.
Features
Easily block websites on Chrome, Safari, etc.
Allow you to block by blacklisting or whitelisting websites
Also block apps
Provide a report of failed attempts to access blocked apps
Let you use Schedule feature to block websites and apps during certain times
Help you minimize distractions, improve productivity and protect privacy
Can also be used for parental control
Easy to use with simple, intuitive interface

Free Download macOS 10.12 or later

Free Download Windows 11/10/8/7
#2 Freedom app alternative for iOS and Android
Available for both Android and iOS, BlockSite is as versatile as Freedom app. It is designed to eliminate distractions and boost productivity and provides a variety of features and options. Just like Freedom, it also available as Chrome extension and allows you to sync blocks and settings across devices/browsers. In addition, it also comes with a built-in porn blocker, which makes it easy and quick to block adult websites and content.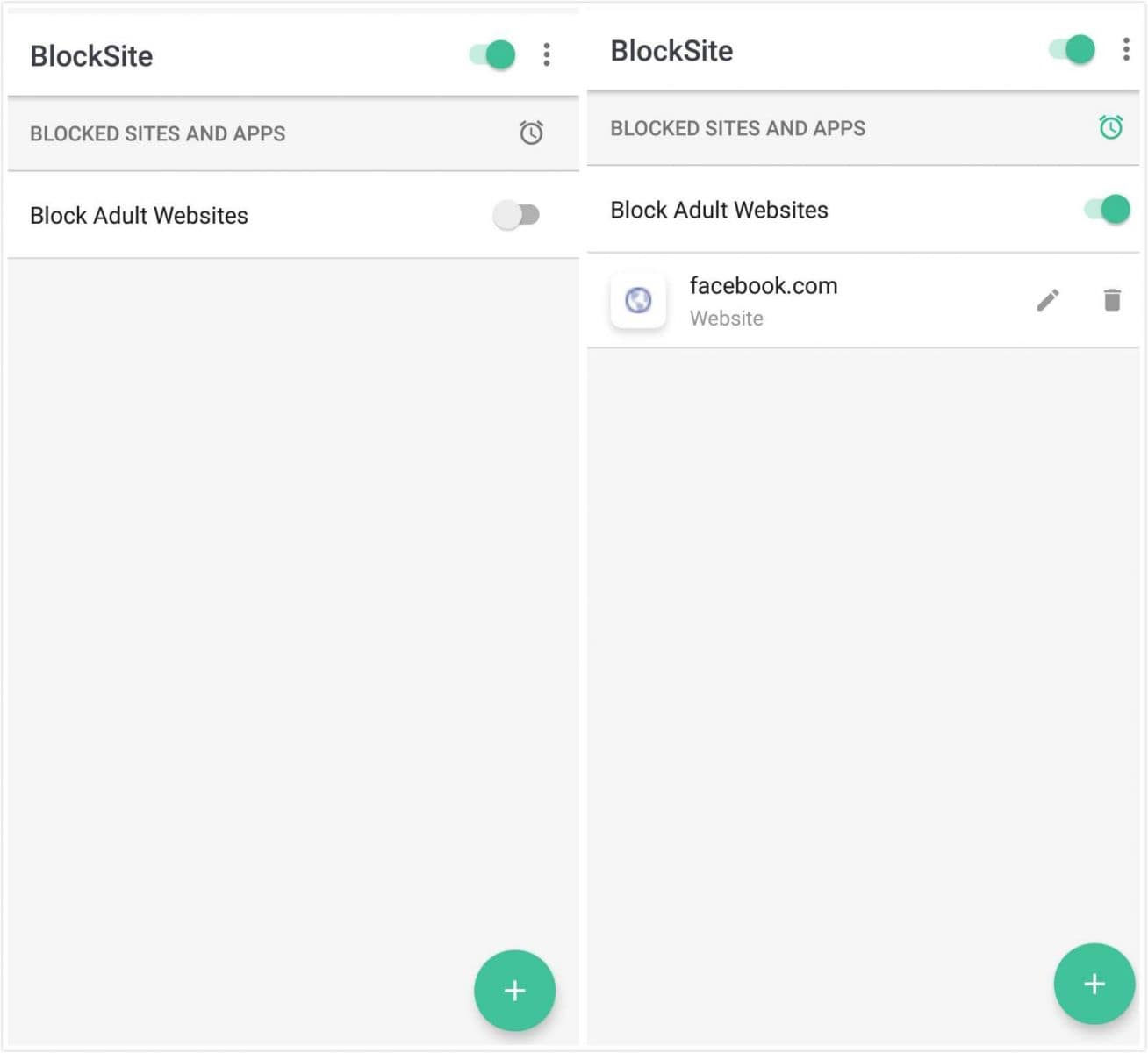 Features
Remove distracting websites and other websites by blocking them
Also block distracting (and other) apps
Provide the Work Mode timer feature to set Pomodoro timer
Automatically block adult content by default
Let you effortlessly set daily schedules
Offer Password Protection feature to make it harder to waste time
Allow you to sync settings between devices
Available as app and browser extension
Support iOS, Android, Chrome and Firefox
Conclusion
Above you can find a detailed unbiased Freedom app review. It's a decent app to reduce distractions and increase productivity. If Freedom app is not working or if the features don't meet your need, you can consider apps like Freedom. Such software can help you improve concentration and focus. They can also help you develop good productivity habits and avoid wasting time.