Facebook, one of the most popular social networking platforms, is a great place to connect with friends, stay informed and meet new people. However, Facebook can be so addictive and distracting. Many people just can't stop browsing Facebook even during work hours. This article will show you how to block Facebook on Mac permanently or during certain hours.
Method 1. How to block Facebook on Mac in an easy way
There is no official Facebook app for Mac computers. Mac users access Facebook by visiting facebook.com on a browser. To do the blocking, just block access to Facebook website.
The easiest way to block Facebook on MacBook Pro, MacBook Air or iMac etc. is to use Cisdem AppCrypt, the best website blocker and app locker for macOS.
AppCrypt main features:
Block websites with password on Safari, Google Chrome, Opera and more
Let you block websites by category
Also let you block all websites except approved ones
Lock apps with password
Offer a schedule feature to block websites and lock apps at certain times
Hard to bypass
Easy to use
Help you block Facebook or limit time spent on it
Help you improve productivity, protect privacy or put parental controls etc.
Support macOS 10.12 or later
How to block Facebook on Safari Mac, Chrome Mac and more
1. Download AppCrypt and install it.

Free Download
2. When you launch it for the first time, set a password.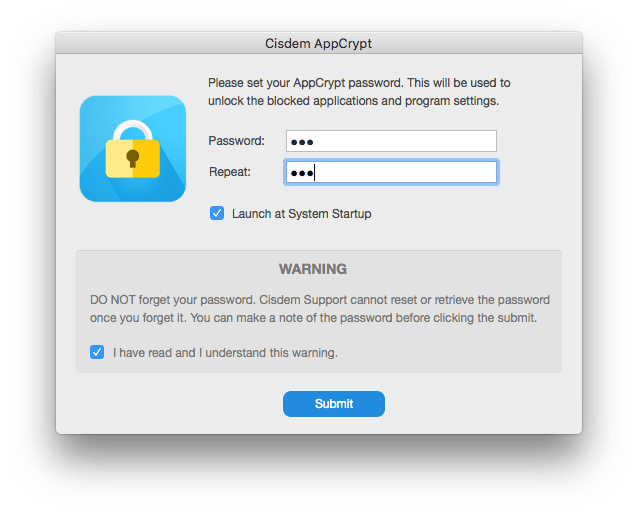 3. Click its icon in the menu bar and choose Open Main Window.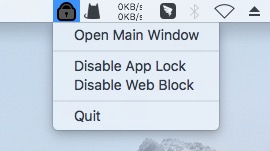 4. Enter the password, and you are in the main window. Click Web Block.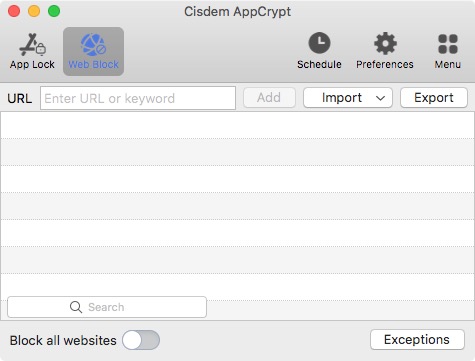 5. Enter the Facebook website URL and click Add. Or, click the Import dropdown menu and choose Social Sites, which will block all popular social media websites.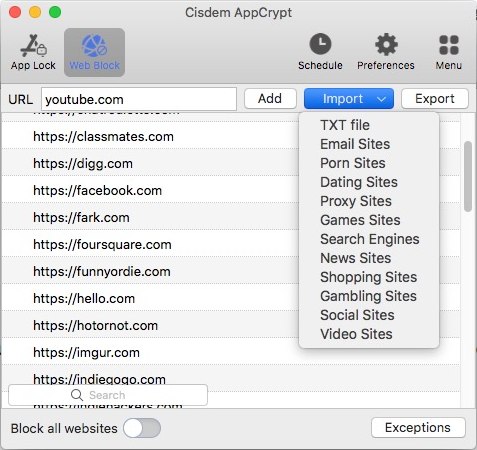 Now Facebook is blocked on Safari, Chrome, Opera and other browsers on Mac. When you or someone else tries to visit Facebook, the website won't open, and a message will appear saying that it's blocked.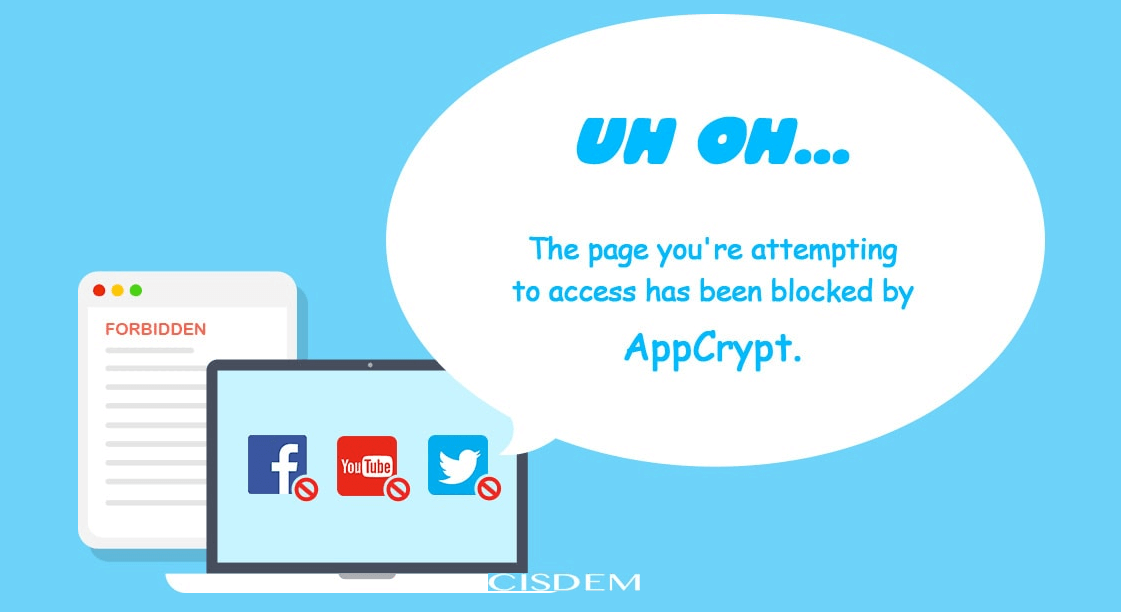 To access Facebook, one can temporarily disable the blocking by clicking Disable WebBlocker and entering the password. Enable the blocking by clicking Enable WebBlocker.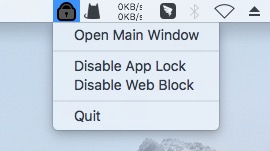 To unblock Facebook, enter the password to open the main window. Click Web Block. Select the Facebook website, control-click and choose Remove.
The blocking is hard to bypass due to the password. If you want to block yourself from using Facebook, you can ask a trusted person to set the password for you.
Tip: Block access to Facebook during certain hours on a Mac
If you want to block Facebook only for a period of time (such as work hours), this Facebook blocker app can also help thanks to its Schedule feature.
Under the Web Block tab, select Facebook and click the clock icon next to it. Turn on Custom Schedule and click Add Schedule. Specify the days of the week and the times of the day. You can add multiple schedules.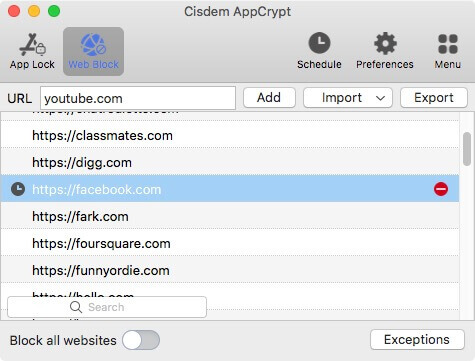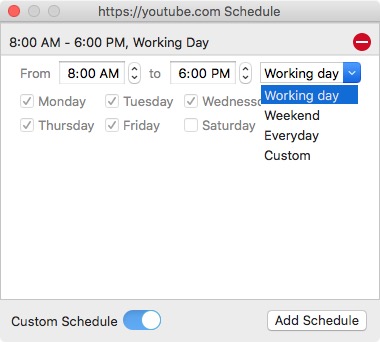 Easy to Use and Versatile
Block Facebook and any other sites
Help stop obsessing over Facebook and social media
Help improve focus when you work or study
Help protect privacy by password protecting your apps
Help with parental controls

Free Download
Method 2. How to disable Facebook on macOS Catalina or later
If your Mac desktop or laptop is running macOS 10.15 Catalina or later such as macOS Big Sur or macOS Monterey or macOS Ventura, it's possible to use Screen Time to block facebook.com.
1. On your Mac, go to System Preferences.
2. Click Screen Time.
3. Click Content & Privacy on the left.
4. Click Turn On to turn on the restrictions.
5. Under the Content tab, select Limit Adult Websites and then click Customize.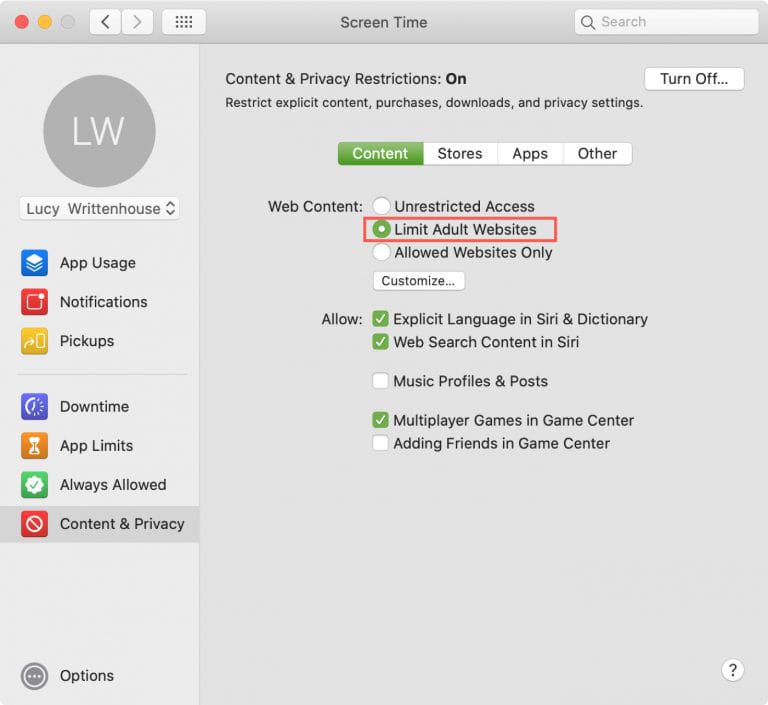 6. Go to the Restricted section, click the plus icon and enter the Facebook domain.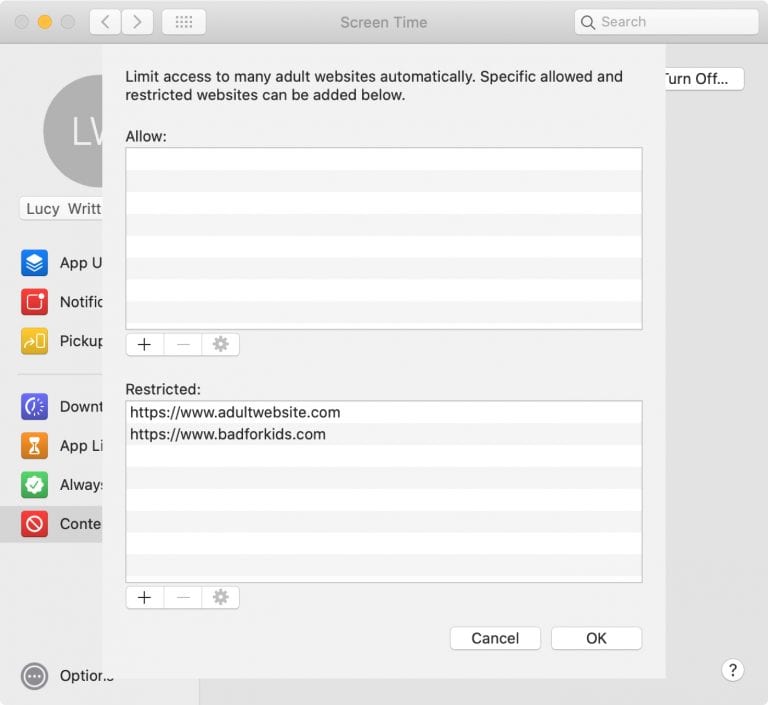 7. Click OK to block Facebook on Mac.
Now the blocking applies to Safari. If you want to block Facebook on Chrome, please use the first method.
If you want, you can set Screen Time passcode. Click Options in the bottom left corner and set a passcode. This can prevent others such as your child from undoing the blocking.
Method 3. How to stop access to Facebook website on Mac with Terminal
If you are tech savvy, you may know that it's possible to block websites by editing the Hosts file on a computer. On a Mac, you can do the editing by using Terminal.
It's not a straightforward way to block facebook.com. If you are not familiar or comfortable with the command line, skip this method.
1. On your Mac, go to Applications > Utilities.
2. Open the "Terminal" application and type in "sudo nano /etc/hosts" in the command line.
3. Type your admin password for your Mac at the prompt when asked.
4. Your Mac's hosts file in TextEdit mode within Terminal will appear in the screen.
5. Place your cursor on a new line below the last line that reads "localhost." And type in "127.0.0.1 facebook.com".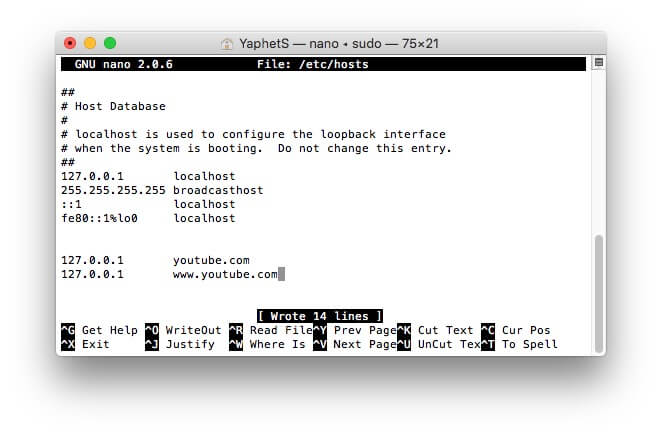 6. Close or quit the TextEdit dialog box, and save the changes to the host database. The Terminal application will display again.
7. Type the command "dscacheutil –flushcache" into Terminal to refresh the existing cache on the host database.
Facebook should be blocked successfully.
Bonus tips for blocking or using Facebook
If your problem is spending too much time watching videos on Facebook, you don't have to block the entire website. Just use AppCrypt to block facebook.com/videos.
If you decide to permanently stop using your Facebook account, delete it instead of deactivating it. Deactivating will still save all your Facebook information, including friends, posts, pictures and so on.
Create an unconditioned secure password for your account. If your password is too universal, like abc123456, someone could easily guess it and break into your Facebook.
Don't leave important personal information on your Facebook profile. Items such as full legal name, residential address and your phone number may bring negative impact in many aspects.
Be prudent to accept friend request. Because on Facebook there are a lot of frauds, cheats who camouflaged as well-meaning cybernauts. Moreover, some of them are marketers, sending junk mails to you regularly.
Think it over before you posting something on Facebook. Because someone could take a screen shot even if you have removed the embarrassing things that you posted. Or you can only allow reliable individuals to see those awkward statuses.
Conclusion
If you want to stop using Facebook but can't stop it, just make Facebook inaccessible on your Mac. Or, you can allow yourself to use it for a couple of hours on weekends. This article shows you how to block Facebook on Mac. I hope it can help you or your child curb Facebook use.