The step of Christmas is closer and closer, this is a grand festival for everyone, whether adults or kids. When it is time to this day, people will celebrate all the time. I believe that all the conventional things have been prepared already. Have you ever thought about adding something special tastes to your Christmas? There must be some people will ask, what is the interesting thing? How about playing some funny and educational games with your kids? Yes, here's some puzzling fun for the kids.
Tangram, an ancient Chinese puzzle, is still mind-bending and intriguing today. We all know, tangram puzzles are perfect for kids, it is benefit for their logic and thinking skills. I have searched several sites which supply many fun printable tangram puzzles for us, you can click their link to select you like.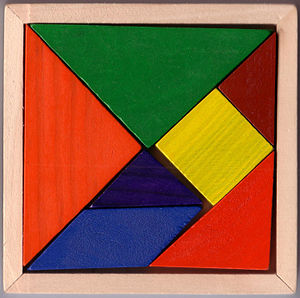 Best Tool to Manage Christmas Printables
Create Christmas printables from other sources for easy printing
Merge all Christmas printables into one PDF
Convert Christmas printables to editable formats for modifications or customization
Recognize text from scanned Christmas printables or images
The best productivity tool to give as a Christmas gift

Free Download
What is tangram?
The tangram is a dissection puzzle consisting of seven flat shapes (5 right triangles, 1 square and 1 parallelogram). With these 7 pieces, players can form different objects, including square shapes, geometric shapes, fun shaped, animal shapes, even Christmas candle, Christmas tree, Christmas dinner, Christmas flower, etc.
How to Make and Play Christmas Tangram Puzzles?
1st, Download A Tangram Template PDF.
First of all, we need to download and print out a tangram template. There are a lot online free resources for printable tangram. Here for safety and your convenience, we recommend downloading the tangram template on tangram-channel. By clicking the following download address, you will be able to save a tangram template.
Free Download Printable Christmas Tangram Template
2nd. Print out the Tangram Template PDF on A Colorful Paper
Now, print out the tangram template. If possible, find a printer that can print papers with colors. Also, use some thick A4 paper or cardstock for the printing.
3rd. Hand Make the Tangram
Here we comes to the most important step to play Christmas tangram, we need to cut and stick. To help our users fast learn the way to hand make a tangram, we paste a YouTube video in the following:
Finally, Play Christmas Tangram Puzzles.
With tangram, you can form different shapes as a part of your Christmas decorations or entertaining activities. Here we list several Christmas puzzles, you can name the shape you want your children to form first, then refer to the following solutions to finish the puzzles later.
Also, you can find the printable Christmas tangram puzzle in PDF format if you want to.
Printable Christmas Tangram Puzzle PDF 01
Printable Christmas Tangram Puzzle PDF 02
Printable Christmas Tangram Puzzle PDF 03
Want Play More Printable Tangram Puzzles?
Of course, there are more tangram printables to play on Christmas. Here we list several websites for other tangram puzzles that are irrelevant to Christmas, but still can be played on Christmas holidays.
Here list a lots of tangram puzzle sheets, it allows users to form different shapes with the tangram printables, for example, square, funny shapes and animals. Also, there are solutions to form these shapes. All the resources are saved in PDF format, for easy downloading and printing.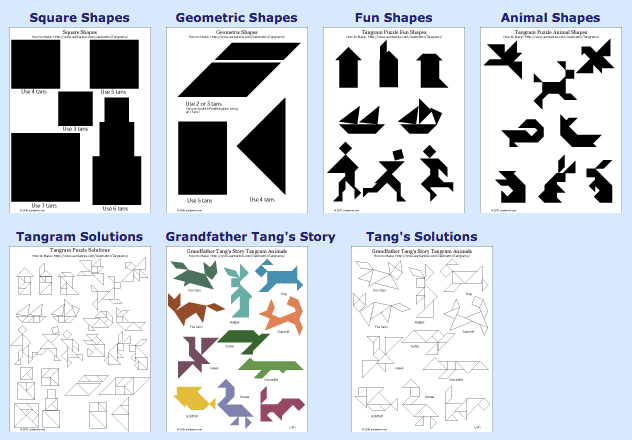 It is an early childhood education website offering free printables, including printable tangram puzzles. You can use the tangram template made according to above video tutorial, then refer to the shapes listed on this website to recreate these shapes.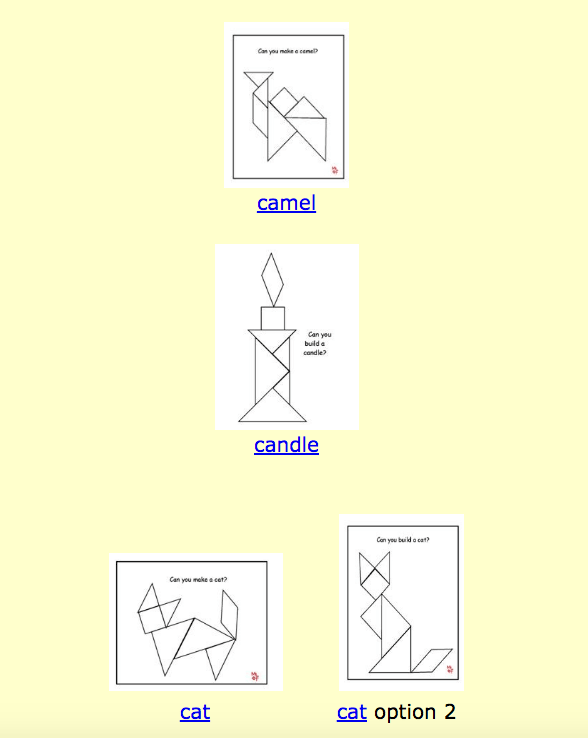 It also supplies tangram in a variety of colors. What's more, Boat, Candle, Cat, Chair, Dog, House, Person, Rabbits, Rocket and Swan are available. Tangram ranges simple to complex, you can pick by yourself according to the age of your kid.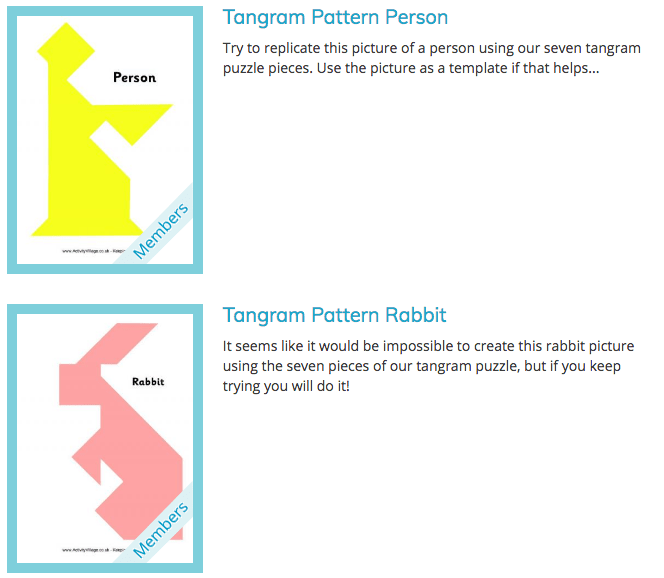 It is the place has the most tangram, undoubtedly, you will find plenty of tangrams in here. Nothing to introduce, you can go and see for yourself.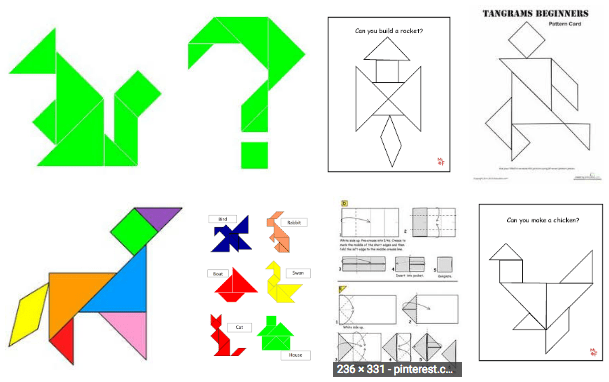 Conclusion
So, as you can see, to play printable Christmas tangram puzzles, you need to hand make a tangram base first, then piece the tangram plats together to form different shapes. Hope our collection of free printable Christmas tangram puzzles is helpful to you to have a great Christmas this year.