As a general and popular image format, JPEG always shows up on our Mac. Then why should we reduce JPEG files size on Mac? On the one hand, if you upload all JPEG files to your galleries without compressing them, these files will occupy storage space. On the other hand, when you send email or message with original JPEG files size, the transfer of files will be slow and even be suspended on Mac.
On this occasion, we have to reduce the size of JPEG files on Mac. For most people, free online methods are acceptable, so I will meet your requirements and introduce 5 free online tools that can reduce JPEG files size on Mac to you firstly.
Top Free Online Tools to Reduce JPEG Files Size on Mac
Compressor.io is an impressive and useful online tool for entirely reducing the size of images and photos with high quality retained. It supports four files formats, including JPEG, PNG, GIF, SUG. Lossless compression, however, only works for PNG and JPG, which means JPEG file will be lossy in the case of reducing size with this tool on Mac. What's more, it doesn't let you to bulk upload photos on Mac and the single file size is limited to 10 MB.
Outcome: Before 288.49KB After 203.44KB Minus 29%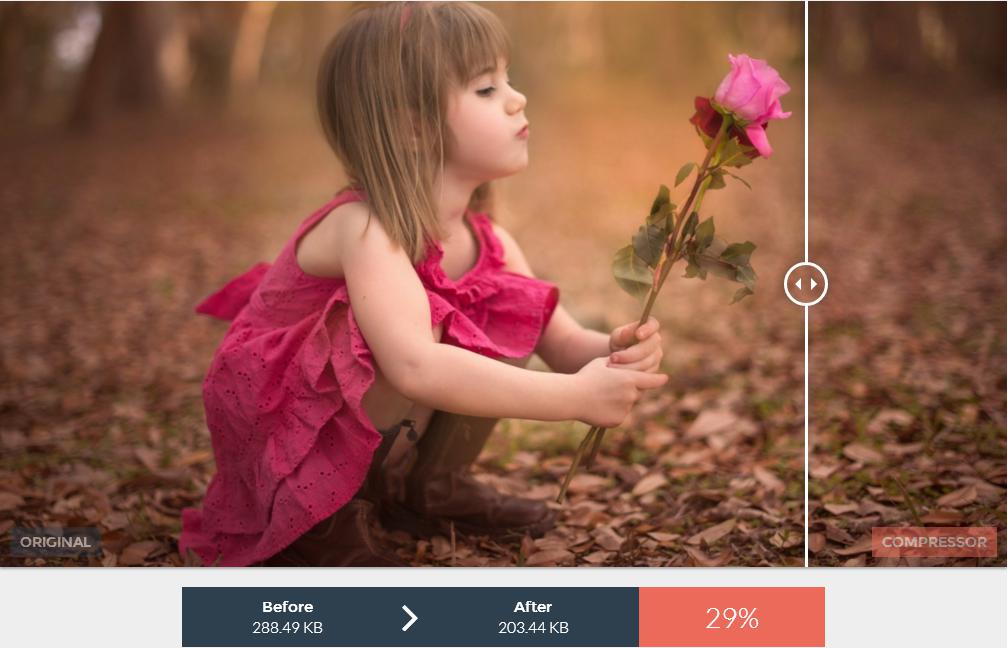 JPEGMini is an amazing online tool to shrink JPEG file size on Mac. It is very simple to use JPEGMini. First of all, you should drop photo to the window or click " Press to Upload Photos", and wait for a few seconds. Afterwards, you will get a picture as follow. The left side is original and the right side is compressor. You can mobile mouse to compare them. If necessary, you are able to share this JPEG image to your friends and families. But the process of uploading needs wait longer than Compressor.io.
Outcome: Before 282KB After 156KB Minus 47%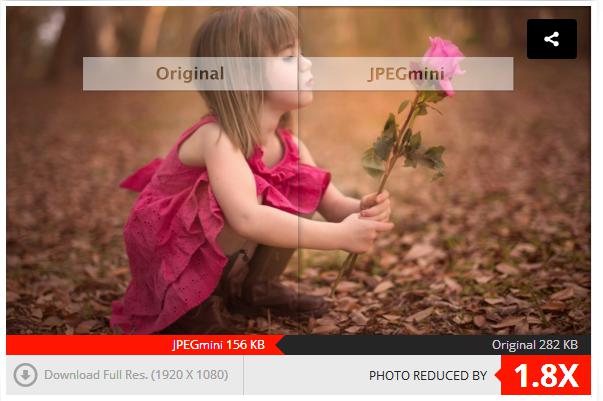 JPEGReducer is an interesting website option to compress JPEG photo size into 5 types on Mac. You are save the one you prefer to obtain. The operation of it is also easy, you have to upload a JPEG file from your Mac or enter a URL. The max size is 2 MB. Next press " Reduce It", the page will automatically jump. Then you can view the reduced JPEG images and thumbnails on your Mac.
Outcome:
90% compression: Before 281.72KB After 281.63KB Minus 0.03%
75% compression: Before 281.72KB After 137.20KB Minus 51.30%
50% compression: Before 281.72KB After 89.37KB Minus 68.28%
25% compression: Before 281.72KB After 55.55KB Minus 80.28%
10% compression: Before 281.72KB After 28.43KB Minus 89.91%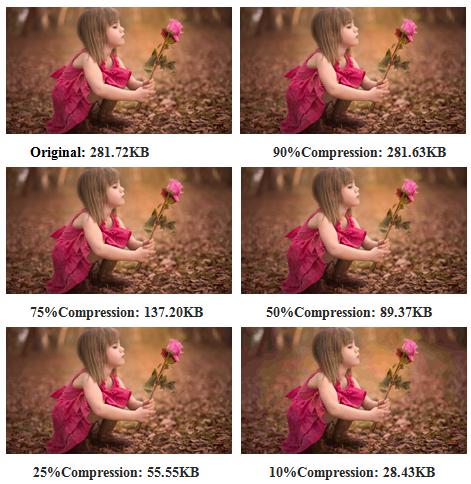 JPEG-Optimizer is a clever and compact online tool for resizing and reducing JPEG image size on computer, Mac user can use it as well. You need select a JPEG file from your Mac that you wish to optimize. And then define "Compression Level 0-99" and "New Photo Width in Pixels". At last, click "Optimize Photo" to get your new JPEG photo for displaying on the internet. Pay attention that it needs take several moments to compress large photos.
Outcome: Before 281.7KB After 12KB Minus 95.8%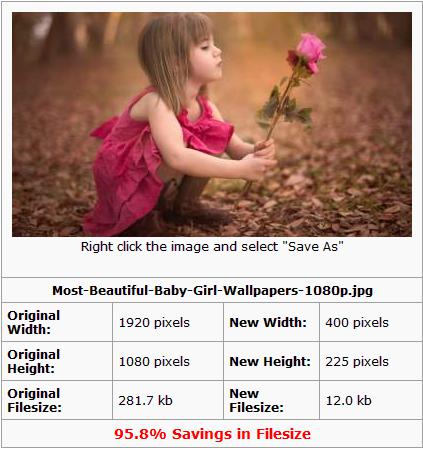 Among all free online image optimizers, my favorite one is Optimizilla due to its remarkable and smart features. This tool is capable of shrinking JPEG and PNG files to the minimum possible size. All you are supposed to do is uploading JPEG files from Mac or drop them to the tool. Batch compression is feasible, as you can upload up to 20 images at a clip. After finishing compressing files, press thumbnails in the queue for quality setting. One marvelous characteristic of Optimizilla is that you have the right to adjust the quality of JPEG images. You can set the value directly or move on the slider from 10-100 on your Mac, the JPEG file size will be reduced as you wish.
Outcome: That how many sizes are reduced depends on the quality you setting.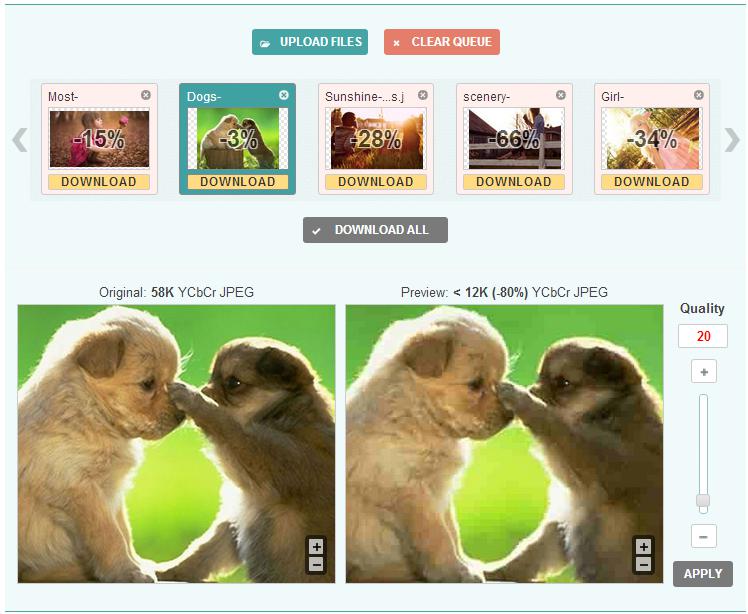 Issues You May Run Into When Manipulating Free Online JPEG Reducers on Mac
It only allows you to upload unitary JPEG file at a time. If you possess tons of JPEG pictures on your Mac, you must upload them one by one. Don't you think it's very troublesome and horrible?
Some online JPEG reducers might put a limit on the capacity of files which are going to be uploaded, like at most 2, 5, 10 or 20MB.
Some with high compression level, but low image quality. Others come with high image quality, but low compression level. The perfect package does not, unfortunately, exist.
Online software will come across network problems inevitably. If your network link outages, you will have no way to continue reducing JPEG files size on Mac. On condition that you are bulk uploading JPEG files on Mac and network connection stops working suddenly, all your previous efforts wasted. You can't backup and have to start all over again.
In short, there is no free lunch. Free online JPEG reducers can really bring convenience to us, but still own apparent defects. Whether we are helpless with regard to this? Not always! We can turn to offline tool to reduce JPEG files size on Mac.
The Best Alternative Method to Reduce JPEG files size on Mac
Have you ever consider an offline tool to shrink JPEG files size on Mac? I mean a third-party program that's only compatible to Mac technically. Cisdem Unarchiver is an unarchiver and archiver for Mac that lets you batch compress files, unzip archive files entirely or partially on Mac. Unlike online reducers, Cisdem Unarchiver is designed to reduce files capacity through compressing them into zipped files on Mac. You can use it to compress your JPEG files into ZIP, TAR and 7Z formats on Mac and create a password to protect them.

Free Download
Download the Free Trial of Cisdem Unarchiver Here!
Available features of Cisdem Unarchiver
Batch converting images, files, folders to 7Z, TAR, ZIP format with lower sizes and high quality.
After resizing the size of pictures, you are able to password protect them from prying eyes.
Preview files before unzipping them and find your files, photos, and passwords with Keyword Search.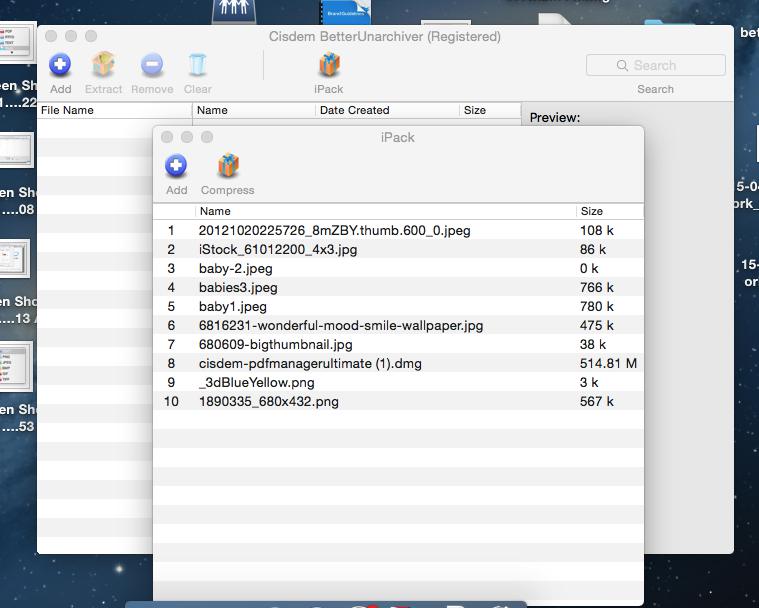 For step-by-step guides, you can view How to Compress Pictures on Mac without Losing Quality?

Rosa has worked in Mac software industry for more than eight years. She believes that the purpose of software is to make life better and work more productively. In addition to writing, Rosa is also an avid runner.