This article will show you how to effortlessly export iPhone contacts Gmail in different ways. Nowadays, it's common for us to transfer contacts between apps, services and devices for one reason or another. For example, we can export and backup iPhone contacts to Gmail. There is usually more than one way to do such an export.
Easily Transfer iPhone Contacts to Gmail on Mac
Make it easy to move iPhone contacts to Gmail
Support contacts from sources like iCloud, Gmail, Exchange, Facebook and more
Enable you to efficiently migrate contacts between supported sources
Let you view, search, edit, create, tag, group, print, share, and sync contacts
Also export contacts from any supported source to 8 formats
Allow you to backup or restore contacts with 1 click
Find and delete duplicate contacts
Versatile and easy to use
Compatible with macOS 10.11 or later

Free Download
Part 1. Transfer iPhone contacts to Gmail without iTunes
If you are not a fan of using iTunes to manage your iPhone, then you can consider the following method.
Method 1. Auto sync iPhone contacts to Gmail
iPhone lets you sync contacts between the Contacts app and certain Internet accounts, say, Gmail. As a result, you can export iPhone contacts to Gmail by syncing.
On your iPhone, tap Settings.
Scroll down and tap Accounts & Passwords.
Tap Add Account.
Tap Google. Sign in using your Gmail account.
Now you should find Gmail under the ACCOUNTS section. Tap Gmail and turn on Contacts.
Return to iPhone Settings. Tap Contacts > Default Account > Gmail.
Tip
iPhone contacts not syncing with Gmail? Make sure that your Internet connection is good. Also, you can try to fix this issue by switching to cellular data. If you have added multiple Gmail accounts to iPhone, be sure that you choose the desired one when following the steps above.
Method 2. Export iPhone contacts to Gmail with ContactsMate
If you are a Mac user, you can use Cisdem ContactsMate to efficiently export all or selected contacts from iPhone to Gmail, Exchange, Excel, CSV and more accounts or formats.
Download and install ContactsMate. It supports macOS 10.11 or later. When you open this tool for the first time, it will ask for access to the Contacts app on your Mac. Click OK.

Free Download
On your iPhone, tap Settings > your name > iCloud.
Turn on Contacts under the APPS USING ICLOUD section. Now your iPhone contacts are saved to your iCloud account.
On your Mac, open this tool. Click Add Account in the toolbar.
Select iCloud and sign in to it.
Select the box before Contacts.
Click the plus icon in the bottom left corner. Select Google and sign in. Select Contacts and click Done.
Click the button next to the Updated contacts detected message. You can find the iCloud group and Google group in the left sidebar.
Choose iCloud in the sidebar. Mass select all contacts (or select specific contacts) and drag them into Google group in the sidebar.
Now your iPhone/iCloud contacts are exported to Gmail. And if you visit contacts.google.com, you can find them there.
Tip
If you export and backup iPhone contacts to Gmail, you can also create a backup on your computer, which only takes a couple of clicks. Choose Preferences. Choose the Backup & Restore tab. Select iCloud on the left and click Backup.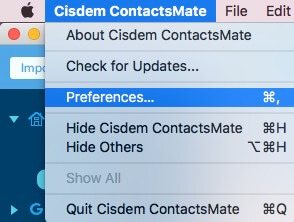 Method 3. How to save iPhone contacts to Gmail manually
Gmail contacts are stored in Google Contacts (contacts.google.com), a web-based contact manager from Google. It allows users to import contacts from a CSV or vCard file. Therefore, you can first export contacts from iPhone to vCard and then import them to Gmail.
On your iPhone, select Settings > your name > iCloud. Enable Contacts.
On your computer, visit icloud.com and sign in to iCloud. Open Contacts.
Click the gear icon in the bottom left corner. Choose Select All.
Click the icon again and choose Export vCard.
Now your iPhone contacts are saved as vCard to your computer.
Visit contacts.google.com.
On the left, click Import.
Click Select file. Select the vCard file containing your iPhone contacts. Click Open. Click Import.
You will see the All done message once the import is finished.
Tip
Once your iPhone contacts are imported to your Gmail, they are in the Google Contacts list and are automatically labeled as "Imported on MM/DD". By hovering your mouse over the label, you will find options to rename and delete the label.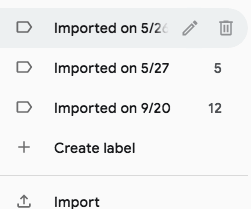 Part 2. Export iPhone contacts to Gmail with iTunes
Included with macOS 10.14 Mojave and earlier, iTunes is an easy-to-use and versatile app. Among other features, it allows you to sync iPhone contacts to Google Contacts. Therefore, it can be used to transfer iPhone contacts to Gmail.
On your computer, open iTunes.
Use a USB cable to connect your iPhone to your computer.
Click the device icon.
In the sidebar on the left, choose Info.
Select the box next to Sync Contacts with. From the dropdown list, choose Google Contacts.
Click the Configure button. Enter your Google account and password.
Click Apply.
Your iPhone contacts should be exported to Gmail.
Tip: With macOS Catalina and later, the iTunes app doesn't exist any more. Finder takes over the capability to sync contacts. Windows PC can still use iTunes.
Bonus Tip: Export iPhone contacts to Android
Once you have exported iPhone contacts to Gmail, it will be very easy to transfer them to Android if you want to.
Note that the options available may be slightly different depending on the brand and Android version of your device.
On your Android phone, go to Settings > Accounts.
Add the Gmail account to your device if haven't done so already.
Tap the account.
Turn on the option to sync contacts.
Conclusion
Above are the common methods to export iPhone contacts to Gmail. They are easy to follow and apply to almost all iPhone models. Once the export is done, you can effortlessly access your Gmail contacts through Google Contacts. They can serve as a backup or be used for other purposes.

Rosa has worked in Mac software industry for more than eight years. She believes that the purpose of software is to make life better and work more productively. In addition to writing, Rosa is also an avid runner.