Duplicate folders on computer are normal. Since we used the computer for a long time, some junk duplicate files and folders will be generated, which will lead to excessive occupation of the system hard disk, and the computer will also start to slow down. In such a situation, a duplicate folder finder can solve the problem. Below I'll introduce several powerful tools to find duplicate folder on your Mac and Windows computer.
Easily Find and Remove Duplicate Folders on Mac
Find duplicate folders, photos, videos, audios, documents and other duplicate files
Identify duplicates based on content/name
Find visually similar pictures in a folder
Support computer, external hard drive, SD card, etc.
Automatically select duplicates for you to bulk delete with 1 click
Also let you select by hand or use a selection rule
Offer 3 ways to delete duplicates including move to Trash/a Folder
Highly customizable
Available for Mac and Windows

Free Download

Free Download
Part 1: Best Duplicate Folder Finder Mac to Remove Duplicates
Sometimes we mistakenly created duplicate folder on computer but we don't know it. Some are duplicate folder with different names but the same content in it. Some are duplicate folder name, which may cause name conflict or confuse us. They create unnecessary data.
Cisdem Duplicate Finder is an excellent duplicate folder finder that uses intelligent algorithms to detect all kinds of duplicates on Mac and deletes them in batches. All duplicate folders can be detected by it. In addition, this app allows you to scan and eliminate duplicate images, audios, videos, documents, archives and other duplicate files. You are able to preview the found duplicates before deleting them. This tool supports 2 scan methods: based on folder content or name. You can choose one as your need. Let's take a look at how to find duplicate folder on Mac with these 2 scan methods.
How to find duplicate folders by content?
1. Download and install Cisdem Duplicate Finder. Open it.

Free Download
2. To find duplicate folder, click the plus icon to add one or more drives/folders on Mac to scan. Click on Scan to start the scanning process.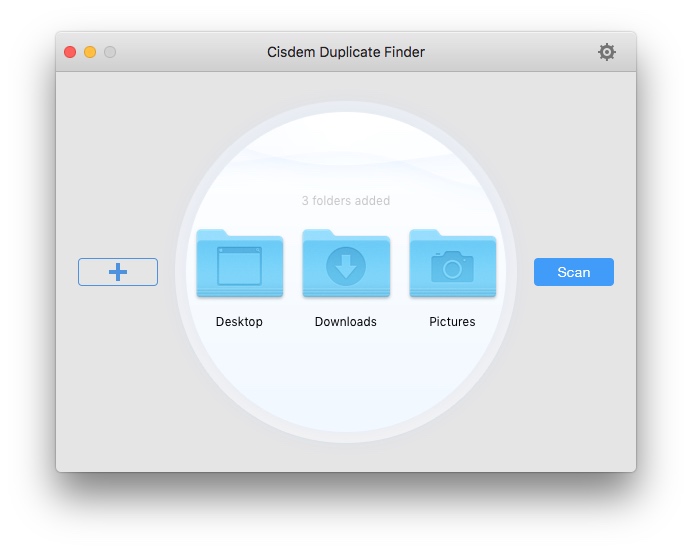 3. The scan will finish in seconds. Once the scan is done, the result window will pop up and display all found duplicates sorted by category, including duplicate folders with different folder names but the same content.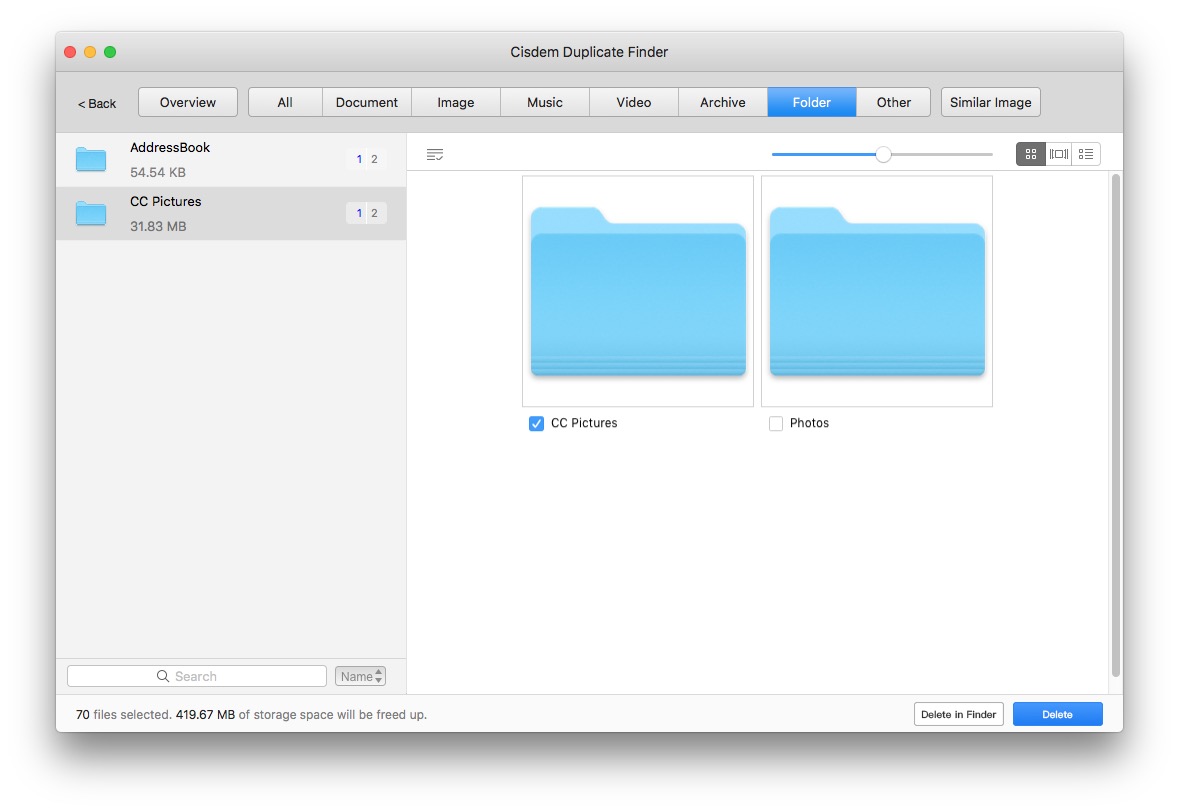 4. The tool will automatically select duplicates for you to delete with 1-click. If you want, you can also select by hand, or click the list icon on top left to choose a selection rule. Click Delete.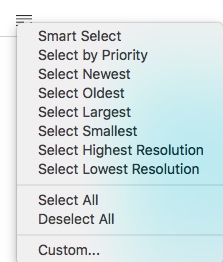 You can also select Delete in Finder in the bottom left corner. This way you can locate this folder on your Mac and preview content in it. Choose an unwanted duplicate folder to remove.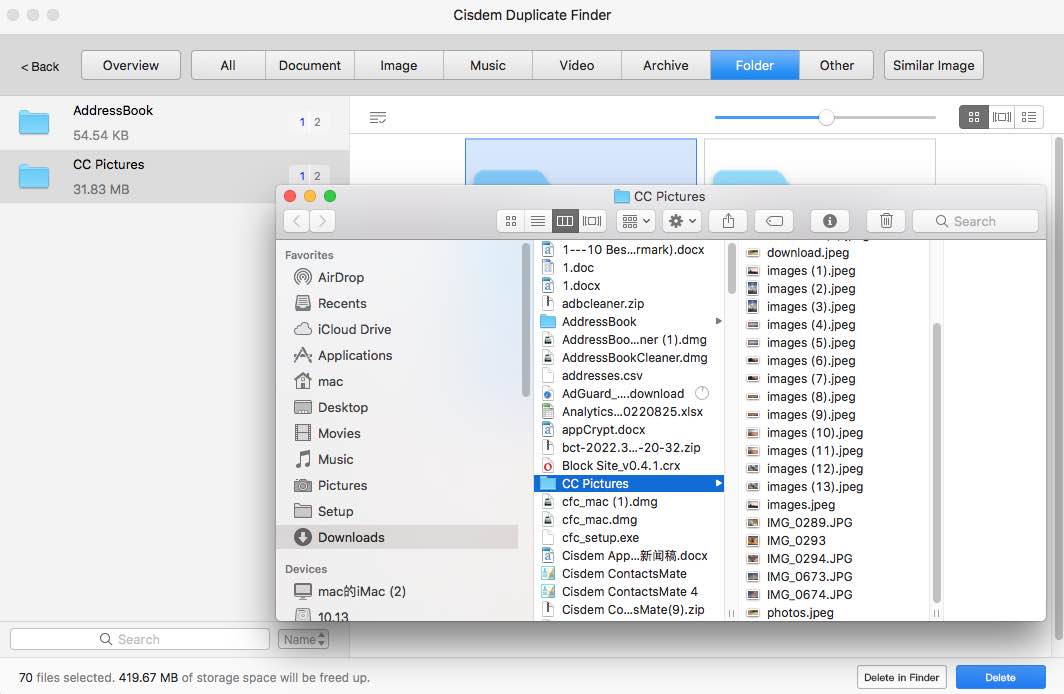 How to find duplicate folder names?
How to find duplicate folder names regardless of their content? That means there may be folders on Mac have same name but different content and different path. Using Duplicate Finder can easily find them. You just need to change the scan mode.
1. Open Cisdem Duplicate Finder. Click Settings on the top right corner.
2. Go to Duplicate Files tab. Change the Scan method to File name. Then this duplicate folder finder Mac will scan for duplicates based on file name.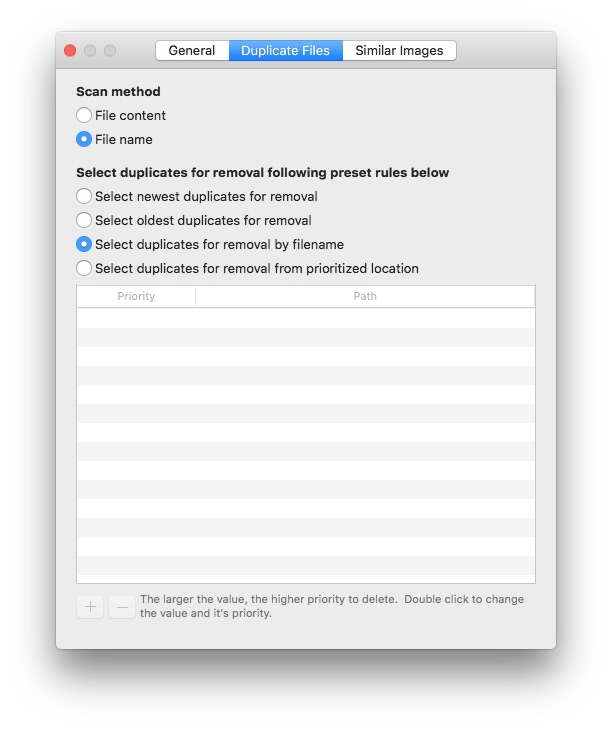 3. Go back to the main window. Select drives/folders to scan.
4. After the scan is completed, it will display all the duplicate folders have the same names. You can switch to the second preview mode on top right to get the folder location.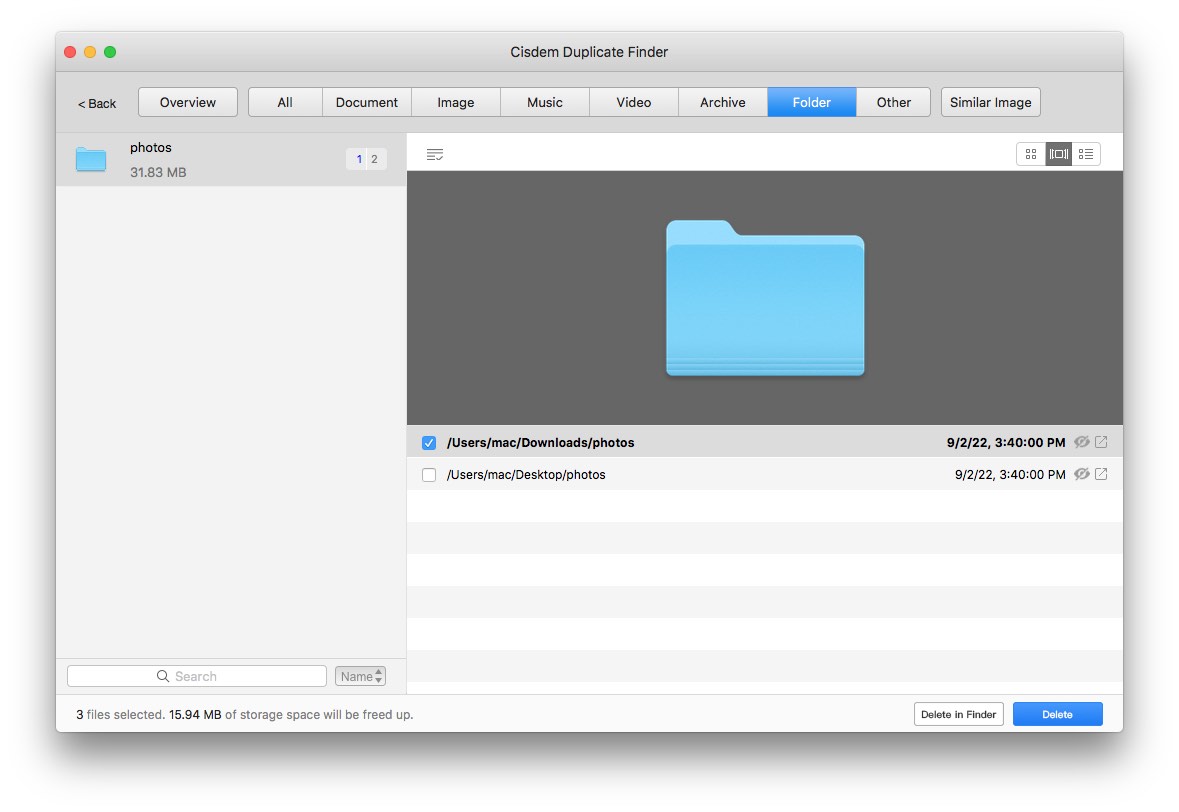 5. Choose an unwanted one and click on Delete.
After that, the duplicate folder names have been eliminated efficiently. This can prevent folder name conflict on your Mac, and organize the files and folders on computer more clearly.
Tips:
Customize deletion options. If you're worried about accidentally deleting important folder, there are 3 removal methods for you: Move to Trash, Remove permanently or Move to Folder. Allow you to delete all the selected duplicates to the specific location on your Mac. You can click on "Settings" and switch to to "General" tab to customize a desired removal method.
Exclude folders and files from scanning. If there are some specific files and folders you don't want to scan, you can go to the "Ignore folders and files in the list" section in General tab. Click the Add icon and enter specific folders for exclusion.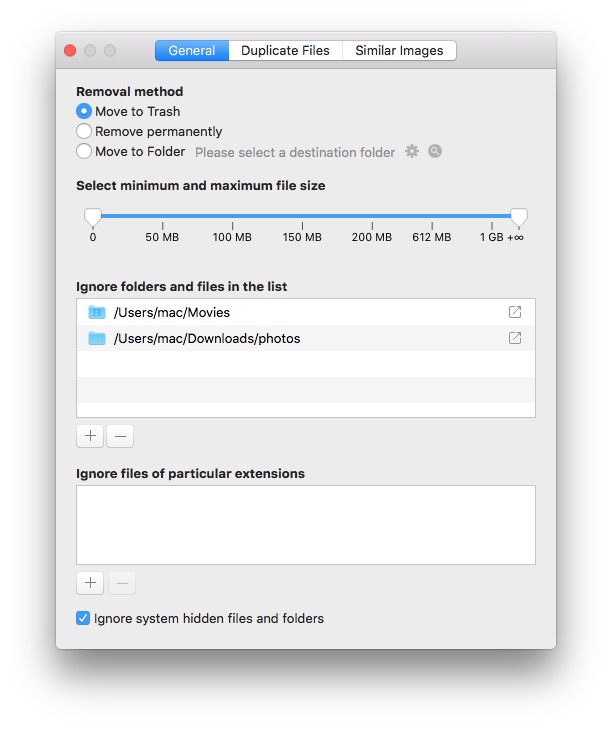 Part 2: How to Find & Remove Duplicate Folders in Windows?
Below you'll find how to find duplicate folders in Windows 10. Regardless of the device you use, it must be times taking and difficult to find all duplicate folders manually. However, keep too many unnecessary duplicates on computer's storage will cause insufficient memory, or make device slow down. The best you can do is choosing a reliable duplicate folder finder Windows to search for duplicates automatically and quickly.
Duplicate File Finder is an app lets you search for duplicate folders easily and fast. It is compatible with Windows 11/10/8.1/8/7. This tool provides multiple options to mark duplicate folders and has preview list to preview duplicate folder details in scan result window.
1. Download and install this duplicate folder finder Windows. Launch it.
2. Select the File Search Mode. Now we choose the second one-Folders. The search mode is designed to quickly help you find and manage duplicates and you are able to modify the search criteria in Settings.
3. Click on ADD FOLDERS on the bottom tool bar. Select folders to scan.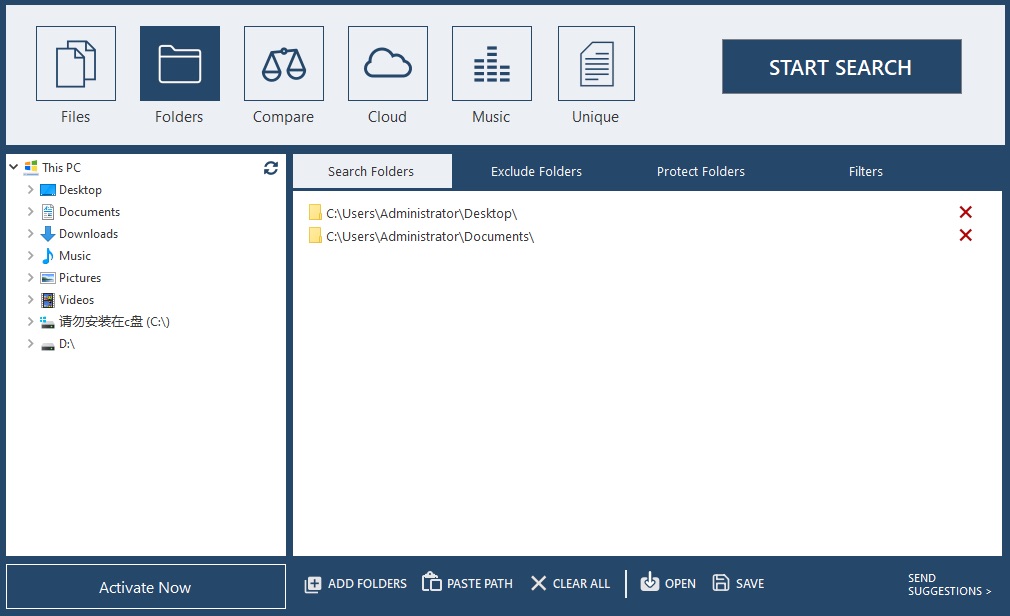 4. Now you can start to clean duplicate folders. You can delete all duplicates in one go. Or select a folder to preview details on the right of the result window then choose one to delete.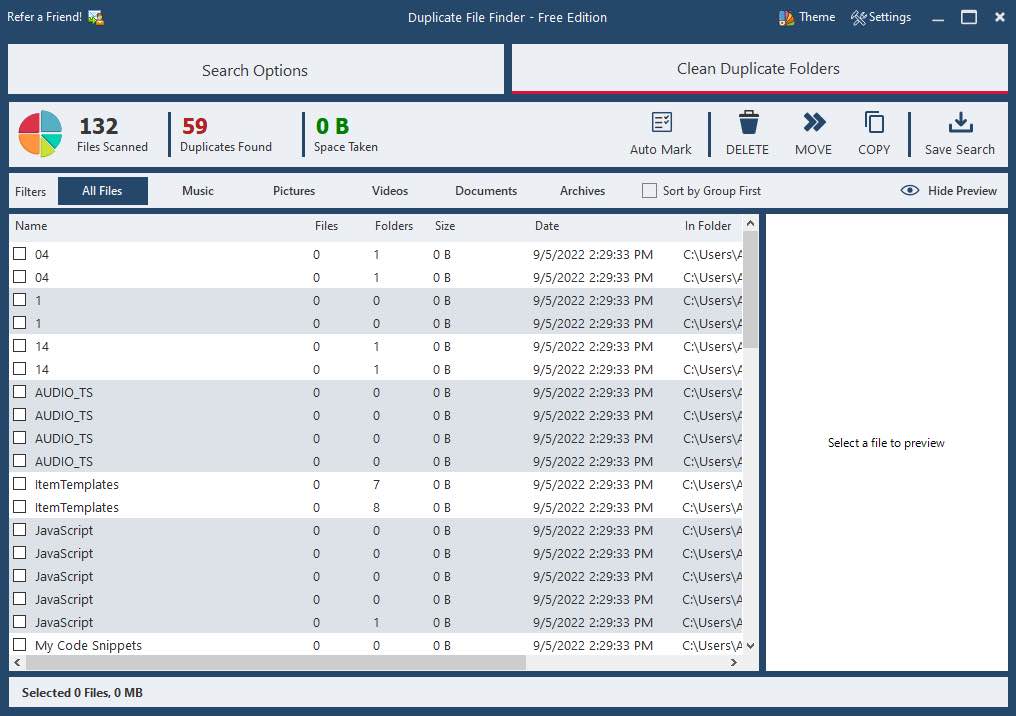 Conclusion
The accumulation of duplicate folders will take up space of computer, and it is troublesome to find and delete them manually. So we can use some duplicate folder finder tools to detect duplicate folder on the computer, and delete with one-click. This article introduced 2 ways on how to delete duplicate folder on Mac and Windows PC. Help you clean up your devices efficiently.