When I input "data recovery Mac" on Google search bar, I find that Data Rescue Mac has been recommended by many application download stations to users. So, how about its performance on data recovery mac data? Is it more powerful than other tools in the market? After several tests on Data Rescue Mac and conclusion of many reviews, I'd like to share with you a comprehensive review on Data Rescue Mac. Also, at the end of this article, I'll give the best alternative of data rescue for mac (Available to macOS Big Sur), you can make a general reference.
Part I. Overview and Review on Data Rescue Mac
1. What is Data Rescue Mac?
Data Rescue 4 for Mac is a good hard drive & deleted file recovery software for Mac, which can help users to recover lost or deleted files from a crashed or corrupted hard drive, reformatted or erased hard drive. With its easy-to-use interface and its powerful features, it is commonly used by many people, including home users, forensic recovery teams, even IT groups worldwide. Now, Data Rescue Mac released its newest version, Data Rescue 4 for Mac. Data Rescue Mac provides a free trial for every user, but the function free version is limited. If users want to use the full version of Data Rescue Mac, they need to pay $99 for it. To be honest, it is little expensive. Every coin has two sides, Data Rescue Mac is also. So, the next I will list the advantages and disadvantages of Data Rescue Mac for you. Read on.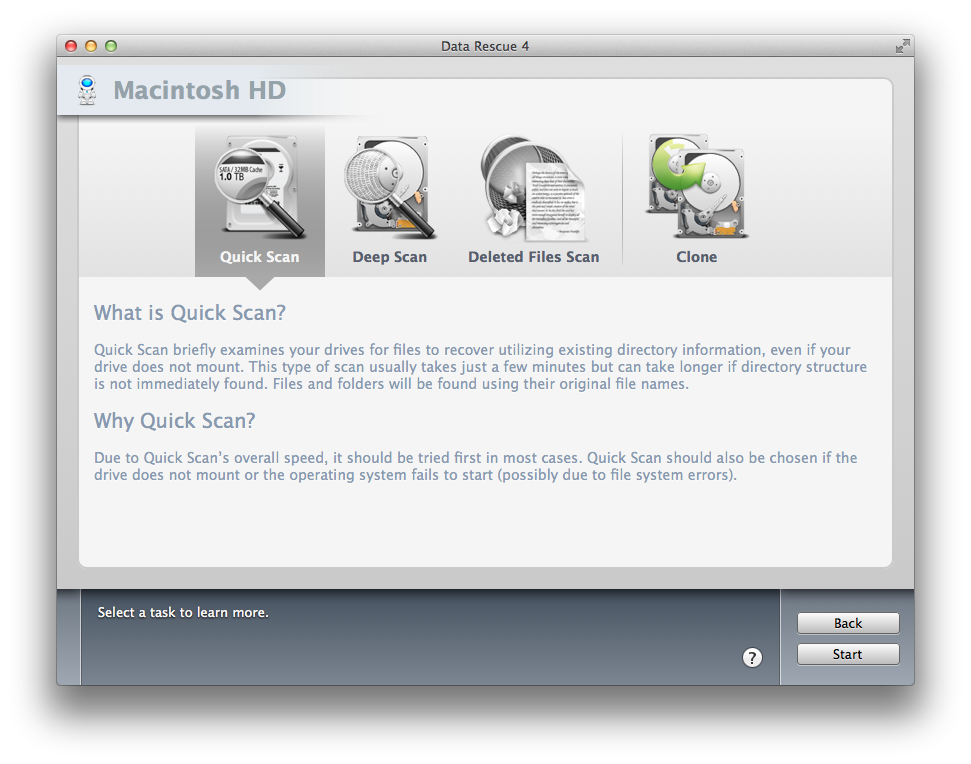 2. Advantages of Data Rescue Mac
a. Its interface is slick and easy-to-use.
b. Can be used for a wide range of external drives, including iMac, Macbook, Macbook Pro, Macbook Air, Mac Mini, Mac Pro including retina displays.
c. Help users create a bootup disk if needed.
d. Included USB flash drive works as a handy external boot device.
e. Excellent data recovery from HFS, HFS+, and NTFS-formatted drive partitions.
f. Deep scan your hard drive, and provides reasonable scanning options based on the types of files you want to retrieve for you.
g. Cloning option allows you to make a complete clone of your current drive to a separate, potentially more stable location.
3. Disadvantages of Data Rescue Mac
a. Can't recover file name. And some files are spit into pieces.
b. Data recovery requires external drive to store recovered data.
c. Only can find a fraction of files, can't recover all data in full, and you may not be able to open recovered file.
d. Users can't upgrade for free, need to pay $49 to upgrade to newest version.
e. You must have an alternate physical location where Data Rescue can store and sort data during the scan.
f. Too expensive.
g. Take too much time to scan.
h. Can't recover doc file.
Part II. Best Alternative of Data Rescue Mac (Available to El Capitan)
Actually, except Data Rescue Mac, there are so many alternatives of it. Cisdem DataRecovery for Mac undoubtedly is the best alternative of it. Cisdem DataRecovery for Mac is the best Mac data recovery software to recover your lost, deleted or formatted files from any data storage media. Now, Cisdem released the DataRecovery 13.5.5 edition for Mac. Compared to Data Rescue Mac, Cisdem DataRecovery for Mac has many advantages. As shown below:

Free Download
a. Cisdem DataRecovery for Mac is cheaper than Data Rescue Mac, it just costs $69.95.
b. Support to recover data from any storage devices and disk formats, including internal Mac hard drives, external hard drives, Mac notebooks, desktops, Mac server, USB drive, camcorder, memory cards, SD card, digital camera, mobile phone, laptop, MP3, MP4 player and more.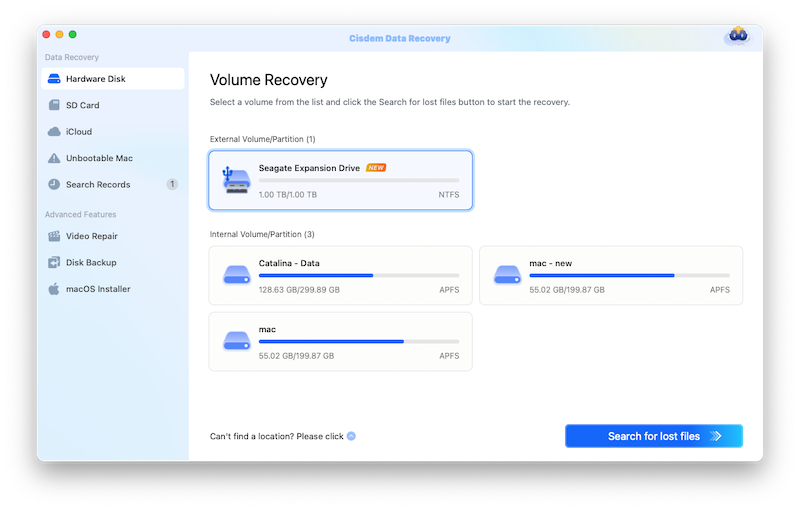 c. Only need 3 Steps(choose the device - scan - preview&recover) to recover files with 30X faster speed.
d. Supports to preview and filter lost files to improve recovery efficiency.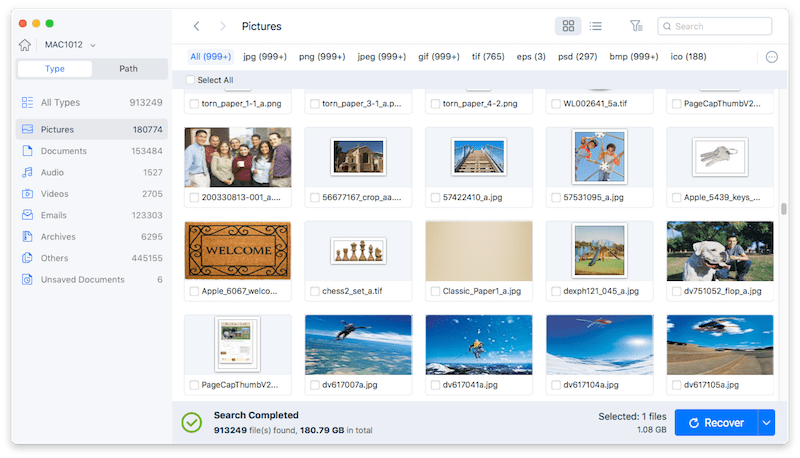 e. Free Lifetime upgrade to new versions.
f. Use quick scanning and deep scanning mode to retrieve data due to different reasons.
g. Support recovery of 200+ file formats: photo, audio, video, document, email, archive, etc.
My friends, whenever you're about to get back your precise files, it is essential to choose data recovery software carefully to ensure the security of your data and save you from unnecessary troubles. Generally speaking, the data recovery software that you should use depends on the types of data loss you have, your constraints or situation, and even your computer knowledge.Anyway, you can learn more in "For Mac Users: How to Choose the Right File Recovery Software?"