Copying DVD to hard drive is an appropriate approach to not only back up the DVD contents safely and permanently, in case of accidental physical damages, but also archive them in order, keeping people from feeling at a loss when faced to piles of cumbersome discs with dusts. Moreover, it is good for people to enjoy the DVD videos on a big screen without need to find DVD player.
Besides, since computers are no longer designed with a slot to place DVD drive and the slump demanding in DVD players, it is a long-term solution to copy DVD to hard drive. If you have according needs, read on to know how to copy and back up all homemade and commercial DVDs easily.
The Best Software to Copy DVD to Hard Drive to Watch on TV
Deal with all kinds of DVD discs, including copy-protected ones and 99-title ones
Offer 600+ videos and audios as the output format, including presets for third-party devices
Offer a 30X faster speed to batch copy and rip all titles without quality loss
Can cut/crop/rotate/add effects or make more actions to edit the DVD contents
Offer a preview window to check the editing result
Built in a media player to play the added DVD videos
Offer a straightforward interface to rip DVDs, convert files and download videos

Free Download
Windows 11/10/8/7

Free Download
macOS 10.12 or later
Copy DVD VS. Rip DVD
Both copying DVD and ripping can back up the DVD files to computer. Copying DVD can 100% recover the original structure of the DVD disc as DVD folder or ISO file, including menus, chapters, buttons or any extra adjustments contained in the DVD. But, it can only export the content as original format and quality.
In contrast, ripping DVD will use various advanced decoding and compression methods to remove the encoded protections and structures, and convert DVD files to various video&audio file formats in smaller sizes, which can work with diverse media players and devices more easily.
Copy DVD to Hard Drive: only for Homemade DVDs
DVD discs are consisted of homemade and commercial DVDs. Homemade DVDs tend to be copied effortlessly because they don't have the complex encryption methods that are encoded in commercial DVDs. So let's start with the easier solutions to copy homemade DVD to hard drive.
#1 Directly Copy DVD to Hard Drive by Coping and Pasting
For non-commercial DVDs that don't have any copy protection methods, the first and the easiest way is to just copy and paste the whole DVD content. It is easy to get in hand for everyone. But make sure your computer or device has enough capacity because it copies and backs up the original content without any compression, so the file size will be large.
Advantages:
Don't need to install any software
Free
Disadvantages:
The speed will be longer when the target DVD is larger
Can only keep the original format, quality and size
Steps on how to copy DVD to hard drive directly:
Insert your DVD into the optical drive.
Once the DVD icon is appeared on the desktop, double-click the DVD icon to open it.
Select all VIDEO_TS folders, copy them and paste them into the hard drive on your computer.
#2. Copy DVD to Hard Drive by Using the Built-in Software
Disk Utility (Mac)
Disk Utility is a system tool that is for dealing with disc related issues on Mac. Although it is unnoticeable on your daily use with computer, it accompanies your you in almost every operation. When you uninstall/install a new application and insert/eject a strange disc, it will automatically check the volume on your device, detest the disc and repair if it is damaged, encode the inserted disc safely and so on. It also can copy DVD to ISO image, which is easy to use. But it needs large size and the working speed is slowly.
Advantages:
The tool is pre-installed in the Mac system
Disadvantages:
Can only copy DVD with none copy protection
Steps on how to copy DVD to hard drive on Mac with Disk Utility:
Insert the DVD (homemade) into the embedded or external drive and hard drive on your computer.
Search for "Disk Utility" in the "Finder" and open it once found.
The inserted DVD icon will appear on the left panel, click on it.
Then, hover you mouse over the top menu bar, click "File > New Image > Image from (the inserted DVD name).

On the new window, you can adjust the output settings, including name, tags, destination(the connected hard drive), format and encryption.
Once done, click "Save" to start to copy DVD to image format.

On the other hand, there is no built-in software that can be used on Windows. Although some guides introduced to use Windows Media Player, the cruel fact is that Windows Media Player can only support ripping CD discs.
Rip DVD to Hard Drive as Video Files: Commercial DVDs
Commercial DVDs are usually applied various encryption methods to prevent the content from being copied or backed up easily. If you are bothered by copying commercial DVDs, keep on read the following to acquire your favorite solution. But keep in mind that it is illegal to make the ripped content for commercial uses.
#1 The Best Software to Copy DVD to Hard Drive
Cisdem Video Converter is a powerful DVD ripper that is capable of encoding all types of DVDs to 600+ video and audio formats for people to choose at will, including DVDs with highly-encoded copy protection. Even if you insert a 99-titles DVD, it will batch convert all titles from the DVD simultaneously. Or if you have requirements in merging multiple titles into as one large file, it allows you to make it in one simple click.
As we know, the video quality of the DVD disc is usually lower than normal video files,limiting the highest resolution at 720p. But Cisdem Video Converter provides an advanced function to customize the encoding parameter, which can improve and keep the highest quality. Besides, it offers a built-in media editor, equipping with rich customization feature to edit the content before ripping.
Advantages:
Can choose any files from the DVD to convert at will
Batch edit, convert and rip all copy-protected DVDs to any format
Provide a preview window to see the editing result before ripping
User-friendly interface
Can also download videos from any websites and make video/audio conversions
Disadvantages:
Not totally free
Steps on how to rip DVD to hard drive with Cisdem:
1. Install the program
Download and install the right version based on your computer.

Free Download Windows 11/10/8/7

Free Download macOS 10.12 or later
Launch it, click the second tab to enter into the DVD ripping interface.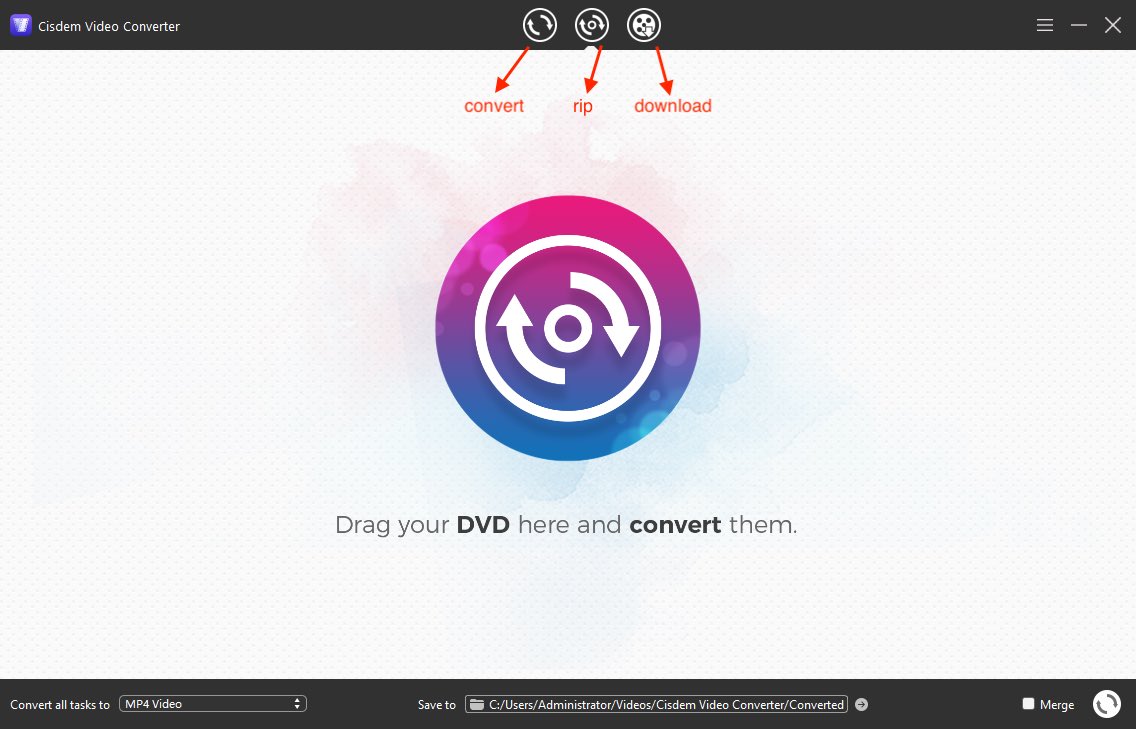 2. Load DVD videos
Insert a DVD that you want to rip, drag-n-drop the DVD icon into the program. Wait a while, the contents will be displayed in single video thumbnail after being encoded.
3. Choose Audio track and subtitles (optional)
If the inserted DVD contains multiple audio tracks or subtitles, click the box on the video thumbnail to choose one track and the familiar language as the subtitles.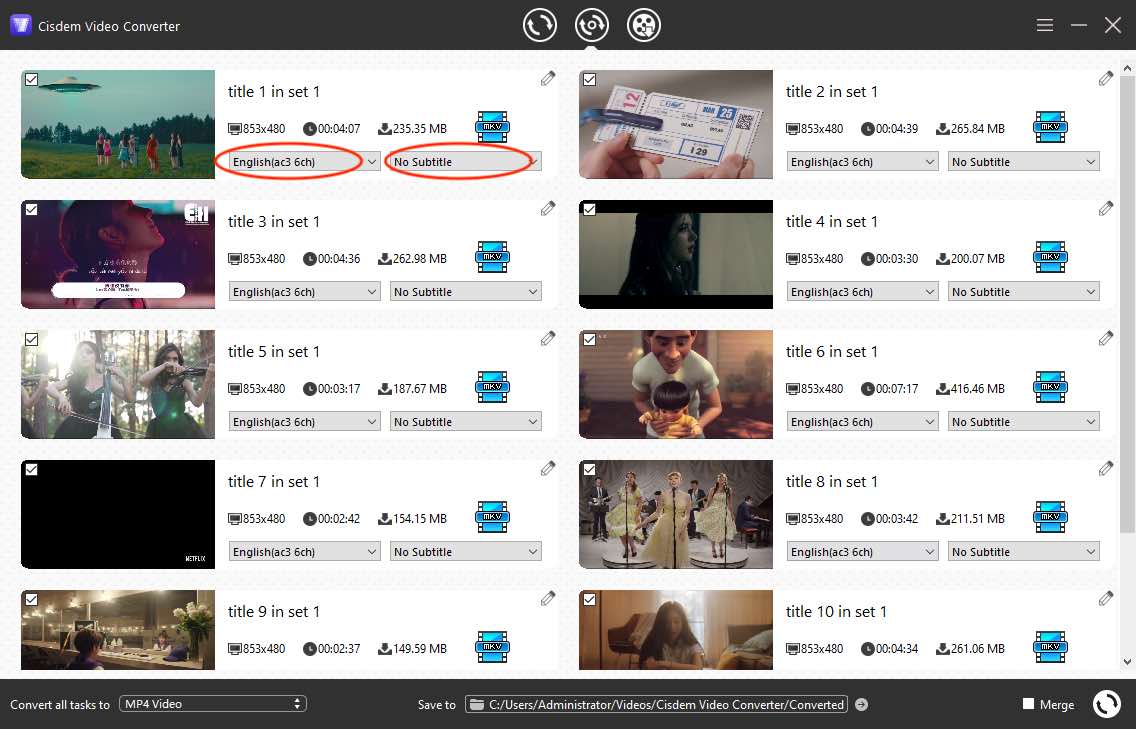 4. Choose the format
Click the drop-down icon of "Convert all tasks to" button to choose the output format for all files in one click. On the expanding list, you are allowed to choose audio, video, 4K video formats and even formats for third-party software and devices. Just choose one that suits you.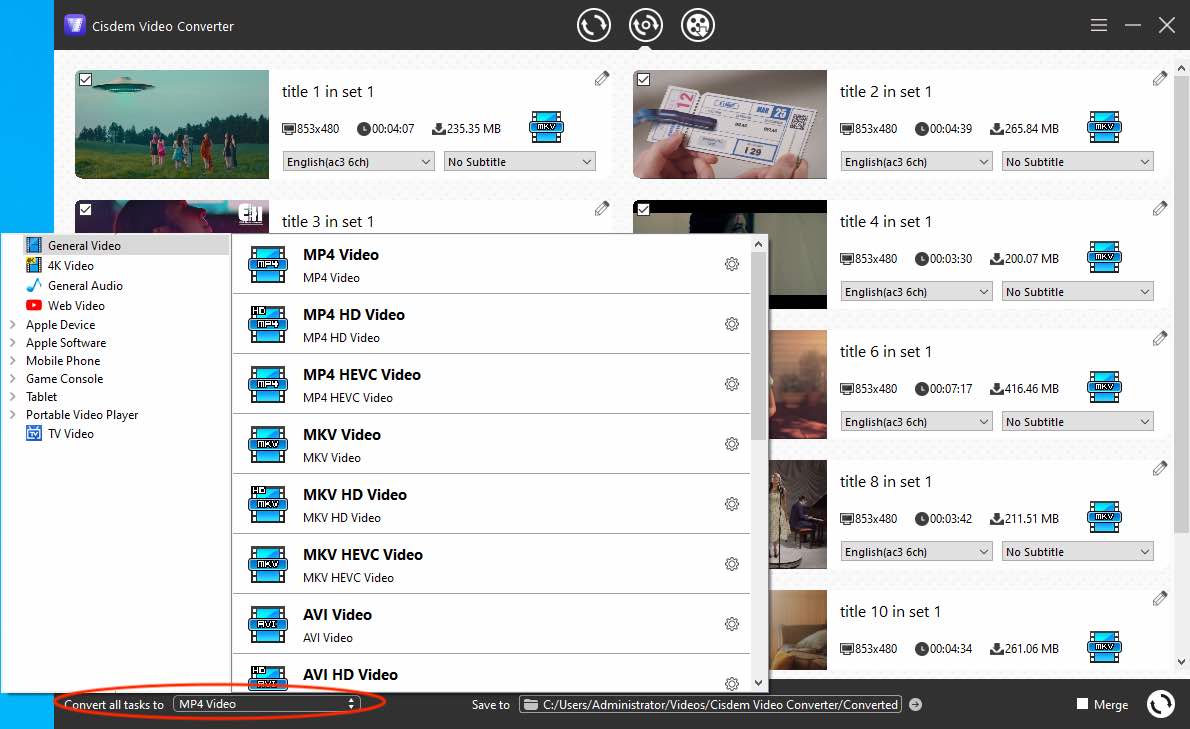 Also, you can also click the highlight Format button on the video thumbnail to change a different format one by one.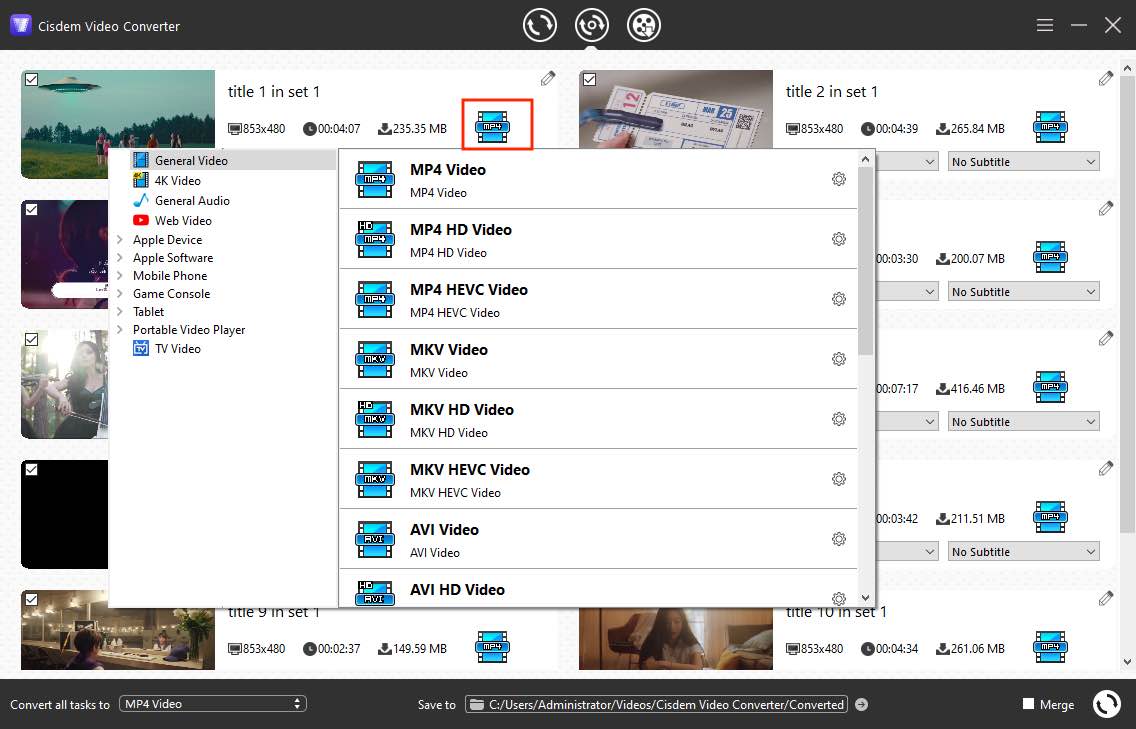 5. Start ripping DVD to hard drive
Connect your hard drive to the computer and choose it as the storage place. Finally, tap on "Rip" icon to start the task.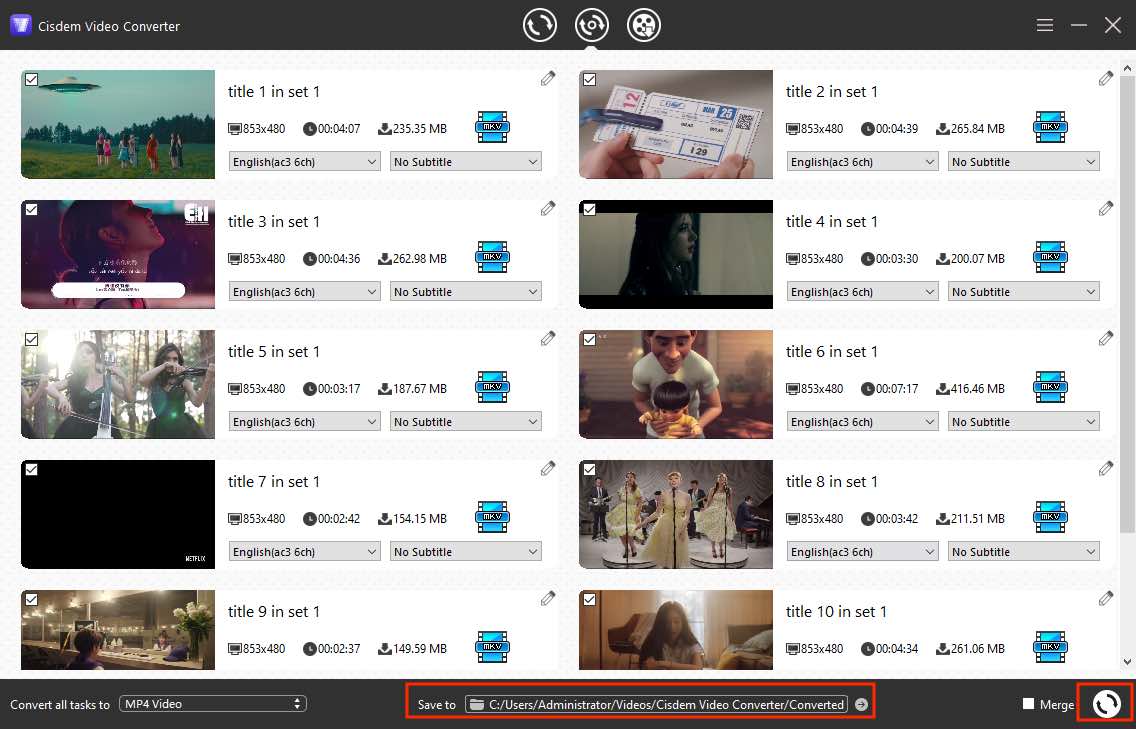 Below are the additional steps for the needed people:
Edit the DVD contents
Click the "pencil" icon on the video thumbnail, the editing dialogue with preview window will then pop up, allowing you to trim/crop/rotate/flip the file, adjust video effect, add watermark and control volume.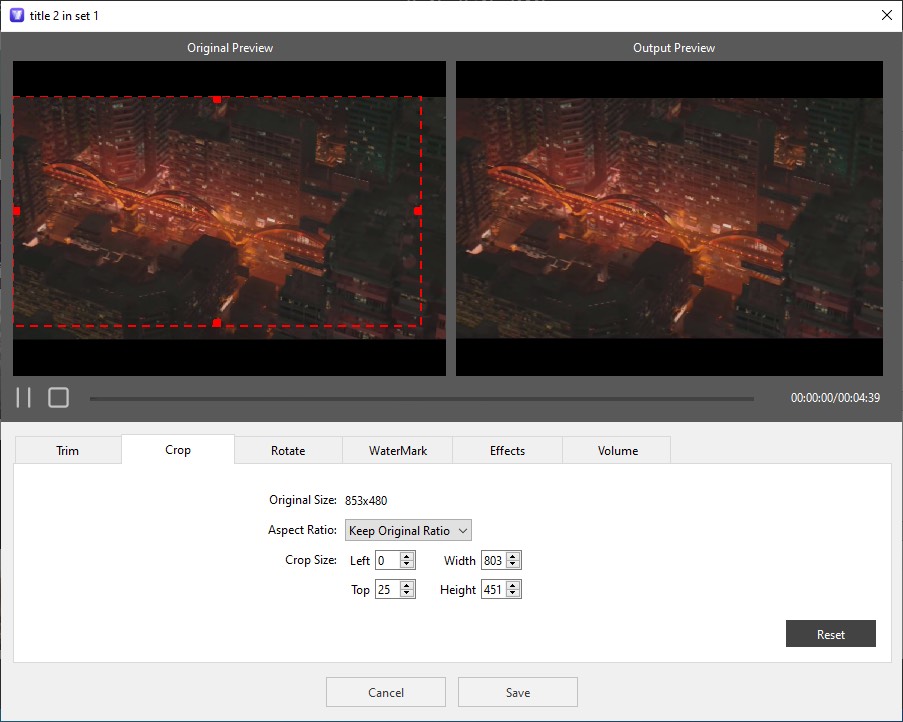 Change the encoding configuration
Click the "gearwheel"icon next to the selected Format option. Then, it shows a new window for you to configure the video and audio parameters.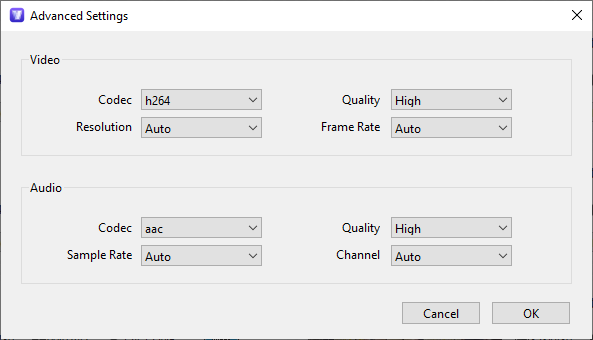 Merge several titles into one
Move to the bottom right corner of the interface, click on the "Merge" bar.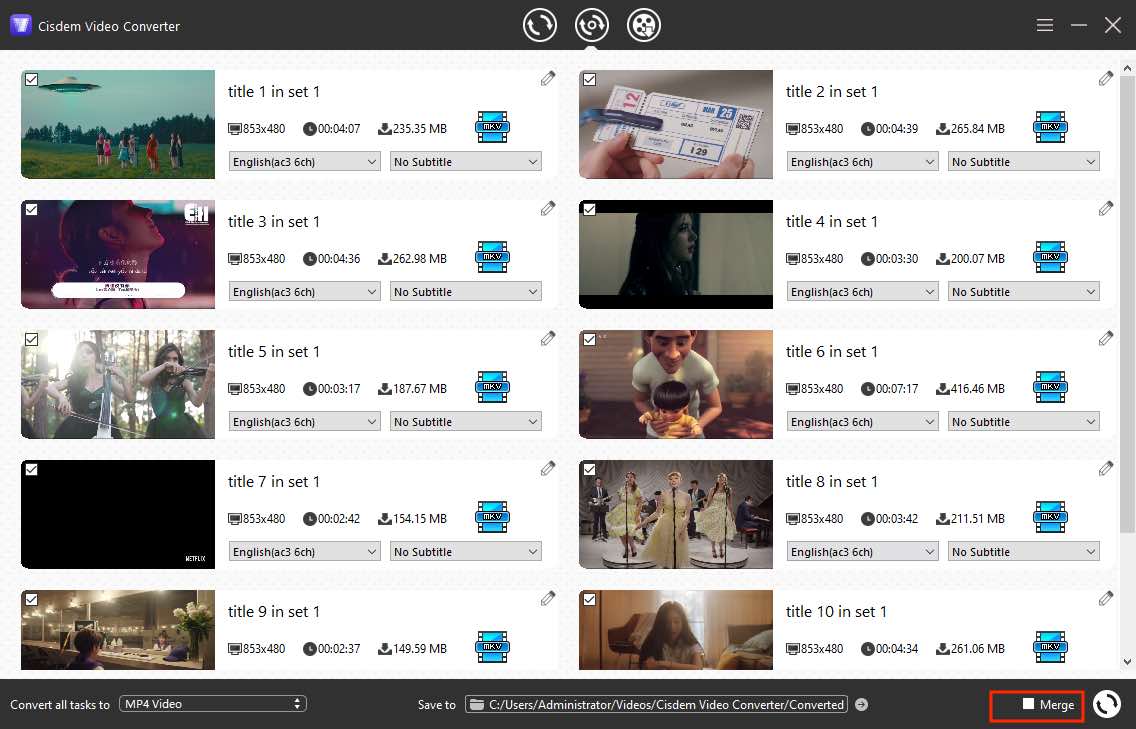 #2 The Best Free Software to Copy DVD to Hard Drive
When it comes to the best free software for coping DVD to hard drive, it must be VLC Media Player, which is an open-source and multifunctional freeware for Mac, Windows, Linux and Android. Except for working as a powerful media player as the name manifests, it can also make conversions, screen recorder, download YouTube videos and rip CD and DVDs.
But for ripping DVDs, it can only rip some DVDs with low copy protection, like some common CSS and regional code. Besides, since DVD ripping is a hidden feature on VLC, which is a bit difficult for people to find the right entrance. If you are interested, the step-by-step guides are showed below for your reference.
Advantages:
Free, open source and multipurpose
Disadvantages:
Take long time to analyze the inserted DVD when it is too large
The speed is slow and the quality is being slightly damaged
Happen unexpected issues sometimes, such as crashing down suddenly, failing to rip the full DVD, having no sound when finished, etc.
Steps on how to rip DVD to hard drive with VLC:
Download and install VLC Media Player on your computer, insert the DVD and hard drive into the computer drive.
Move to the top menu bar, click "Media" tab, choose "Open disc" option.

On the popped-up window, choose "DVD" type, and then click "Browse" button to load your DVD.
On the "Starting position", set the quantity of the title and chapter that need to rip.
Click the drop-down icon of :Play" button, select "Convert" button.

Then, the convert window appears for you to make the output settings. Click the drop-down box of "profile" box to select a suitable format, and click "Browse" button to choose the position where the DVD drive exists.
Finally, click "Save" to start the ripping process.

Rip DVD to Hard Drive as Video Folder or ISO Format: Commercial DVDs
If you want to keep VIDEO_TS folder or ISO as the output format when copying DVD to hard drive, Wonderfox DVD Ripper is a great option. Like other professional DVD rippers, it provides a plethora of editing features to modify the DVD movies, including various preset video effects, cropping, rotating, and more.
However, it only chooses the main title to convert by default. So if the ripped DVD contains multiple titles, you need to add the rest tiles manually. Another small issue is that the current highest resolution it supported is only 1920*1200p. If you accept them, get this excellent program right away to make DVD played on any devices.
Advantages:
Support many videos and audios
Rip copy-protected DVD discs easily
Easy to use
Disadvantages:
Windows-only software
Most features are limited to the paid version
The estimated remaining time is inaccurate
Crash down in the working process, especially when converting a long disc
Steps on how to rip DVD to VIDEO_TS folder/ISO for hard drive with Wonderfox:
Download this ripper on your Windows computer and install it.
Run it, and insert the DVD and hard drive into your optical drive.
Click "DVD DISC" on the main interface to load the DVD files.

After loading, choose the files for ripping, click "Output Format" on the right panel, and click on "1:1 Quick Copy" on the popped-up window. Then you can choose "DVD folder" or "ISO" based on your needs.

If needed, click the "edit" icon on the video thumbnail to beautify them one by one.
Click the "Output Folder" button at the bottom to choose the connected hard drive as the destination.
Finally, click on "Run" button.

Comparison Among the Mentioned DVD Ripper Software
From the chart, we can see that Cisdem Video Converter is the fastest way to copy DVD to hard drive, matching with the most output formats, advanced features, powerful performance and reliable system.
More Questions about Copying or Ripping DVD to Hard Drive
1. What are the common types of hard drive? And what is the best format to choose when you copy a DVD to your hard drive?
At present, the common types of hard drive are mainly HDD(Hard Disc Drive), SDD(Solid State Drive and the new variation of SDD - NVMe (Non-volatile Memory Express). Both HDD and SDD are using SATA interface while NVMe is using PCle interface.
SATA HDD is best for people have large storage size on their computer, but have limited budgets, and accept normal performances. SATA HDD is suitable for those who need a faster, higher quality and affordable hard drive. NVMe is best for people who seek for fast working speed for a high-end computer or gaming PC, regardless of the price.
Different hard drives or devices can support different video formats. So which video format is best for you? Since every video format has its merits, all can be the best one according to your demanding. For example, it you want the high quality, choose the original VIDEO_TS folder format, MKV or AVI. Or if you want to make the copied files compatible with any hard drive, media players, TVs, and devices, MP4 will be the best format.
2. Can I copy Blu-ray discs to external hard drive?
Blu-ray is a digital optical disc format that provides HD quality. It offers clearer definition, better sound quality and more than 5 times more storage capacity than traditional DVDs. Blu-ray discs are built in miscellaneous encryption technologies to stop them from being copied easily, such as AACS, BD, ROM-Mark, etc. Instead, you need to look for a specific Blu-ray ripper to rip Blu-ray to hard drive, like MakeMKV and Tipard Blu-ray Converter.
3. Can HandBrake copy DVD to hard drive?
Yes, HanBrake can rip DVDs for free in MP4, MKV and WebM format. But, it can only handle the discs without copy protection. Ripping DVDs with HandBrake may encounter some issues, feel free to read this post: https://www.cisdem.com/resource/handbrake-dvd-to-mp4.html to know the issues and solutions.
Last Words
Except for the ways mentioned above to copy DVD to hard drive, people can also use a screen recorder to record DVD to hard drive. It sounds like pretty easy to use for everyone, but actually it requires a lot of storage capacity, time and a screen observer. If you prefer an easy way to quickly copy all DVDs to any video formats with high quality, there is no doubt that only the professional DVD ripper can accomplish it easily, which works stable and offers extra functions for people to make a satisfactory ripping result.